Overnight Open Thread (7-1-2015)
—Maetenloch
By that point, Helmsley had fully dropped the 'blueblood snob' gimmick, appearing in T-shirts and leather jackets. During this period, his ring name was shortened to simply Triple H. Even after the DX versus Hart Foundation storyline ended, Helmsley continued to feud with the sole remaining Hart family member Owen Hart over the WWF European Championship. This ended in a match between the two at WrestleMania XIV, with the stipulation that Chyna had to be handcuffed to then-Commissioner Sgt. Slaughter. Helmsley won after Chyna threw powder into Slaughter's eyes, momentarily 'blinding' him and allowing her to interfere in the match.

-- from the Wikipedia article on Triple H
Let's sweep away the lies and just say it out loud:

90% of the left's attempts at social control are simply attempt to outlaw behaviors they perceived as favored or engaged in by 'traditional" "conservative" "old-school" "white" etc. people.

Thus, a liberal can simultaneously demand that cigarettes be outlawed but marijuana be legalized.

Why? Because (in their conception of social reality) marijuana is a leftist intoxicant favored by the "counter-culture" while nicotine is a right-wing intoxicant favored by the "dominant culture."

"The Man" smokes cigars. "The Rebels" smoke weed.

That's all there is to it.

...It's absolute juvenile revenge fantasy, leftover from the '60s. That's all it is. The younger generation of activist are automatons acting out the revenge fantasies of their professors.

-- Zombie
Former CNN Anchor, Husband Involved in Motel Shootout, Robber Killed
He picked the wrong former anchor alright.
[Former CNN Headline news anchor Lynne] Russell - a licensed private investigator and former Fulton County, Georgia, sheriff's deputy with two martial arts black belts - told NBC station KOB that she and her husband had stopped in Albuquerque for dinner with a friend and were planning to get up early because they were traveling." A man with "a 40-caliber big shiny silver handgun" pushed her into her Motel 6 room just as her husband was coming out of the shower . . .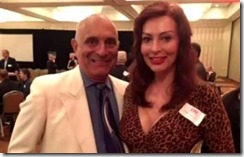 Mob Rule Hoists Trump Out of the Free Market
He'll survive but the same thing isn't true of an average person who dares to say the same things that Trump has said.
Drunk Nixon is Better than Sober Obama
For Israel. Also the world.
How Obama Went Up Against the American Flag - And Lost
Continue reading