Overnight Open Thread (10-30-2014) - Halloween Comes At Night Mostly Edition
—Maetenloch
"Why would anyone send a kid - especially a son - to institutions that would do this? Would you send a black kid to institutions with disciplinary manuals written by the KKK?"

-- Glenn Reynolds on how universities now investigate sexual assault claims.
Also Half of MIT Students Think It's Possible to "Accidently" Rape Someone. And given how campuses are now defining 'rape' they're probably right.
The Russians Are Tan, Rested, and Ready to Rumble
Russian Jets Probing Air Spaces in Europe
NATO detected and monitored four groups of Russian military aircraft conducting significant military manoeuvers in European airspace over the Baltic Sea, North Sea/Atlantic Ocean, and Black Sea on 28 and 29 October 2014.  These sizable Russian flights represent an unusual level of air activity over European airspace.
And they've already probed Japanese defenses 533 times since April and were prowling off Alaska just yesterday.
Russian Security Forces Harassing US Diplomats and Embassy Personnel
Some of the alleged Russian actions seemed petty. In several instances, U.S. officials returned home to find their belongings had been moved or a window left open in the middle of winter. American diplomats have also been trailed more overtly by Russian security agents.

Others attempted to interfere with diplomatic work, like disrupting public meetings with Russian contacts. Uniformed guards provided by Russia to stand outside the embassy, ostensibly for protection, have harassed visitors and even employees trying to enter the building.
Russian Hackers Broke into the Executive Office of the President's Computer Systems
Apparently most (maybe all) of EOP's systems were down for at least a week but the Obama administration refused to talk about it. They finally reluctantly admitted this week that it had been hacked.
Further, the administration says the computer problems resulted from "suspicious cyber activity," which suggests action by a hostile power. In an apparent effort to reassure, a second administration spokesman tells us that the outage impacted only unclassified networks, and "there were no indications at this time that classified networks had been affected." This is a distinction that our informant did not draw. Whether it is accurate or not is vitally important, although at this point we have no information about what is stored on classified versus unclassified networks.
And it wasn't just some random kids poking around either:
The administration tells the Washington Post that the hackers responsible for the White House computer outage are "thought to be working for the Russian government."
Oh and guess what: Russia Now Has More Deployed Nuclear Warheads than the U.S.
So uh, good times, good Halloween times I guess.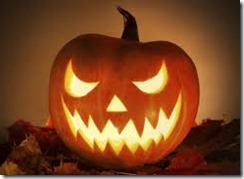 Continue reading