Sunday Morning Book Thread 07-24-2016: It's Commies All The Way Down [OregonMuse]
—Open Blogger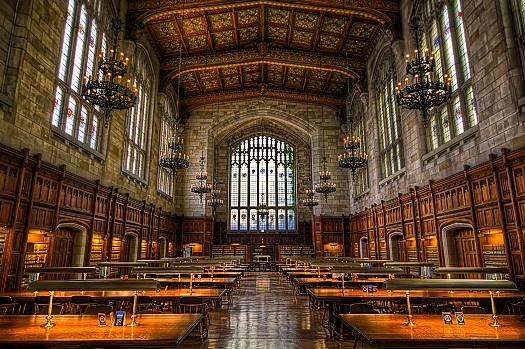 University of Michigan Law Library

Good morning to all of you morons and moronettes and bartenders everywhere and all the ships at sea. Welcome to AoSHQ's stately, prestigious, internationally acclaimed and high-class Sunday Morning Book Thread, where men are men, all the 'ettes are lovely, safe spaces are for losers, and nobody cares about what kind of snowflake you are, so suck it up, buttercup. And unlike other AoSHQ comment threads, the Sunday Morning Book Thread is so hoity-toity, pants are required. And these don't count.
Geez people, go home and read a book.

There's no hope.

Posted by: Country Boy at July 17, 2016 08:31 PM (zzzTG)
(The AoSHQ Sunday Morning Book Thread approves of moron Country Boy's take on the Pokemon Go fad craze national obsession)

Nood Communism
A couple of weeks back, I was complaining of Howard Zinn and other rat bastard commies rewriting of history to make the American founders out to be nothing but greedy, slaving rich guys. I got an interesting response:
#30: https://tinyurl.com/brjhz

Posted by: Country Singer at July 03, 2016 11:39 AM (GUBah)
The page links to a list of "Current Communist Goals", #30 of which is
30. Discredit the American Founding Fathers. Present them as selfish aristocrats who had no concern for the "common man."
Sounds about right. So, the question that occurred to me was, where did this list come from? It looks pretty much like the things the rat bastard commies have been up to for the past several decades, but I want to know where it came from. Did the commies just sit down one day and draw it up as a list of action items (perhaps inspired by Lenin's essay What Is To Be Done?) or was it put together by anti-communists who wanted to explain their own observations of what they saw the rat bastards doing?
As it turns out, it's more the latter: the list appeared, unsourced, in the book The Naked Communist by W. Cleon Skousen, who compiled it from a variety of material:
If the student will read the reports of Congressional hearings together with available books by ex-Communists, he will find all of these Communist objectives described in detail. Furthermore, he will come to understand how many well-meaning citizens have become involved in pushing forward the Communist program without realizing it. They became converted to Communist objectives because they accepted superficial Communist slogans. Soon they were thinking precisely the way the Communists wanted them to think.
TNC is an interesting book. In its day, it sold over 2 million copies, according to the Amazon description.
The Naked Communist contains a distillation of more than one hundred books and treatises on communism, many written by Marxist authors. This text that reviewers have called "the most powerful book on communism since J. Edgar Hoover's Masters of Deceit" sees the communist as he sees himself - stripped of propaganda and pretense. Readers are offered an explanation of the appeal of communism, its history, its basic and unchanging concepts - even its secret timetable of conquest.
It starts out with a biography of Karl Marx and his friendship with Engels. I did not know that he came from a long line of rabbis, but even so, one day when he was about 5 or 6 years old his father came home and announced "Hey, guess what, we're all Lutherans now." So young Karl was baptized into the Lutheran Church. This switcheroo was so sudden I think it must had quite an effect on how he came to view religion, i.e. all there is to the universe is a bunch of atoms banging around. Marx's materialistic philosophy is discussed in the next chapter, followed by bios of Lenin and Stalin and the history of communism in Russia
Skousen has also written many other books, such as The 5000 Year Leap (which apparently Glenn Beck used to hype back when he was on Fox), The Making of America: The Substance and Meaning of the Constitution, as well as a couple of other nood books, The Naked Capitalist and The Naked Socialist.
Also books on Mormon theology and history too numerous to list.
You can actually download The Naked Communist in a variety of formats for free here.
And on a biographical note:
Mr. Skousen and his wife, Jewel Pitcher of San Bernardino, California, are the parents of eight children, 50 grandchildren, and more than 120 great-grandchildren.
And this is why Mormons will soon be taking over the world. They're the only one having lots of children.

Continue reading