January 20, 2022
Quick Hits
—Ace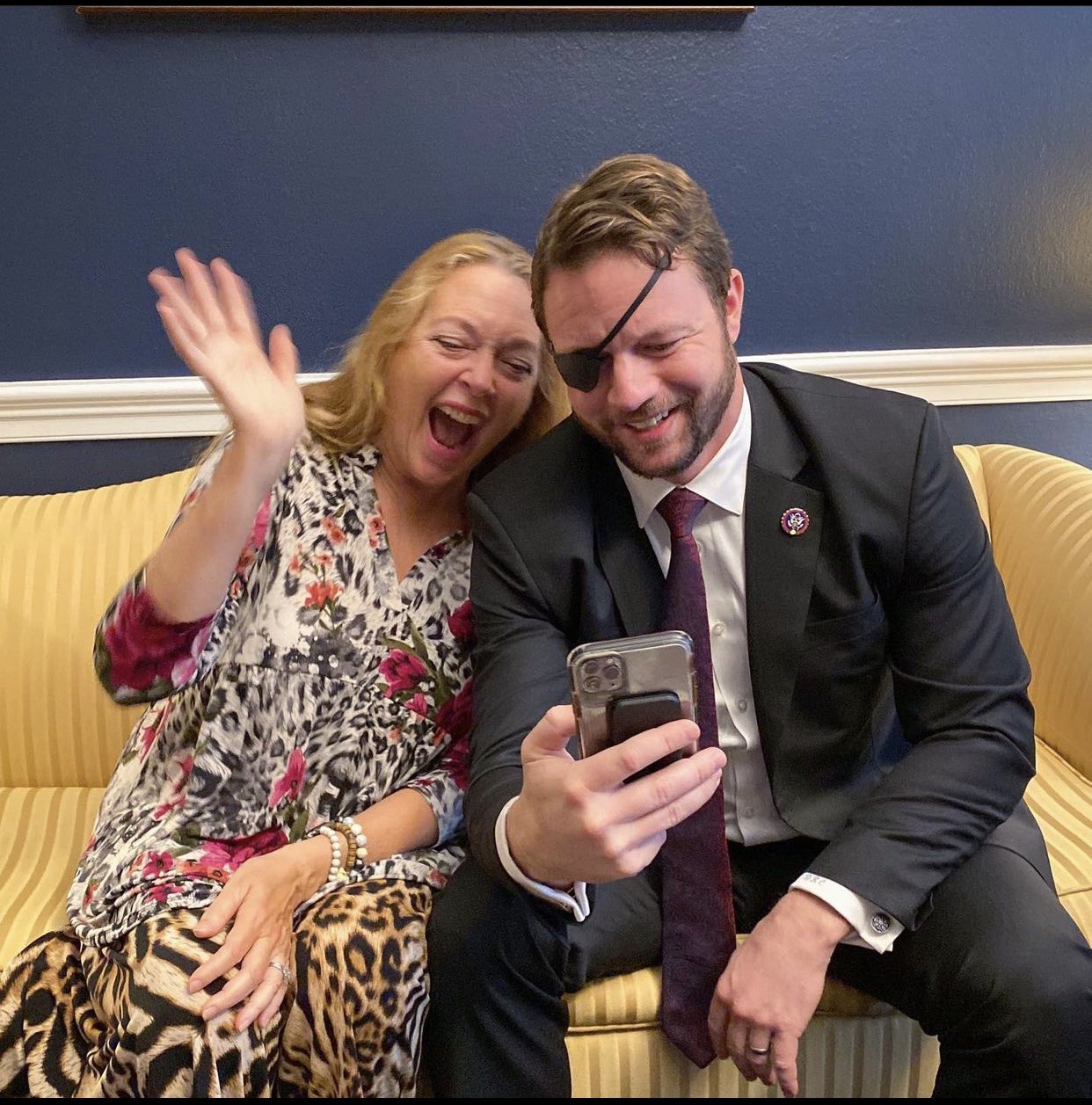 True Conservative Dan Crenshaw
enjoying some Celebrity Face Time
with
likely murderess Carol Baskin,
December 9, 2021
Dan likes semi-celebrities
This was shortly after Danny branded the Freedom Caucus
as "grifters" who
just wanted attention
More bad polling news for Brandon--left-leaning AP shows him at a fresh low for their poll, 43% approving, 56% disapproving.
And:
As of now, just 28% of Americans say they want Biden to run for reelection in 2024, including only 48% of Democrats.
He's not running, and everyone knows that -- we don't know if he'll even be existing for that election -- so this has no real-world impact, but it does tell you about people's Brandon Tolerance Level.
And:
Only about a quarter were very confident that Biden "has the mental capability to serve effectively as president" or "is healthy enough to serve effectively as president." Close to half are not confident in Biden's mental capability or health.
Drew Holden has a great thread on all the bluecheck activist "journalists" who uncritically amplified Nina Totenberg's claim that Gorsuch is waging germ warfare against the wise Latina. I mean, I amplified it too, but I'm openly an activist and not a journalist and also, I think it's funny.
Good thread though-- why do zero "journalists" check sources now? Wasn't that supposed to be the foundation of their craft and why you were supposed to believe them?
In an interview I think I'll post tomorrow, Walter Kirn points out that almost no "journalists" leave their computer screens or even pick up a phone any longer -- literally all their "journalism" is reading tweets and retweeting. A major journalistic activity might be sending an email or DM for comment on a hit piece they've finished writing.
Speaking of illegitimate elections -- those drop boxes the Wisconsin governor lawlessly ordered in 2020? And the open invitation to voter fraud that is "ballot harvesting"? Yeah, those were both illegal. A judge has banned their use in 2022.
A judge in the key battleground state of Wisconsin ruled Thursday that ballot drop boxes and ballot harvesting violate state law and cannot be used in the upcoming midterm elections.

Waukesha County Circuit Court Judge Michael Bohren determined "there is no statutory authority" to allow for either practice, which became highly controversial in Wisconsin following the state's razor-thin outcome in the 2020 presidential election. President Joe Biden defeated former President Donald Trump in the state by approximately 20,000 votes.

The Wisconsin Elections Commission, which is under fire for allegedly bending and even openly violating state law to give Biden an edge, authorized the dramatic increase in the use of ballot drop boxes, but Judge Bohren held that the agency lacked lawful authority to do so.

The plaintiffs, voters represented by the conservative Wisconsin Institute for Law and Liberty (WILL), argued that state law allowed for only two methods of returning an absentee ballot: Through the mail or in person at the municipal clerk's office. Nowhere does it allow for a ballot to be dropped off in a drop box.

Likewise, Wisconsin law provides that no person "may receive a ballot from or give a ballot to a person other than the election official in charge." This, the plaintiffs argued, is a clear prohibition on ballot harvesting, the practice of third parties collecting absentee ballots from voters.
I wonder which blogger, apart from AllahPundit, will write this up at Hot Air.
Oh, I already know. It was Jazz Shaw.
Most perfect election in the history of the universe.
M&Ms will become "more inclusive;" the animated characters representing the candies will be given "nuanced personalities."
Candy is about to get more "inclusive," with the maker of M&M's announcing its famed characters are getting modern makeovers and will have more "nuanced personalities."

Mars, Incorporated, the company behind the colorful, candy-coated chocolates, announced Thursday a "global commitment to creating a world where everyone feels they belong and society is inclusive."

What are the odds that two of the "nuanced personalities" turn out to be "gay" and "trans"?

Via Andrew Kerr of the DC Examiner, quoting the New York Times: Kathy Griffin once asked CNN's head and Chief Dwarf Jeff Zucker for a raise.
He was so offended that this zero-talent, who was lucky to have a job at all, was demanding a raise, that he fired her on the spot.
Later, he thought it over and rehired her... at a 20% pay cut.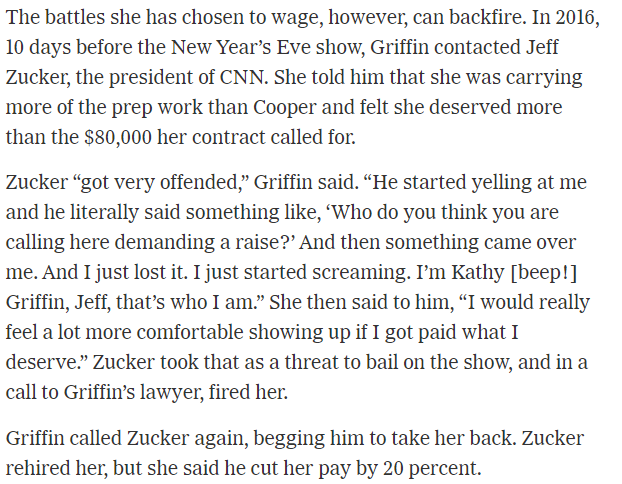 Second look at Jeff Zucker?!

Continue reading
Harbor Howdy Cafe
—Ace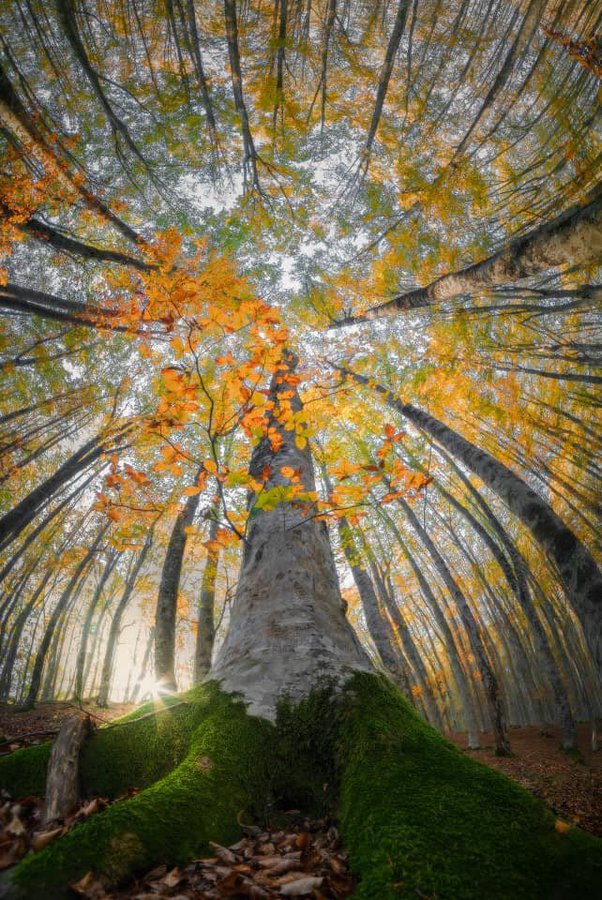 I don't think this is very funny. This poor innocent dog. Kind of makes me think of men and women.
Sometimes cats' preference for chaos works in dogs' favor.
More baby goats in pyjamas. I bet this would be a good image for going to sleep.
Saving a beached sea turtle.
Inman: Grandma packs a wallop.
Continue reading