Quick Hits
—Ace
Here's the FBI's new spin: If we present the document alleging Biden conspired with foreign actors in a $5 million+ bribery scheme, the person who brought this information forward may be killed.
Rep. Anna Paulina Luna @RepLuna

Just left meeting for House Oversight. The @FBI is afraid their informant will be killed if unmasked, based on the info he has brought forward about the Biden family.
Is that also the reason they buried the information and never pursued it? How convenient.
Apparently Major League Baseball posted the obligatory "pride" message with rainbow logo on June 1, but then reverted to their normal trade dress.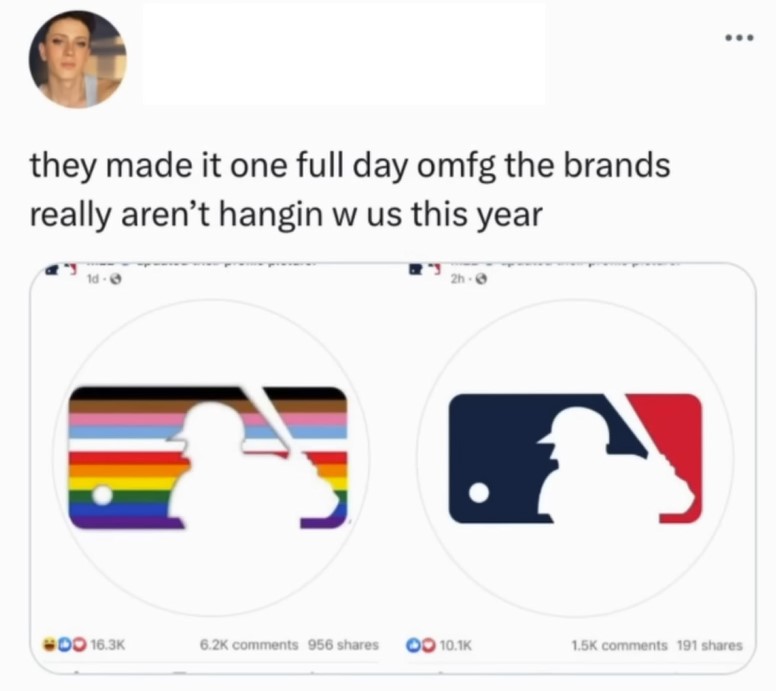 Great:
Alliance Defending Freedom @ADFLegal

CASE FILED: We've sued the Biden admin and CA officials for unlawfully pulling federal food funds from a church preschool, due to the school's beliefs on sexuality.

The school feeds many low-income & immigrant children. Hungry kids should matter more than a political agenda.

"The government is withholding food from families in need simply because their children attend a Christian preschool. This violates the U.S. Constitution and multiple federal laws that protect Church of Compassion and its preschool to operate according to the dictates of their faith." - ADF Senior Counsel Jeremiah Galus

Chuck Todd will leave Meet the Partisans, I mean Meet the Press, in September, to be replaced by another lockstep leftist. But this one has a vagina.
Update: Jimmy Dore has headlined this story "Chuck Todd FIRED from Meet the Press." I don't know if he means that literally.

A media "journalist," AJ Benza, claims that the actor Jamie Foxx received a blood clot from his covid jab, and has been rendered partially paralyzed and blind.
My skepticism here is due to wondering why this secret is only being let out by someone in Foxx's circle, and how it's been kept a secret at all.
Jamie Foxx suffered a blood clot in his brain leaving him partially paralyzed and blind, it has been sensationally claimed.

In a dramatic turn of events surrounding the megastar's mysterious illness, veteran Hollywood journalist A.J. Benza revealed that a supposed well-placed source told him Foxx, 55, suffered the serious medical episode after being pressured into getting a COVID vaccine.

"Jamie had a blood clot in his brain after he got the shot. He did not want the shot, but the movie he was on, he was pressured to get it," said the podcaster, a former New York Daily News columnist and host of the E! series "Mysteries and Scandals," 11 minutes and 40 seconds into his interview on the Ask Dr. Drew podcast.

"The blood clot in the brain caused him at that point to be partially paralyzed and blind."

Benza insisted his source is "someone in the room" connected to Foxx's treatment.
We'll see.
In news that no one cares about, New Hampshire liberal Republican Chris Sununu says that he won't be running for president in 2024.
He probably made this decision to boost the chances of the other liberal/"moderate" Republicans running, like big fat slob Chris Christie, who may announce on Thursday. The liberals don't want to divide the liberal/NeverTrump vote too much, or that makes it easier for Trump (or DeSantis) to win.
Mike Pence also filed paperwork to faff around and appear on CNN and lose a lot of RINO donor money while pretending he has a chance to win the nomination. #FaffAroundandFindOut

Nikki Haley went on CNN, because of course she did.
And of course she used enemy comms to attack DeSantis, continuing to run for the position of Trump's VP and attack dog:
Continue reading