December 08, 2021
Quick Hits
—Ace
A NeverTrumper lied about a Newsmax cover story entitled "Vlad the Great" being pro-Putin. In fact, it's anti-Putin -- the "Vlad the Great" title depicting him as a conqueror, which is his ambition, obviously -- and any investigation greater than "none whatsoever" would have discovered this.
But "any investigation greater than none whatsoever" was too much work for lazy, no-reading bluffing grifter and goldbricking nepot Jonah Goldberg, who immediately retweeted the defamatory claim.
Even after being told his original claim was a defamatory lie, the NeverTrumper retweeted it again, thus demonstrating NeverTrump's high regard for the truth and great personal integrity.
And just to make this all too perfect, this sassy little quisling with the dick-shaped mouth decided that he, too, had to jump on the No Reading Required Defamation Train as well.
So much Fidelity to the Truth. So much Commitment to Personal Honor.
A teacher and board member of the NEA -- the nation's largest teacher's union -- posted that those with religious objections to the vaccine should be shot. And not shot with vaccine needles, but shot with bullets.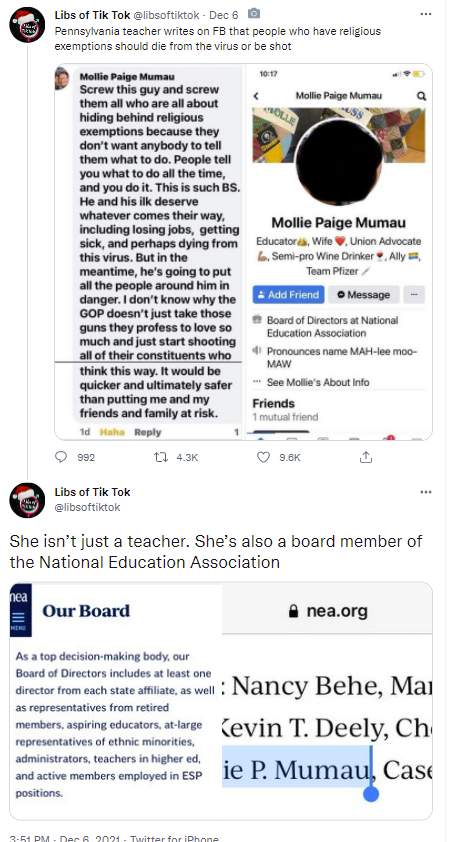 Publisher cancels Fredo's book, which was to have been called Deep Denial. Not his own or his brother's or CNN's deep denial, but that which he claims that Trump and Republicans have about their failings.
Chris Cuomo now has been fired from both of his jobs and he's had his book canceled.
He'll be giving out handjobs under a bridge for fifteen dollars a man soon enough. Or, as he likes to call it, "Back to college!"
CNN is actually proud to announce it's "working with the White House" to massage its own economic news coverage to be more favorable to Joe Biden.
It congratulates itself on being willing toadies for the DNC, calling its presidential fellation sessions "productive."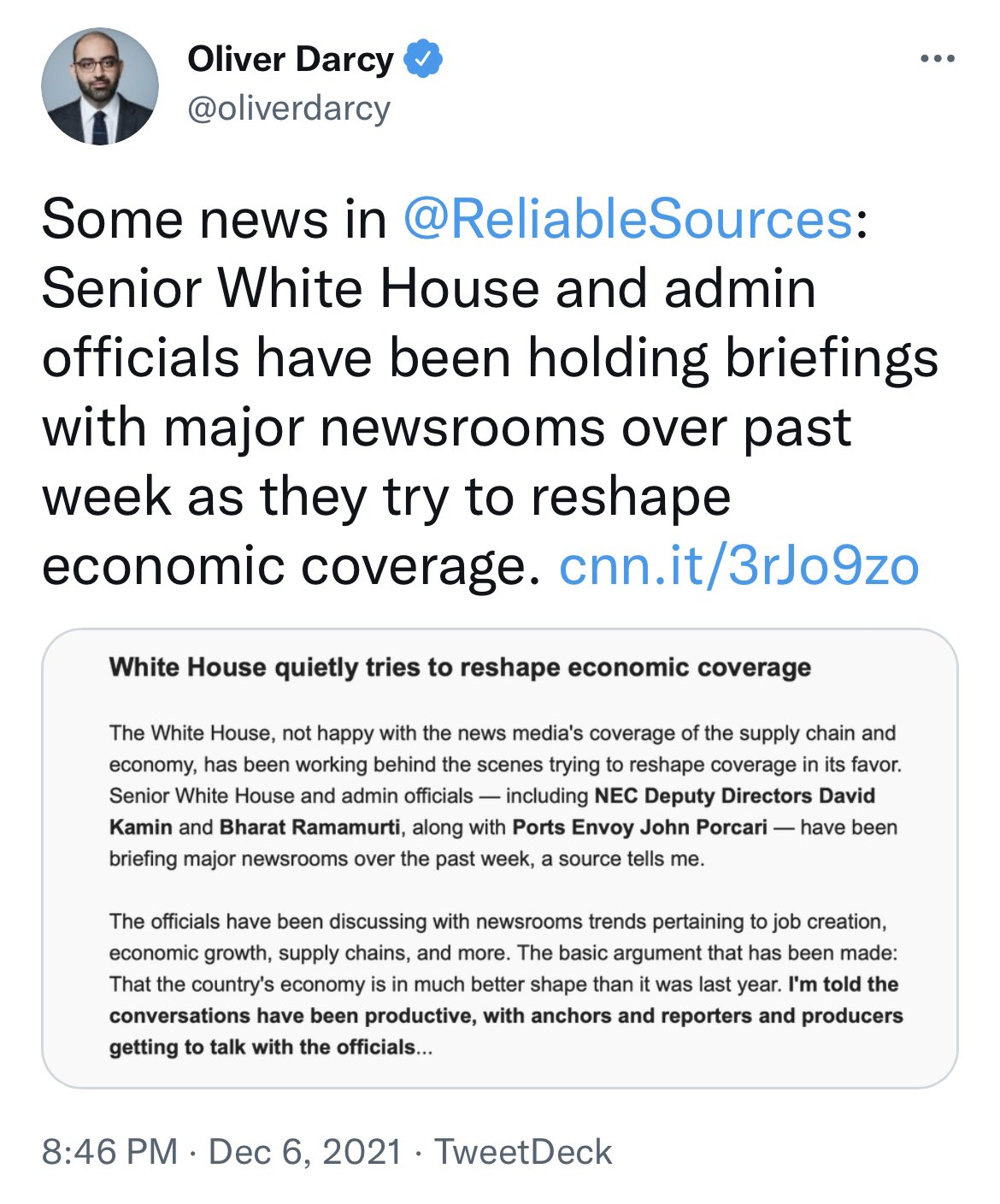 If you're baffled at how a "news" network could not only admit this but boast about this, let me explain:
CNN is not a news network. You knew that, of course, but let me be elaborate. CNN is specifically a partisan shill organization whose viewers do not tune in for purposes of being "informed" but to see how CNN is propagandizing useful political messages to other viewers, "persuadable" viewers.
In other words, CNN's "viewers" are primarily not interested in CNN as viewers themselves but are interested in CNN as a vehicle for propagandizing to other, non-committed persuadable viewers.
But the joke's on them -- the only people watching CNN are rabid DNC partians. There are no "persuadable" viewers CNN is propagandizing to; their viewers are exclusively the already-propagandized, and self-propagandizing.
To continue: these viewers are angry at CNN for not reporting "the good news" about Biden's economy.
That is why CNN are bragging about this: they are telling their viewers "we have heard your legitimate complaints that we have not licked enough poo off Biden's shit" and we are now asking him to write our economic reports for us, so you should be happy now. The Biden Regime be writing our propaganda for us now, so we'll be better able to propagandize to those "other persuadable viewers" you think we're reaching but who do not in fact exist because you lunatics are the only people that watch this absolute fucking clownshow of incompetent North Korean State Media.
So this will be the official news on CNN shortly:
Continue reading
Teachers In California Decide That Working Five Days a Week Is Too Hard, and Give Themselves One Day A Week Off
—Ace
Well, one day a week of "remote learning," sitting on their asses at home, which is what parents do not want, but which teachers do want.
And when parents complain, teachers tell parents to "step up" and do the hard work of teaching.
This is amazing.
I keep wondering what the breaking point is.
I'm wondering if there is a breaking point at all.
Do they even have to show up, ever?
Can we just admit that the "teaching occupation" is just a welfare program for a fairly low-educated, low-ambition bunch?
Remember when teachers unions around the country insisted they were eager to reopen schools but only once it could be done safely? Unions gave all sorts of excuses. First it was that not all teachers had been vaccinated. Then it was that schools lacked sufficient ventilation. Then it was that not all students had been vaccinated. The shifting list of demands had only one clear goal: Keep teachers (and students) out of classrooms for as long as possible. Even when local authorities tried to twist their arms, they refused to return.

And as the evidence piled up that remote learning wasn't working for a large number of students, unions simply ignored or denied it. Cecily Myart-Cruz, president of the LA Teacher's Union, claimed no learning loss had taken place during the 18 months LA schools were closed. "Our kids didn't lose anything. It's OK that our babies may not have learned all their times tables…They know the difference between a riot and a protest," she said. Some unions claimed the push to get teachers back to classrooms was racist.

Fortunately, all of that is behind us now. Or maybe not. Today the NY Times reports that schools are extending time off and resorting to one day a week (or a month) as remote learning only...

As John Sexton reports, the teachers -- who clearly just wanted to stop working -- have given up using covid as an excuse to stop working, and are now offering the excuse that the "battles" over them taking time off during covid, as well as arguments about CRT, is just "too much" for them, and they need some Mental Health Days.
Sexton quotes this posting from a "veteran public school teacher" who encourages teachers to basically take as much time as they need to get their heads together, and, if parents don't like it, well then: Parents can teach their kids.
Veteran public school teacher here. I am hearing the same experiences over and over from my former colleagues (and on several private teacher-only message boards): rude parents, combative students, undermining administrators, useless curriculum, stagnant wages, total burnout. Some of their personal stories from the classroom this year would make your toes curl. We understand this is a profession that has its ups and downs, but the near-constant abuse and the general consensus for years that teachers are responsible for all of the ills of society have finally taken their toll. To the teachers in the trenches: I see you, and I support you. I know the invisible load you carry and the unseen work you do. If virtual Fridays help to make your life and mental health better, it's time for parents to step up and do their part.
Well, parents thought they were doing their part by paying people to teach their children.
If you're not willing to do that job, they can pay other people to teach their children, and fire your lazy, uneducated, ignorant asses.
This is incredible.
As Sexton says: Don't expect this to stop in LA. Once word gets out that this is going on in LA and teachers are getting away with it, teachers across the country will begin doing this.
Teachers have decided they are part of the "Laptop Class" they are so envious of, the upper middle class that can do almost all of their work remotely through a computer and via zoom meetings, and being envious of higher-status people, they've decided to convert teaching into a "Laptop Class" occupation against the wills of parents.
They're not that -- they're workers at a modest middle-class civil service job -- but they conceive of themselves as part of the Upper Middle Learned Classes and they're determined to gain both the salaries and non-pecuniary benefits that attend to those classes.
And if that's inconvenient for parents, who will have to make arrangements for someone to watch their children during school hours -- why they'll just have to "step up" then, won't they?
More at Sexton's link. And do hit it. I've taken so much from him today! But most of the quotes are back there, including more quotes from entitled teachers who obviously hate parents -- and children, too.
7 From CNBC- Virtual school resulted in 'significant' academic learning loss, study finds Posted by: redridinghood
But they're just All About the Kids, you know.
That's all they care about -- The Kids.
Continue reading