Sunday Morning Book Thread 02-14-2016: Valentine's Day Edition [OregonMuse]
—Open Blogger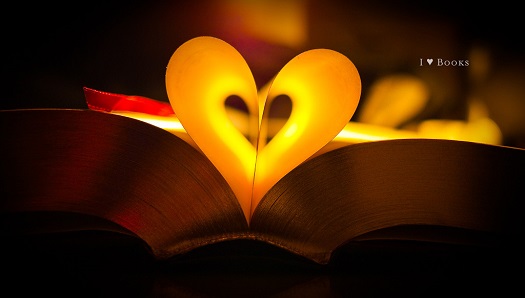 Good morning to all of you morons and moronettes and bartenders everywhere and all the ships at sea. And to all you young lovers wherever you are, we hope your problems are few. Welcome to AoSHQ's stately, prestigious, internationally acclaimed and high-class Sunday Morning Book Thread. The Sunday Morning Book Thread is the only AoSHQ thread that is so hoity-toity, pants are required. But since today is Valentine's Day, they can be pink.
108 Reading is fundamental: fun and mental!

Posted by: Joe Biden at February 07, 2016 10:07 AM (UBS9M)

Books For Valentine's Day
By the grace of God, I have been married to the lovely Mrs. Muse for over 30 years. I think it's a miracle that she has put up with my BS for that long. One of the things that has helped me reduce the amount of BS I'm pumping into the relationahip is this book, Men Are from Mars, Women Are from Venus: Practical Guide for Improving Communication by John Gray. Generally, I avoid the pop psychology and self-help stuff, but my pastor recommended it. "Yeah, I know it's not explicitly Christian" he told me, "but read it anyway, it's got some good insights." And he was right, it does. Mrs. Muse read it, too, and we've both benefited. We understand each other better, and what I found amusing was that it helped me in my phone tech support job, particularly in establishing rapport (and trust) with women callers.
And, as an added bonus, this book describes men and women behaving in characteristically masculine and feminine ways, therefore feminists will hate it. As will other sexually maladroit and ignorant progressives who have expanded their revolt against their parents into a full-scale war on reality.
I haven't read, but have been recommended The 5 Love Languages: The Secret to Love that Lasts by Gary Chapman:
Unhappiness in marriage often has a simple root cause: we speak different love languages, believes Dr. Gary Chapman. While working as a marriage counselor for more than 30 years, he identified five love languages: Words of Affirmation, Quality Time, Receiving Gifts, Acts of Service, and Physical Touch. In a friendly, often humorous style, he unpacks each one. Some husbands or wives may crave focused attention; another needs regular praise. Gifts are highly important to one spouse, while another sees fixing a leaky faucet, ironing a shirt, or cooking a meal as filling their "love tank." Some partners might find physical touch makes them feel valued: holding hands, giving back rubs, and sexual contact. Chapman illustrates each love language with real-life examples from his counseling practice.
Of course, both of these books spun off their own little cottage industry of additional books, speaking tours, seminars, etc.
Just for grins, I ran "history of romantic love" through the Amazon search engine, and it came up with
How the French Invented Love: Nine Hundred Years of Passion and Romance by Marilyn Yalom
How the French Invented Love is an entertaining and masterful history of love à la française by acclaimed scholar Marilyn Yalom. Spanning the Middle Ages to the present, Yalom explores a love-obsessed culture through its great works of literature—from Moliere's comic love to the tragic love of Racine, from the existential love of Simone de Beauvoir and Jean-Paul Sartre to the romanticism of George Sand and Alfred de Musset. A thoroughly engaging homage to French culture and literature interlaced with the author's delicious personal anecdotes.
This led me to What French Women Know: About Love, Sex, and Other Matters of the Heart and Mind by Debra Ollivier, an American-born Francophile author who, for example,
...pointedly debunks the myth that French women deprive themselves of fattening foods and drink in order to maintain a suitable weight, but reveals that French women are masters of portion control. She...came to the realization that, in France, women genuinely love men, and vice versa; both strive for more compatibility between the sexes, radically diminishing the "battle of the sexes" mentality so commonplace in American society. Intriguingly, Ollivier contrasts the French desire for mystery against the American need for knowledge and control, finding in the discrepancy a possible reason for the ever-escalating American divorce rate.
The problem is that in America, we've got an entire academic discipline (women's studies), which goal is the destruction of marriage, trying to set men and women permanently against each other. Not sure if they have that in France. However, having said this, I think our divorce rate was ridiculously high even before the crybullies and Frankfort School grievance jockeys showed up to throw sand in the social machinery.
Lastly, there's Adult Coloring Books: St.Valentines Sample Patterns: 33 Beautiful, Romantic Stress Relieving Designs. The funny thing is, this is a Kindle book. Now how does that work? When you buy it, it contains a link to a FREE pdf version that you can download and print out.
Threadwinner
Nothing to do with books, but I have to repost this comment from yesterday:
152 The Pope needs to give up Communism for Lent.

Posted by: buzzion at February 13, 2016 12:05 PM (zt+N6)
Heh. Not bad for a dead guy.

Continue reading