Sunday Morning Book Thread 05-29-2016: Memorial Fathers Day [OregonMuse]
—Open Blogger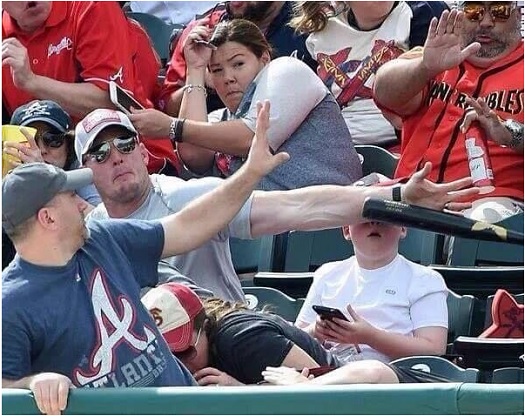 Can You Spot The Dad In This Photograph?

Yes, I know the real fathers day is next month. But I've heard that Memorial Day is now self-identifying as Fathers Day, so hey, who am I to say otherwise? Also, today's book thread pic was sent to me just this week and so I had to use it.
Good morning to all of you morons and moronettes and bartenders everywhere and all the ships at sea. Welcome to AoSHQ's stately, prestigious, internationally acclaimed and high-class Sunday Morning Book Thread, where men are men, all the 'ettes are lovely, space isn't safe, and snowflakes will melt. Oh, and gender is binary, so don't get cute. None of these weird hybrids. What are we, potted plants? The Sunday Morning Book Thread is the only AoSHQ thread that is so hoity-toity, pants are required.

Is The Patriarchy Smashed Yet?
Last week, there was some discussion in the comments about Washington Times columnist Diana West's book, American Betrayal: The Secret Assault on Our Nation's Character, and the controversy that erupted when it was first published.
Her massively researched book
...lights up the massive, Moscow-directed penetration of America's most hallowed halls of power, revealing not just the familiar struggle between Communism and the Free World, but the hidden war between those wishing to conceal the truth and those trying to expose the increasingly official web of lies...It was this moral surrender to deception and self-deception, West argues, that sent us down the long road to moral relativism, "political correctness," and other cultural ills that have left us unable to ask the hard questions: Does our silence on the crimes of Communism explain our silence on the totalitarianism of Islam? Is Uncle Sam once again betraying America?
I had noticed a few years back that the way the left in our country was treating Islam and the Islamists was eerily similar to the way they treated communism and communists back in the days of the Cold War. It's like I'm watching a reboot of the same movie (the last movie ended with Reagan, the fall of the Berlin Wall, and the dissolution of the USSR. So who's our Reagan now? Trump?)
The Islamists' sneaking of operatives into the American government is the book Ms. West originally set out to write, but the communism question came up as a side issue, and then became the main issue for her.
But that's not her first book. Rather, that honor belongs to The Death of the Grown-Up: How America's Arrested Development Is Bringing Down Western Civilization, wherein Ms. West asks "Is there a single adult left anywhere?" She sees
...a US filled with middle-age guys playing air guitar and thinks "No wonder we can't stop Islamic terrorism."...But, the grown-ups are all gone. The disease that killed them was incubated in the sixties to a rock-and-roll score, took hold in the seventies with the help of multiculturalism and left us with a nation of eternal adolescents who can't decide between "good" and "bad", a generation who can't say "no". From the inability to nix a sixteen year-old's request for Marilyn Manson concert tickets to offering adolescents parentally-funded motel rooms on prom night to rationalizing murderous acts of Islamic suicide bombers with platitudes of cultural equivalence, West sees us on a slippery slope that's lead to a time when America has forgotten its place in the world.
And to this I would add the inability of college administrators to tell disruptive students to shut up and get back to class, otherwise face expulsion. I remember seeing a video of a Mizzou student throwing a tantrum in response to a college ombudsman who came out to talk, and she was yelling and railing at him, and the guy just stood there and took it. I'm watching this play out, absolutely dumbfounded at his reluctance to say anything in response, and then it suddenly occurred to me that there really is not much difference between the yeller and yellee: I'd guess that both like and dislike pretty much the same things, he is no doubt on board with all of the agenda of social-justice-wankerism, so he really didn't have any reason to tell her to shut up and go back to class. In fact, you could make the argument that given their similarities in worldview, he probably should've been out there with her, yelling and screaming and carrying on. In order to fight social-justice-wankerism, you need a different platform upon which to stand, and he didn't have one.
And, as has been pointed out, the trigglypuffs on campus will continue to throw their tantrums until the adults who write the checks decide they're not going to write any more checks.
And another book which covers much of the same ground is Men on Strike: Why Men Are Boycotting Marriage, Fatherhood, and the American Dream - and Why It Matters by Helen Smith (I think she's the Instapundit's spouse), who argues that
...men aren't dropping out because they are stuck in arrested development. They are instead acting rationally in response to the lack of incentives society offers them to be responsible fathers, husbands and providers. In addition, men are going on strike, either consciously or unconsciously, because they do not want to be injured by the myriad of laws, attitudes and hostility against them for the crime of happening to be male in the twenty-first century.
A male population consisting of adolescent and subservient pajama boys is seen by progressives as a social good. In order to get this, they have to start early. So says Christina Hoff Sommers in her book The War Against Boys: How Misguided Policies are Harming Our Young Men, which documents how
...the problem of male underachievement is persistent and worsening. Among the new topics Sommers tackles: how the war against boys is harming our economic future, and how boy-averse trends such as the decline of recess and zero-tolerance disciplinary policies have turned our schools into hostile environments for boys. As our schools become more feelings-centered, risk-averse, competition-free, and sedentary, they move further and further from the characteristic needs of boys. She offers realistic, achievable solutions to these problems that include boy-friendly pedagogy, character and vocational education, and the choice of single-sex classrooms.
Continue reading