Overnight Open Thread (4-23-2015)
—Maetenloch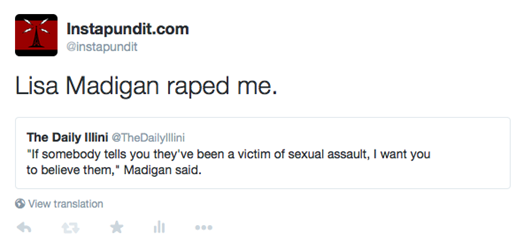 I was very touched by what the minister said about me on stage in Perth, but I was even more touched by what she said to the surviving editorial staff at Charlie Hebdo. I mentioned in that Trudeau post an upcoming engagement I'm doing on the Continent later this year and how I couldn't understand why they'd asked me - until I remembered that everyone ahead of me on the invitation list is either dead or in hiding. So the symbolism of what [Australian foreign minister] Julie Bishop chose to do is valuable and important - and stands in splendid contrast to the hollow pomposity of John Kerry and his stooge James Taylor.

And "Love your work" is a better expression of solidarity than "#JeSuisCharlie".

-- Mark Steyn
Art of Manliness Presents The Winston Churchill School of Adulthood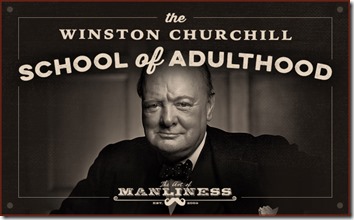 So I happened across this set of articles a few weeks ago and I have to say it's one of the best reads available on the internets for men. And it's free. They really ought to put these together and publish it as a book. And then charge good money for it.
Here Brett McKay, who runs the website The Art of Manliness has written a sequence of articles laying out how to be a man in full and lead a satisfying, accomplished life. A lot of it I think the morons will recognize as hard-won wisdom and things we've known to be true in our hearts even if we've never verbalized them - or always fully followed them.
Each article as well as the entire series is based on the life of Winston Churchill and in particular how he dealt with various challenges in life and created the means to overcome them, thrive and do great things. But the key word is create. Churchill was given some gifts and some (many) flaws and had a very inauspicious beginning in life and as a man - but he chose to make himself into the man he ultimately wanted to be and that allowed to him to create the life he wanted to lead.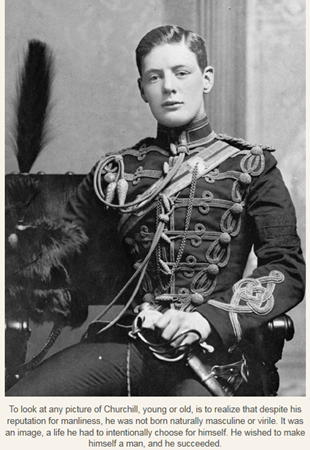 Now in many ways Churchill was sui generis and likely 99.97% of men could never hope to match his accomplishments. But his methods, philosophies, and manner of living life are available to most if not all men. So rather than trying to be Churchill instead aim for maybe adding 5% more Churchill into your life. You life may become happier but almost certainly it will become more satisfying and productive.
The Winston Churchill School of Adulthood Is Now in Session
Lesson #1: Develop a Mighty Moral Code
Lesson #2: Establish a Daily Routine
Lesson #3: Live Romantically
Lesson #4: Cultivate a Nostalgic Love for History
Lesson #5: Don't Give Up Your Sense of Adventure
Lesson #6: Don't Be Afraid to Start a Family
Lesson #7: Work Like a Slave; Command Like a King; Create Like a God
Tips on Hustling, Leadership, and Hobbies from Winston Churchill
Conclusion: Thought + Action = An Awesome Adulthood
This set of articles is targeted for men in their 20s. I think guys from say age 16 to 23 would get the absolute most from it and maybe find themselves inspired and directed. But even older middle-aged dudes like yours truly will still get a lot from it. Hell it's inspired me after reading it and made me think a lot about how my life is and how I'd like to be.
So much so that I've decided to in Churchill's parlance to take action this day: So I've decided to go to Iceland.
Why? Because I've been wanting to go there for almost 30 years. But the circumstances have never been right to do so. So I have decided to just make the circumstances be right. So I'm going and I'm going to do it in the next two weeks. And I intend to enjoy the hell out it. And when I come back I also intend to make some other structural, positive changes in my life.
Housekeeping Note: I will in London next week for business and then the next week in Iceland doing what I want. So no ONTs from me for two weeks.
There'll be fill-ins from the usual gang but if you think you've got what it takes to make an ONT - if you think you got the balls to do an ONT - then contact one of the Cobs and make your offer.
Peace. Out.
Odds of Maetenloch returning to the ONT: Good
Continue reading