Overnight Open Thread (11-26-2014)
—Maetenloch
Latest Trend in #Ferguson Protests: Blocking America's Highways
Dozens of UCSD students brought traffic to a halt on northbound Interstate 5 Wednesday morning to protest the decision of a grand jury in Ferguson, Mo., not to indict a white policeman for killing an unarmed black teenager.

A crowd of an estimated 50 to 70 protesters marched onto the freeway at Nobel Drive at about 6:49 a.m., blocking the northbound lanes. They remained in the roadway for about 40 minutes until San Diego police arrived and removed them.

The protesters left the freeway peacefully and began marching on surface streets. There were no immediate reports of arrests.
I'll say it right now: This is such an egregious and deliberate provocation and harassment of innocent people that I will not convict anyone who assaults or even kills these kind of protesters.

Just come up with some kind of semi-plausible BS about not seeing them due to reflections of Venus trapped in swamp gas that got into your eye and you'll walk free. People get shot for less every single day. Note that this can be avoided if the police will come down hard on freeway blockers but since they won't, it'll have to be discouraged in a different, harsher way.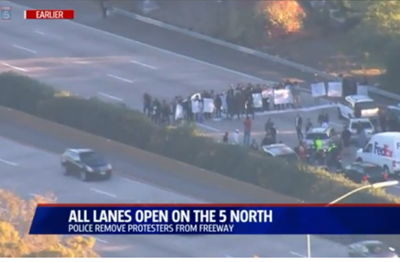 Obama Publicly Admits He Acted Extra-Constitutionally
"Listen, you know -- here. Can I just say this, all right? I've listened to you. I heard you. I heard you. I heard you. All right? Now I have been respectful, I let you holler. All right? So let me just -- nobody is removing you. I have heard you, but you have got to listen to me, too. All right? And I understand you may disagree, I understand you may disagree. But we have got to be able to talk honestly about these issues, all right?

"Now, you're absolutely right that there have been significant numbers of deportations. That's true. But what you are not paying attention to is the fact that I just took an action to change the law."
'Hands Up, Don't Shoot' Was All A Lie
But truth must bow down before the revolutionary narrative.
The forensic evidence collected at the scene includes blood droplet spatter that suggests Michael Brown did in fact turn and then advance upon Officer Wilson.

Evidence collected inside the car, on Wilson's gun, from his uniform, and from Michael Brown's body in three separate autopsies are consistent with the claim that Brown was shot in the hand in the struggle over the weapon.

Multiple eyewitnesses confirmed the physical evidence that Michael Brown was advancing upon Officer Wilson when he was shot and killed.

While there may not be such thing as a "textbook" shooting, every single shot fired by Officer Wilson, from the first attempt inside the Tahoe until the final shot into the apex of a charging Brown's head, was entirely justified as a matter of self-defense.
Continue reading