Overnight Open Thread (9-21-2014)
—Maetenloch
"An analogy might be useful: Evangelical Christians are among Israel's strongest supporters in America, yet some Jews - including liberals as well as Christianophobic ultra-Orthodox - reject this support. That is hysteria. Israel's supporters in America are among the strongest defenders of Middle Eastern Christians, yet some Middle Eastern Christians reject this support. That is also hysteria. Jews who reject Christian support are crazy, and Middle Eastern Christians who reject Jewish support are crazy. It's the job of leaders to tell them so."

-- Spengler
REMINDER: If Sean Eldridge Doesn't Lose By at Least 30 Points It Will Be a Defeat For America
I was iffy at first but convinced at the end of the editorial. And should Eldridge by chance win we ought to just be honest with ourselves and establish an American House of Lords.
Hughes has spent the last several years buying multiple mansions in neighboring congressional districts in an effort to fulfill the political ambitions of his 28-year-old husband, who has a philosophy degree from Brown. It would seem that Eldridge believes he is even more entitled to political power than does Sandra Fluke, who is five years his senior yet still has enough self-awareness and humility to realize that people who lack any relevant qualifications should probably run for office at the state level before trying to purchase a seat in Congress. Eldridge, on the other hand, has quite literally sought to establish a modern day feudal system in New York's 19th district in an effort to buy votes, but won't even commit to stay in the district after he loses.

Eldridge perfectly embodies the hypocrisy and self-serving douchebaggery voters find so obnoxious about entitled liberals. He preaches about the need to "reduce the influence of special interest money in politics," while taking money from labor unions, Silicon Valley CEOs, Goldman Sachs executives, billionaire financiers George Soros and Tom Steyer, and his multi-millionaire husband.

The voters of New York's 19th district hold the fate of the free world in their hands. Now is not the time to get cocky and spike the football. Now is the time to run up the score and cover that 30-point spread. For America.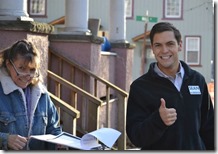 Secretary of Defense Chuck Hagel Busy Working on the Important Things
Which include the DoD's relationship with the now politically incorrect NFL:
CNN reports that Chuck Hagel has asked his staff for detailed information about the U.S. military's relationships with the National Football League in the wake of the controversy over how the league is handling domestic-abuse allegations against players. With the U.S. supposedly ramping for a war against ISIS, you would think that Hagel has better things to worry about. But politically correct posturing is always a priority for Team Obama.

...The NFL can't tell Chuck Hagel to pound sand, but that would be the appropriate response. That, plus a 15-yard penalty for piling on.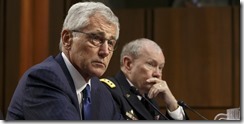 Continue reading