June 30, 2016
Overnight Open Thread (6-30-2016)
—Maetenloch
California's high-speed rail project increasingly looks like an expensive social science experiment to test just how long interest groups can keep money flowing to a doomed endeavor before elected officials finally decide to cancel it. What combination of sweet-sounding scenarios, streamlined mockups, ever-changing and mind-numbing technical detail, and audacious spin will keep the dream alive?

-- Virginia Postrel on California's high speed rail boondoggle
My cousin called me from the States tonight to ask what the heck is going on over here. I suppose it's being reported that gangs of Hitler youth are roaming the streets beating up brown people. Or something. That's The Narrative and they're sticking to it - most of the papers, the pundits, even the police.

Whether there's been a real rise in racial conflicts, I have no idea. They say calls to the police abuse hotlines are way up, but most of the actual reports seem to be Rudeness in the First Degree or Really Hurtful T-Shirt Slogans.

-- Sweasel
Beauty and laughter are pleasures, but they aren't just an escape from constant sorrow. They are real but otherworldly; we can't control their coming and going. They are glimpses of Ithaca, of the home we seek, of the fellowship which allows us to survive and prosper. That's why they are so important to our social order, and I have to assume it's why the Greeks put comedies at the heart of their civic life.

I've read that the writers who competed in the festivals of Dionysus had to compose four plays. The first three were tragedies, but the last had to be a comedy. According to this recipe tragedy occupies much of our time, but comedy has the last word. The two forms work together to celebrate the life force that Dionysus represents.

-- PowerLine reader Alon Griesinger
The books or the music in which we thought the beauty was located will betray us if we trust to them; it was not in them, it only came through them, and what came through them was longing. These things - the beauty, the memory of our own past - are good images of what we really desire; but if they are mistaken for the thing itself they turn into dumb idols, breaking the hearts of their worshippers. For they are not the thing itself; they are only the scent of a flower we have not found, the echo of a tune we have not heard, news from a country we have never yet visited.

-- C.S. Lewis
Daniel Hannan Spends Nine Minutes Smacking Down CNN Journalist Hack Christiane Amanpour
She asserts he said something he didn't and then keeps doubling down and he's having none it. Then she tries to throw some guilt-by-association at Hannan by making him answer for anti-immigrant graffiti that appeared on some wall somewhere.

In her very slight defense she may have gotten Hannan confused with Nigel Farage and started reading out Farage quotes but still what a shameless, obnoxious overrated hack. You can watch the whole thing here.
The Hellhole of Alresford: Tim Blair and Iowahawk Dogpile on a Hapless British Academic
Who happens to despise his pleasant home town of Alresford, England and everyone everywhere who supported Brexit. Also all the people who live in small backward hellish villages who probably should be destroyed for the greater good.
Alresford is my personal hell.

...We are not used to thinking that a place like this - a pleasant town with a pretty center - might actually be hell. There is almost no poverty and only the occasional act of violence. There are good schools, a range of shops, a heritage railway. In fact, it's somewhere that a lot of people, apparently, actively want to live .

But dig below the surface, and you will find the demons crawling.
And it is impossible to leave Alresford, because Alresford is not just a place: It is an ideology that infects your very soul. Let's call it "Alresfordism." It is an ideology of smallness, of contraction, of wanting to curl up in our own personal, financially secure hole and will everything amusing or interesting or exciting in the world away.

...All I can do is look out at the nature from the window of my room in Alresford. I'm from here, so I can't be sure whether or not this is just another type of nihilism, but I think: Well, if all this nature is bigger than us, then I want it be get even bigger. I want it to become so big that it will consume all of our smallnesses, invalidate them, smother them out. Not just Alresford. I want a demented, throbbing, fecund nature to overrun this whole country, to overturn the wretched consequences of the laws that we have, in our stupidity, set for ourselves.
Tim Blair notes that when Whyman isn't demanding nature's consumption of humankind and the destruction of Alresfords everywhere, he also writes about cupcakes.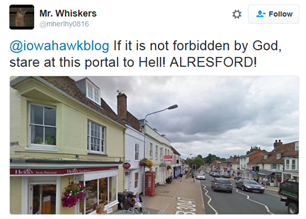 Continue reading