Sunday Morning Book Thread 02-19-2017
—OregonMuse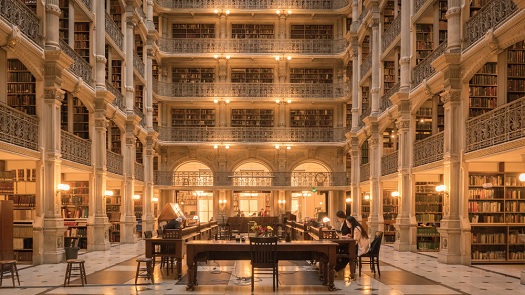 Main Reading Room, George Peabody Library, Baltimore
(h/t Mike Hammer for the Peabody pics)
Good morning to all you 'rons, 'ettes, lurkers, and lurkettes. Welcome once again to the stately, prestigious, internationally acclaimed and high-class Sunday Morning Book Thread, where men are men, all the 'ettes are hotties, safe spaces are underneath your house and are used as protection against actual dangers, like natural disasters, or rioting in the streets, and special snowflakes do not get respect, but instead, a big load of guffaws. And unlike other AoSHQ comment threads, the Sunday Morning Book Thread is so hoity-toity, pants are required. Even if it's these pants, both of which should be taken out and shot.
And welcome back, Vic!

Nothing To See Here, Move Along
The Federalist asks the question, Did The New York Times Deliberately Snub 'Gosnell' Book From Its Bestseller List?
When Gosnell: The Untold Story of America's Most Prolific Serial Killer launched last week, it was No. 3 on Amazon's bestseller list, and took the top slot on the retailer's "Hot New Release" list. Currently, Gosnell is No. 15 on Amazon's "Hot New Release" list, and No. 13 on NYT's "Combined Print & E-Book Nonfiction" list, yet NYT won't include it on its bestseller nonfiction list.
Amazon sales are not the same thing as NY Times sales, which are measured differently. That's why the the best-seller lists are different. On the other hand, the NY Times explanation actually explains nothing:
The Times's best-seller lists are based on a detailed analysis of book sales from a wide range of retailers who provide us with specific and confidential context of their sales each week. These standards are applied consistently, across the board in order to provide Times readers our best assessment of what books are the most broadly popular at that time.
Sounds kind of weasely. And what is "specific and confidential context" supposed to mean?
But regardless, here is the book: Gosnell: The Untold Story of America's Most Prolific Serial Killer by Ann McElhinney and Philem McAleer
When the Grand Jury indicted abortion doctor Dr. Kermit Gosnell in 2011, it wrote: "This case is about a doctor who killed babies... What we mean is that he regularly and illegally delivered live, viable babies in the third trimester of pregnancy—and then murdered these newborns by severing their spinal cords with scissors... Over the years, many people came to know that something was going on here. But no one put a stop to it."
So Gosnell couldn't have done it without help:
The complicit role activist media, social radicals, medical colleagues, and incompetent (politicized) government played in perpetuating his crimes is an indictment of the moral wasteland we're becoming. This is not about equating Gosnell's crime to the horrific actions of Mengele, except to illustrate contemporary society's refusal to learn from the past. If we did care, these blood-curdling crimes against babies would have ended earlier. If we did care, a caring nation would collectively march in the streets demanding answers. Instead, there's muted silence and politicized obfuscation.
Continue reading