Saturday Gardening Thread: Seeing Red [Y-not, WeirdDave and KT]
—Open Blogger
Earlier this week when I was drafting my portion of the Gardening Thread, I was inspired by this: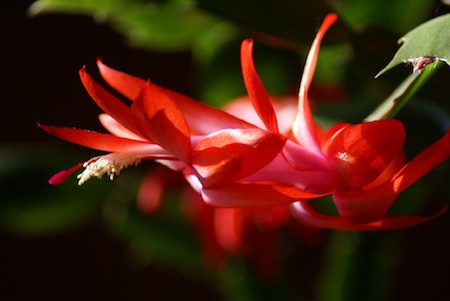 Mister Y-not and I had dinner at some friends' house and, unable to bring them a bottle of wine, I brought a spectacular Christmas cactus as our thank you gift. As you probably know, Christmas cacti come in all sorts of colors, but this red one was particularly striking. So my "theme" was going to be red "holiday" plants and favorite plant gifts.
Then I saw that one of my partners in crime, KT, was working on a cranberry post, so all was well. We had quite a good little theme going.
But after Thursday night, I am seeing red for an entirely different reason:
President Obama's primetime speech Thursday night caused feelings of anger for many, and not only because he granted de-facto amnesty to millions of illegal aliens.

During the speech the president referred to illegals as "workers who pick our fruit and make our beds." Astounding when you consider this was a prepared speech written, read and edited by a team of professionals who somehow allowed that line to get through.

He also mentioned a young woman named Astrid Silva, who was brought to America by her parents at the age of four, became a great student and is working on her third degree from college.

"Her father worked in landscaping. Her mom cleaned other people's homes," he said in describing her parents.

That was enough to set the Twittersphere on fire with at least one person referring to it as the most racist speech since Woodrow Wilson.
And that, dear friends, is why there was no Politics Thread today. As Steyn pointed out Elections Matter... except when they don't. My heart just wasn't in it after Obama flipped the entire nation the bird, so we'll pick up the review of 2016 candidates next week. (Probably.)
Now on to nicer things...
Thanksgiving and Christmas Cactus are possibly the second most common plants (after poinsettia) enjoyed in North American households in December, but they had their origins in the tropics. They are from the plant family Cactaceae, or cactus, and the Genus is now known as Schlumbergera, but older works may refer to the prior name of Zygocactus.

These are succulent perennials which lack spines and are native to the South American tropics of Brazil, high in the Organ Mountains north of Rio de Janeiro. Like many tropical cacti, these holiday favorites are epiphytes, which means they live on other plants, using the other plant as substrate, or a place to live. (As opposed to a parasitic plant, which uses its host for nutrients.)
It turns out the plant I gave my friend was probably a Thanksgiving cactus based on what I learned in this article.

Continue reading