Sunday Morning Book Thread 05-24-2015: For The Rough Men Willling To Do Violence On Our Behalf [OregonMuse]
—Open Blogger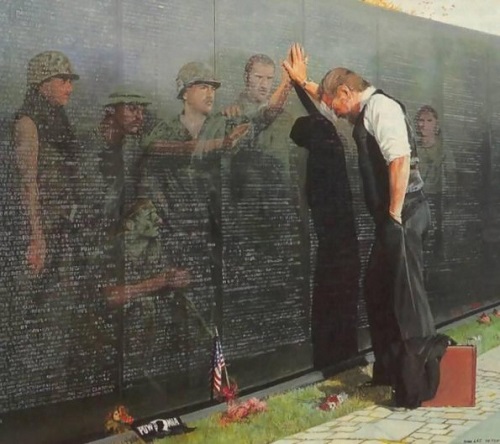 Good morning to all of you morons and moronettes and bartenders everywhere and all the ships at sea. Welcome to AoSHQ's stately, prestigious, internationally acclaimed and high-class Sunday Morning Book Thread. The only AoSHQ thread that is so hoity-toity, pants are required. Or kilts. Kilts are OK, too. But not tutus. Unless you're a girl.
Book Quote
Anyone who says they have only one life to live must not know how to read a book.
-Author Unknown
Many of you will recognize that the title of this morning's book thread is from the quote by George Orwell, "people sleep peacefully in their beds at night only because rough men stand ready to do violence on their behalf." This is a great quote, but alas, Orwell never said it. Here is an interesting account of how it probably came to be misattributed.

We Will Remember Them
With proud thanksgiving, a mother for her children,
England mourns for her dead across the sea.
Flesh of her flesh they were, spirit of her spirit,
Fallen in the cause of the free.
...
They shall grow not old, as we that are left grow old:
Age shall not weary them, nor the years condemn.
At the going down of the sun and in the morning
We will remember them.

Excerpt from For The Fallen by Robert Laurence Binyon (1869-1943)

War Novels
There's a number of "greatest war novels" lists available (for example, this one, and that one, and that one and that one in particular), and there are some great books on those lists, but I decided to pick just one novel for this Memorial Day, A Midnight Clear by William Wharton, which didn't make many of the lists. It just sounded interesting:
Set in the Ardennes Forest on Christmas Eve 1944, Sergeant Will Knott and five other GIs are ordered close to the German lines to establish an observation post in an abandoned chateau. Here they play at being soldiers in what seems to be complete isolation. That is, until the Germans begin revealing their whereabouts and leaving signs of their presence: a scarecrow, equipment the squad had dropped...and, strangest of all, a small fir tree hung with fruit, candles, and cardboard stars. Suddenly, Knott and the others must unravel these mysteries, learning as they do about themselves, about one another, and about the "enemy"
Wharton also wrote an account of his own WWII experiences, Shrapnel: A Memoir.

Military Fiction by Veterans
Thanks to Oldsailors Poet for telling me about this site here for military fiction written by actual veterans. Sales-based donations go to various veterans groups. How much and what veteran groups depends on the title. The link is to the "action and adventure" books, but there are many books and many genres represented.
Continue reading