« Saturday Afternoon Chess thread 03-13-2021
|
Main
|
Saturday Overnight Open Thread (3/13/21) Potpourri Edition »
March 13, 2021
Science isn't dead, but it is ailing - part 7
by Your Raving Roving Science Correspondent [Jay Guevara]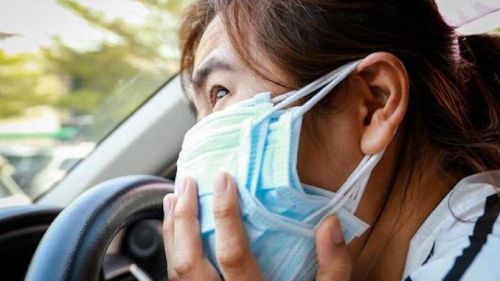 Past entries in the series:
Science isn't dead, but it is ailing - part 6
Science isn't dead, but it is ailing - part 5
Science isn't dead, but it is ailing - part 4
Science isn't dead, but it is ailing - part 3
Science isn't dead, but it is ailing - part 2
Science isn't dead, but it is ailing - part 1
This series concerns the corruption of science in popular culture, and in particular, the wooly thinking that goes into articles and public pronouncements purporting to address scientific issues.
A recent and especially egregious case would involve young Dr. Fauci and the wearing of masks. First, in March 2020, he doubted that masks would be of any efficacy. Then he reversed himself, citing "data" that made the efficacy of masks "very clear,' and urged everyone to wear a mask.
Now this makes no sense at all. Does a mask stop the virus, or doesn't it? Since a mask is a physical barrier, it presumably filters viruses on the basis of size. Covid 19 is 0.12 microns in size (120 nm; 1.2 x 10-7 m), about the same size as the influenza virus, 0.1 microns. Here is a visual comparison of the size of viruses compared to cloth and surgical masks.
N-95 masks have 0.1 micron pores (100 nm; 1 x 10-7 m; 0.000004 inch). They are reported to filter airborne particles with 95% efficacy, hence the N-95 designation. Now (on admittedly cursory investigation) I haven't been able to find quite what 95% efficacy means; does it mean 95% of all the viral particulate stuff in the air,* or 95% of stuff that is 0.1 microns in diameter, or what? I also haven't been able to find the viral titer that suffices to cause infection. If 95% efficacy refers to virus particles 0.1 microns in size, is the 5% that gets through sufficient to cause infection? Aren't these apposite questions regarding the use of masks? Yet they are apparently unaddressed anywhere that I could find.
Most recently (January), Fauci recommended wearing two masks. C'mon, paisan, admit it: you have no idea what you're talking about. Were you wrong before, or are you wrong now? Because you've taken two diametrically opposed positions in the space of a few months, and now a third position. Can a recommendation that we wear onions on our belts be far behind?
I think we're owed a detailed explanation. If he changed his mind in view of subsequent data, how about sharing those data and his analysis of them? Putting the data on a website, so those who are interested can evaluate them, would be an obvious expedient.
Perhaps he is adopting the posture of Governor Hair Gel of California, who has declined to provide any data or other information regarding when, if, or why he imposes restrictions on some parts of California but not others. Does he seriously think that there's no one in the state who could analyze and understand the data? Apparently it took a recall campaign to focus his intellect, such as it is, on the need to relax the draconian restrictions he'd imposed unilaterally, because now that the recall campaign has the requisite number of signatures, he's suddenly shifting toward a que sera, sera policy.
This intrusion of science gurus into the public sphere is but one excrescence growing on the body of science, although it is an especially pernicious one. Less pernicious, but more widespread, is the spread of popular science, especially of the health/nutrition variety, into the mass media, and the reflexive use of marketing language in the resultant articles.
Of this, more anon.
* Viruses typically range in size from 5 to 300 nm (i.e., 5-300 x 10-9 meters; 0.005-0.3 microns, or 0.0002-0.01 inch);

posted by Open Blogger at
07:30 PM
|
Access Comments