« Saturday Afternoon Chess thread 11-07-2020
|
Main
|
Saturday Overnight Open Thread (11/7/20) »
November 07, 2020
Science isn't dead, but it is ailing - part 3 [Jay Guevara]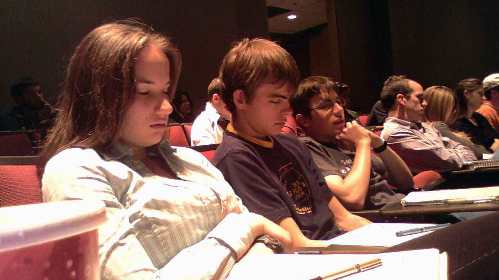 With apologies in advance to non-STEM types, this is going to be a rant posting about the dire state of science education, focusing in this case on chemistry.
Most people hate chemistry, and on meeting a chemist, commonly say it was one of their worst subjects. It's not hard to understand why. Chemistry courses and textbooks almost invariably start with Schrödinger's wave equation. Now there's no better way to put hung-over 18 year old undergraduates off the subject than to begin with something that chemists almost never use. It's pure intellectual pretension to start with the wave equation, which in any case is physics more than chemistry. (Chemists use the solutions to the wave equation, but not the wave equation itself, as it can only be solved in closed form for the hydrogen atom. Pfft.)
Chemistry is about the structure and reactions of matter. Some compounds are compounds are commonly found as gases, some as liquids, some as solids, some stink, some are blue, some burst into flame in air, some are completely inert, some are pulled into magnetic fields, other pushed out. Establishing a conceptual framework for understanding and thinking about these observations, and making predictions about them, now THAT is chemistry.
A phenomenological approach is a better place to start. For example, "copper sulfate is blue, and pulled into a magnetic field. Addition of a reducing agent gives a colorless compound that is pushed out of a magnetic field. Why? How can we understand these observations? Answering this and related questions is the subject of this course."
What about electrons, protons, and bonds then? "A chemical compound consists of a framework of positively charged nuclei immersed in a sea of negatively charged particles (called electrons) that slosh over and in particular between the nuclei. Think of a tray of water, where the electrons correspond to the water. Some nuclei attract electrons more than others. We call that "electronegativity," and it corresponds to making one end of the tray deeper than the other. Now in fact, this is pretty much how most chemists actually think about chemical compounds. It's a very simple treatment with a lot of legs. (Consider that it can later even be easily extended to electronic transitions, which correspond to rocking the tray at a resonant frequency.)
So far, no mention of orbitals or the like. Throw in some bangs and booms lecture demonstrations, and you've got the rapt attention of said hung-over undergraduates. What's more, this type of treatment closely tracks how chemistry actually developed conceptually. Only a bit later posit the existence of orbitals (and relegate solution of the wave equation to an appendix, treating it in detail in upper division courses).
One of the Guevara spawn had a high school chemistry text that took exactly the opposite tack. Page N talked about atoms, and page N+2 moved on to glycosidic linkages in the nucleotides of DNA. WTF? Were 500 pages inadvertently omitted between these two topics? Junior's chemistry teacher told me that they used pH as a qualitative measure of acidity (how would you rate the acidity on a scale of 1 to 10, or in this case 0 to 14? In essence, treating pH as an ordinal number) because they didn't teach the mole concept. It was too difficult. What? The mole concept and pH were too difficult, but glycosidic linkages were no problem? Junior did well in the class because he has almost photographic memory, and he simply memorized everything, but it put him off the subject for life. Why do American kids eschew science? It's a mystery.
More later on science (and math) education.

posted by Open Blogger at
07:30 PM
|
Access Comments