« Horrible Report: US Planes Attack Iraqi Wedding Party, Killing 40
|
Main
|
Shock: Liberal Writer Almost Mentions Discovery of Sarin in Iraq »
May 19, 2004
Problem of Leatherclad S&M Maniacs Divides Community
THE GREAT WESTERN Desert, Australia -- It's a tiny community, of just one hundred and fifty souls. The economic center of the town is a single oil well; the only other economic activities are subistence farming and light trade with far-flung outposts across the dangerous highways. The town has no name, and appears on no maps.
But for the past year, residents have been debating a problem: what is to be done about the growing threat from the rampaging, gay-looking, bare-assed S&M biker gangs that control the highways and occasionally surround the town?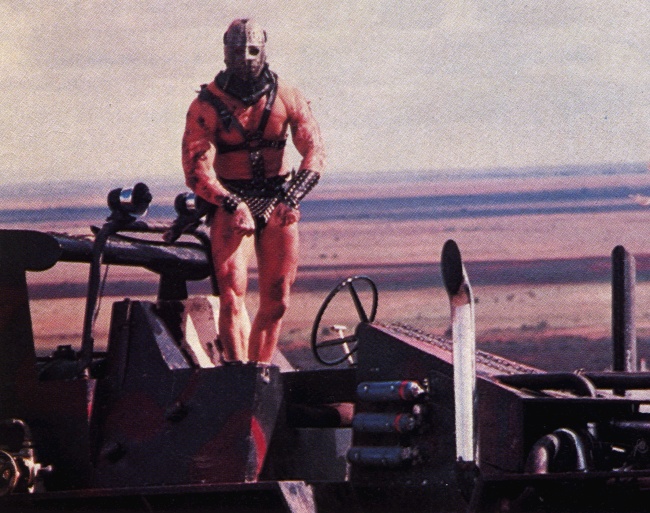 Lord Humungus, spiritual leader of the savage roving sort-of gay biker-gangs. Called "The Ayatollah of Rock-n-Rollah," he is seen here delivering the daily prayers to his followers and exhorting them to "kill, kill, kill" all who stand in his way. He describes himself as being fundamentally "a man of peace."


One resident, a 30-year-old unmarried female known only to her fellow residents as "Warrior Woman," sees the threat in stark terms. "They're monsters," she says flatly. "They butcher us when we dare to leave the town's protective walls. Every day they kill a couple more of us; every day their numbers grow. The only solution is to take the fight to them."
A Feral Kid expresses his full agreement with the Warrior Woman. "Rrrrahhh," he says. And there seems little chance of changing his mind.
But other residents are more cautious. "'Take the fight to them?'" scoffs one resident. "That's what Warrior Woman says about every problem. Are the chickens not producing enough eggs? Take the fight to them. Are the engines of our scavenged vehicles old and in dire need of replacement? Take the fight to them."
The resident, who only identifies himself as The Curmudgeon, sighs and shakes his head. "Warrior Woman has a cool composite bow and bright-white football shoulder pads. She thinks she can fight the highway trash. But you know what? The highway gangs have shoulder pads too, and lots of bows and arrows. They've got crossbows, little ones that fit right on their forearms. And their leader even has a .44 magnum revolver and four bullets, several of which might not be dud rounds."
The Curmudgeon doesn't believe that war is the solution. "An arrow for an arrow leaves the world blind."
"I reject the term 'terrorism,'" says the leader of the highway gangs, a beefy, steel-hockey-mask-wearing self-styled "resistance leader" calling himself Lord Humungus. "Is it 'terrorism' when when we indiscriminately slaughter innocent civillians? Is it 'terrorism' when we take them prisoner and tie them to the front of our dune-buggies as human shields? Is it 'terrorism' just because we surround their camp and tell them they must give in to us or else we will continue terrorizing them?"
Lord Humungus scoffs at the absuridity of that characterization. "I think terms like 'terrorism' are far too simplistic. The world isn't black and white. It just isn't. Sure, all the people in the town wear white shoulder pads and bleached canvas, and all of our highway maniacs wear black leather bondage gear, but viewing the world in such a way lacks all nuance."
"This town's leadership doesn't understand that we can compromise with these savage, merciless bisexual rapist-killers," The Curmudgeon says. "This Humungus is a reasonable man. He can be negotiated with."
Lord Humungus is quick to agree. "We want exactly what they want. We want to torture them and butcher them. We want to rape them indiscriminately, men, women, children, and poultry. We want to take everything they have and leave them for dead, to be feasted upon by the desert vultures. Surely they can see that, by cooperating, we can both achieve all of our goals together. They will finally have peace, and we will finally have murdered every single one of them."
He seems reflective as he contemplates the misunderstanding between the cultures. "The savage marauding somewhat-gay biker-gang culture is a Culture of Peace. I do not want to set my beloved Dogs of War on these people. But they force me to. All of this senseless violence. And for what?"
One resident thinks she knows. "It's all about the oil," says an unnamed, chubby-but-hot blonde woman whose breasts seem perpetually in danger of falling out of her wide-open blouse, but never quite do. "It's just about the oil-well in the middle of our town. That's all this is about." She says she recently protested a speech by the town's leader, Pappagallo, waving a sign reading "NO BLOOD FOR GUZZOLINE."
Outside commentators see no easy answers, no obvious way to break the unending "cycle of violence."
Some have suggested that the only possible solution to the town's dilemma is the arrival of a mysterious, amoral drifter who can drive like an absolute madman but who is haunted by the deaths of his wife and daughter. The arrival of such a hero, it is imagined, will unite the town behind a single plan of action and lead to a daring daylight escape to the more civilized coastal areas, where there's "nothing to do but breed."
But Auntie Entity, Mayor for Life of neighboring Bartertown, rejects this solution as being "too easy." "We don't need another hero," she says as she polishes her chainmail boustier. "We just need to find the way home."


posted by Ace at
03:00 PM
|
Access Comments