« Saturday Afternoon Chess thread 10-17-2020
|
Main
|
Saturday Overnight Open Thread (10/17/20) »
October 17, 2020
Science Isn't Dead, But It Is Ailing - Part 2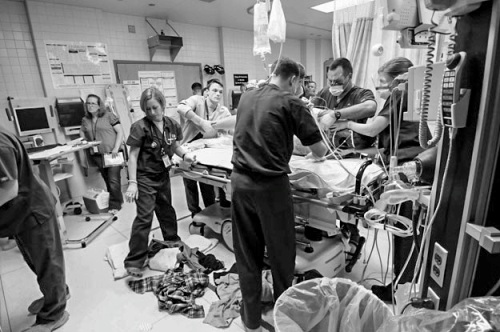 The politicization of science has now been proceeding apace for some years. The problem began, of course, with the social "sciences," which were dodgy to begin with, and became worse as they became a vehicle for advancing the leftist agenda. We've all seen numerous "studies" purporting to show that conservatives are all father-rapers who dance in the nude in the moonlight chanting over a dead cat.
Such "studies" are, of course, ridiculous, and no one with a room temperature IQ or above takes them seriously. But there is a more pernicious aspect, in that leftists cite social "science" studies as "proof" that their views reflect ScienceTM and that therefore anyone who opposes them is rejecting ScienceTM, and can therefore be dismissed as a Neanderthal.
A case in point occurred involving Prop. 8 in California, a voter initiative that effectively banned homosexual marriage and that had passed handily. In the ensuing litigation the state - in the person of AG Jerry Brown, a well-known conservative - was charged with defending Prop. 8, which they did with all the desire that any of us would have to kiss Hillary Clinton on the mouth.
Those trying to overturn Prop. 8 presented numerous "studies" showing that homosexual liaisons were fantastic, more stable than heterosexual ones in fact, and much to be encouraged, much like homosexuality itself. The state - i.e., Jerry Brown - produced bupkis. The presiding judge then overturned Prop. 8, saying that the state had failed to produce any studies rebutting those proffered by those opposed to Prop. 8, and then concluded the farcial pat-a-cake performance by going home to his husband. Now to my mind, this politicization of social "science," with the exception of instances such as that above, is no more concerning than would be the politicization of phrenology, or dowsing.
But what is troubling is the increasing politicization of actual science. The poster child for this, of course, is global warming, and more recently the Covid restrictions. Are masks and social distancing beneficial, not beneficial, sort of beneficial, or utterly necessary, but only for those in churches, political rallies, etc., with those engaging in rioting and looting enjoying immunity from the virus? Somehow, inexplicably, those engaging in left-wing "activities" do not spread the virus. Perhaps carrying an HDTV out of a Best Buy is some sort of protective talisman, a contemporary equivalent of a rabbit's foot or a St. Christopher medal.
Those are just high-profile instances of the politicization of science. Meanwhile, below the radar, the rot is spreading rapidly on less well-known fronts. For example, the proliferation of science and technology "studies," as well as engineering "studies" provides leftists - and these areas are exclusively leftist domains - with the patina of science, technology, and engineering, but without the substance. It gives its practitioners some aura of credibility while they promote leftist agitprop, secure in the knowledge that most people will they are listening to a scientist or an engineer, instead of a jumped-up sociologist. For example, from Wikipedia:

Engineering studies is an interdisciplinary branch of social sciences and humanities devoted to the study of engineers and their activities, often considered a part of science and technology studies (STS), and intersecting with and drawing from engineering education research.
So, basically, there's no engineering in "engineering studies."
We here at Casa Guevara came face to face with this politicization of science problem several years ago, when one of the Guevara spawn contemplated taking an AP high school course entitled "environmental science." He got the reading list and immediately rejected that idea. What was on the reading list, you ask? Articles on the carbon cycle, the nitrogen cycle, that sort of thing?
Not a bit of it. It was entirely leftist agitprop. Not a scintilla of actual science.
Here's the flavor of it, with excerpts from reviews, with more detail compiled here.
A Civil Action, by Jonathan Harr

"A Civil Action reads like one long advertisement for a few well-placed Molotov cocktails."
OK then.

***
Crimes Against Nature
, by Robert F. Kennedy
Now here, I thought, is a topic on which the Kennedys can certainly write with authority, but the whole title is: Crimes Against Nature: How George W. Bush and His Corporate Pals Are Plundering the Country and Hijacking Our Democracy
***
Death in the Marsh
, by Tom Harris
***
This detailed, persuasive narrative further clarifies the need to discover and remedy environmental perils while we still have the power to do so.
We've only got N years!
***
Earth in the Balance
, by Al Gore
This hardly needs discussion.

***
Eco-Warriors: Understanding the Radical Environmental Movement
Eco-Warriors was the first in-depth look at the people, actions, history and philosophies behind the "radical" environmental movement. Focusing on the work of Earth First!, the Sea Shepherds, Greenpeace, and the Animal Liberation Front, among others, Rik Scarce told exciting and sometimes frightening tales of front-line warriors defending an Earth they see as being in environmental peril.
...
Literate, captivating, and informative, this is also an ideal volume for classes on environmentalism, social movements, or contemporary politics.
"Front-line warriors." You know, just like the Waffen SS.

***
Earth in Mind: On Education, Environment, and the Human Prospect
, by David Orr
In Earth in Mind, Orr focuses not on problems in education, but on the problem of education. Much of what has gone wrong with the world, he argues, is the result of inadequate and misdirected education that alienates us from life in the name of human domination; causes students to worry about how to make a living before they know who they are; overemphasizes success and careers; separates feeling from intellect and the practical from the theoretical and deadens the sense of wonder for the created world.

***
Our Stolen Future: Are We Threatening Our Fertility, Intelligence, and Survival?
by Theo Colborn and Dianne Dumanoski
"A critically important book that forces us to ask new questions about the synthetic chemicals that we have spread across this earth."—former vice president Al Gore, author of An Inconvenient Truth

***
Slow Death by Rubber Duck: The Secret Danger of Everyday Things
, by Rick Smith and Bruce Lourie
This is one scary book. Using a variety of test methods, the authors determined individual "body burdens," or the toxic chemical load we carry. The innocuous rubber duck, for example, offers a poison soup of phthalates that "permeate the environment and humans."
...
If readers don't change their ways after reading this one, then they never will.

***
Plan B 2.0: Rescuing a Planet Under Stress and a Civilization in Trouble
, by Lester Brown
Earth Policy Institute president Brown (Who Will Feed China?) surveys the worldwide environmental devastation wrought by breakneck industrialization and the heedless, auto-centric, "throwaway economy": oil and water shortages, pollution, deforestation, soil erosion, desertification, collapsing fisheries, mass extinctions, looming famine and pestilence-and he hasn't even gotten to global warming yet.

***
I guess I just might as well open my veins now.
The problem is that this pernicious nonsense is now being taught under the aegis of science, when it is in fact no such thing. It is an example of what David Burge (IIRC) has aptly characterized as the left killing a respected institution, wearing its skin, and demanding respect. The question is: how to combat this?


posted by Open Blogger at
07:15 PM
|
Access Comments