« Saturday Afternoon Chess thread 02-20-2021
|
Main
|
Saturday Overnight Open Thread (2/20/21) »
February 20, 2021
Science Isn't Dead, But It Is Ailing - Part 6
by Your Raving Roving Science Correspondent [Jay Guevara]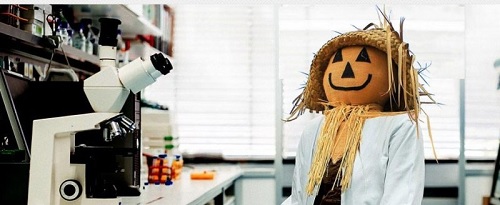 Past entries in the series:
Science isn't dead, but it is ailing - part 5
Science isn't dead, but it is ailing - part 4
Science isn't dead, but it is ailing - part 3
Science isn't dead, but it is ailing - part 2
Science isn't dead, but it is ailing - part 1
With so many aspects of our culture now contaminated with leftist nonsense, it was probably inevitable that science would eventually succumb to the pathogen that is leftism, which has led to the politicization of science, i.e., science put toward leftist goals.
It began with social "science," which struggled for validation and acceptance as a science before giving up the struggle entirely as hopeless, and simply accepting being a stalking horse for leftist propaganda. The result was any number of "studies" on how conservatives are stupid, uneducated, bigoted, rigid, etc. Apparently we're stupid, uneducated, bigoted, rigid, but also wealthy masters of the universe. It's ... complicated.

The utility of such "studies" to the Left was perhaps most apparent in the Prop. 8 fiasco, the initiative ballot measure in California banning homosexual marriage. Jerry Brown, the state AG at the time, was charged with speaking in favor of Prop. 8, which he did with all the enthusiasm I'd bring to kissing Hillary Clinton on the mouth. Those attacking Prop. 8 proffered any number of "studies" that purported to show that homosexuality was great, really, A-OK, the bedrock of society, something that had made America great, etc. Jerry Brown, of course, inexplicably failed to produce any "studies" in rebuttal (?), so Judge Lance, after careful and even-handed consideration of the two sides, threw out Prop. 8 and then went home to his husband, the kabuki now completed.
Sociology is the pigpen in which leftist social "scientists" most commonly wallow because it was of dubious intellectual merit to begin with, and rapidly jettisoned any pretense or effort of being intellectually meritorious. Apart from Edward Frazier Franklin, Daniel Patrick Moynihan, and the early W.E.B. duBois (whose doctoral dissertation on suppression of the American slave trade is a masterpiece of scholarship).
Similarly, psychology and political science have long had their problems, with Herrnstein and Murray being rare examples of a more scholarly approach. Economics, with its assertion of the rational market hope hypothesis also has its problems, with equally highly regarded economists (e.g., Friedman and Keynes) offering diametrically opposed viewpoints.
But all these problems dwindle into insignificance when putative scientists segue from their expertise into the political arena. Paul Krugman is the poster boy for this malady, but it extends into what are nominally STEM subjects as well. Michael Mann, Paul Ehrlich, to name two, are examples. Bill Nye isn't even a scientist, but an erstwhile mechanical engineer and failed comic, but he gets in on the act as well. You know, mechanical engineering is just like atmospheric physics, when you get down to it.
The problem is that these worthies use whatever reputation they had in their fields - and some of them had stellar reputations - and use it in essence to argue from authority for political goals, oftentimes basically intoning ex cathedra pronouncements. Now the obvious objection to their doing so is that they are speaking beyond their expertise and/or the data they have to hand. They are offering their opinions as indisputable facts, and tend to dismiss with a deprecatory wave of the hand - but no substantive arguments - anyone expressing skepticism. A more fundamental objection, however, is that even if they were on absolutely sound ground in a narrowly drawn scientific sense, political decisions must reflect much more than a simplistic technical perspective.
Consider global warming, for example. (Oh, excuse me: I meant, "climate change.")The Faithful urge that we as a nation repent and make sacrifice to Gaia in hopes of propitiating her wrath (beating us over the head with Mann's hockey stick?) for our trespasses, we just might be able to escape that wrath by purchasing suitable indulgences (which fortunately the apostles and prophets (sp?) of the Faith are in a position to supply, for a modest fee).
These latter-day flagellants will brook no skepticism regarding the True Faith, and have literally suggested that blasphemers and heretics (aka "climate deniers") should answer to the criminal justice system. (Burning at the stake is, of course, out of the question, as it would add even more carbon dioxide to the atmosphere.) There is no room for debate in matters of the Faith. We must act now, or we're all doomed, doomed I tell you! It may even be too late now, but possibly through a suitably frenzied effort we might, just might, be able to SAVE THE PLANET!! It's for the children! Gaia vobiscum! Et cum carbon-neutral spiritu tuo! Oremus!
But ... a lot more goes into a policy decision than a simple consideration of the pertinent science (even if that science were sound). The decision also involves economics (risk/benefit calculations), geopolitics, the psychology, history, and culture of the country, the alternatives to the proposed policy, and the precedents that may be being set, to name a few. In short, we need a free-wheeling debate touching upon all of these considerations, and others besides.
Which is exactly what the Left tries so strenuously to shut down. The marketplace of ideas is repellent to them, perhaps because it includes the word "market." As Angela Davis once told me, "Of course the Party believes in free speech. You're free to tell the truth. You're just not free to tell lies." With "the Party" of course, being the arbiter of such.

posted by Open Blogger at
07:30 PM
|
Access Comments