« Saturday Morning Coffee Break
|
Main
|
Saturday Gardening and Puttering Thread, August 1, 2020 [KT] »
August 01, 2020
Tom Cotton vs. the NYT's 1619 Project [KT]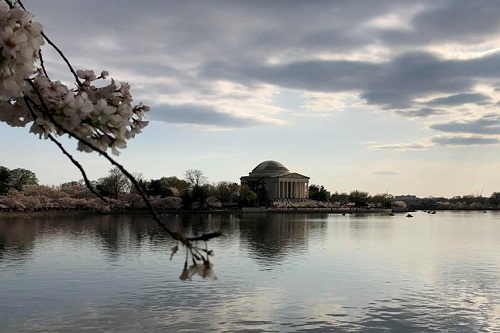 The Saving American History Act
On Monday, July 27, Tom Cotton introduced the Saving American History Act:
The bill will prohibit using federal funds to teach the 1619 Project by K-12 schools or school districts. Schools that teach the project will also be ineligible for federal professional-development grants.

The Secretaries of Education, Health and Human Services, and Agriculture would be required to allocate federal funding to schools that decide to teach the 1619 Project under the bill. This will be determined on how much it costs to plan and teach the course. Any federal funds intended for low-income students or special-needs students are not affected by this legislation.
The long knives have come out for Tom Cotton, but
Nikole Hannah-Jones has admitted that the 1619 Project Is Not History!

Oregon Muse picked up an exchange between Nikole Hannah-Jones and Conor Friedersdorf from Monday afternoon:
"Behold the Power of a Fully Operational Motte & Bailey Defense"
Here's part of that defense:
I've said consistently that the 1619 Project is AN origin story, not THE origin story. Our intro says explicitly, what *would* it mean to consider 1619 our founding -- not that it IS our founding.
But Ms. Hannah-Jones (who seems to prefer to be known on Twitter as Ida Bae Welles,) had been trying to clarify her new position on the 1619 Project since Monday morning. Steven Hayward wondered if her Twitter handle might be a bit presumptuous as he wrote about her admission that the 1619 project is not history, in Schroedinger's 1619 Project?
Not a history"!! A "work of journalism"!? This, after slagging the many eminent U.S. historians (many of them mainline liberals like Sean Wilentz) with the usual slurs of being old, privileged white males after they called bullshit on the tendentious 1619 Project.

Is it or isn't it a history? Unlike Schroedinger's cat, we can confidently pronounce that the substance of the 1619 Project critique is definitely dead, no matter what kind of epistemological box you try to put it in.

When Twitter pounced on Hannah-Jones today, she kept shoveling deeper, oblivious of "Healey's First Law of Holes"--if you're in one, stop digging . .
The 1619 Project was just being used to inform cooking classes and such. Heh.
Legal Insurrection has reminded us to use Ms. Hannah-Jones' own words if a school district near us plans to use this execrable project, pushed by Columbia University, the Pulitzer Committee and Oprah Winfrey, in teaching children.
J.J. Sefton picked up a piece in The Federalist on how the public schools paved the way for Americans to believe the 1619 Project.
Meanwhile, Ms. Hannah-Jones declared that arson is not violence.
Earlier
Back in June, Ace noted: "Architect" of New York Times' Racist Revisionism "1619 Project" Is Herself a Vicious, Virulent Racist.
Ms. Hannah-Jones was also reportedly one of the leaders in ridding the NYT of editor James Bennett for publishing an opinion piece by Tom Cotton. Before Bari Weiss was forced to leave.
OK, it's National Review on Dead Tree (reported on Instapundit), but they still notice those NYT radicals. Hard to be funny these days. This was before Bari Weiss resigned.
J.J. Sefton picked up a piece by an Old White Professor reminding youngsters that slavery was not just an American thing. And that Americans were taken as slaves abroad.
Remarkably, an opinion piece was published in Newsweek declaring that America was not conceived in racism:
It is seldom taught anymore that Thomas Jefferson's original draft of the Declaration contained a paragraph condemning slavery as unnatural, immoral and "execrable commerce." By enabling the slave trade in the colonies, Jefferson wrote, the British monarch had "waged cruel war against human nature itself, violating its most sacred rights of life and liberty in the persons of a distant people who never offended him, captivating and carrying them into slavery in another hemisphere or to incur miserable death in their transportation thither." In what lawyers would call "an admission against interest," Jefferson wanted to put it in the record that nobody could rightfully hold humans as property. The anti-slavery paragraph did not make it to the final draft of the Declaration because South Carolina and Georgia objected to such a powerful rebuke to a substantial part of their economies.
This is the end of our little NYT/Racism Series
So much has happened since last August that could be related to the meeting in which Dean Baquet gave in to the young radicals on his staff and agreed that the NYT should look for "racism" in its news stories. We have only been able to touch on a smattering of related issues. This seems like a good time to end our attempt to keep track. It's too widespread now.
Our Previous Posts triggered by the NYT's August Racism Meeting, in reverse chronological order:
May 9, 2020 The New York Times, Racism and a Pullet Surprise:
Soon after the New York Times had to admit that the "1619 Project", AKA the "Hate America Project", was historically inaccurate, it won a Pulitzer Prize!
This led to some other historical examinations, including examinations of past Pulitzer Prizes (remember Duranty?) and even of the institution of the Pulitzer Prize itself. Have a good laugh about Joseph Pulitzer.
March 7, 2020: Is this the end of journalism? A member of the NYT Editorial Board, Mara Gay, who pushed the 1619 project has done some other really, really embarrassing things in the media. Has this kind of recklessness affected the quality of media more generally? Was that first remarkable on-air disaster with Brian Williams related to the NYT staff decision in August to always look for an ideological angle, rather than, say, to check your facts?
More critiques of the 1619 Project pour in. Other history which has been ignored lately is described.
January 18, 2020: Media Racism Update, contrasting the efforts of the Democrats to paint themselves as champions of the Constitution with the attacks on the Constitution in the NYT's 1619 Project. More on the 1619 Project's historical errors. Similarity to the communist goal of destroying memory.
Plus an interesting suggestion that it should be illegal to vote for Trump because he is racism personified. Uh-huh.
November 2, 2019: What would Frederick Douglass think? The 1619 Project wasn't much interested in Douglass. Reviews of the 1619 Project.
Also, Race-based lunacy in education NOT based in the 1619 Project. Western medicine is colonialism. Discussion of racial preferences in government.
September 28,2019: September Racism and Slavery Update, with analyses of the emerging, ahistorical 1619 Project. Note: Captain John Smith was once a slave.
Plus an effort to pin a racism charge on a Trump appointee. And media stories start to be re-written to emphasize racism. The 1776 Initiative is launched by a group of prominent Black Americans to counter the divisiveness of the 1619 Project. There are some interesting essays in this series. One participant, Shelby Steele, has been notably present on TV since then, too.
August 31, 2019: Dean Baquet's emergency meeting with his radical staff at the New York Times. This was where the editorial decision to focus on Donald Trump's racism was articulated. Oh. And then there was the 1619 Project.
Music
Got the blues? BB King performs at Sing Sing, 1973:
Something a little more upbeat:
This is the Thread before the Gardening Thread
Serving your mid-day open thread needs

posted by Open Blogger at
11:14 AM
|
Access Comments