« Saturday Morning Coffee Break
|
Main
|
Saturday Gardening And Puttering Thread, Nov. 2 [KT] »
November 02, 2019
What would Frederick Douglass Think? [KT]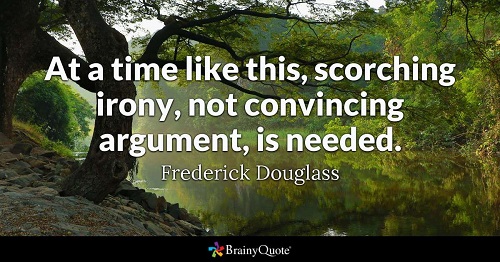 Well, the New York Times seems to have gotten distracted from its commitment to focus on Donald Trump's racism, but blowback against the 1619 Project that they are spreading through our school systems continues. As does the insanity of identity politics.
The 1619 Project
First up, a book that Frederick Douglass read while growing up, The Columbian Orator.
On September 3, 1838, the most famous slave in American history began his escape to freedom. Dressed as a free black sailor and equipped with forged identification papers, Frederick Douglass fled Maryland. Remarkably, this fugitive carried with him a book, which was perhaps his sole possession: The Columbian Orator.

In his three autobiographies, written over the five decades of a very public life, Douglass consistently paid tribute to The Columbian Orator. He describes the book as an intellectual turning point that liberated him from the mental shackles of slavery. Indeed, the connection between slavery of the mind and slavery of the body is a recurrent theme in Douglass's political thought. In his autobiographical Narrative (1845), he explains:

I have found that, to make a contented slave, it is necessary to make a thoughtless one. It is necessary to darken his moral and mental vision, and, as far as possible, to annihilate the power of reason. He must be able to detect no inconsistencies in slavery; he must be made to feel that slavery is right; and he can be brought to that only when he ceases to be a man.

Thus, reading and education were the first steps in his journey to freedom. Considered a quick learner by his Baltimore owner Lucrezia Auld, who taught him his ABCs, the lessons abruptly stopped when Thomas Auld discovered that his wife was teaching their slave, something strictly prohibited at the time. But Douglass developed creative stratagems to learn to read and write, including trading bread to "poor white boys" in exchange for lessons. His remarkable account of his early self-education in these autobiographies includes a touching report of his companions' universal sympathy to his plight as a slave. He states that he did not "remember to have met with a boy...who defended the slave system; but I have often had boys to console me, with the hope that something would yet occur, by which I might be made free. Over and over again, they have told me, that they believed I had as good a right to be free as they had...." Contrary to our current obsession with racial consciousness, he never considered that these young boys, being white, cannot understand him, nor does he doubt their sincerity.
Doesn't fit The Narrative. And there is more at the link.
Heritage has published a piece by Arthur Milikh re-affirming that 1776, not 1619 was the foundation of our country.
For decades, much of academia, the liberal activist class, and the public school system have operated on the premise that America is fundamentally racist. The latest manifestation of this outlook is the 1619 Project, rolled out last month by the New York Times. Claiming that "anti-black racism runs in the very DNA of this country," it "aims to reframe the country's history" by making 1619--the year slavery was first introduced by the British to Virginia--the year of "our true founding. . . "

To make America's Founding contemptible, one must hide, ignore, and distort the Founders' writings and thoughts. . .
Minding the Campus has published another summary of what the New York Times got wrong about slavery in America.
Mike Gonzalez: The 1619 project reeks of Herbert Marcuse. Sort of goes along with an older piece on Alinsky and Baquet. And one on the growing slavery crisis at the NYT.
Law and Liberty has some historical corrections and clarifications concerning the 1619 Project. Four topics are addressed by different authors.
In a recent meeting addressing the staff of the New York Times, the paper's executive editor Dean Baquet announced that the Gray Lady's new editorial direction for 2019 would include an effort to "write more deeply about the country, race, and other divisions." The 1619 Project appears to be the first major fruit of this shift. Are these much-debated essays part of a concerted effort to undermine public faith in the basic decency of our regime? Do they merely represent a corrective to some of the nation's long-held beliefs about how large a role slavery played in shaping our institutions today?
Powerline has done a series on the 1619 Project. Keeping track here:
1619 project breaking it down, part 4
Plus Slavery meets climate change.
UPDATE: Thanks to Ed Driscoll for the Instalanche. Here are some previous highlights on the New York Times, Racism and Slavery from August and September.
Identity Politics Forever
Science
A debate professor at Weber State University in Ogden, Utah to his class:
Our argument will be that space is not real. It's not real. Science, technology, it's all fake. It's a projection of white fantasies that has worked to control our interpretation of how the world works." That's the statement of a college debate professor talking with his class. He added, "None of us have had the privilege of going to f**king space to verify that there's these stars and these galaxies and these planets.
This is in Utah, not Washington State. Weber, not Evergreen. Do you wonder how he got hired?
Medicine
Okay, this one is from Australia, but the general idea is the same. Western medicine is colonialism.
It wouldn't be evil enough merely to bring about the decline, fall, and demographic eradication of the West. Progressives want to erase all of Western Civilization's works, so as to reduce the human race to what it would have been had Europeans never existed. Academics call this "decolonization." Nothing is too malicious or depraved; they even want to destroy Western medicine by gradually corrupting it with lunacy.
This is an early sign of a rot that will spread throughout medicine. What they accomplished in the art museum, displacing da Vinci with Jackson Pollock, they will do in the hospital. Think of the reduction in harmless carbon emissions as the population declines.
Racial Preferences
Heather MacDonald reports on a ballot initiative in Washington State to overturn the ban on racial preferences in government.
Voting in Washington has begun on a ballot initiative to overturn that state's ban on racial preferences in government. Voters outlawed racial preferences in 1998, as part of a mini-wave of eight such state initiatives, led by California anti-preference crusader Ward Connerly in the 1990s. The momentum behind that push for color-blindness in government has long since petered out, as identity politics became ascendant. The advocates of race-neutral government hiring, contracting, and college admissions are now on the defensive, fighting relentless efforts to undo their work.
Ward Connerly. Another black man who got uppity.
MacDonald explains how the Supreme Court mucked things up with its theory of "holistic" college admissions.
The president of the University of Washington, Ana Mari Cauce, backs Initiative 1000 and Referendum 88, of course. Her self-image as a progressive educator depends on her ability to look out over a sea of diverse faces and revel in her own noblesse oblige in presiding over an institution that fights back against red-state bigotry. The state's ban on racial preferences sends the message that Washington "does not welcome or value diversity," Cauce says. Actually, it sends the message that voters believe that all groups should be held to the same standards of achievement. Preference supporters send the message that they don't believe that all groups can compete against one another without lowered standards for alleged victim groups.

The Seattle Chamber of Commerce and Big Tech companies such as Microsoft also support the repeal of the preferences ban. Companies want to be able to hire employees with an elite university diploma to make their personnel lists look impressive. Otherwise, if their only concern were achieving certain racial proportions in their work force, they could hire the requisite number of underrepresented minorities from those less elite state schools where minority students would enroll in the absence of racial preferences.

The important thing to understand about eliminating racial preferences in college admissions is that doing so does not lower the number of minority college students, it just redistributes them to schools for which they are actually qualified, rather than catapulting them into academic environments where they will inevitably struggle. . . Only blacks and Hispanics operate under the handicap of being sent to schools for which they are unprepared.
Maybe it doesn't matter where they go to college if they are taught that space is not real because the black and Hispanic people they know personally haven't experienced it.
Watch this vote.
Music
The Nicholas Brothers as youngsters.
I liked this. These guys seem to be about the right age to sing this song.
Hope you have a good weekend.
Remember, this is the Thread before the Gardening Thread.
Serving your mid-day open thread needs

posted by Open Blogger at
11:15 AM
|
Access Comments