« What would Frederick Douglass Think? [KT]
|
Main
|
Ace of Spades Pet Thread »
November 02, 2019
Saturday Gardening And Puttering Thread, Nov. 2 [KT]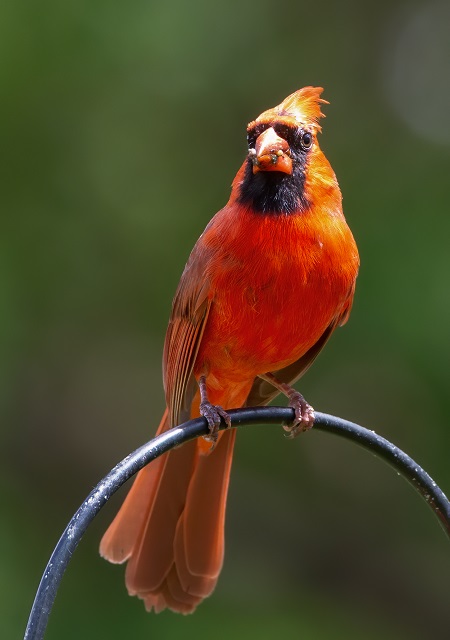 Hello, gardeners, putterers and friends who just like to experience a little respite from, well, you know. The photo above is from Lizabth:
A fine Northern Cardinal, and a Ruby-throated Hummingbird in the catmint.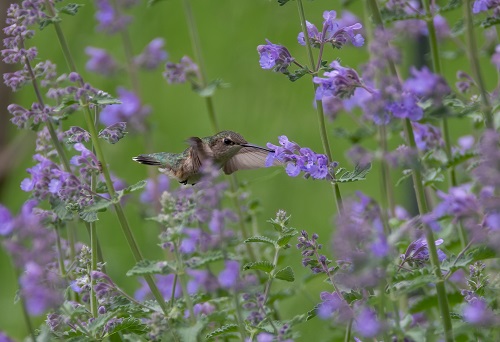 Things we see in fall
From Admirale's Mate:
Anybody want to do some I.D.s?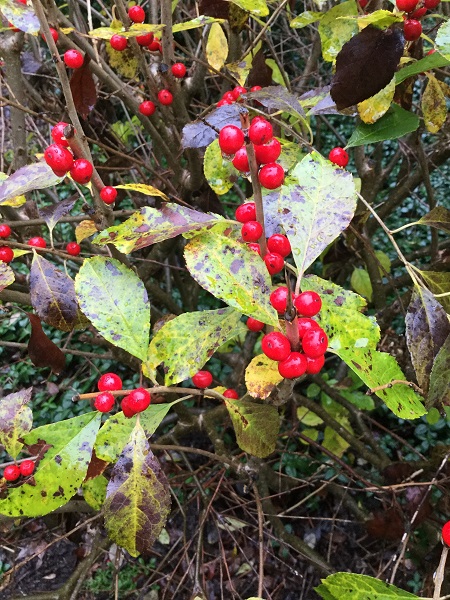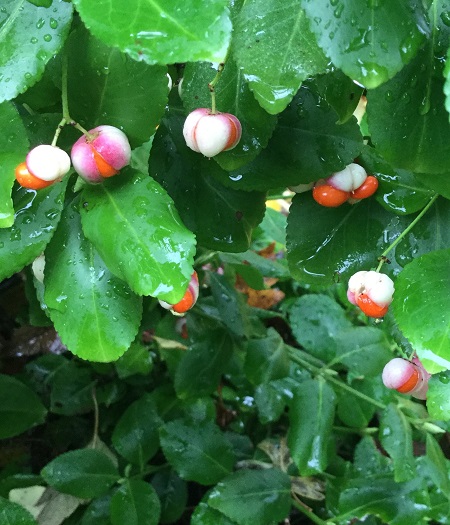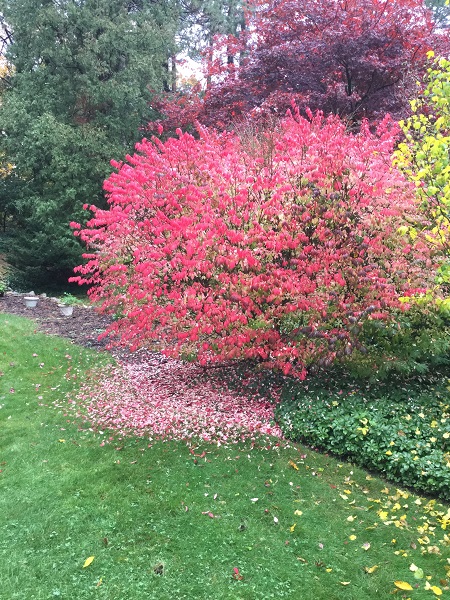 From fun to scary
For Halloween week, we featured some of Larro's photos from the Fall Festival at Silver Dollar City, part of the Branson, Missouri experience.
He sent in some additional information this week:
Down in south central Missouri, in Branson, is the best theme park in America. Silver Dollar City is based on the theme of old time American country craftsmanship, skills, God, and family. They do several festivals a year; I showed you some of the Fall Festival.

Well, the park shuts down for a week now and reopens early November for their Christmas extravaganza

We try to go every year for both, and hopefully will get back this year.

There is a huge plaza up front with a huge Christmas tree with million lights and a sound system like a concert, and the lights are synched to sound; they blast out Christmas Carols... it is unbelievably awesome. I was crying .. plus the parades through the park after dark - they are all illuminated and wind from one end to the other.

Yeah, I guess being a California resident, you'd be about 22 hour drive and perhaps never get the opportunity, but it is a .. well, I've heard it's in top 10 attractions in country.
The gas prices in the Ozarks seemed attractive, too. He didn't know what the cocaine thing was about.
In an interview with an East Coast liberal, Angelo Codevilla chided the interviewer for never having visited Branson. He suggested that a visit would help him understand America.
Well, then Larro got back to Texas and went to Dallas, where he saw some of the the aftermath of the recent tornado:
It's been a week, and it was an F3? Wow. This is a mess.. Thank God no one lost their life!

This action was mostly north, NE Dallas. We come over 2-3 days a week to babysit. I heard it will be $2billion storm.

Nobody around has storm shelters. It's the old closet routine. So it could have been a lot worse.
This looks pretty bad.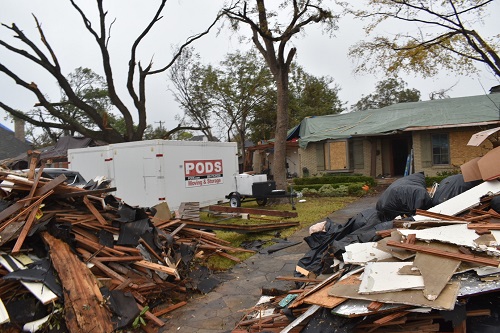 Still a mess for some people with less damage. The flag shows some spirit, though.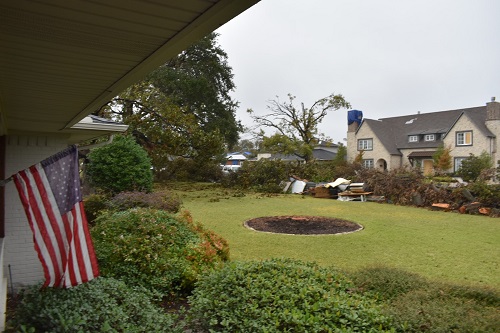 HUGE trees/ most lots canopied ---

Had trees. Most sawed up. Some left gnarled sticks.
It is astounding no one died as storm came at late hour.
I've got some pics but no WiFi to move data yet.
About half structures are old and single story, the rest are new McMansions and two story. I see about equal structure damage;
Several will need bulldozing.

We got power and gas but cable is gonna be awhile.

Surreal.

Don't know where all the labor will come from.

An old Mexican pulled up in a pick up and asked if he could have sawed logs. I advised a bigger truck!!! Like a sand bucket at the coast --- But he was happy!!! Good for him.

The police are at corners going into neighborhood. All night long. Many owners moved out. The next door neighbor west had to go/ too many holes.

The detached garage out back came off slab - looks like it was shot in, not bolted down? It's about a 20x20 2-door garage and dumpster out back awaits it.
Looks like there could be some work for some people in The Horde with construction experience. And some volunteer opportunities for putterers, maybe.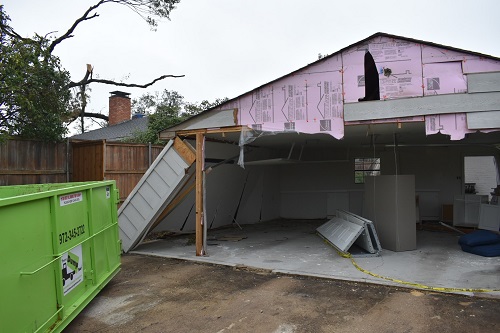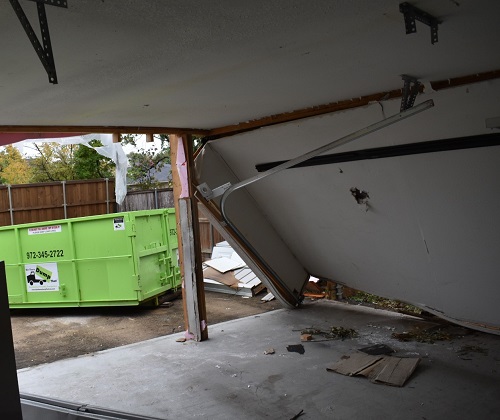 The Edible Garden
Was anybody impressed by CBD's feature on Romanesco in Sunday's Food Thread, and the garden and cooking ideas in the comments? Thinking about growing some next year? I think it's great.
Clutch cargo said,
Been growing romanesco for 30 years. What's cool about it is unlike broccoli or cauliflower that you just cut, you can keep picking those fractal spirals off, and it keeps filling out. Plus, IMHO it tastes better than any other brassica. There's also a purple blushed variety, but it doesn't hold its color very well when cooked, and I think it's not quite as sweet as the chartreuse stuff.
Serve steamed with Kalua pig. I also liked this recipe. Though I would probably replace the capers with bacon. Or maybe ham.
This is a nice summary of simple ways to cook it, and there are recipes below the video at YouTube.
Gardens of The Horde
Wee Kreek Farm Girl had something interesting happen in her desert garden:
Lots going on in my garden. One success in particular, I had planted Kiwano melon in the end of April and the vines grew very well but then all through summer I had no fruit form, nothing. I just left it alone and figured it was a dud. I hadn't pulled the vines out yet, they were still green and then two weeks ago I was watering and I saw these melons on the vine. Upon closer inspection I have at least 12 melons going. I don't know if anyone else has grown these but they obviously take some time in making their fruit. I just hope we get enough warm weather for them to ripen. They are all green now and they are supposed to get yellow when ripe. I have never tried one, they are supposed to taste like lime jello and you eat the seeds sort of like a passion fruit. I am very excited to try one. Gardening teaches patience among other things.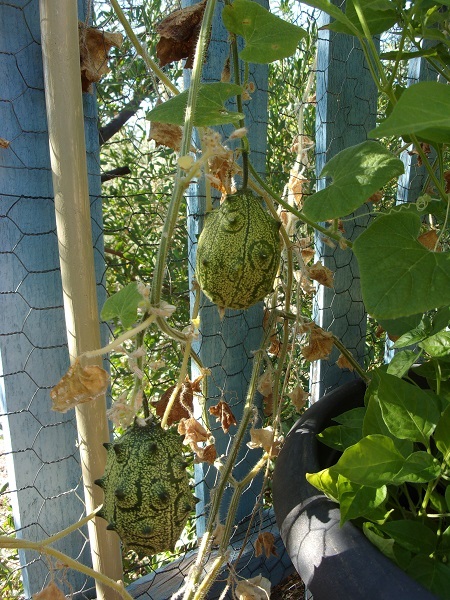 One of NaughtyPine's succulents decided to bloom recently. Odd timing?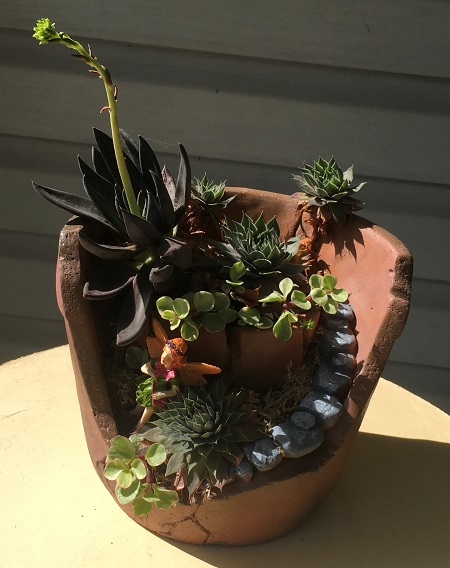 If you would like to send information and/or photos for the Saturday Gardening Thread, the address is:
ktinthegarden
at g mail dot com
Include your nic unless you want to remain a lurker.

posted by Open Blogger at
01:22 PM
|
Access Comments