« Saturday Morning Coffee Break
|
Main
|
Thread before the Gardening Thread: School Days [KT] »
August 31, 2019
NYT and Racism, August 2019 [KT]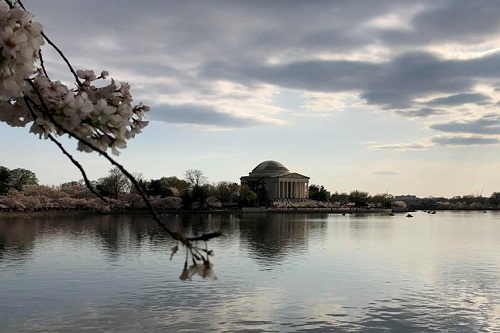 Might want to visit the Jefferson Memorial while you can.
As mentioned last week, I have decided to post periodic updates based on the announcement by the New York Times that they will be focusing on "racism" for the next two years, particularly as it relates to Donald Trump. Plus related divisive issues.
Of course, this announcement influences other members of the media, academia, etc.
These are only highlights. Laying down a few markers. Several of the links here come courtesy of Ace, J.J. Sefton and other COBS.
DEAN BAQUET'S EMERGENCY MEETING
August 16 - 17: The NYT's new vision is revealed.
The town hall was spurred by angry reaction, both inside and outside the Times, to a headline that many on the Left faulted for being insufficiently anti-Trump. After the El Paso shootings, when the president denounced white supremacy, the Times published a page-one story with the heading, "Trump Urges Unity Vs. Racism."

"I think one of the reasons people have such a problem with a headline like this ... is because they care so much," one staffer said to Baquet. "And they depend on the New York Times. They are depending on us to keep kicking down the doors and getting through, because they need that right now. It's a very scary time."

Baquet vowed a transition to a new "vision" for the paper for the next two years. . . "How do we write about race in a thoughtful way, something we haven't done in a large way in a long time? That, to me, is the vision for coverage. You all are going to have to help us shape that vision. But I think that's what we're going to have to do for the rest of the next two years."
So basically, that meeting was called because the New York Times accidentally told the truth in a headline.
York also noted about the meeting that "no one could be surprised that a recording of it leaked, possibly by Times employees who want to push Baquet in an even more anti-Trump direction."
Then there's this:
"I'm going to be really honest. I actually don't think we can make a whole lot more mistakes," said executive editor Dean Baquet.
I sort of assumed they weren't so stupid as to actually believe the Russia collusion hoax as much as running a journalistic resistance operation pretending they did. But saying they were caught "flat-footed" by implosion of Russia collusion story intrigues me ...

They were chief peddlers of a dangerously false Russia collusion narrative for years. It blew up in their faces. It was a humiliating failure. Baquet's introspection: "We won two Pulitzer Prizes covering that story. And I think we covered that story better than anybody else."
Scott McKay: Dean Baquet has killed the New York Times.

New York Post: Bias has killed the 'Gray Lady'.
We'll be watching.
Sharyl Attkisson said,
The NYT says it is mapping out a narrative in advance of any naturally-occurring, true news events, and plans to shape all natural-occurring, true news events so that they are reported in the context of racism. This is what they believe their readers want.
In Emergency Meeting New York Times Editor promises never to tell the truth again.
Heh.
Richard Fernandez:
The NYT is deciding what is going to happen tomorrow. Always selling something, and it's not the paper.
Ace picked up a great piece by Julie Kelly at American Greatness. Plus one that preceded the "emergency meeting". This "racism" business did not start with the "emergency meeting".
1619 PROJECT
Yoram Hazony: NYT aims to permanently divide the country.
"It aims to reframe the country's history, understanding 1619 as our true founding."

No longer interested in a narrative with the potential to unite Americans, the left has opted for one with the potential to permanently divide them.
John Hayward:
This is all battlespace preparation for a reparations fight, and for permanent separation of blacks from the rest of society.
Slavery in America did not start in 1619.
This excellent piece was written by a guy who is currently living and working in Hong Kong. Twitter Thread.
There can't be an earlier starting point because Leftists don't want Spaniards to be considered white. At least for the purposes of this project.
it seems as if all too many are intent on keeping everyone angry about hardships none of them had to bear. All the New York Times want to do is make itself the drum major of the anger and vengeance parade.

And what if America and slavery are synonymous? What then? Oh, yes, reparations.

Reparations, just like every other government program, will become just another cistern for politicians to wet their beaks. How do you think they all get rich?

Because that's the true purpose of all this -- to create another means for our money to become theirs.

By the way, what about those Spaniards?

UPDATE: For some strange reason, people seem to think I'm unaware of the world history of slavery. I am not.
The 1519 project: European helps natives take downs a mass-murdering cult. Cortez was no angel, but he was bold.
Who benefits from the 1619 Project?
The Pulitzer Center has already put out lesson plans for teachers on the 1619 Project.
Does the Right have anything to offer teachers in place of this?
New York Times blasted by John Kass in the Chicago Tribune.
Via J.J. Sefton: No, America was not built on slavery.
America wasn't built on slavery but on faith. Twitter Thread. Included for the following, mostly:
Abe Lincoln (R, IL) explains, as noted in the thread.
See Abraham Lincoln's remarks, June 26, 1857 at the link below:
https://www.lightandliberty.org/appreciation-1827-1899/
...They [the authors of the Declaration of Independence] did not mean to say all were equal in color, size, intellect, moral developments, or social capacity. They defined with tolerable distinctness, in what respects they did consider all men created equal--equal in "certain inalienable rights, among which are life, liberty, and the pursuit of happiness." This they said, and this meant. They did not mean to assert the obvious untruth, that all were then actually enjoying that equality, nor yet, that they were about to confer it immediately upon them. In fact they had no power to confer such a boon. They meant simply to declare the right, so that the enforcement of it might follow as fast as circumstances should permit. They meant to set up a standard maxim for free society, which should be familiar to all, and revered by all; constantly looked to, constantly labored for, and even though never perfectly attained, constantly approximated, and thereby constantly spreading and deepening its influence, and augmenting the happiness and value of life to all people of all colors everywhere. The assertion that "all men are created equal" was of no practical use in effecting our separation from Great Britain; and it was placed in the Declaration, not for that, but for future use. Its authors meant it to be, thank God, it is now proving itself, a stumbling block to those who in after times might seek to turn a free people back into the hateful paths of despotism...-Abraham Lincoln, June 26, 1857
The 1619 Project is pushing the old Confederate King Cotton Thesis
Author Philip Magness is a senior research fellow at the American Institute for Economic Research. He challenges the statistics.
The New York Times' series on slavery relies on bad scholarship to make an argument with an inauspicious history.

'I say that cotton is king, and that he waves his scepter not only over these 33 states, but over the island of Great Britain and over continental Europe!" So thundered Senator Louis T. Wigfall of Texas in December 1860, as an intended warning to those who doubted the economic viability of secessionism.
The strategy failed. The secessionists effectively self-embargoed what remained of their export crop in the wake of the war's physical destruction and the Union's blockade, and attempts to draw the European powers into the war on the Confederacy's behalf were unsuccessful. King Cotton, in practice, proved nothing more than part self-delusion and part racist propaganda to rationalize the supposed economic necessity of chattel slavery. Modern empirical analysis has similarly debunked its claims: As Harvard economist Nathan Nunn has demonstrated, a strong negative relationship exists between the historical existence of slavery in a county or state and its level of income, persisting to the present day.

Yet despite its historical untenability, the economic reasoning behind King Cotton has undergone a surprising -- perhaps unwitting -- rehabilitation through a modern genre of scholarly works known as the new history of capitalism (NHC).

The worthy historical task of documenting the horrors of American slavery has been cynically repurposed into an ideological attack on free-market capitalism. . . .

Insofar as the 1619 Project seeks to teach American society about the horrific historical legacy of slavery, it is no small irony that a significant part of the project borrows from a historical literature that apparently envisions a similar future for Adam Smith's heirs.
WHAT STARTS AT THE TIMES DOESN'T STAY AT THE TIMES
The entire MSM is going to go SLAVERY RACISM until the Nov 2020 election is over AND they're going to blame Trump for being divisive.
If charged with racism, you must be guilty. New rule declared in WaPo, examined in the New York Post. Heh.
Ace: WaPo announces that the Pro-Life movement is deeply infected with White Supremacy.
Ace on the WaPo piece declaring that support for reason and civility in public discourse are White Supremacism.
CNN's April Ryan says that Trump's suggestion to nuke hurricanes is based in racial animus.
Ace on Vox's report of an important incident of watermelon shame.

posted by Open Blogger at
11:18 AM
|
Access Comments