« IG Report Says Comey Leaked and Violated DOJ Regulations; DOJ Declines to Prosecute
|
Main
|
IG Determined that a DOJ Deputy Assistant Attorney General Viewed Porn on Goverment Computers and Lied About It; Declines to Prosecute »
August 29, 2019
Washington Post: After Careful Consideration, We Have Decided It Is Now Intolerable White Supremacism to Support (Spins Wheel) Reason and Civility in Public Discourse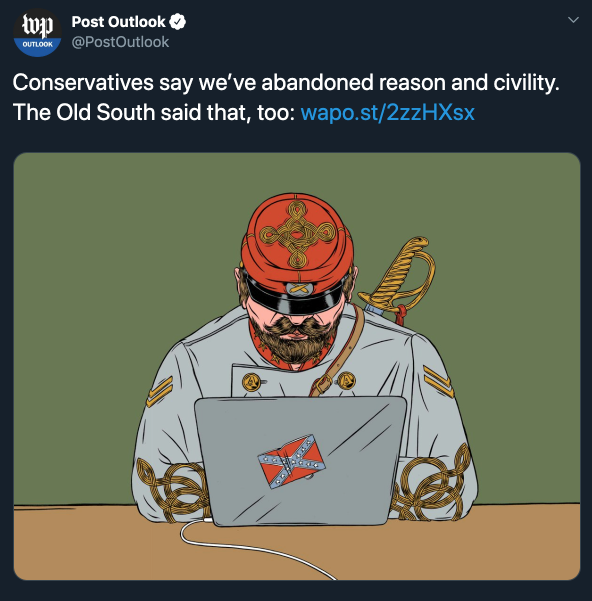 A friend laughs as he sends this: "You stupid motherf***ers," he curses, thinking of the House Conservatives and Polite Company Republicans. "Did you really think they would not turn on you and use the same 'racist' attacks on you that they (and you) use on your interparty rivals? In your 'Please Eat Me Last' strategy, did you ever consider that eventually the crocodile would get around to eating you?"
Enjoy, Ben Shapiro. Enjoy, Philip Klein. Enjoy, David French.
Enjoy, Guy Benson and Kevin D. Williamson and Jonah Goldberg and "Xan" Desanctis and Tiana Lowe.
Enjoy, Bill Kristol, Steve Hayes, Jim Swift, and Jonathan V. Last.
Enjoy, Seth Mandel, always so eager to signal your virtue to your leftwing twitter pals.
Enjoy, "Reason and Civility" Fake Conservatives.
The left has decided to eat its dessert a little early.
Conservatives say we've abandoned reason and civility. The Old South used the same language to defend slavery.

EVE FAIRBANKS AUGUST 29, 2019

After the El Paso shooting, Ben Shapiro -- a popular conservative podcaster -- asked Americans to draw a line between the few conservatives who are white supremacists and those who, like him, aren't. Almost all Americans are "on the same side," he said, and "we should be mourning together." In his telling, we aren't, for "one simple reason: Too many on the political left [are] castigating the character of those who disagree," lumping conservatives and political nonconformists together with racists and xenophobes.

I grew up in a conservative family. The people I talk to most frequently, the people I call when I need help, are conservative. I'm not inclined to paint conservatives as thoughtless bigots. But a few years ago, listening to the voices and arguments of commentators like Shapiro, I began to feel a very specific deja vu I couldn't initially identify. It felt as if the arguments I was reading were eerily familiar. I found myself Googling lines from articles, especially when I read the rhetoric of a group of people we could call the "reasonable right."

These are figures who typically dislike President Trump but often say they're being pushed rightward -- sometimes away from what they claim is their natural leftward bent -- by intolerance and extremism on the left...

So it felt frustrating: When I read Weiss, when I listened to Shapiro, when I watched Peterson or read the supposedly heterodox online magazine Quillette, what was I reminded of?

My childhood home is just a half-hour drive from the Manassas battlefield in Virginia...

I think I see where this is going...
Thinking back on those debates, I finally figured it out. The reasonable right's rhetoric is exactly the same as the antebellum rhetoric I'd read so much of. The same exact words. The same exact arguments. Rhetoric, to be precise, in support of the slave-owning South.

...

[C]lear statements [in open defense of slavery] were not the norm. Proslavery rhetoricians talked little of slavery itself. Instead, they anointed themselves the defenders of "reason," free speech and "civility." The prevalent line of argument in the antebellum South rested on the supposition that Southerners were simultaneously the keepers of an ancient faith and renegades -- made martyrs by their dedication to facts, reason and civil discourse.

...

They stressed the importance of logic, "facts," "truth," "science" and "nature" much more than Northern rhetoricians did.... Josiah Nott, a surgeon who laid out the purported science behind black inferiority, held that questions like slavery "should be left open to fair and honest investigation, and made to stand or fall according to the facts." T

...

The most important thing to know about them, they held, was that they were not the oppressors. They were the oppressed. They were driven to feelings of isolation and shame purely on the basis of freely held ideas, the right of every thinking man.

..


Let's call this particular logic "antebellum reasoning." Its appeal was that it identified pro-South rhetoricians as the upholders of America's true heritage: They were, in their own reckoning, dedicated to truth -- and persecuted by tyrants.

...


All of this is there in the reasonable right: The claim that they are the little people struggling against prevailing winds. The argument that they're the ones championing reason and common sense. The allegation that their interlocutors are''t so much wrong as excessive; they're just trying to think freely and are being tormented. The reliance on hyperbole and slippery slopes to warn about their adversaries' intentions and power. The depiction of their opponents as an "orthodoxy," an epithet the antebellum South loved.

...


In Ben Shapiro — who ascribes right-wing anger to unwise left-wing provocation ("How do you think people are going to react?") -- I hear a letter printed in the Charleston Mercury, which warned that "if the mad career of the hot headed abolitionists should lead to acts of violence on the part of those whom they so vindictively assail, who shall be accountable? ... Not the South."


...

Lincoln understood that antebellum reasoning was more dangerous than straightforward defenses of chattel slavery. He feared that by claiming to stand for freedom, reason and civility, and by framing themselves as beleaguered victims, pro-Southern thinkers could draft new warriors who thought they were fighting for something fundamentally American, even if they were wary of slavery itself.

...

It's hard to avoid the conclusion that some contemporary commentators use antebellum reasoning cynically. Hard-right American commentators like David Horowitz have noted the tactical advantages of sounding "outraged" and "morally certain," and of stressing their status as renegade thinkers to argue for right-wing policies such as much more restrictive immigration laws or institutionalized prejudice against Muslims. Others, I suspect, seek the reassurance of antebellum reasoning to help reconcile their ambivalent feelings about cultural and demographic changes. Still others may simply be disillusioned with contemporary politics, intuit that important conversations are somehow not being had, and long for a discourse anchored on simple, easily shared principles. That's why the South came up with it in the first place. It conscripted allies who had no taste for distasteful things into what was cast as a much wider fight.

...

But today I see what Lincoln feared. Nearly daily, I read some new figure appealing to antebellum reasoning.

...

With this threat, the reasonable right has recruited the left into serving its purpose. Media outlets and college campuses now go to extraordinary lengths to prove their "balance" and tolerance, bending over backward to give platforms to right-wing writers and speakers who already have huge exposure.

In the human body, viruses use the shells of immune cells to trick other cells into letting them in.
Are you calling the many Jewish figures you've assailed in this article (Bari Weiss, Ben Shapiro, Dave Rubin) "viruses"?
Interesting that that's where your mind goes immediately.
Principles like freedom and equality have functioned, through time, as the American immune system, warding off sickness. But they can also be co-opted. As they were more than 150 years ago, ideas like freedom of speech, diversity and respect are now being used to turn opponents of conservatism into helpless hosts, transmitting its ideas.

If you hear somebody lament, as Bret Stephens does, that political "opinions that were considered reasonable and normal" not too long ago now must be "delivered in whispers," it might be antebellum reasoning.
Great, going after another Jew.
...

If somebody says liberals have become illiberal, you should consider whether it's true. But you should also know that this assertion has a long history and that George Wallace and Barry Goldwater used it in their eras to powerful effect. People who make this claim aren't "renegades." They're heirs to an extremely specific tradition in American political rhetoric, one that has become a dangerous inheritance.
Am I angry?
F*** no I'm not angry, I'm delighted.
I love this so, so much. I love this so much it feels like my heart will literally burst with warmth and glowing joy and the gooey nougat of red-flushed first-crush love.
And to be honest, I think she's on to something. Maybe she's right. Maybe people like Ben Shapiro really are using "antebellum reasoning" to justify their hatred of blacks and Hispanics.
Maybe we should purge him just to make sure.
We wouldn't want him Reflecting Badly on the rest of us.
Oh, and Rich Lowry -- Crush This Evil. Resign so that your racism and pro-slavery rhetoric no longer stains this movement.

posted by Ace of Spades at
01:14 PM
|
Access Comments