« Saturday Morning Coffee Break
|
Main
|
Gardening Thread, Fall 2019 [KT] »
September 28, 2019
September Racism and Slavery Update [KT]
Serving your mid-day open thread needs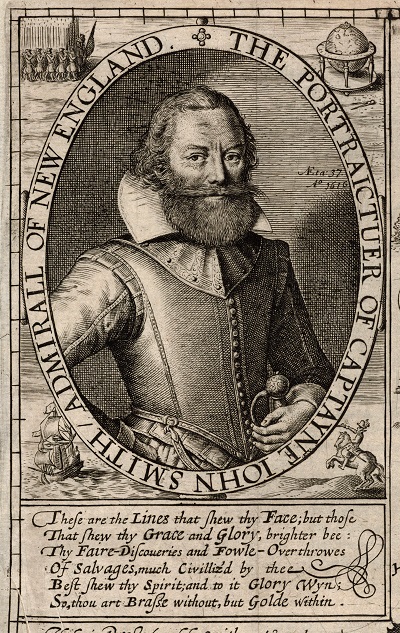 Captain John Smith, once a slave
The biography of Captain John Smith linked under the illustration above surprised me. What a life. It does not seem to have come under the scrutiny of the latest crop of Woke Police yet.
This is the week when we see how the New York Times is doing on its pledge in August to make its stories about Donald Trump's racism, and about slavery.
Possible future form of slavery?
Something to think about if the whole New York Times and Racism thing seems tedious to you:
Via Maggie's Farm: Penn State professor says social credit will shift law in the West "from constitution. . . to analytics and algorithm".
Professor Larry Backer of Penn State University writes in a 2018 paper that resistance to social credit systems in the west could be dissolved when the masses are "socialized... as a collective" and "...the great culture management machinery of Western society develop a narrative in which such activity is naturalized within Western culture"
In 2013, Old-Thinker News asked the question "Will Insurance Companies Use Smart Appliances to Monitor "Unhealthy" Habits?"

As this 2013 Wall Street Journal article stated, your insurance company:

"...already knows whether you've been taking your meds, getting your teeth cleaned and going for regular medical checkups. Now some employers or their insurance companies are tracking what staffers eat, where they shop and how much weight they're putting on -- and taking action to keep them in line."
I haven't personally heard of employers tracking what employees eat, though I have been asked to fill out "wellness" questionnaires at work that touch on habits like that. Starting some time ago. Makes me wonder about the possibilities of subverting HR departments to "social credit" systems.
Do you think gun control is really next up for these kinds of surveillance?
THE NEW YORK TIMES (and other media), RACISM AND SLAVERY
A few highlights, starting at the end of August, when the NYT seemed like it was going to make good on its pledge to make stories over the next two years about Donald Trump's racism, about slavery and about related issues. They seemed to get somewhat distracted later in the month. At this rate, we may have to decrease our NYT racism summaries to once a quarter. This month saw a lot of analysis of the initial pieces in the 1619 Project. But the poison started spreading through the culture before many of these analyses were written.
Tea Party
New York Times: Our Insane Twitter Antifa Fanbase Demanded That We Include Spurious Charges of Racism In Our Already-Slanderous Story About the Tea Party, So We Dutifully Rewrote The Story to Please Them
The 1619 Project
Via J.J. Sefton, like several other pieces here, Daniel Greenfield with many interesting nuggets of information. "How the New York Times profits from slavery". This piece prompted the illustration at the top of the thread:
Captain John Smith of Jamestown, of Pocahontas fame, had started out as a slave, not to the Europeans, but to the Turks, who continued the practice of taking and holding European slaves long after the abolition of the slave trade in America. After fighting the Ottoman Empire, Smith was captured in battle, and then sold into slavery. "Sold for slaves, like beasts in a market-place", he would later write.

Smith killed his master, stole his clothes and his horse, escaped, and ended up as President of Virginia.
1619 did not bring more than a handful of African servants, who later became slaves, to Virginia. But it did see the Poles, who had come as indentured servants, going on strike for the right to vote.
No major civilization was immune from slavery, but western civilization was the least tainted by it.

The Greeks were less dependent on the massive collective labor on which the civilizations of Egypt, Babylon and China were built. They were also more individualistic and able to think in terms of individual rights on a level deeper than the Hammurabi Code's obsession with property.

When Judaism, the religion of a nation of freed slaves, came to Europe, with the captured Jewish slaves brought in countless numbers from the fall of the second commonwealth of Israel, their origin story of G-d overthrowing a slaveholding empire to build a personal relationship with man supplanted the old Greek and Roman legends. Rome might have destroyed the nation of the liberated slaves, and enslaved them once more, but their beliefs brought down yet another slaveholding empire.

The Exodus became the defining story for Puritan refugees, abolitionists and African slaves in America who embraced its religious and political significance. Despite the historical revisionism of the 1619 Project, slavery had only a tenuous and controversial grip here. Unlike the Romans and the Greeks, even many Southern elites viewed it as an unpleasant moral compromise that tainted them and their nation.
There is more analysis along these lines by others.
Jamestown was founded by a British company over a decade before the introduction of slaves; its purpose was to search for gold and establish trade to enrich its owners, not give freedom to anyone. America was born in 1776 when we declared our independence to free the American people, including blacks, from British rule.

Even the Project's claim that the blacks at Jamestown were enslaved by whites is based upon a half-truth. It states, "The pirates had stolen [the slaves] from a Portuguese slave ship that had forcibly taken them from what is now the country of Angola." But these Africans were likely captured and enslaved with considerable assistance from blacks. In 1619, the Portuguese allied themselves with the Imbangala, a fierce African tribe that lived by marauding other villages and enslaving other Africans.
A rather long, detailed piece by Wilfred McClay, in Commentary: How the New York Times is distorting American history:
The New York Times seems to have made a grand splash with the August debut of its 1619 Project, which it unveiled to the world as an audacious effort to "reframe" all of American history as little more than the lengthened shadow of slavery. The title derives from the historical fact that 400 years ago, some 20 Africans were dropped off by (probably) a British privateer at Jamestown, Virginia--the first such individuals to appear in the British mainland North American colonies.

The first effort in what is promised as an ongoing 1619 endeavor throughout the paper was a 100-page issue of the Sunday Magazine, devoted entirely (except for the oddly jarring inclusion of the Times crossword and other puzzles) to a series of short articles of varying length and genre. . . "Out of slavery," declare the introductory remarks, "grew nearly everything that has truly made America exceptional: its economic might, its industrial power, its electoral system," and so on, down to the nation's propensity for violence and its "endemic racial fears and hatreds." The Project is therefore dedicated to "considering" the proposition that 1619, rather than 1776, should be regarded as "our nation's birth year."
After addressing several shortcomings and inconsistencies in the first articles to appear as part of the NYT project, the author comes to this point:
Here we come to an example of a real failure in our educational system, something that the Times could actually help address. Most of my college students come to class without any larger context for their understanding of American slavery. They compare the realities of American life against an abstract standard of perfection and find them wanting. Moreover, they believe that slavery is uniquely American, and uniquely Southern, and that freedom and prosperity are the default position of the human race. They are shocked and disbelieving when they are told that slavery has existed all over the world, in most cultures and most time periods of human history, and that it has in fact been more the rule than the exception in human history. They do not know that the Greeks, the Romans, the Vikings, the Byzantines, the Ethiopians all embraced slavery. They are shocked to learn that American slavery was exponentially more humane than that of, say, Brazil, and that the American portion of the slaves imported from Africa was only about 4 to 5 percent of the total number imported to the Western hemisphere. They are shocked to learn about the role of Islam in the propagation of slavery. They are shocked to know that slavery still exists openly today in countries such as Mauritania, and our vaunted agencies of international governance do little to nothing about it.

Will the 1619 Project bring these facts to light? . . .
Do you imagine that this is one of the goals of the New York Times?
Once again, slavery did not create American prosperity.
et tu, USA Today?
The poison spreads. Via J.J. Sefton, USA Today's 1619 series
Like the New York Times' series, USA Today's major feel-good series "1619: Searching for Answers" could produce more white guilt than any revelations about slavery. Both series were a sham, a shame, and a scheme to make living Americans feel guilt for slavery. It was all an attempt to provide a face to the curse of slavery in America: that of Wanda Tucker, who believes she is the ancestor of one of the 20 Angolan slaves sold in America in 1619.
Civil Discourse is sort of Pro-slavery
Jonathan Haidt is not like a slavery apologist:
Eve Fairbanks, in an essay for the Washington Post, argues that many of the writers on the so-called "reasonable right," a group that includes such seemingly benign figures as Bari Weiss and Jonathan Haidt, are making many of the same arguments and using much the same language as proslavery advocates in the American South:

The reasonable right's rhetoric is exactly the same as the antebellum rhetoric I'd read so much of. The same exact words. The same exact arguments. Rhetoric, to be precise, in support of the slave-owning South.

Fairbanks follows this breathless announcement by acknowledging that she is not accusing anyone of defending slavery, and that includes, weirdly enough, actual antebellum proslavery writers. "Proslavery rhetoricians talked little of slavery itself," she writes. "Instead, they anointed themselves the defenders of 'reason,' free speech and 'civility.'" This is a bit like smearing someone as a Nazi, then qualifying it with the claim that overt anti-Semitism was really quite atypical of Nazism. In her characterization of proslavery thought, Fairbanks has taken a line that not even the most stalwart member of the Daughters of the Confederacy would care to defend. It is, well, an exact inversion of the truth.
Also, this means that Haidt is "the right" to them.
MSM doesn't like journalism being done to them
Ace was all over Bloomberg "reporter" Ben Penn's misrepresentation of the words of a Trump appointee to the Department of Labor as racist when said appointee was actually referring sarcastically to an actual racist.
Labor Dept. employee reinstated.
General Commentary on the NYT
From Big Journalism, commentary on a disastrous summer of fake news and public meltdowns at the NYT.
A timeline that puts Dean Baquet's meeting, and the decision to aim future news coverage at reinforcing a slavery theme, in context of other decisions by the NYT. They have not been acting very responsibly lately.
What didn't make big news
DiBlasio
Ace follows up: Bill DiBlasio backing down from ending competitive testing for elite schools, to keep rich liberals like Samantha Bee and her husband from fleeing the city?
Okay, it was reported locally, but where were the big national stories? I saw no features on Upworthy, either. Anybody wanna put together a little piece for them?
This is the sort of thing I have in mind when I say I'm strongly, strongly inclined to start forcing white liberals to live with the consequences of their choices, instead of permitting them Soviet-style Special Exceptions for Friends of the Inner Party.
Racism returns to foster care
Via Insty, at RealClear Investigations, which looked into the likely impact of one judge, a Judge Gray, in Louisiana:
And it's not just that race seems to play a role in Gray's decisions about removals, but also about where children should be placed if they do have to be removed. In the interview, she said she is committed to ensuring that those children can be placed with their extended family (who likely share their skin color). She worries that "restrictions on placing kids with relatives who have criminal records" has created a problem for these families because "who are the people who have more relatives in the criminal justice system? It's minorities." In other words, Gray is suggesting that the standards for which homes may legally take in minority children should lowered.

Gray has also recommended that judges should "consider race as a factor when placing children for adoption (e.g., by applying provisions similar to those in the Indian Child Welfare Act to African American children) ... vigorously recruit families whose background reflects that of children waiting to be adopted and who will adopt older children."

Gray's encouragement of her fellow jurists to consider race as a factor in placing children in foster homes may be illegal (she did not respond to a follow-up email seeking comment on this point). . .
If I missed anything important, let me know in the comments.
AUGUST
Here are some highlights from August, when this whole campaign really got started, including:
Dean Baquet's Emergency Meeting
The 1619 Project Begins
What starts at the Times doesn't stay at the Times


posted by Open Blogger at
11:21 AM
|
Access Comments