« September Racism and Slavery Update [KT]
|
Main
|
Ace of Spades Pet Thread »
September 28, 2019
Gardening Thread, Fall 2019 [KT]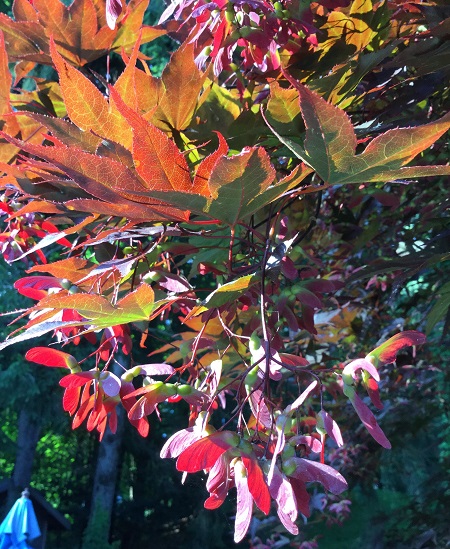 Happy Fall, Gardeners and Putterers! The leaves in the photo above belong to Admirale's Mate, but they are not fall leaves. They are Japanese Maple leaves. The photo was taken in July. Did we fake you out?
Puttering:
Hank Curmudgeon sent in the following easy prescription for The Horde: Messy is better.

There's a certain satisfaction in autumn chores. When the weather's right, cleaning gutters, touching up paint, or splitting some firewood can feel less like manual labor and more like a rite of the season.

But if you want to make your backyard a welcoming winter haven for birds, some fall tasks call for a laissez-faire approach. "Messy is definitely good to provide food and shelter for birds during the cold winter months," says Tod Winston, Audubon's Plants for Birds program manager.

So let someone else keep up with the neighbors this weekend. Sleep in, linger a little longer with your morning coffee, and follow these tips for a bird-friendly yard you can be proud of.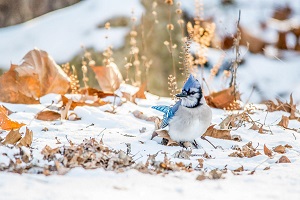 At the Lake
I don't think the tips at the link above will help attract these particular birds. Am I wrong?
The white pelicans are back.

I don't know if they are just passing through or are here for the winter early.
There's less than 100 here at the moment. Last winter there were about 200.

Spread out over 70,000 acres of lake that's plenty a room for each of them.

Le Garde Vieux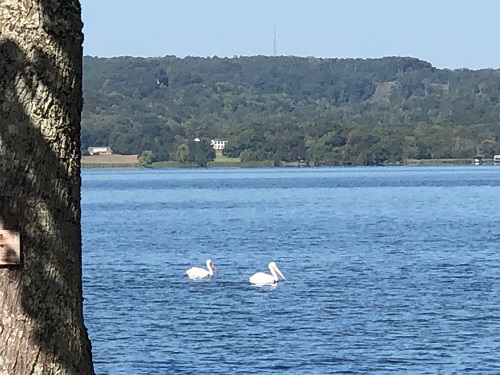 Fall at Illiniwek's Pond
Illiniwek sent in some photos from his farm, and this week, we get to pay a fall visit to the pond.
The yellow pond flowers don't bloom long, but are nice when they are out.

Cattails, willows, soybeans, then corn in the upper right background.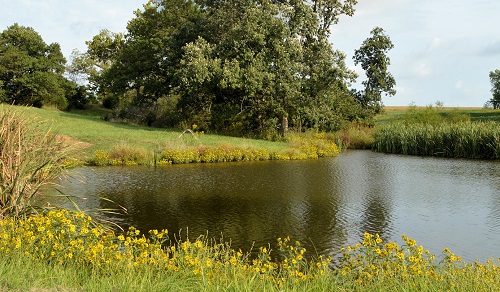 Painted Lady perhaps?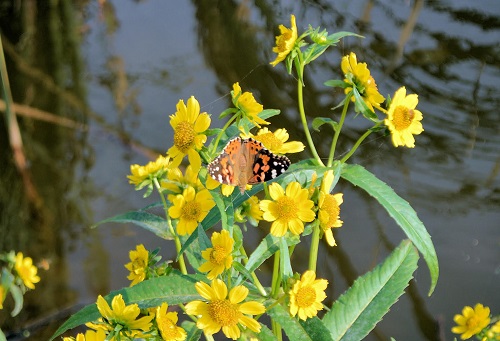 I vote for Painted Lady. I think we decided in 2017 that the yellow flowers that bloom in fall around Illiniwek's pond are wild Heleniums. If you have other information, let me know. There is a little background on Heleniums at the link, featuring Helen of Troy. And here is an example of a yellow cultivated one. There are other colors now, though.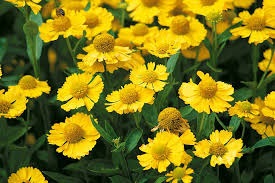 Kugelsonne
See the mostly earlier-blooming coreopsis for comparison. They look kind of similar, but generally prefer a little higher ground, with a few exceptions. Check out some of the new breeds of Coreopsis at the link if you are planning for next year. Or if you just want to plant from seed, try one of these. Flowers may be somewhat variable when grown from seed.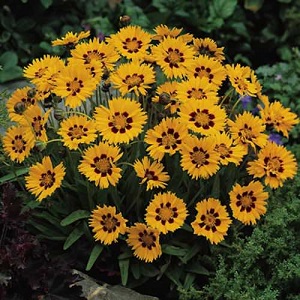 Here are some companion plants for Illiniwek's Heleniums, either the wild form, or a large-flowered cultivated one (though I think I would prefer yellow Helenium to the bicolor in the combo below): Purple Monarda (this is a tall one) and a plant that's new to me, Veronicastrum (Culver's Root). Tolerant of deer. You can add a few Monarda (bee balm) leaves to salads.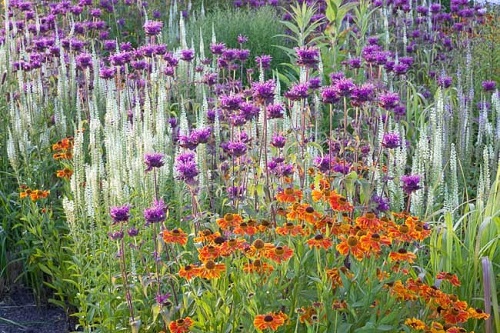 Think that combo would look good by the pond? Or would you prefer Lobelia cardinalis and Kniphofia?
Another Red Admiral
Keena sent in a nice shot of a Red Admiral butterfly with its wings partly open, feeding on lantana. It goes with Hrothgar's mystery butterfly last week, when you saw the underwing of a Red Admiral, once known as a Red Admirable.
Saw beautiful butterflies on what looked like a lantana tree(?)- do they exist or did they graft a lantana onto another tree? But we saw a lot all over Passau Germany a couple weeks ago.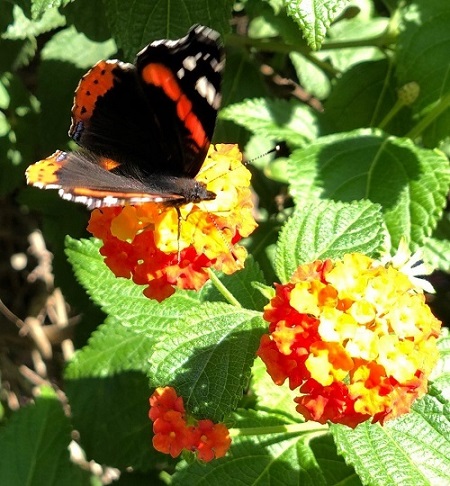 The typical larval food of the Red Admiral is stinging nettle. Stinging nettle and false nettle are edible. Low carb. Recipe at the link, along with picking and preparation instructions and other cooking ideas. Have any of our foragers gathered and eaten stinging nettle? How did it go?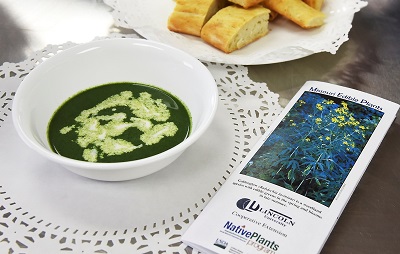 False nettle and stinging nettle host the larvae of the Question Mark, Comma and Red Admiral butterflies. Stinging nettle also hosts the Milbert's Tortoiseshell.
Other members of the nettle family which are reputed to serve as host plants to the Red Admiral are the Pellitories. They are edible (for most people), but the pollen of at least one species is highly allergenic, and some people report itching after eating the plant. Flavor when raw is said to resemble cucumbers.
It's botanical name, Parietaria, comes from the Latin word paries, meaning a wall. Of course, if you have been reading a lot of these articles you know by now that Latin is just a combination of stolen Etruscan and mangled Greek. "Paries" in Latin came from the Greek word "parifi" meaning edge. Parietaria likes to grow in the cracks of walls but it can also form large clumps, such as in my garden or under dry road bridges frequented by transients.
You can see the family resemblance to stinging nettle when flowers form. There's probably a case to be made for harvesting the plants before flowers form, to prevent pollen from being released. There's a pasta recipe at the link and other ideas in the comments.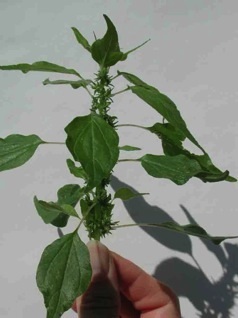 I am still waiting for confirmation that hops can serve as a larval food for Red Admiral butterflies. But they say that Red Admirals will also eat the primary larval food of its Hawaiian relative, the Kamehameha Butterfly, which is Mamaki. Extracts from the leaves of this plant, often mixed with tropical fruits, are sold as teas in grocery stores in Hawaii. You can also buy dried leaves. The leaves can grow pretty big. Depending on which summaries you read, drinking the tea can be just as relaxing and invigorating as a visit to Hawaii. Maybe more.
This plant grows as a shrub or small tree, an understory plant in the wild. It is reputed to work well in yards.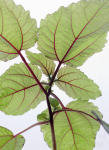 Planting this tamest-of-nettles is recommended by butterfly enthusiasts in order to reverse the decline in the Kamehameha Butterfly, the State Insect of Hawaii, which resembles its relatives, the Red Admiral and the Painted Lady.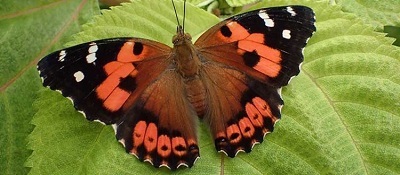 Back to Keena's observation on Lantana "trees":
They were even in the palatial gardens of Schonbrun in Vienna. Interesting. Never saw lantanas trained like that in So Cal, just bushy.
I haven't seen Lantana grown as standards in California either. Where I live now, lantana roots generally live over winter, but the plants look pretty bad for a while in cold weather. In Germany, they would need to over-winter standards indoors, for sure. They must grow Lantana as standards somewhere in the USA, though, because White Flower Farms has directions. My cousin who overwinters geraniums in her basement could probably overwinter lantana standards there, too.
News
Painted Ladies and Red Admirals migrate southward in fall, but their fall migrations are not generally as big as their spring migrations northward. Nowhere near as pronounced as with Monarch butterflies.
Anyway, via Hank Curmudgeon, Dragonflies are being caught on radar migrating south at high altitudes.
Dividing Rhizomatous Irises and Daylilies
A while ago, Hrothgar wrote in with a suggestion that we might want to talk about dividing plants that grow from bulbs, rhizomes, tubers, tuberous roots, corms and so forth. He sent in some nice photos, too. We saw an Iris in July. A beauty. Probably a Japanese or Siberian type.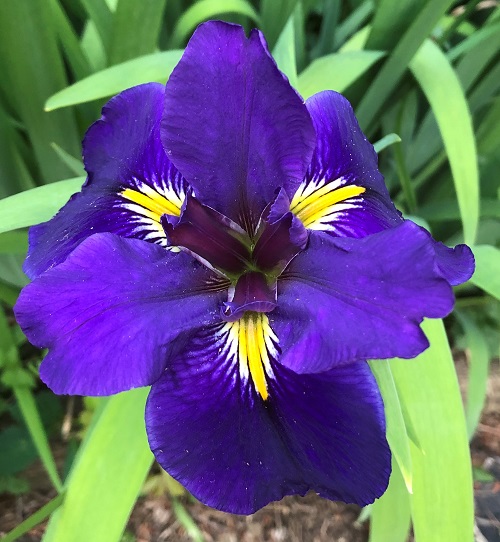 The best time to divide and transplant these irises (and bearded irises) is generally in late summer, about a month after they stop blooming, but after temperatures go below 90 degrees most of the time, but while the weather is not too wet. Otherwise, wait til spring. You want to control for soft rot and iris borers during transplant time. Divide every 3 to 5 years.
Anybody divide bearded irises this year?
Hrothgar also sent in four examples of daylilies in his yard. I think these are all hybrids. If you want to eat daylilies, get one of the species you know is edible. Hybrid daylilies now come in an amazing variety of flower forms and colors. Some re-bloom several times over the growing season, and some stay open at night. Look at the variety here: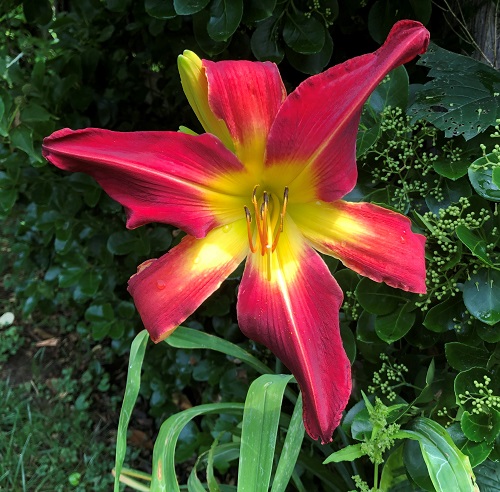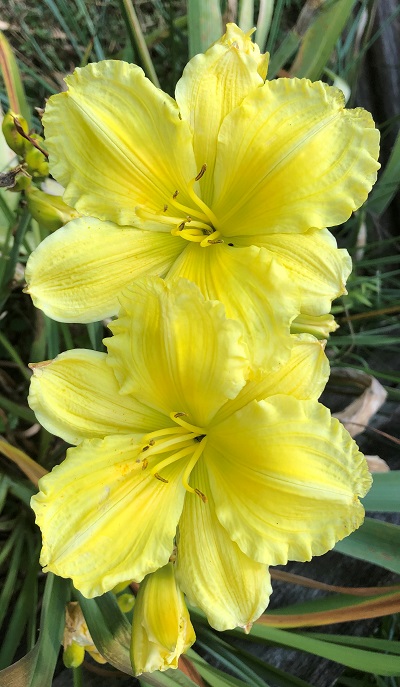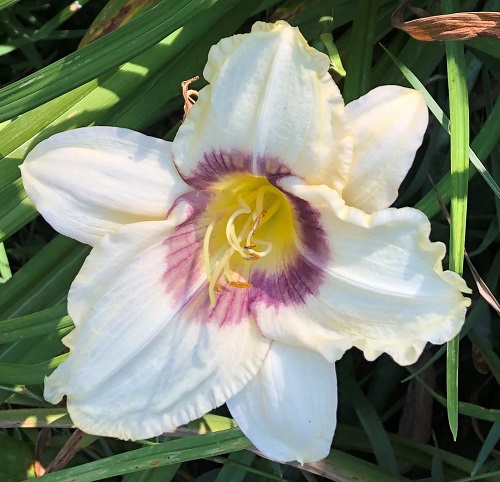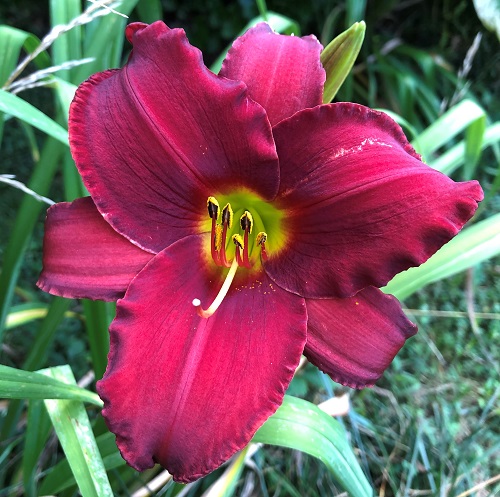 Daylilies are pretty forgiving. Hrothgar wrote this back in April:
I have beautiful iris, tulips, and day-lilies* of several varieties but I am never sure what I should be doing to both make them thrive and subsequently to separate bulbs and replant them. I think this is probably not a good topic for the prime growing season, but it might be a good one for the fall.

*I really like day-lilies because they are a beautiful weed with great survival instincts. I had to rip out about two square yards of day-lilies in the fall, but didn't have the time to replant them. I threw them on a tarp and covered them over with another tarp figuring if they survived the winter they were worth replanting.

Amazingly, this spring high winds finally blew off the top tarp and there was a day-lily garden beneath. I separated them, planted them in multiple locations, and they all seem to be thriving.
Wonder if any of the photos above were from plants that spent the winter under a tarp before replanting? Wow.
On the other hand, sections of daylily plants can be kind of tough to separate. This seems like a pretty thorough summary on dividing and re-planting daylilies. Overcoming the Fear of Separation. This job is usually best done in early spring or in fall.
One thing I always tell my garden visitors is that even if a very large clump is performing well, you may want to divide it before you need a backhoe to dig it out.
Asking ten different daylily growers how to divide a daylily can leave you with ten different answers. What works for one person may not work for another. Over the years many different methods and tools have been used for dividing, including tools designed specifically for the task, screwdrivers for prying, or simply shovels and large knives for cutting a clump into pieces. The method shown below will allow you to separate a clump while preserving as much of the root system as possible. While daylilies are very forgiving of rough treatment, with a little bit of time and care your daylily will once again be growing happily in your garden.
Anybody thinking about digging up and re-planting daffodils or something like that? They may not require sharp implements that are coming under regulation in Britain now.
Gardens of The Horde
Anything going on in your garden? Got anything to eat there?
If you would like to send information and/or photos for the Saturday Gardening Thread, the address is:
ktinthegarden
at g mail dot com
Include your nic unless you want to remain a lurker.

posted by Open Blogger at
01:10 PM
|
Access Comments