« Branson's Spaceport is not in California [KT]
|
Main
|
Ace of Spades Pet Thread »
May 13, 2017
Saturday Gardening Thread: You brought visitors, deer? [KT]
Andy sent in a suggestion for a thread on deer resistant gardening. Timely. There are news reports about a new tick-borne disease. In addition to Lyme disease. More deer, more ticks, more disease especially this year, in the Northeast. Be prepared to inspect your dogs and your loved ones for ticks after visiting areas frequented by deer.
We have discussed some deer-resistant plants. Deer-resistance may be regional and relative, except in the case of the most poisonous plants. We have also discussed ways to keep deer out of the garden, like bird netting, prison-style fences and predator urine. What has worked for you?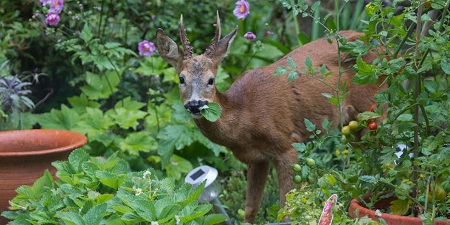 Create a deer-resistant garden
This reminds me that I forgot to mention last week that Valerian and Red Valerian (Keys of Heaven) are both noted for deer-resistance.
The Morton Arboretum in Illinois has a nice list of deer-resistant trees, shrubs, perennials and herbs. Many of them are native plants.
Prairie Coreopsis for the Garden
Illiniwek's problem with deer eating his plants sent me looking into some natives that might work out near, but not necessarily on his pond. Lance-leaf Coreopsis is a tough plant, noted for drought resistance, deer resistance and rabbit resistance. It blooms in late spring and summer. Butterflies visit the flowers and birds enjoy the seeds. You can buy seed by the pound if you are establishing a really big meadow.
Sterntaler is a compact garden selection with bronze markings at the base of the petals. It is reputed to do well in full sun at pond-side, as well as in drier locations. But it blooms earlier than Illiniwek's pondside plants. It is robust and long-blooming if dead-headed.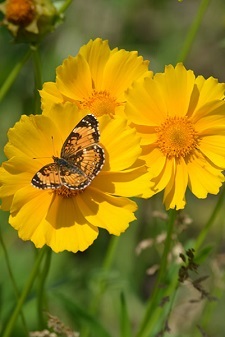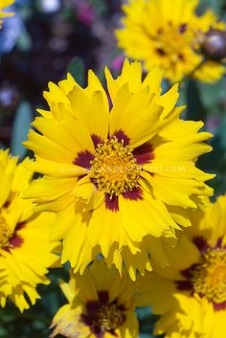 C. lanceolata, native form and 'Sterntaler'
Large-flowered Coreopsis
is similar. It is also common in Illinois. There are
several garden selections and hybrids of this species
on the market. With more under development. Nice summary at the link. C. verticellata is one of the toughest and most drought-tolerant kinds despite its delicate appearance. C. rosea adds pink to hybrids. It needs more water.
Annual Coreopsis (C. tinctoria) has a long bloom season. I like the ones with dark eyes. It is also known as Golden Tickseed or Calliopsis. Takes drought.
Here's a page from a wholesale nursery that gives you some idea of what's new in Coreopsis breeding, including both annuals and perennials. There are self-cleaning annuals, new verticellata hybrids in yellow, rose, red or bicolors and hardy perennials in a wide range of colors.
Photos from The Horde
A while ago, Kindltot sent in photos of blossoms from two trees (sometimes shrubs) that may need some protection from hungry deer. The first is Pacific Dogwood, which is reportedly bitter enough to deter deer unless they are really hungry. Nice against evergreen trees.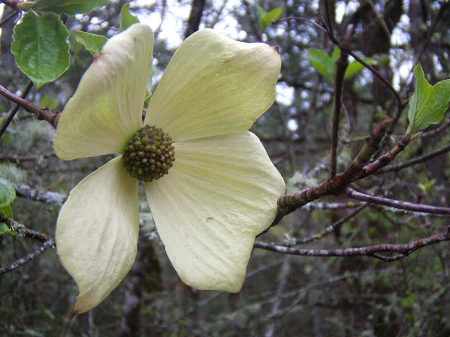 Dogwoods vary in their deer-resistance. Red Twig Dogwood (think "Winter Interest") has a reputation for deer resistance.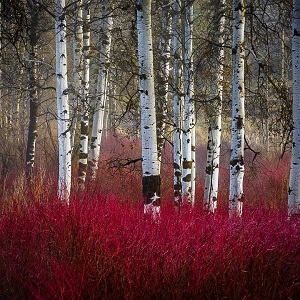 The second of Kindltot's photos is of a feral crabapple. Lovely. Apples of all kinds need protection from deer. On a family campout at Capitol Reef National Monument, the local (rather small) deer came into the pioneer orchards (left in the monument for historical reasons) at dawn and dusk. Branches on the apple trees started above deer level. Some people would bend branches down so the deer could browse on them, but risked being butted if they stopped.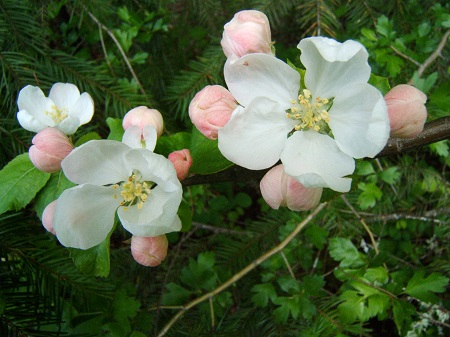 Gardens of The Horde
Here in the San Joaquin Valley, we have had unusually cool weather following a couple of days above the century mark. It's in the 60s now. Weird. Flooding has started in Yosemite National Park. Hope the cool weather keeps flooding from extending to the Valley.
Anything interesting going on in your garden?
Tomorrow is Mothers Day
Sending Mom flowers? Helping a kid pick flowers out of the garden for Mom?
Thought about making Mom some honeysuckle ice cream? It would be a labor of love. BignJames posted a recipe on last Sunday's Food Thread. "Honeysuckle is nearly bloomed out here, so I missed my chance this year. I'm determined to make it next year....it's mabe the most....delicate?...thing I've ever tasted."
Sounds fantastic. I was surprised to learn that Honeysuckle Ice Cream is a thing. There is also Honeysuckle Sorbet. Could be rewards for tearing out invasive Japanese Honeysuckle, which is the kind used for these delicacies.
If you would like to send information and/or photos for the Saturday Gardening Thread, the address is:
ktinthegarden
at g mail dot com
Include your nic unless you want to be a lurker.

posted by Open Blogger at
12:30 PM
|
Access Comments