« Saturday Morning Weird News Dump
|
Main
|
Saturday Gardening Thread: You brought visitors, deer? [KT] »
May 13, 2017
Branson's Spaceport is not in California [KT]
A week ago yesterday, CDR M linked a story about California's plan to add more taxes to rocket launches from California. One of the people planning to launch some rockets is Richard Branson. He also plans to save the earth from carbon dioxide. This seems kind of Jerry Brown-ish, but does not seem compatible with launching rockets into space.
Richard Branson runs an airline and wants to fly billionaires to space, but ride your bike to work, peasant.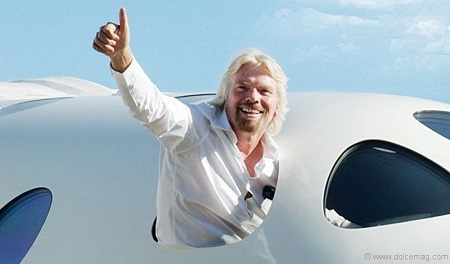 Richard Branson vs. Karl Marx
Some academic types seem to have a problem with Branson's Green Capitalism.
On 21 September 2006 UK uber-entrepreneur and Virgin Group Chairman Richard Branson pledged approximately 1.6 billion [pounds sterling], the equivalent of all the profits from Virgin Atlantic and Virgin Trains for the next ten years, to fighting climate change. Since then, Branson has restated his commitment to action on global warming, including investment in technologies for sequestering carbon dioxide from the atmosphere.
So, what's the problem?
I am particularly interested in the role of the entrepreneurial subject in environmental policy and environmental action. There are glaring problems associated with green capitalism as a mash-up of environmentalism with capitalism. One of these is the tethering of environmentalism to a political economy whose mantra is growth for growth's sake, or, in Marx's terms, accumulation for accumulation's sake.
Karl Marx would have opposed "the tethering of environmentalism to a political economy".
Heh. They never learn.
Richard Branson and Political Economies
You have to admit that Richard Branson knows his way around "political economies". He credits his dyslexia with his ability to think in unusual yet simple, straightforward ways.
When Virgin Group founder Richard Branson announces that he's starting a sperm bank that will accept only donors with dyslexia, that could mean one of two things: He is actually spearheading a strange, though laudable, initiative to reduce stigma around dyslexia. Or it could be the company's annual April Fools' Day prank.

Unfortunately, it's probably a prank.
Sounds discriminatory to me. Notice that even some of his admirers aren't quite sure what his real intentions are . . .
Back in February, an alert reader sent in a link to a news piece on Barak and Michelle chillin' hard on Sir Richard Branson's eco-themed private island, Mosquito Island. (Or Moskito Island. Whatever. Are celebrities immune to Zika?) It's near Branson's luxurious private resort for the rich and famous on Necker Island. I'm so thrilled that someone got photos for posterity.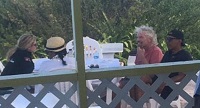 For carbon sequestration to pay off for Branson, I imagine that he would have to get some government entity to force people to pay for it. Entertaining Obama could be a big step toward improving Branson's political economy.
California's plan to tax rocket launches
The importance of the "political economy" probably explains why private space travel companies, including Branson's, seem eager to have California tax their rocket launches. At least they seem to be backing the tax plan:
The new rules, based on formulae used for terrestrial transport industries, appear to ensure that a California-based company like SpaceX won't be excessively taxed for revenue generated by launches in other states, while Colorado-based ULA pays its fair share for using California spaceports. . .

There is some fear of government overreach at work: The only orbital spaceport in California--that is, the only one where the FAA allows the launch of large payloads into orbit, rather than jaunts to the edge of space--is at Vandenberg Air Force Base, about three hours north of Los Angeles. . .

. . . With the pace of launches expected to increase in the years ahead, US rocket companies that depend on the site did not want to be vulnerable to sudden changes in tax rules. Setting the new formula in stone, one California lobbyist says, will reduce their fear of future hikes.
"Some" fear of government overreach?
Branson's Spaceport America
Branson did not leave himself dependent on the whims of California government, however. Even though he builds rockets in Mojave, California, he planned years ago to launch them from his own spaceport in New Mexico. Spaceport America is pretty much in the middle of nowhere, in the
Chihuahuan Desert. Reportedly chosen because there is so little air traffic over the area.
There are no space flights yet, but there was a drone summit last year.
Truth or Consequences
The closest community to the Spaceport is Truth or Conseqences, a little town featuring hot springs, on the Rio Grande. It is a real weird place. Changed its name on April Fools Day. Has a day honoring Stephen King. The tombstones face backward. And more!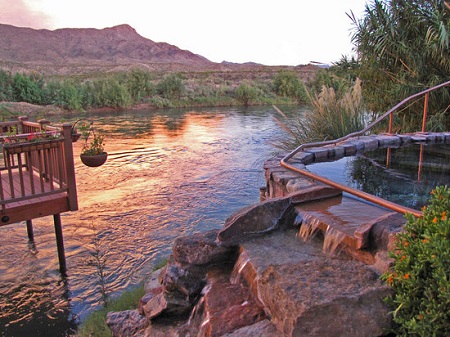 Truth or Consequences
These days, Truth or Consequences seems to be dominated by retired people who like the hot springs and rather laid-back New Age types. Kind of interesting. You might want to visit before the billionaires ruin the town. Check out a video or two at the link.
On the other hand, if you are already flush with cash, you could maybe rent the more famous of Branson's two private islands far from the Chihuahuan desert. Remember to reserve canoes so you and your guests can row there, because flying on Virgin would contribute to Climate Disruption.
The island reportedly has accommodations for 34 adults and 6 children. Interesting ratio. The progressive dream come true?
Why can't we all live like that?
Note: If all goes according to plan, this will be today's Thread Below the Gardening Thread.
Serving your mid-day open thread needs
Have a great day!


posted by Open Blogger at
11:14 AM
|
Access Comments