« Saturday Morning Coffee Break
|
Main
|
Saturday Gardening and Puttering Thread 3/7/20 [KT] »
March 07, 2020
Has the NYT's editorial decision to emphasize racism changed the way media thinks? [KT]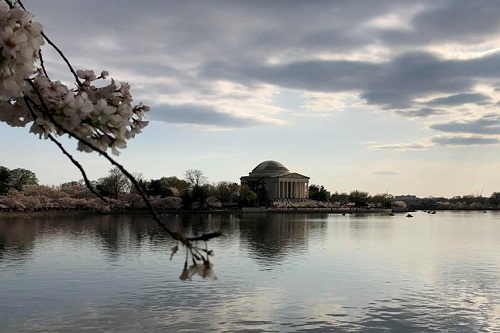 We have been doing periodic updates since the New York Times announced last August that they would be focusing on "racism" in their news coverage for the next two years, particularly as it related to Donald Trump. Closely associated with this announcement was the announcement of the debut of the historically inaccurate "1619 Project", AKA The Hate America Project.
Here's how Times editorial board member Mara Gay describes the project's mission: "In the days and weeks to come, we will publish essays demonstrating that nearly everything that has made America exceptional grew out of slavery."
QUESTION: Has the NYT's announcement that it would be emphasizing ideology in its news coverage affected how others in the mainstream media think about news stories?
On Thursday night, Mara Gay and MSNBC pretty face Brian Williams agreed that Mike Bloomberg could have given every American a million dollars instead of running for president. I know I'm piling on. But they deserve it.
This is a class warfare spin rather than an identity politics spin. But still, why did no one in that newsroom catch that monumental math error before it went on air? As Remy said,
i would watch a documentary about how this segment happened
Is this the End of Journalism?
How did they come to report on this tweet anyway? I hope that this is not true: Can it be possible that the original tweeter cannot be convinced that Bloomberg does not have 327 trillion dollars?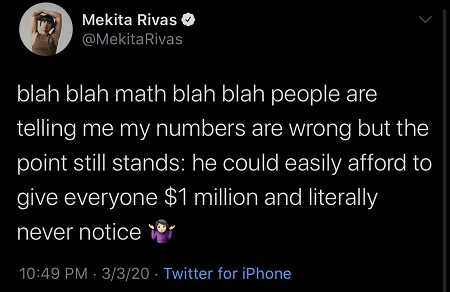 Back to the New York Times Editorial Board and NBC
A couple of weeks ago, Mara Gay blamed a broken water main in Harlem on President Trump. It's not just on TV that she makes remarkable errors. For an editor of America's Newspaper of Record.
And last July, after Ted Cruz filled Colin Kaepernick in on the context of part of a Frederick Douglass speech which Kaepernick had quoted,
Gay ranted at Cruz, "Frederick Douglass is an American hero, and his name has no business in your mouth."

Cruz had a ready answer, responding, "Let's see. You're on the editorial board of the NYT. You respond to any view you don't like, not with facts or reason, but w/ ad hominem attack. And you seem dismayed that I linked to Douglass's entire speech, so readers can judge for themselves."
She sounds like a real advocate of the First Amendment, doesn't she?
Maybe she should have included more information on Douglass in the 1619 Project, which apparently sort of skips over him.
At the end of January, on MSNBC, she also compared the behavior of Republicans during the impeachment proceedings to politicians defending the Jim Crow South. "I think we're in a very scary moment."
"I think you just spoke for metric tons of our viewers watching tonight after the day we've been through," host Brian Williams responded.
"Metric tons of our viewers." Interesting way to think of an audience.
The 1619 Project - more commentary
The key author of the 1619 Project continues to ignore or dismiss objections from historians.
On August 19 of last year I listened in stunned silence as Nikole Hannah-Jones, a reporter for the New York Times, repeated an idea that I had vigorously argued against with her fact-checker: that the patriots fought the American Revolution in large part to preserve slavery in North America. . . .

Weeks before, I had received an email from a New York Times research editor. Because I'm an historian of African American life and slavery, in New York, specifically, and the pre-Civil War era more generally, she wanted me to verify some statements for the project. At one point, she sent me this assertion: "One critical reason that the colonists declared their independence from Britain was because they wanted to protect the institution of slavery in the colonies, which had produced tremendous wealth. At the time there were growing calls to abolish slavery throughout the British Empire, which would have badly damaged the economies of colonies in both North and South."

I vigorously disputed the claim. Although slavery was certainly an issue in the American Revolution, the protection of slavery was not one of the main reasons the 13 Colonies went to war.
Almost a month before the piece above was published, the NYT defended the 1619 project for its journalistic rigor.
Powerline reported on the 1619 project and the oscars.
Also from Powerline, America's Revolutionary Mind.
America is unique among nations in being founded on a set of ideas and values rather than having a shared "identity" based on "blood and soil." The founding of America during the revolutionary era 1776 - 1787 was based on principles that provide the sinews of our national identity. They are what create a unity out of the diverse peoples that have settled and occupied this country since its founding. They have been the inspirational force that enabled America to abolish slavery, become a global symbol of freedom, and provide the world's chief bulwark against global tyrannies.

It is this inspirational memory that the political left has set out to erase and destroy. The most disturbing manifestation of this sinister aggression is the so-called "1619 Project," the brainchild of a staff writer at The New York Times, named Nikole Hannah-Jones. It is supported by The Pulitzer Foundation, the Smithsonian Institution and the nation's cultural elite. Six months after its launch, the "1619 Project" Is already a curriculum in 3,500 public high schools in all 50 states. Given the extreme leftwing nature of the teacher unions and the public education establishment, while disturbing this is hardly surprising.
From the New York Post, What the 1619 Project aims to teach your kids.
What the 1619 Project got wrong about Lincoln.
In response to the 1619 Project, other prominent blacks have launched a 1776 project.
Shelby Steele, Robert Woodson, Carol Swain, Clarence Page, and John McWhorter are among the more prominent of the black contributors to this endeavor.
They emphasize a message of unity.
History, MLK Jr., Slavery
From Powerline, MLK yesterday and today. His message is not totally welcome with today's progressives.
Also, the 1619 project on MLK day. And the prophetic voice of MLK.
The 1619 Project is not our first encounter with fake history. Howard Zinn, fake historian.
History, revived? The Lost History of Western Civilization
Ignored history: Islam's hidden role in the transatlantic slave trade. h/t J.J. Sefton
Related? Rotherham and race.

Our Previous Posts triggered by the NYT's August Meeting:
January 18: Media Racism Update, contrasting the efforts of the Democrats to paint themselves as champions of the Constitution with the attacks on the Constitution in the NYT's 1619 Project. More on the 1619 Project's historical errors. Similarity to the communist goal of destroying memory.
Plus an interesting suggestion that it should be illegal to vote for Trump because he is racism personified. Uh-huh.
November 2: What would Frederick Douglass think? The 1619 Project wasn't much interested in Douglass. Reviews of the 1619 Project.
Also, Race-based lunacy in education NOT based in the 1619 Project. Western medicine is colonialism. Discussion of racial preferences in government.
September 28: September Racism and Slavery Update, with analyses of the emerging, ahistorical 1619 Project. Note: Captain John Smith was once a slave.
Plus an effort to pin a racism charge on a Trump appointee.
August 31: Dean Baquet's emergency meeting with his radical staff at the New York Times. This was where the editorial decision to focus on Donald Trump's racism was articulated. Oh. And then there was the 1619 Project.
Music
Been thinking about Tennessee this week, and tornadoes. Is everyone OK?
Gibson plans to donate guitars to musicians whose instruments were lost or damaged in the storms. In 2017, President Trump highlighted Gibson for its production of American products. Sort of a switch from Obama's politically-motivated raid in 2011.
Here's Hank Williams Jr. with Old Nashville Cowboys:
OK, so this isn't exactly Nashville. Probably not very progressive, either:
Hope you have a good weekend. This is the Thread before the Gardening Thread.
Serving your mid-day open thread needs

posted by Open Blogger at
11:22 AM
|
Access Comments