« Has the NYT's editorial decision to emphasize racism changed the way media thinks? [KT]
|
Main
|
Ace of Spades Pet Thread »
March 07, 2020
Saturday Gardening and Puttering Thread 3/7/20 [KT]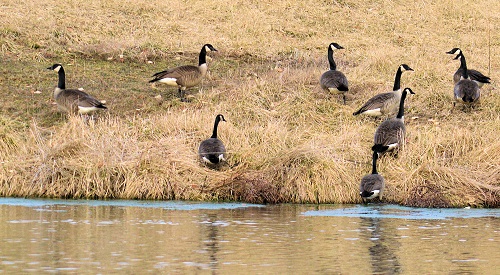 Hello, Gardeners, Putterers and Winter Dreamers! Spring is almost officially here! How about we start today with some Animal Photography?
From Illiniwek:
spring is in the air ...

daffodils are popping up, these 9 geese were getting close to mine, so I walked over toward them till they flew off.

none had Trump hats.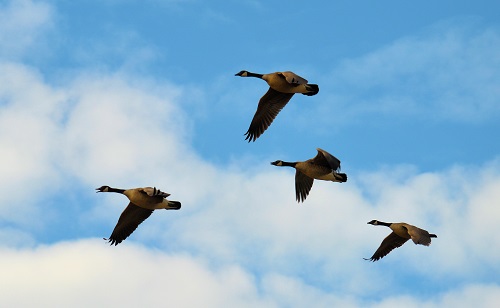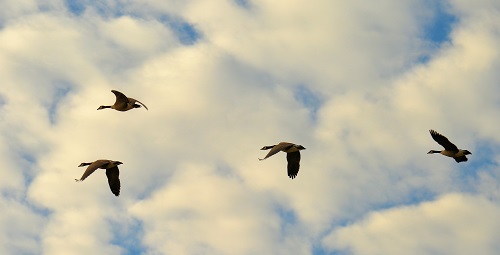 What do you think the birds on the back of this bison are? They are on Antelope Island in the Great Salt Lake. Photo by my cousin. The one with the geraniums in her basement.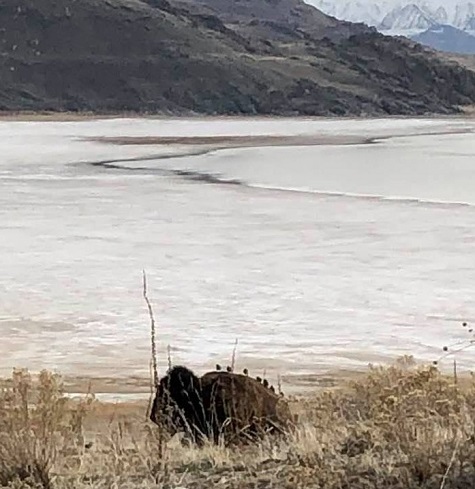 A rare political farm and garden segment
We don't talk about politics much on the Gardening and Puttering Thread, but now that Mike Bloomberg isn't so busy, maybe he can get back to teaching us how to farm better. The World Ag Expo was held in Tulare, California last month, as usual. Participation from China was a bit down. NASA opened last year's World Ag Expo, which is held a little south of where VDH lives. It's a big deal. Sophisticated equipment and fun tractors.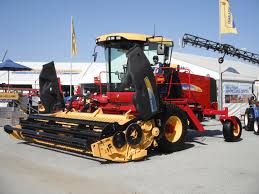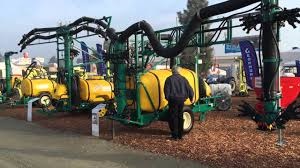 An unmanned spray system. One operator can run several of these units at a time: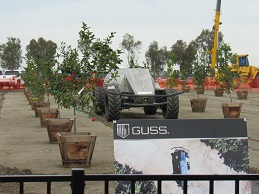 For the protesters who jumped on stage with Biden recently, here's where they exhibit dairy-related stuff: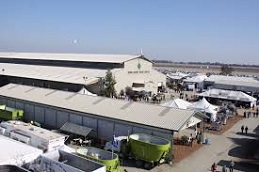 In other farming news, Donald Trump has signed a memorandum to divert water to Central California farmers like VDH. Yay!!!
The State of California doesn't like Trump's efforts to help farmers. The California government is fighting back.
The Edible Garden - Bonus Tartaric Acid Segment
From Kindltot:
KT, I can my own grape juice, I have about 50 feet of Concord grapes and I press and can each year.

When fresh the juice is good, but sometimes it is more acid than other years. A lot of the acidity is tartaric acid.

If it gets cold and the grape juice is allowed to sit, the tartaric acid will start to crystallize in the jars. The longer the more precipitates out and the sweeter the juice gets.
This is true for wine as well. As a side note, the first real investigation of chirality (handed-ness of molecules, as in some molecules have various configurations that affect how they make crystals) was by Pasteur dissecting tartaric acid crystals from French wines by hand.

This is from a jar that is over a year old (canned so it doesn't turn) and was in the fridge for a while too - though I have had crystals this size from jars that just sat on the shelf too.
When you get down to the bottom and swirl it, you can hear the jingle of the crystals in the bottom with the sediment.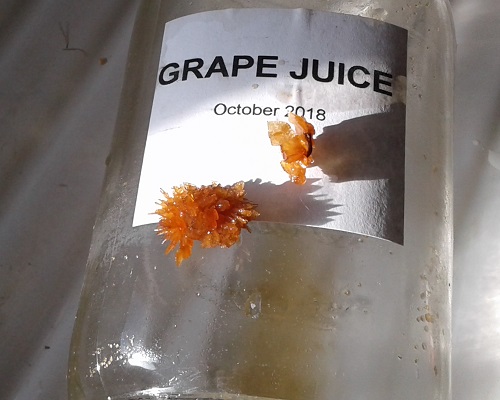 I commented on how YUGE the crystals were.
Tartaric acid give juice and wine a more complex flavor. Sometimes mine is extra complex, I guess.
Gardens of The Horde
From The Invisible Hand and his wife:
What a difference a week makes.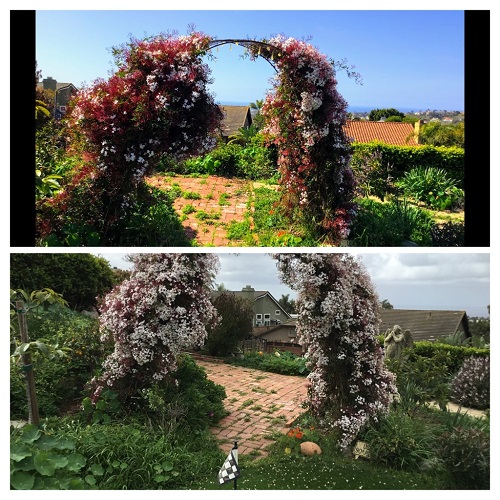 From elsewhere in the yard. San Clemente looks beautiful.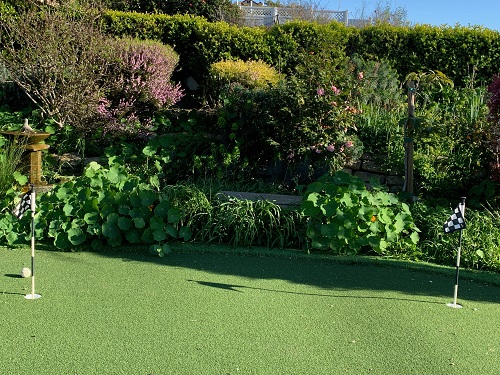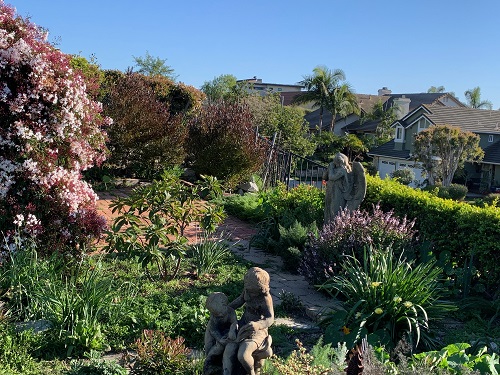 Freesias are blooming.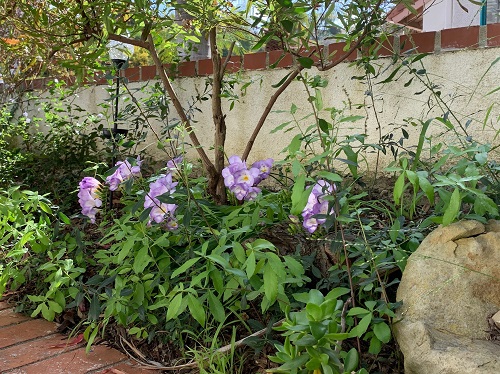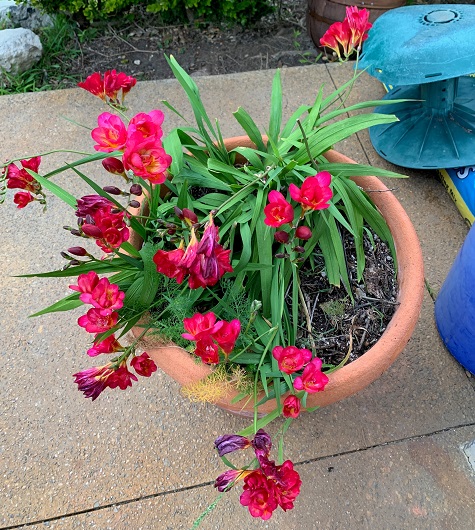 Bet they smell great.
I got a message from Another Lurker about last week's mystery flower photo from Island Girl. The white flower, anyway:
The white one is Hawaiian Ginger. We call it Tiare in Hawaii. They have a nice scent, can be used in lei making of various types.

Can't tell what the red ones are.

Keep up the great gardening thread!
Meanwhile, Island Girl sends everyone a Happy March! photo.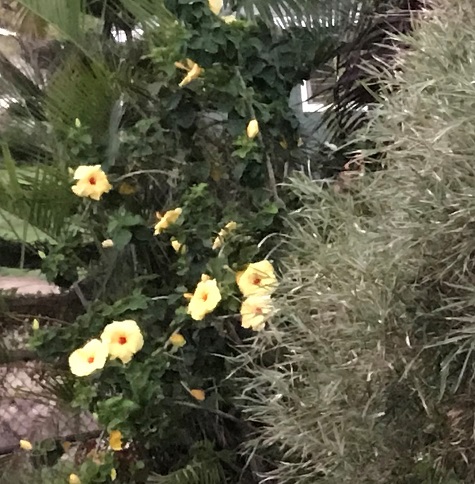 Anything happening in your yard or garden?
We have some great things from The Horde for next week. If you would like to send information and/or photos for the Saturday Gardening Thread, the address is:
ktinthegarden
at g mail dot com
Include your nic unless you want to remain a lurker.


posted by Open Blogger at
01:17 PM
|
Access Comments