« Saturday Gardening and Puttering Thread 3/7/20 [KT]
|
Main
|
Saturday Afternoon Chess Thread 03-07-2020 »
March 07, 2020
Ace of Spades Pet Thread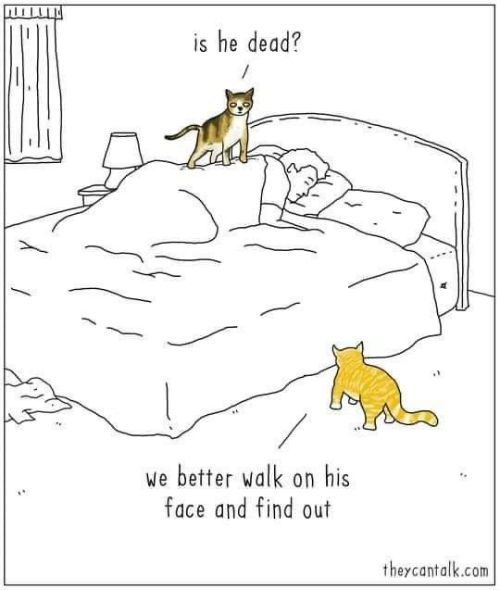 (H/T Legally Sufficient)
***
Good afternoon and welcome to the almost World Famous Ace of Spades Pet Thread. Where pets rule, commies drool and we kick back and enjoy the world of animals.

Save your political talk for another thread. Thanks.
***
(H/T Ladyl & Hadrian the Seventh)
***
A Little of This. A Little of That.
***

From our friend Northernlurker a very interesting video.

***
Earlier this year in January the AoS Pet Thread published a letter expressing disappointment with experience at a Pet Shelter in an attempt to adopt a pet.
DO NOT COMMENT ON OLD THREADS OR YOU GET BANNED-The Hamsters
Here is a response to that letter.
Mis Hum,

I am a huge fan of your site and love the Pet Morons section section on Saturdays. However, I think one of your mid-January's feature did a great disservice to pet adoption agencies by the reader complaining about all of the hoops they had to jump through with an adoption agency – leading them to just go to a breeder. Being one who volunteers at one and has gone through the process myself, let me let you and hopefully the readers know the why behind everything this reader would have gone through had he completed the process.

In short, the mission of an animal shelter isn't just to clear the cages, but to make sure that each animal is matched to the right owner at a loving home so they don't wind up back at the shelter, or even worse, abused, neglected, or killed.

Why did the agency require 3 references? Well, first, if you can't find 3 people who can positively vouch for you, maybe you need to rethink getting a pet . . . . I say that only half in jest, but seriously, those references can say a lot about the person and their ability to take care of the pet, or maybe reveal that the pet they want isn't such a good match, but another type will. If the letters say that they marvel at how you can do so many things outside of the house, that says that a pet that is high maintenance isn't for you but maybe a more solitary, independent one is.

Why the need for so many home visits? I know it is a shock, but some people may lie on their application to get what they want. Most of the readers here may not, but "trust but verify." They want to make sure that in addition to a clean environment, that sprawling fenced in yard you proclaimed isn't just a 10 x 10 plot of grass bounded by 2' garden fence. The visits may also give an indication to the type of household you have – again, if your're a busy family with many kids, a shy, introverted pet may not be the one for you. If the visit reveals that you're an outdoors type of active family, they may suggest a pet that needs a bunch of exercise. If your application forgets to mention you have other pets, the home visit certainly will show that – again not all pets are good with other animals.

Why does the adoption fee cost so damned much? I mean I might as well pay the breeder that money! Well, as you can probably tell, the animal shelter doesn't turn much of a profit to make anyone rich! All people may see when they get there are happy & healthy animals bounding around. . . . however, they most likely didn't arrive at the shelter in such good condition. At a bare minimum, most states require that adoption agencies give their animals a full vet screening complete with vaccinations and anyone who cares for their animals knows that isn't cheap. If the animals came to them injured or with any sort of complications, those issues & injuries need to be tended to – again, not cheap. Most places even spay/neuter the animals before they go out for adoption – a $100 – 400 proposition right there. On top of that are the regular costs of caring for an animal such as food and litter, not to mention all of the overhead involved in running the shelter like staff, insurance, and just the cost of the physical building's operation. By the time you get the animal, the shelter may have directly or indirectly spent at least $500 on that animal – I can't say either way the same with any breeders. Which goes to one of my first statements – if they hand every person an animal without doing their due diligence, not only is it tragic and harmful to the animal if it winds back up at the shelter, but the investment the shelter made in your pet was now wasted and they'll need to start all over again.

Bottom line – adopting an animal may not be easy or "convenient", but it is that's usually by design. If someone can't go through a little temporary inconvenience in obtaining a pet, how will they behave if things get tough with the animal (training) or if the animal isn't "fun" anymore (sick or aging pets)? Again, pet adoption isn't for everyone, same with going to a breeder. However, to just bitch about the process as if it is a right to get the animal and that you're doing the shelter a favor without doing one's due diligence WHY it is like that incorrectly maligns the adoption process and may sway people away from that option.

I love your column, and I'll also be sending you my menagerie of morons later on, but I hope you consider publishing my opposing viewpoint that I hope sheds light on the whole process.

Thanks

Joe S
Two of my daughters have shelter dogs. Great pets. I've always wanted a certain breed and that's what I have. There is no right solution to adopting a pet. And this Cob appreciates the well thought out positions from both parties. Discuss as the polite Morons and Lurkers you are.
***

From our Gardening Guru KT comes the next bit of humor for the day. "If a cat was your boss" - 50 cartoons. Funny
Thanks KT
***
One last video before the stars come out to shine.
Meet The PetMorons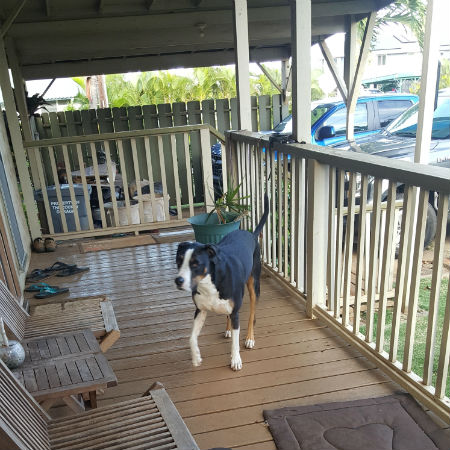 Our boy patrolling - Suzanne
Hi Suzanne, hope you are around today. If you are tell us your boy's name and what he patrols for. Thanks for sharing.
***
Say "Hi" to Dixie. Dixie is my Mid-Kid's dog. She adopted her from a no kill shelter about 3 years ago now. Dixie is a great companion. - Mis. Hum.
***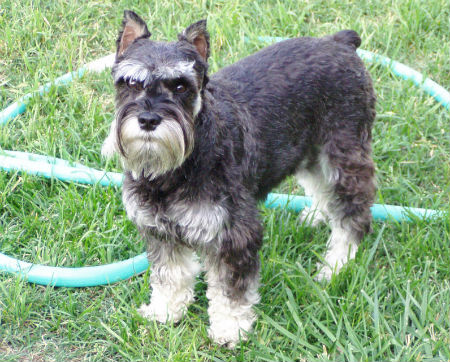 Hi, I'm a longtime lurker and occasional commenter on the book thread (DIY Daddio).

It's been a year since we had to have our beloved miniature schnauzer, Kirby, put down. He lived to the ripe old age of 16, until his painful joints and dementia made life miserable for him. I buried him in an abandoned fox den under a big oak tree behind our house, where he is still resting in peace.

Kirby was a great car dog and made a good companion on road trips. He was also the only dog I've ever had that watched TV. He loved to growl and bark at other dogs on the screen. Or any other four-legged creature. Even animated ones. Kirby left us with a ton of stories and memories. Just like a good boy should. Thanks.
Schnauzers. They do hold a special spot in my heart as your Kirby does in yours. 16 years with a special dog is a very long time. But not long enough. Happy to hear his memories make you smile. Thank you for sharing. And don't lurk so much.
***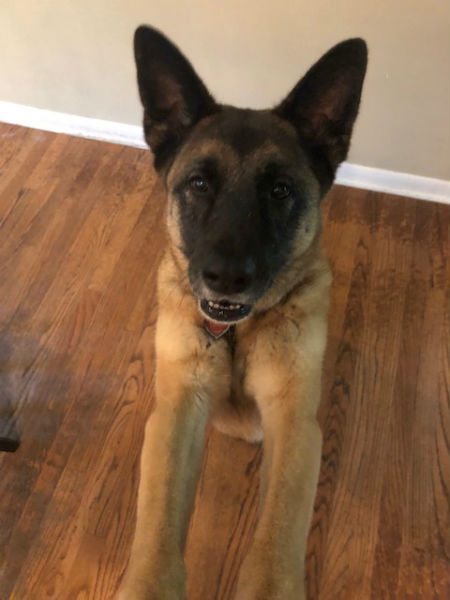 This is Greta. A rescue dog. Half GS half Akita. She's protects to house and back yard with vigor. And is the one who found Opie the Opposum from last weeks pet thread - Al
Greta certainly looks protective. Good looking pooch you have there Al. Thanks for sharing today.
***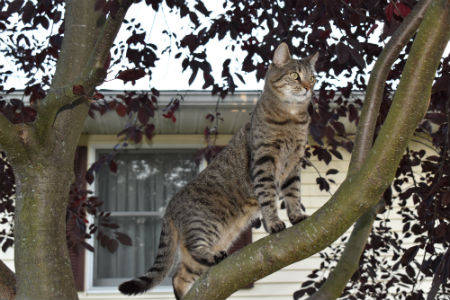 This is eight year old Tigger (AKA "Mr.T). He was a dairy farm cat and a real killer! Best cat I have ever had. Very affectionate and comes when he is called.
Thanks -John
Wow. What a stunning photo John. So did you just happen to catch that pose or is Mr. T a model? Thanks for your submission.
***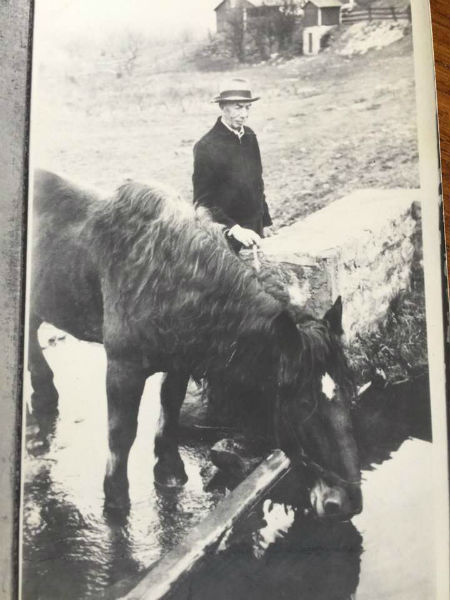 This is Billy - (Billy isn't wearing the hat). He was the last of our draft horses and when this picture was taken was retired, enjoying a drink at the swimming hole at the family farm.

Billy was very gentle and would allow as many of my sibs and cousins to ride him as could find a handhold of mane, ears, or tail. He'd take us around the creek, woods and meadows until he tired and then would make the slow plod back up the hill in the background to the barn.

We recently disposed of his collars and other assorted tack which, in the last 60 years or so, molded and disintegrated in the tack room. He's still there somewhere in that bottom land but his marker has long since crumbled away. - Tonypete
So you were a farm kid Tonypete. That's cool. A more exhausting but simpler time with work animals. Beautiful horse Billy was. Those are some great memories you have. Thanks for sharing today.
***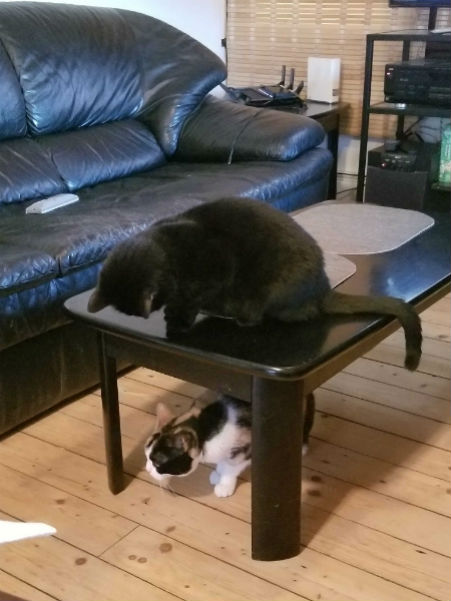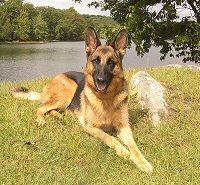 Thanks so much for the Pet Thread! All our girls have appeared once before, but who wouldn't want to see them one more time? :-;

Here's calico Gracie about to learn again why Kato got her name. Yep, Kate can be a jerk.

And here's our lovely Lili, who we lost in August at age 12. What a giant joy she was.

Have a beautiful week, Mis Hum and Morans of all species. Lili-beth
Unlike TV we don't mind reruns at all Lili-beth. Thank you for your well wishes. Your cats look like a pair of trouble makers and keep you on your toes. Sorry to hear of Lili's loss. Those 12 years rushed by too quickly.
***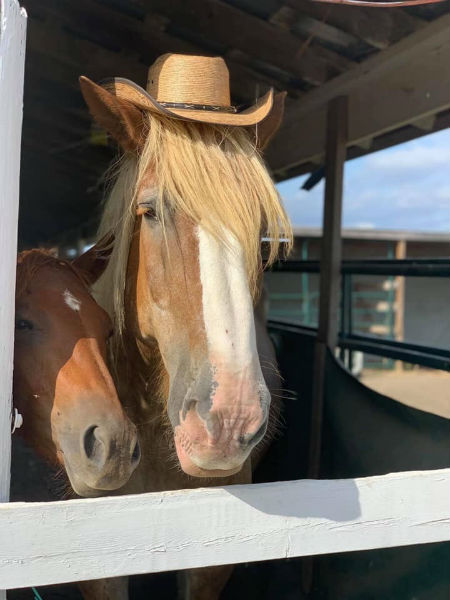 This is Duke (aka Fabio). He was rescued from an owner who no longer wanted him. When they picked him up, they found him in a stall with little water or hay and covered in his own poop from laying in it. He was 200 lbs underweight.

Once he got to the rescue, he immediately bonded with some yearlings becoming their protector. Over the next couple years, other yearlings were put in with him and he adopted them as his own.

Unfortunately, a couple weeks ago, he went down and the rescuers were unable to get him back on his feet. His back legs gave out and he wasn't able to stand. He had Equine Narcolepsy.

I don't think I have ever seen a bad picture of him, no matter how muddy he was, he seemed to be loved by the camera. - MW in Texas
I have no idea how people can abuse animals. Such wonderful and bold creatures. We are happy you got to know Duke (Fabio). Condolences on his passing. Thank you for your story.
***

Thank you to all who contributed to today's Pet Thread. You folks make it work. If you have a pet to share submit your photo, your pet's name and your nic and we will be happy to post it.
You are free to submit links about pet related or even send a "Letter to the Editor".
You can reach us here at petmorons at gmail dot com.
Here is hoping you folks all have a great week!!!


posted by Misanthropic Humanitarian at
03:00 PM
|
Access Comments