« Saturday Gardening and Puttering Thread 1/25/20 [KT]
|
Main
|
Saturday Afternoon Chess Thread 01-25-2020 »
January 25, 2020
Ace of Spades Pet Thread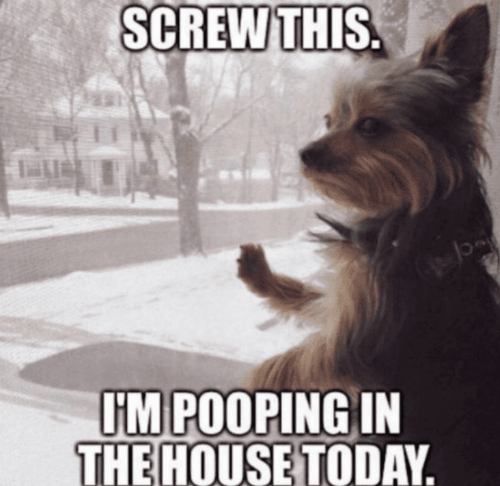 ***

Good afternoon everybody. Welcome to the almost world famous Ace of Spades Pet Thread. Take a break from whatever you were doing and enjoy the world of animals.
Let's escape politics and current events for the next couple of hours.
***
I received the following email from a regular here at the AoSHQ Pet Thread. I'll be honest, I've never adopted a dog from a shelter. Are the problems with adoption of shelter animals this tough all over?
Hi,
Just read the Pet Thread and wanted to share my experience in trying to adopt a dog. After my old girly died, I spent over a year, searching and emailing many breed-specific rescues. Living in western South Dakota, there aren't many Dachshund rescues, so I looked at several surrounding states (heck, I drove to KY for one of mine, at a puppy mill). I was told, in no uncertain terms, that they required a home visit, a fenced in yard, a letter from my veterinarian and 3 personal references. To adopt a PET? I was so fed up with it, I went to a breeder in WY and bought an awesome 5 month puppy who didn't work out as a breeding prospect; he carried an eye disorder, so would either be sold as a pet (and neutered right away) or euthanized. Luckily, I was able to buy him and meet the terms of purchase within 6 weeks of getting him. You've met Eli and Bingo in previous pet threads.
So, even though the "rescues" claim they want pets to go to good homes, they sure make it difficult, with all the hoops through which one is expected to jump. I will never attempt to adopt another dog, since my experience sucked..and I tried over a half-dozen breed-specific rescues. I am glad so many of your readers have had better results than I did. All critters deserve love. Thank you for what you do. I always look forward to Saturday afternoons!
Name withheld.
Somewhere in SD
***
A Little of This. A Little of That.
Historians consider it one of the greatest speeches ever written about a dog. US Senator George Graham Vest (1830-1904) was one of the leading debaters of his time, and offered this observation on dog greatness when he was still practicing law in a small Missouri town. He represented a man who sued another for the killing of his dog, and after offering the following summation to the jury, he won the case.
H/T Anonosaurus Wrecks, Tyrannosaur Wrangler & Hrothgar
***

I've owned dogs since 19........ I've never had this happen to me. What say you dog owners?
***


The next story isn't about pets, but a wild animal who was inquisitive.
***

Who says we can't have a Feel Good Story here at the Pet Thread?
***
Quite the house cat, here kitteh, here kitteh. H/T Shibumi
***
Our state dept. at work. Assholes. Regards, -Blake
In total agreement with you Blake!
***
Meet The PetMorons!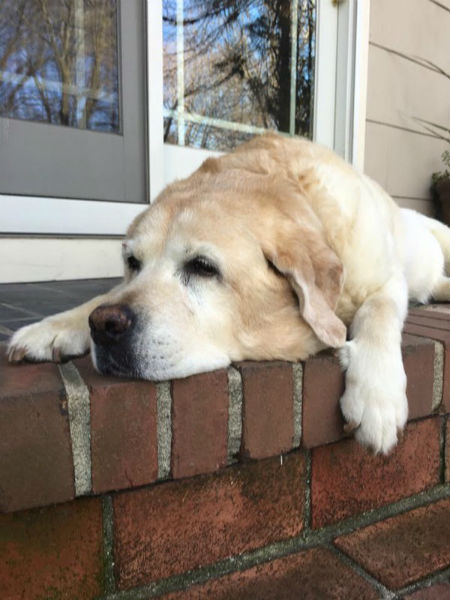 Miss Magnolia, aka Maggie, enjoying the cold bricks in her final months. She loved to lay on ice to cool off, cold bricks after snow melted. Gone for years, still haven't gotten over her. - Jarrod
Amazing how long it takes to get over the loss of a pet. I know the feeling. Maggie was a beautiful dog. Thanks for sharing.
***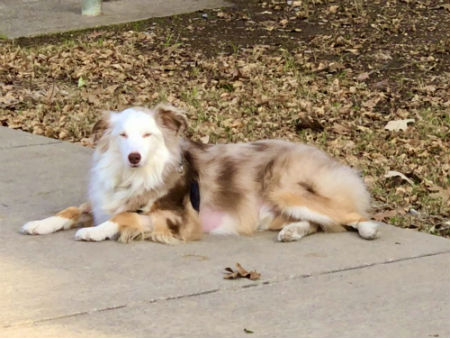 &&&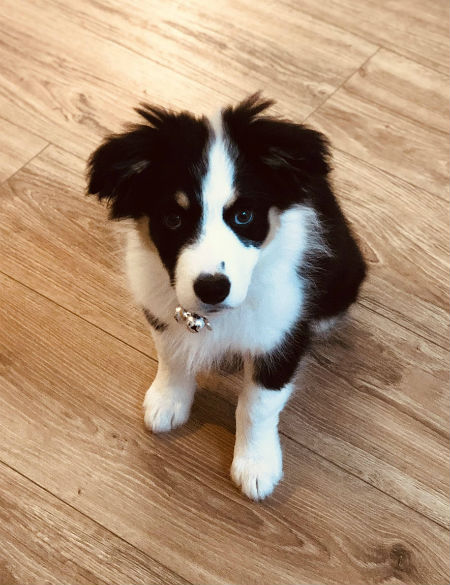 Hello Again,

My heart was broken in November when Frankie took ill. The Vets discovered an undiagnosed heart defect that resulted in him failing rapidly. In the beginning of December, I had to put Frankie down. Probably the worst thing I've had to do. Below is a picture on his last trip to the park, a couple of hours before we had to see the vet for the last time. He hadn't eaten in a week and instead of running and playing, he settled for sitting in the shade. He was a great boy that was taken from us too soon.

Our house was so empty and quiet without Frankie that we decided around Christmas to look for another dog. Frankie turned me into a huge fan of Aussies and so we found one here locally. Please meet Cosmo. He's a bundle of energy and loves nothing more than to play a little fetch and snuggle up next to us on the sofa. Time and puppies are probably the only things that come close to putting the pieces of a broken heart back together again.

Been lurking since the early days... occasional poster... I'm Sapguy from Dallas
Dang Sapguy, so sorry to hear of Frankie's passing. He looks so regal in that last pose. Condolences again. Now Cosmo looks like he can push a button or two. Cute puppeh. Good to hear from you again, it's been awhile.
***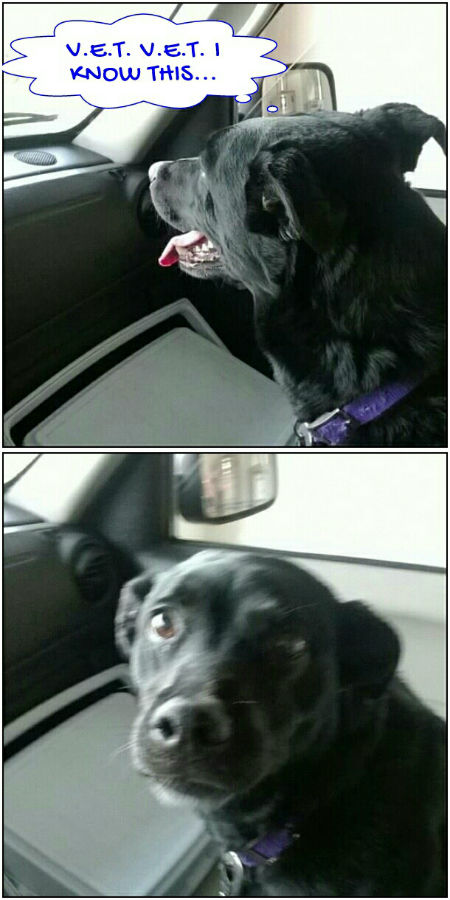 &&&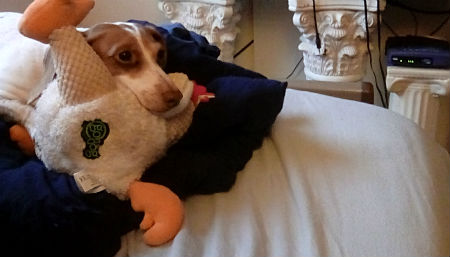 Dear MisHum,
I have wanted to send in some pics for forever and every weekend I find I've failed. These are of our rescues, Tasha passed last year at 17. She was a lab/bc mix as far as I can tell, fastest dog I've ever seen!

The handsome brown eyed lad is Skipper. He completely ignored me at the shelter when he met Tasha, he was very smitten. Anyway, thanks for all you do at HQ.

Kazi
Sorry to hear of Tasha's passing. Hope Skipper is doing well without his pal. Great looking dogs. We appreciate your sharing with us today.
***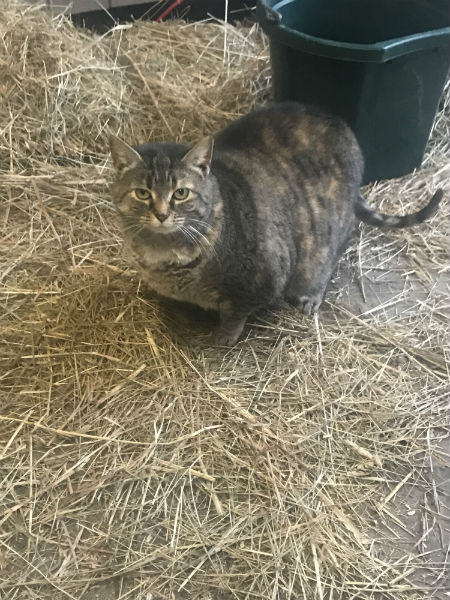 This is Fat Cat.

Fat Cat was a rescue from the animal shelter, adopted with two others to patrol my barn. Fat Cat weighs 22 pounds and waddles at a very slow Michael Moore-like pace. Fat Cat, to the best of my knowledge, has never caught a mouse at the barn. I did see Fat Cat catch a bird once, which makes me question the survival instinct of birds.

Certain women I know will tell a human bartender that they need to get and shape and start watching what they eat, but will look at Fat Cat and say "How adorable!", which makes me question the survival instincts of women. - Bitter Clinger
Now that's a big cat. Fat? Naw, just horizontally challenged. Perhaps the bird that Fat Cat caught had a death wish. We're happy you took some time out of your schedule to tell us about Fat Cat. Thanks.
***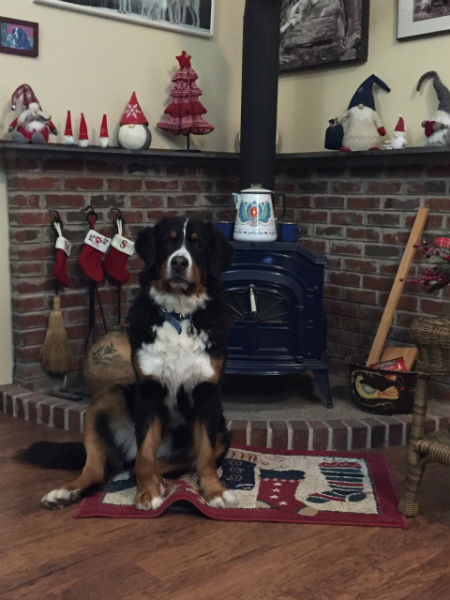 Daphne, our second Berner, Christmas morning 2019 turned 2 yrs a a couple days before. -Michael
A belated Happy Birthday and Merry Christmas to you and Daphne. She is a gorgeous looking pooch. Thank you for her photo and story.
***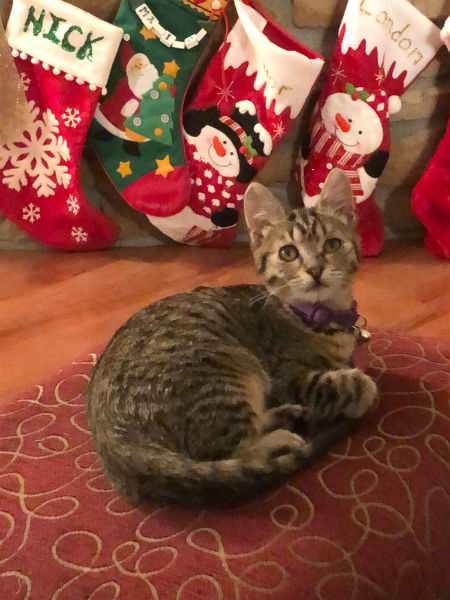 Here is a photo of our kitten, Esther. I got her from an animal rescue as a Christmas present for my wife; Mrs. Cop felt ready for another cat after our previous one had died two years ago. Esther was about 13 weeks old and under-weight when I got her. She had an upper respiratory infection but two rounds of antibiotics did the trick and now she is a healthy little girl. When she isn't planning on committing mischief and attacking toes, she loves to cuddle and will sleep on my lap when I'm reading. Sincerely, Retired Buckeye Cop
A cute kitteh and a pretty name for this character. We can see the mischief in her eyes. Congrats on your new addition.
***

The love for your pets shines brightly on this cold winter day. Awesome pets and stories. Great links today as well. You Morons make this thread work, week after week.
If you have something to share, include your nic, your pet's name and photo to petmorons at gmail dot com.
Hope you all have a great week!!!


posted by Misanthropic Humanitarian at
03:00 PM
|
Access Comments