« President Trump goes to Davos [KT]
|
Main
|
Ace of Spades Pet Thread »
January 25, 2020
Saturday Gardening and Puttering Thread 1/25/20 [KT]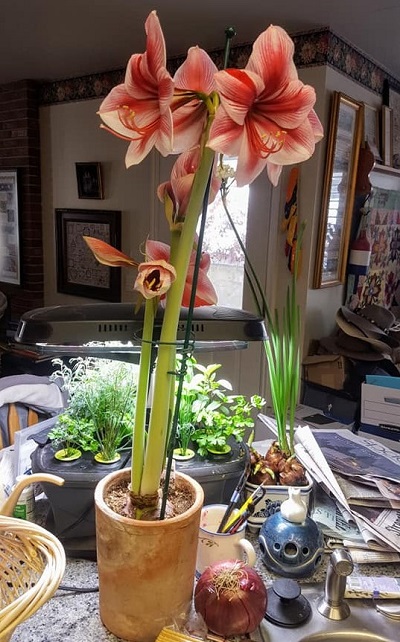 Hello, gardeners, putterers and dreamers. Anybody starting to get cabin fever? This thread is here to help. My cousin (not the one with the geraniums in her basement) writes:
My amaryllis are cheering us up on this cold,cold, cold day. The red one is on its second round. It has already had 24 blooms in December.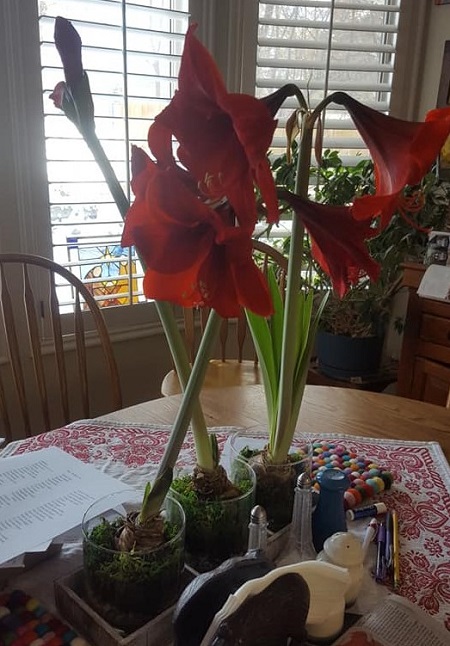 Note the herbs growing on the table in the first photo, too.
Gardens of The Horde:
19th Jan. First daffodil of the year. About two weeks early. Northern Alabama Zone 7 Le Garde Vieux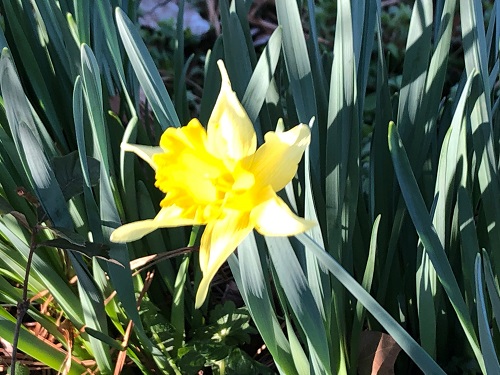 Meanwhile, NaughtyPine has no daffodils, and writes:
What a difference a day makes! The black squirrel photo is first. You can see the frozen remainder of the flooding that prevented me from cleaning out the sedum pots. The second is Saturday morning. Puttering in the garden is suspended until further notice.

Thanks again for the Gardening Thread!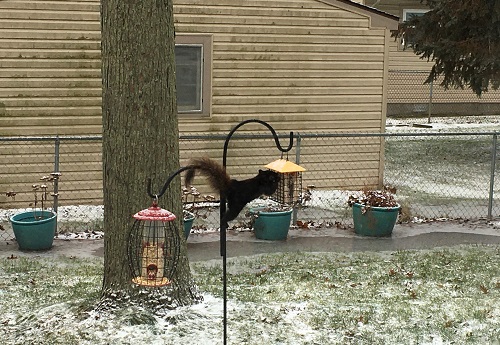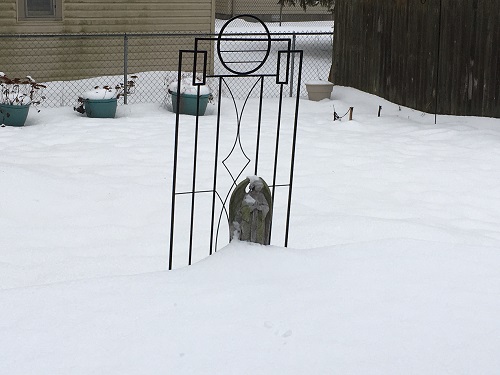 As for edible gardening, Shanks for the memory, writing from the Central Valley of California, had a late comment last week with good information and some questions for The Horde:
Our house has had the crud since a week after Thanksgiving. The doc is no use, rest, fluids, yada, yada e muy yada. We've consumed gallons of drinks made with elderberry syrup and all the bone broth in the freezer.

So I've had lots of snuggle-under-the-duvet-damn-the-hallway-dust-bunnies down time to peruse seed catalogs and sip Fire Cider. Johnny's, Baker's Creek and White Flower Farms are to me what the Sears catalog was to my great-Gran: dream books.

C'mon crookneck watermelon? Who can resist that? An amazing story: https://tinyurl.com/td4hvmq

We're still eating greens from the winter garden; bok choy, ripini, snap peas, Napa cabbages, carrots, beets, dragon kale & rainbow chard. We picked a slew of citrus; tangerines, ruby red grapefruit, limes and Meyer lemons too. Funny how the garden provides what your body need when you need it.

Monday is the official rose, grape and fruit tree pruning day. Since I'm still feeling puny, I hired an intern from the local ag JC to help.

A few daffodils are up, miner's lettuce and nettles too We've got fog, not the dense tule fog like it once was, but still no fun.

Oh-oh...before I forget...have youse guys tried Nadapenos? Jalapenos without heat but all the flavor. I tried them last year they make best poppers ever.

Brad Gates's of Wild Boar Farms breeds some amazing tomato varieties and Santa Rosa's climate is similar to the Central Valley so they do really well here. He sells seed through Baker's Creek and plants in select Northern CA nurseries.

What canning tomato, not paste, but for whole & diced tomatoes, are y'all planting this year? I planted an heirloom Bonny Best last year. Any suggestions?
PUTTERING: Photography, Travel and Night Skies
Via Hank Curmudgeon, be prepared for spring by getting a copy of Roadside Flowers at Full Speed. Maybe do a Powerpoint presentation for your friends and family:
If you're a fan of wildflowers, I'm sure you've noticed the same thing I have - all the field guides out there have one massive flaw. They're designed for people who are slowly ambling about in prairies and other natural areas with nothing better to do than stop and stare closely at the minute details of flowers.

Of course, there's nothing wrong with kneeling down and staring closely at wildflowers. I mean, we should all be so lucky to have the free time and - apparently - lack of responsibility to spend our days wandering around in fields of blossoms. I'm sure at least some people who do that are perfectly nice, and probably not at all dangerous.

But what about the silent majority who prefer to experience wildflowers the way General Motors intended - by whizzing past them in a fast, comfortable automobile? How are nature-loving-from-a-distance drivers supposed to learn the names and habits of the wildflowers as they speed blissfully past them at 65 (85?) miles per hour?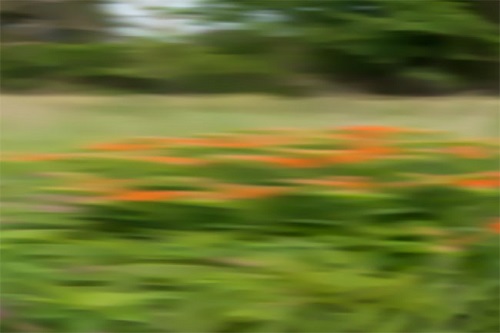 Might be able to work some painting into this kind of project, too. Something beyond impressionistic?
Dreaming about travel? How about taking a break to live on Swiss time? Interesting essay and nice photos.
About a woman who owns a creperie:
She doesn't have to work, she explained. Her husband runs sports camps that do very well, and her children are out of the house-- they've left their small Alpine village, never to return, just as she did long ago, though she somehow made her way back, and perhaps they will, too. All to say: The creperie business isn't here to make money.

"You have to understand that I'm here to put something good in people," she said. "You have to understand that I use good ingredients, that my eggs are fresh and my flour is good, and I measure it out so that it's good. Do you see that? I'm not here for money. I'm here to offer you something good into your body."

And this I found staggering. I thought what a luxury this was, that you'd have time and money and you'd actually use them to consider how you'd spend your day and your career and your life, to see something as elemental as serving nutrition to someone as a thing of value, as its own reward. To act so deliberately and without desperation that you could live your life the way you thought it should be lived.
Switzerland does attract a lot of tourists.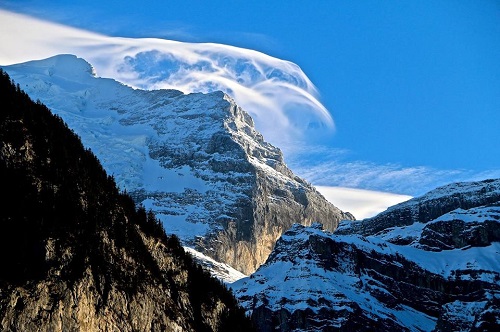 Otherwise, how could you live by taking photos of the Andromeda Galaxy by night, and running a tattoo parlor by day, in a village of 900 people? Stunning photos at the link.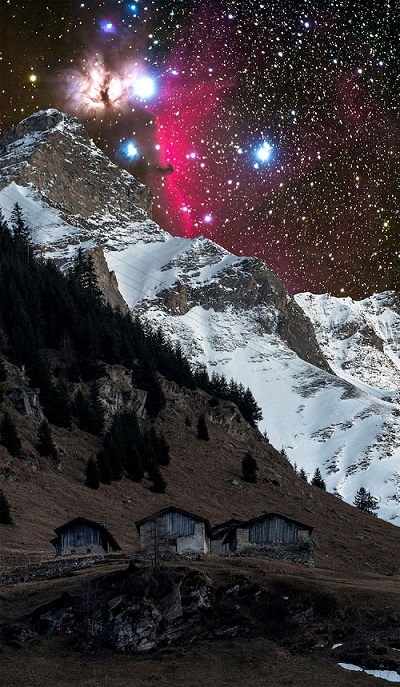 We have seen some wonderful photos of the night sky from The Horde lately. It will be interesting to see if things change if Betelgeuse explodes.
Back on earth, you may have notice the Swiss dog listening to President Trump, with cows on her collar (in the thread before this one). They really love cows in Switzerland. Even near housing.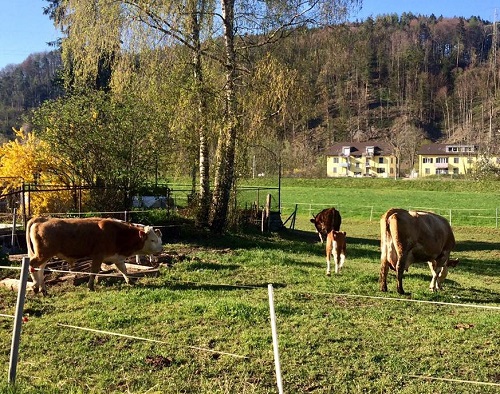 And here is a Swiss horse.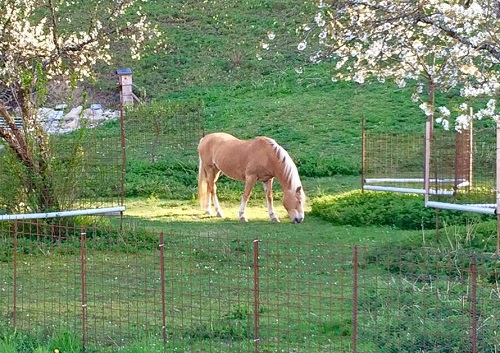 The dog in this morning's photo is Gioia, who may be our future guide to Swiss gardening. Here she is as a puppy.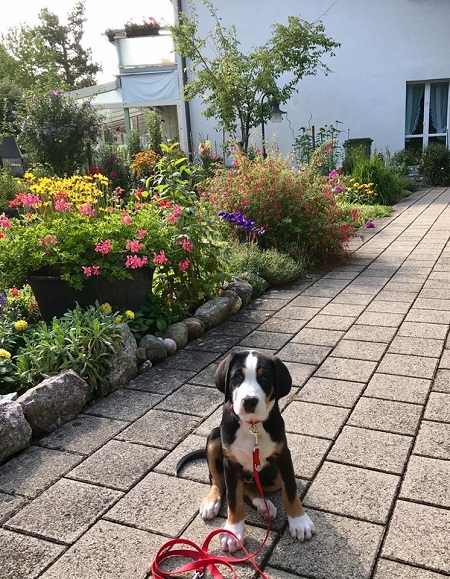 If you are planning a trip, don't forget to take some garden photos.
If you would like to send information and/or photos for the Saturday Gardening Thread, the address is:
ktinthegarden
at g mail dot com
Include your nic unless you want to remain a lurker.


posted by Open Blogger at
01:13 PM
|
Access Comments