« Saturday Morning Coffee Break
|
Main
|
Saturday Gardening and Puttering Thread 1/25/20 [KT] »
January 25, 2020
President Trump goes to Davos [KT]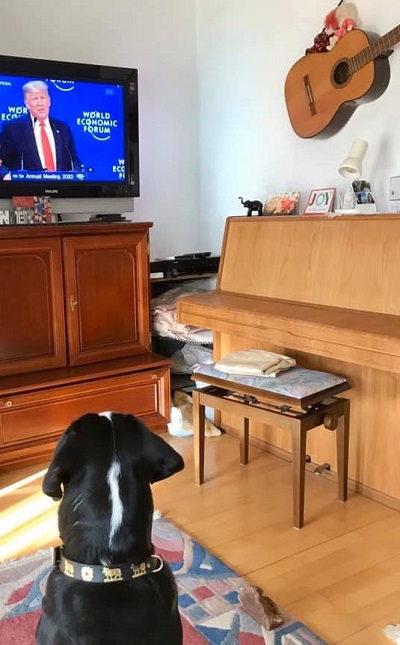 Swiss dog listens to President Trump's address
Well, while we were grappling with domestic issues and the news about the Wuhan virus this past week, President Trump went to Davos. The young dog above does not live in Davos, but the normal people of Switzerland, and maybe some of their pets, seem to keep track of what is going on in Davos. Some trends seem to have emerged this year among the movers and shakers who assembled there. A piece in Politico suggested that the Davos crowd did not get too excited about President Trump this year.
Conversation was instead dominated by three seething conflicts that many participants see as existential in their long-term implications for the global order.

-- There is the conflict over the future of capitalism.

-- There is the conflict over the future of technology.

-- Above all, there is the conflict over the future of the planet.
On the "future of the planet", it is remarkable that Greta Thunberg was considered to be the person of the moment. Perhaps one reason the Politico piece took such a ho-hum attitude about Trump is that he highlighted the failed predictions of climate activists. (h/t J.J. Sefton)
Then he said this:
We will never let radical socialists destroy our economy, wreck our country, or eradicate our liberty. America will always be the proud, strong, and unyielding bastion of freedom . . .
Sgt. Mom had a nice piece on how environmentalists now "make the most perfectly hissable villains, because they almost invariably make matters worse in the long run."
On the "future of capitalism", in a post about whether professional economists are idiots, here is an interesting statement from Nassim Nicholas Taleb, Wharton MBA, mathematical finance PhD and author of Skin in the Game and The Black Swan:
The professional economist is the specialist who is instrumental in designing various measures of government interference with business.
I will leave it to people who have more background in economics than I do to sort out the actual post.
The folks at Instapundit kept track of the doings in Davos with several links. A sampling:
Don Surber: Trump's remarkable remarks at Davos.
President Donald John Trump's address at Davos this morning was a lesson on governance by a man who entered politics less than 5 years ago.

Our president said, "America's newfound prosperity is undeniable, unprecedented and unmatched anywhere in the world. America achieved this stunning turnaround not by making minor changes to a handful of policies, but by adopting a whole new approach centered entirely on the well-being of the American worker."

That is incredible. A billionaire spoke to fellow billionaires, fellow world leaders, and academics not about the swell digs they were staying at or the lush cuisine they enjoyed.

President Trump talked about actually serving the people who entrusted them with power.
Walter Russell Mead:
There is something inescapably ridiculous about a gathering this self-important; certainly Marie Antoinette and her friends dressing up as shepherdesses to celebrate the simple life has nothing on the more than 100 billionaires descending, often by private jet, on an exclusive Swiss ski resort for four days of ostentatious hand-wringing about the problems of the poor and the dangers of climate change. This year an earnest young aide at registration told me that, to reduce the event's carbon footprint, no paper maps of the town were being distributed; one could almost feel the waves of relief from the nearby Alpine glaciers at this sign of green progress.

Yet smirk as one may, and sometimes as one must, this year's WEF arrived at a difficult time for the Davoisie--those who are at home in the thin air of this global gathering. Leaders the world over are now having to come to grips with a new age of populism, nationalism and protectionism. . .
Issues and Insights: Greta Hectors Davos: Why Are Elitists Thrilled To Be Lectured By A Child Who Knows Nothing?
Music
Assistant Village Idiot was impressed by 10 hours of yodeling.
Maybe it will get you in the mood for some travel. There's a little more information on Switzerland in the Gardening and Puttering Thread, which should appear shortly. This is the Thread before the Gardening Thread:
Serving your mid-day open thread needs

posted by Open Blogger at
11:15 AM
|
Access Comments