« Tom Cotton vs. the NYT's 1619 Project [KT]
|
Main
|
Ace of Spades Pet Thread »
August 01, 2020
Saturday Gardening and Puttering Thread, August 1, 2020 [KT]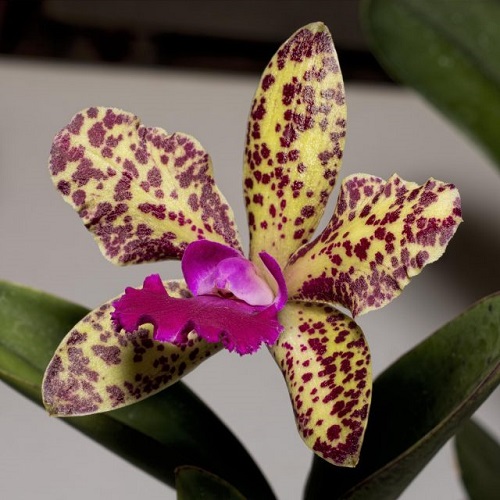 Hello to all our gardeners, putterers and dreamers! First of August and it's hot here in the Central Valley of California. How about where you are? We are starting today with some indoor gardening. The photo above is from Don in Kansas, who has more orchid photos at the link.
RoyalOil sent in photos of an exotic plant for us to identify:
Like to visit local nurseries just to see what's interesting that they have to offer. Found one run by a nice Asian lady. Saw this flower, had to buy it. No idea what it's called. Maybe the horde knows?

The bloom last a couple of days then it dies and a few days later, a new bloom comes out above.

Oh, and she sold me the pot for $25.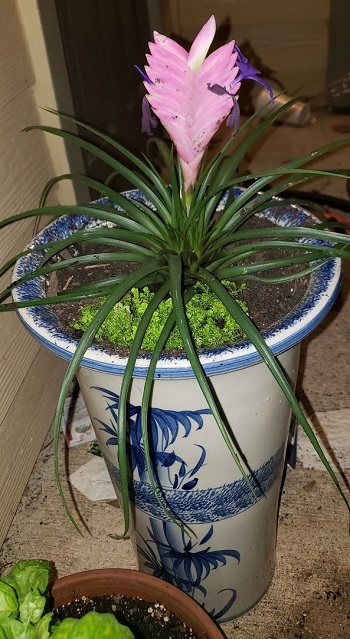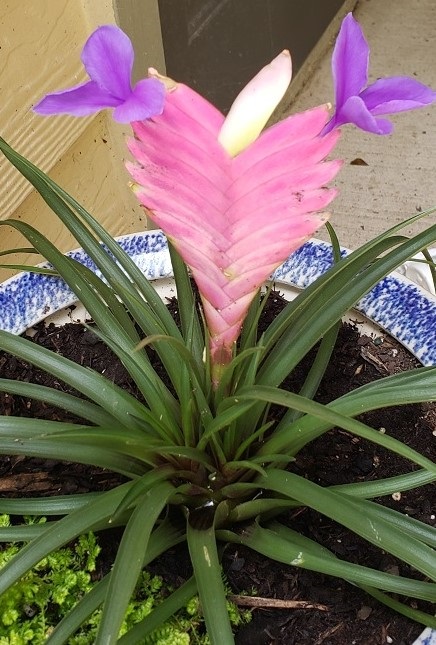 Notsothoreau sent in something fun:
Not sure if folks are familiar with minature African violets.

They are so cute! These are from The Violet Barn. My regular sized one is in the background. Just had these a few months.

"Throw out the radio and take the fiddle down from the wall."
-- Andrew Nelson Lytle, Tennessee, 1930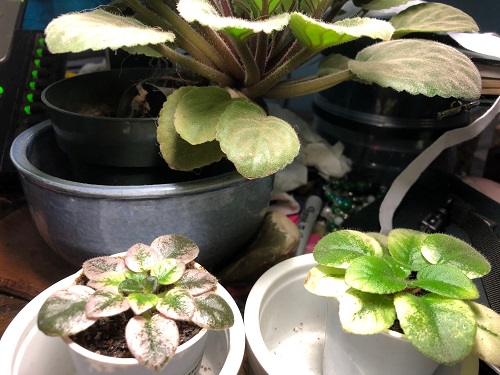 They make me want to babble in French baby-talk for some reason. But here's a fiddle tune for Notsothoreau instead:
Show tune. Not a waltz. "Dance all night with a bottle in your hand"
Carnivorous Plants
Our outdoor carnivorous plant expert, Tony Litwin, sent in some fascinating photos a while back. Lots of variety in carnivorous plants! And he has a huge collection! Here are a few:
The Flytrap is self explanatory which also shows a Drosera Filiformis Filiformis as well as a small seedling of Sarracenia Leucophylla Viridscens which is an all green pitcher plant with no red whatsoever on either the plant or the flower.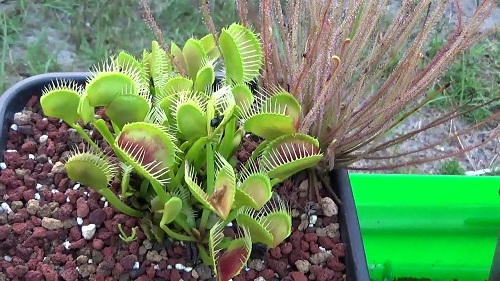 As for the Butterworts, they belong to the species Pinguicula which means little greasy one as the leaves have a greasy feel to them. The largest Butterwort in the US is P. Planifolia (below), while the smallest is P. Pumila ( below that ). The Bladderworts which are the grass like blades in some of the pics (as with the first Butterwort below) belong to the species Utricularia and in this case Utricularia Subulata( the yellow flower).
So, butterworts are related to stinging nettle?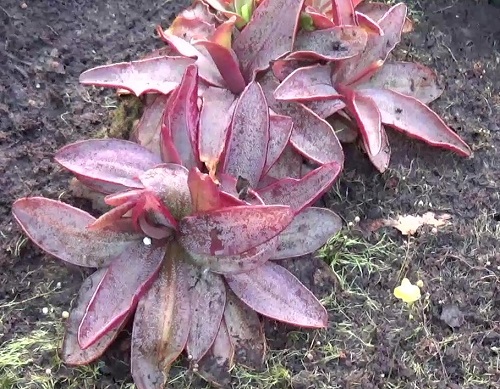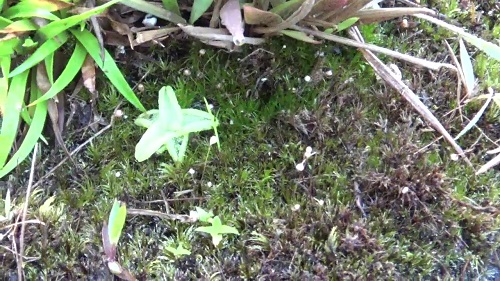 More to come.
The Edible Garden
40 miles north has a grape report. Remember that he usually protects his grapes from critters: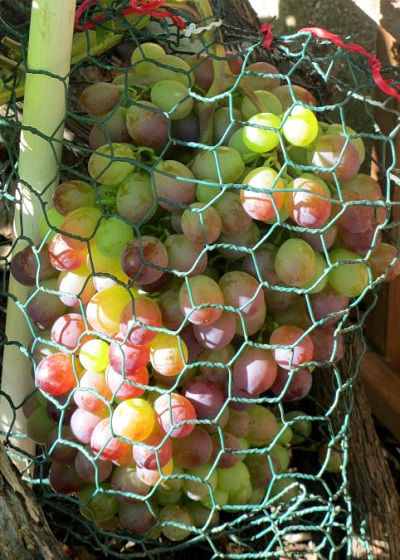 KT, My red table grapes are really juicy this year. I picked these a little early, but it was a completely unprotected bunch that I had forgotten about. Somehow.

This was the biggest bunch, and the dark grapes are pretty sweet. Apparently the critters have been eating the berries in the neighbor's yard. Sometimes, you get lucky.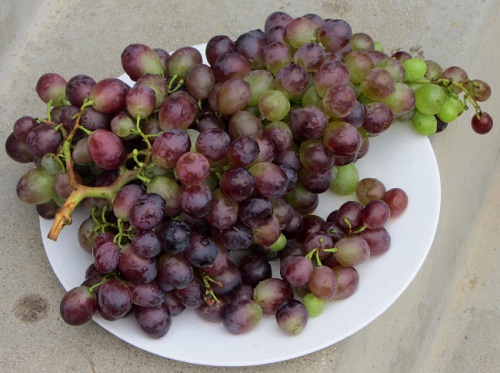 Harvested this bunch too. They are a big hit with my oldest son.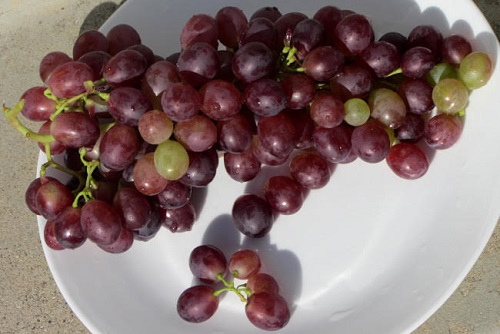 Gardens of The Horde
Surprise!
From Mrs. Leggy:
These are my sunflowers. I grew them from seeds and transplanted them as soon as they were big enough. They are at least 7-9 feet tall and are just starting to bloom. This year's bunch seem to have smaller flowers than last year. This is probably a good thing because the ones from last year were so heavy the stems often bent and snapped. Sunflowers love the heat and the frequent downpours we have in Indiana. I'm looking forward to the birds visiting them soon.

Thanks for the garden thread. It's such a happy part of the weekend!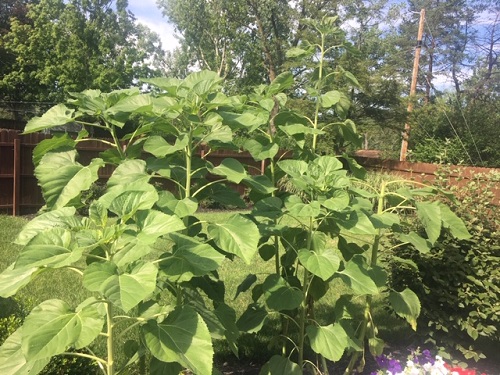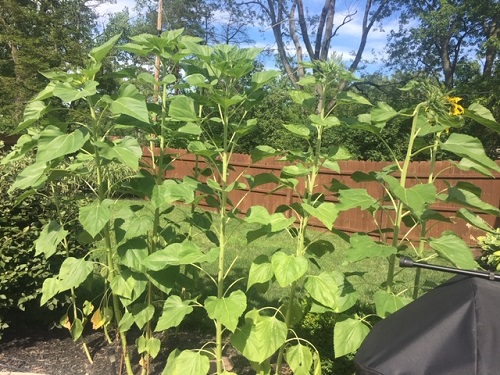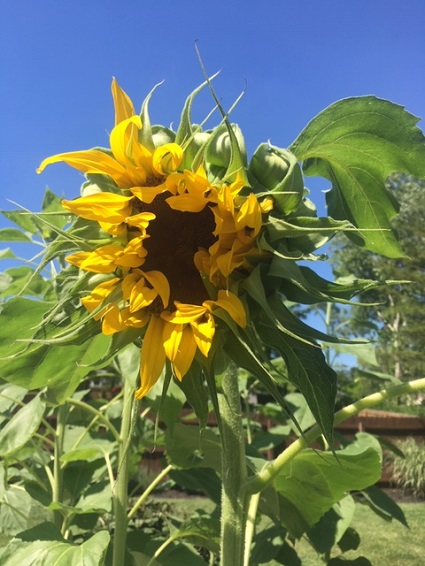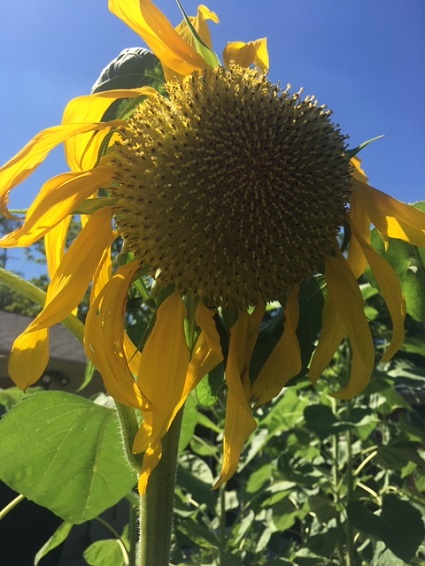 BIG
We have some wild sunflowers. Nothing like those. Weed control going on in our garden. anything going on in yours?
If you would like to send information and/or photos for the Saturday Gardening Thread, the address is:
ktinthegarden
at that g mail dot com place
Include your nic unless you want to remain a lurker.


posted by Open Blogger at
01:15 PM
|
Access Comments