« Saturday Gardening and Puttering Thread, August 1, 2020 [KT]
|
Main
|
Saturday Afternoon Chess thread 08-01-2020 »
August 01, 2020
Ace of Spades Pet Thread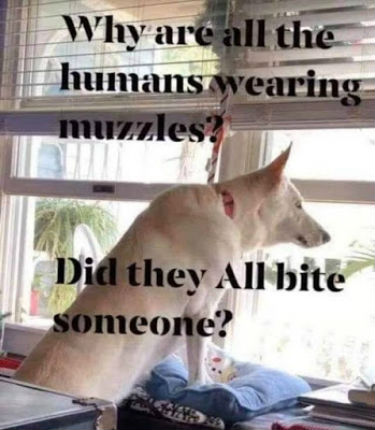 (H/T redc1c4)
***
Good afternoon and welcome to the almost world famous Ace of Spades Pet Thread. Kick back and enjoy the world of animals.
***
A Little of This. A Little of That.

Good stuff. Thanks JT [link broken...maybe next week!]
***

Who is that good looking kitteh in the mirror? H/T Hrothgar
***
Meet The PetMorons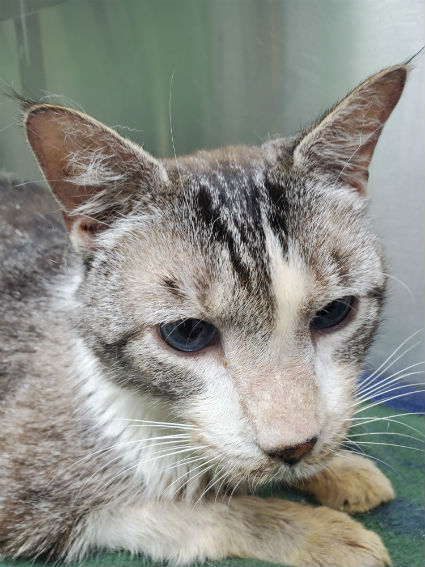 A less positive email. A couple of weeks ago we had to put down one of our cats (Ghost). He had been diabetic and got insulin and stabilized and then started losing a ton of weight, more than half.

He was a rescue from the streets but not very bright. But he was a good boy for 12 years. He could not see straight and so he would bat at water to get it to move so he could drink. But he had a good life. - Rich
What a stunning kitteh, a gorgeous creature. Ghost was fortunate to be saved by a big hearted Moron like you Rich. Condolences on your loss.
***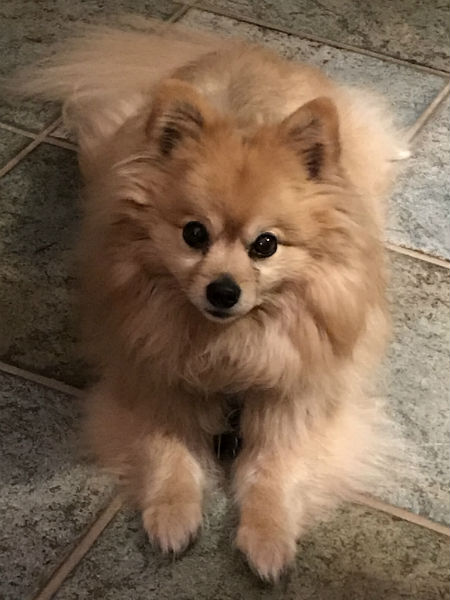 Fox, who graced your pages a while back, developed congestive heart failure and had to be put down. His absence has been very difficult for my wife and I. - Donald
What a little cutie Fox was. I bet that little dog has left an extra large void in your hearts. So sorry to hear of his demise.
***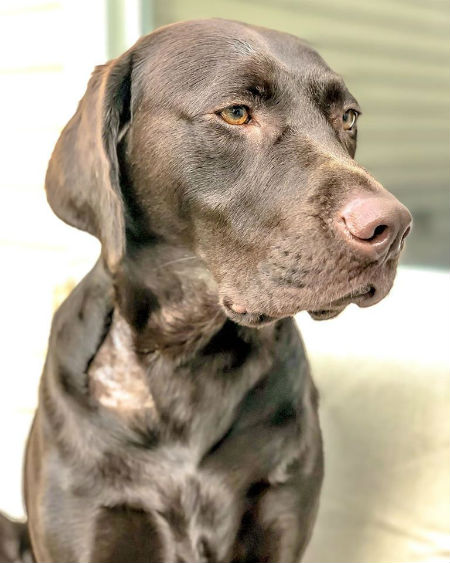 If Oscar Madison had a canine doppelganger he'd be Jango, my daughter's dog. The shaved part on his chest is where the vets shaved him to give blood for another dog's surgery. My daughter is a Veterinary Technician (basically a PA), and Jango has a brother German Shorthaired Pointer named Finn (but he should be called Felix).

Love the column! - Coregis
We all know Morons have big hearts. Even PetMorons are compassionate. What a nice feel good story. Do tell us if Felix made it. Thanks for your contribution today.
***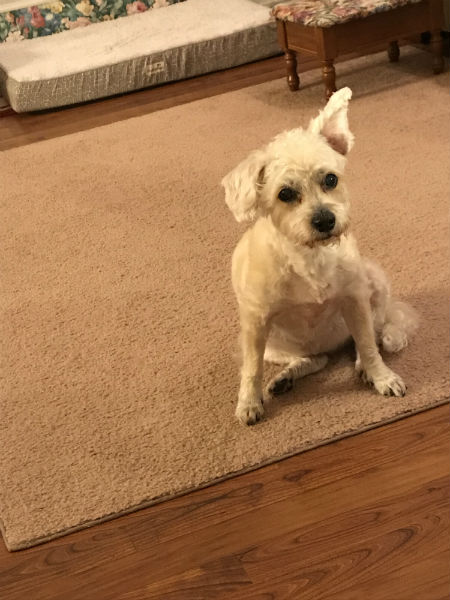 Hi,

A few years ago you featured Sidnee (below) in a story about her getting lost in NC at Christmas in extreme cold and being found/rescued by a soldier on his way home. Thanks to him, we had another 2.5 years with her. She passed last month at 17 (Kek!). We've had many dogs. Her intelligence and loyalty was uncommon. If you ever have a chance to have a half mini schnauzer, half Lhasa Apso, don't pass it up!

Thanks, G
What a sad ending to a wonderful feel good story. 17 is a ripe age for a pooch. We are so happy you got to spend some more time with her. Thank you for sharing today.
***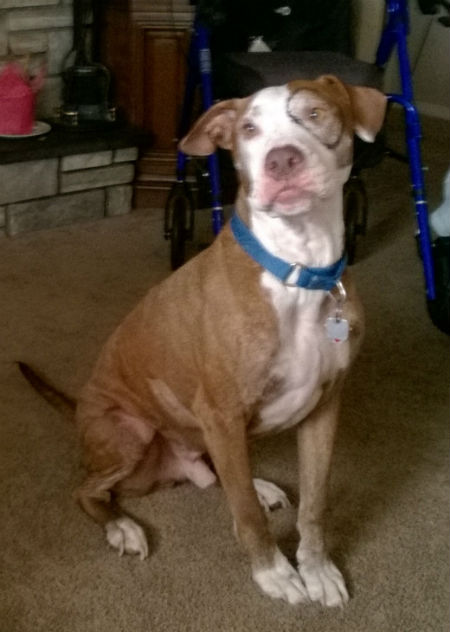 I'm a lurker but felt it was time to tell you about Ernie.

I included some pictures for you to pick from. Choose the ones you like, and since this is long, you can pick whatever stories you want to put up.

I just wanted to relate to you the story of my dog Ernie(AKA Spaz). He's a pit/hound mix and 11 and a half years old, and I adopted him at 4 months of age weighing about 34 pounds, and he grew up to a big boy of 67 pounds. The first thing about him that I noticed was that even as a puppy, he absolutely, positively refused to put his teeth on human skin, even at play. He just isn't mouthy or human aggressive at all, and he's been that way his whole life. Some of Ernie's notable milestones:

1)When I first got Ernie, our morning routine would be that I would let him out into the yard to potty while I went into the shower to get ready for work. Then he'd wait by the bathroom door until I was done. This was the routine until one day, I opened the door, and no Ernie. I walk into the living room, and in the middle of our brand new carpet is Ernie—and a freshly caught squirrel. The part that was hilarious though, was his reaction to me seeing him with said squirrel. You know when you catch your dog chewing on something he's not supposed to, and he takes off ? Ernie starts to flee, then he stops, looks at the squirrel, then looks at me as if to ask, "Was this wrong? I know I'm not supposed to chew on the shoes, or the TV remotes, or the cell phones, but is bringing dead squirrels onto the carpet wrong? I really need some guidance on this matter."

2)During Hurricane Irene, he set a record for not going to potty. Every time I opened the door for him to go out, he'd look and say "nope" and run back into the living room. After 46 hours, I finally had enough and shoved him out the door. OK Mr. McDaintyButt, I've seen what you roll around in. A little rain ain't gonna kill ya.

3)I've never made him wear a costume for Halloween, but I did make him wear makeup. He was Pete the pup for one Halloween, and the following Halloween I gave him an eyepatch and made him his own evil twin. Next Halloween I'm getting him a goatee and he can be Star Trek parallel universe Ernie.

3)He blew out his back two years ago. From the CT scan, before the vet said he had cancer, and we were prepared for the worst. Turns out he was such a tough old pup that he had injured the back multiple times before he showed symptoms. He mostly recovered, and he can run and jump and do everything he used to, but now he corners like a 1971 Cadillac Fleetwood with bad shocks.

4)He made me have to swim across the Housatonic. It's starting to rain, and I'm walking Ernie out of the park. I have to climb over a fallen tree and let go of the leash for a moment while I pass it under the tree as I climb over. Ernie looks at me, looks at the river and uses that moment to take off. He starts running downstream and I have to run after him, clambering over boulders as he runs downstream. He finally gets his leash stuck on a pair of rocks on the other shore and I'm able to catch him, and then have to swim with Ernie back to the other side of the river, where I then have to walk a half mile back to where I left my wallet, phone and cooler. Mind you, this is after his surgery, at 10 years of age.

5)He ran off a cliff and had to be rescued by the fire department. I'm walking him in the park, and he sees a squirrel and bolts. And the leash just lets go (never get a lobster claw clasp leash), and he starts sprinting back and forth, because it is 7pm, and that is Zoomies Hour for him. Anyway, he starts sprinting back and forth, and gets a little too close to the edge and over he goes, sliding down and landing on a ledge about 50 feet below me, and twenty feet above the river. I call 911, and I'm going nuts, he's on the ledge, and the only thing I want him to do is lie down. He's on the ledge, looking around, happy as clam about his new perch, while I'm on the top of the cliff, with the police and the firemen, and the Fireman looks at me and says "We're going to have to get the boat." So they have to call another station that has the boat. And, just like a bad scene that show that was narrated by the guy from Cops, they had to get a boat to go under him, hook him on a leash, and put him on the boat. I drive to the ramp to pick Ernie up, and he's up in the bow with the biggest grin, having a grand old time with his new boatmates.

And that is why I call him Spaz. - John
OK, I'll be honest with you, I really liked the entire collection of Spaz stories. They were so well written I just couldn't edit any out. Great stories for a dog that is greatly loved. Thank you for sharing today.
***
Dearest MH,

Here is our two year old Iggy, Brady (named after Tom Brady at the wife's insistence) protecting our back yard from the evil and persistent Order of the Fence Squirrels.

The world has lost its collective mind so the pet thread is more important now than ever!

Keep up the great work here at Ace! - John in TX
A wise Moron, the naming rights of a dog is not the hill to die on. Good choice. Your pooch looks quite athletic. And thank you for your kind words, greatly appreciated.
***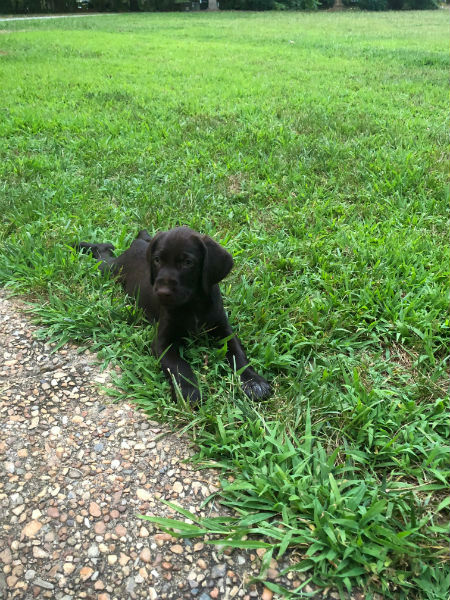 I mostly lurk but wrote about a year ago with a picture of our dog Sully, a miniature schnauzer. This is Finn our new wire haired pointer. He is about 10 weeks now. He enjoys chewing paper and thinks door stops are a threat. It has been good having a dog back in the house. Thanks for the pet thread. - Will in Va
Finn will keep you folks safe, I can tell. Any plans for bird hunting or just a family member? Thanks for sharing.
***
Great people. Great pets. Great stories. Thank you to our contributors today. And thanks for all those that stop by the thread.
Do you have a pet story you wish to share? Is there any interesting pet news you would like to submit? Contact us here at petmorons at gmail dot com.
Have a great week!!!


posted by Misanthropic Humanitarian at
03:00 PM
|
Access Comments