« Food Thread: Sous Vide? Here To Stay, Or Is It The Edible Flowers Of The 21st Century?
|
Main
|
Sunday Overnight Open Thread (8/4/19) »
August 04, 2019
Gun Thread: Shooting With One Hand [Weasel]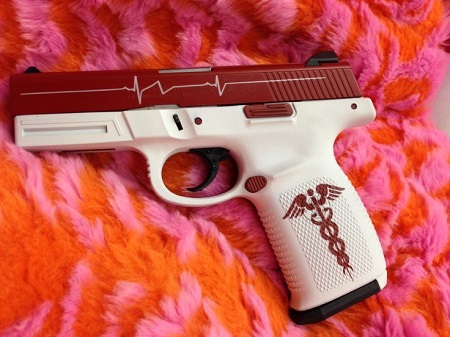 A Pistol for the Health Care Professional
Our pal and delightful 'ette Nurse Ratched recently asked about shooting with one hand, and it's something everyone should practice, don't you think so? Let's take a look at some of the reasons why, shall we?
So why do we want to become proficient in shooting with one hand? Well, mostly it's something we practice in the event we find ourselves with only one hand available to shoot with, that's why. Maybe one hand is hurt, or no one is available to hold your beer when you need to start shooting. Maybe you're a pirate and have a hook, or maybe you're just busy picking your nose - I don't know - there seem to be a lot of good reasons to develop this skill, so it's something you should devote some range time to and become comfortable with.
Below are a couple of short videos on the topic:
h/t CBD

Here are two consecutive videos in a series which are very good, but they're longer, at about 17 minutes each. These cover some of the training methods for developing one-handed shooting skills:
Once you have become competent with a handgun, it's important, I think, to get outside of your comfort zone and practice some of these techniques. Standing and plinking and making small groups is fun and has it's place, but don't forget why you have a gun in the first place; and that's to neutralize a threat which will rarely make things easy by quietly standing still at 7 yards.
Do you practice various shooting positions when you go to the range? What percentage of time do you devote to something other than a standard two hand grip?

*******
A while back we talked about some of the vision issues facing those of us on the downhill side of 29, and becoming accustomed to wearing corrective lenses while shooting. Here is a link to that discussion, but remember; do not be a retard and comment in old threads!
Our pal NeonMadMan has recently had some work done on his eyeballs and sent in the following:
I just went thru cataract surgery, and while it has massively improved my basic vision, there are complications when it comes to shooting. Essentially, my distance vision has been corrected to 20/20 - but my near vision is blurry, and for close work I need readers. The problem I've found is that it is impossible to shoot with the readers - anything out beyond a couple of feet is terribly distorted/blurry. I can't even see a target at 25 feet. On the other hand, without the readers, I can see the target fine but close sights are blurred (almost everything I shoot, pistol and rifle, uses iron sights or aperture sights). I'm working to find a happy medium right now - I had the optometrist work up a prescription for progressive bifocals, with a 2.5 power reader in the bottom fading to near clear glass in the top. I'll have these in a week or so, and can give it a try. Basically, there is going to be a lot of adjustment and trial to get back to where I can sight and shoot comfortably.
It will be interesting to follow NeonMadMan's progress as he adapts to the issues we will all face sooner or later. Thanks and please let us know how this goes, NeonMadMan!
*******
Twenty killed and 26 wounded in El Paso, TX. Nine dead and 16 injured in Dayton, Ohio. As always, the left is quick to politicize these horrific acts and call for gun control measures which will only affect the behavior of law-abiding citizens.
If you own a gun, learn how to use it. Once you know how to use it, carry it.
You never know when it may be up to you to stop a lunatic.
*******
Link-O-Rama
Gun Carrier: Introduction to One-Handed Pistol Shooting
Gun Carrier: One-Handed Shooting Techniques
Officer.com: One-Handed Shooting
Modern Service Weapons: One-Handed Shooting
Ballistic Magazine: One-Handed Shooting
USA Carry: Optimizing One-Handed Shooting
Lucky Gunner Lounge: One Handed Shooting
ASSIGNMENT: Why don't some of you try shooting one-handed this week and let us know how it goes in next weekend's Gun Thread?
***Mail Bag***
Here's another organization doing great 2nd Amendment work, this time in Arizona and sent to us by Just an AZMoron:
Arizona Citizens Defense League has been very effective in the restoration of full second amendment rights in the great state of Arizona. We have castle doctrine, stand your ground, firearms preemption and constitutional carry largely through the efforts of this grass roots organization.
Thanks for sending this in Just an AZMoron! It's good to hear where we are having success in defending our gun rights. How about you other Morons in Arizona? Are you supporting this group?
******
Please note the new and improved gmail account morongunthread at gmail dot com. An informal Gun Thread archive can be found HERE. If you have a question you would like to ask Gun Thread Staff offline, just send us a note and we'll do our best to answer. If you care to share the story of your favorite firearm, send a picture with your nic and tell us what you sadly lost in the tragic canoe accident. If you would like to remain completely anonymous, just say so. Lurkers are always welcome!
That's it for this week - have you been to the range?

posted by Open Blogger at
07:00 PM
|
Access Comments