« The 2nd Amendment Is Inviolate: But Is There Anything To Be Done About These Random (And Rare) Mass Shootings?
|
Main
|
Gun Thread: Shooting With One Hand [Weasel] »
August 04, 2019
Food Thread: Sous Vide? Here To Stay, Or Is It The Edible Flowers Of The 21st Century?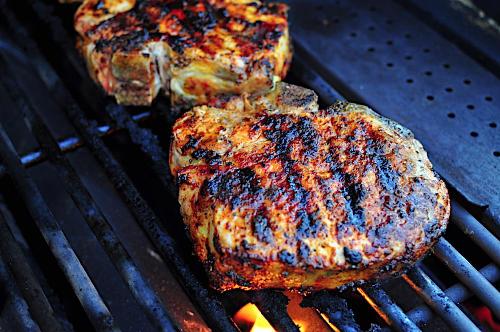 That's grilled pork with an adobo paste, which sounds marvelous, although the stuff I get is probably too spicy for many people. Well, to be accurate, it's the chipotle peppers in the adobo that are spicy, but they also taste great, so they are staying when I try this dish.
Pork grills so well when it is butchered correctly...leave the fat on! Fat is flavor (you may quote me), so trimming it off makes no sense. It also keeps the meat nice and moist, and contributes to the glorious char that is the best part of grilled food (duh). But even if the pork you are grilling isn't some rare heirloom breed that is perfectly marbled with glorious fat, it will still turn out well if you just be a bit gentler with the heat. As I have mentioned recently, I have been playing around with more moderate temperatures on the grill, and the results have been uniformly excellent. Last night I grilled a big spatchcocked chicken at about 300° for a very long time. I cooked it over indirect heat, but the wings got wonderfully crispy because they were just close enough to the flame. My guess is that it cooked for almost two hours, but it was gentle enough that the meat didn't dry out at all. I checked the internal temperature and pulled it at 160°, which is a bit warmer than I would have preferred, but it turned out great.
This is all a convoluted segue into the real question at hand..."Sous Vide?" Yes or no? I have used the technique, but a long, long time ago, before the advent of fantastic and reasonably-priced consumer versions of the equipment. And yesterday I took a friend shooting, and all he could talk about was his new sous vide machine and how it cooked the best steak he has ever had in his life.
Coincidentally I had a perfectly cooked piece of fish a few weeks ago, and it was undoubtedly done with sous vide, because there just isn't any way to make something so perfect in a pan! So I am primed to buy one of the many versions, which range form a bare-bones $80 unit to a ridiculous $400+ platinum version that had better do the dishes afterward.
Anyway...any thoughts? I know some of you are sous vide pros, so any insight would be appreciated.

******
Commenter "Wee Kreek Farm Girl" makes her own hot sauce! How cool is that!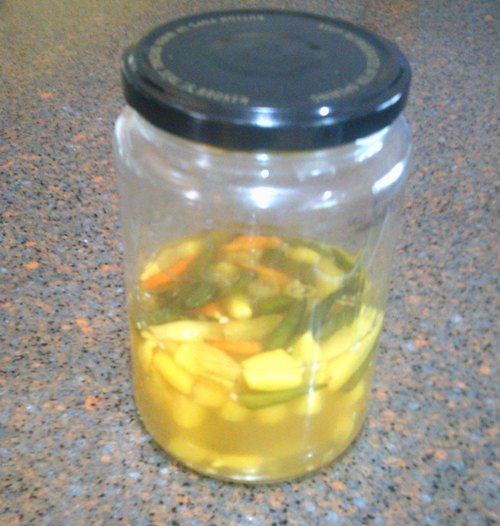 I have been playing around with making a fermented hot sauce. I have a hot lemon pepper that has been extremely prolific and I had to do something when I had over 100 ripe peppers all at once. I did a small batch first to test it. This is the recipe I went off of.

Cut off the stems and chop into a couple of pieces, and loosely pack into a mason jar.

Mix a 5% brine (3 TBSP salt per quart water) in another container.

Pour this over the chilies and cover with a cloth or a lid that is left slightly a jar.

I like to keep this jar on my counter where I will see it every day and remember to invert the jar 1 or 2 times per day to keep mold from forming on the surface.
After a week or two, the liquid should be cloudy, the sign of lactic acid bacteria proliferating, and the ferment should taste delightfully sour/tart.

Now we're ready to blend the peppers into your lacto-fermented hot sauce!

You might not need to add ALL the brine – start with a small amount and add to your desired consistency – more for a liquidy, Tabasco-like sauce, less for a thicker paste-like hot sauce.

We usually add a few drizzles of apple cider vinegar, just to increase the acidity, which helps your homemade hot sauce keep longer.

Store your homemade lacto-fermented hot sauce in a cool or refrigerated place, and enjoy a bit of summer heat all year long!

For my taste I used as little of the brine as I can get away with, the more brine you use the saltier it will be, I used more of the apple cider vinegar to cut a bit of salt and add more acid. It is addictive. A little salty and vinegary and spicy. I have been adding it to anything I think could use a little shot of flavor. Egg salad, mayo for a BLT, heck I have even eaten it on a cracker. I added a few Thai peppers to my latest batch which will add a bit more heat but if any of the Horde have an abundance of peppers I suggest they give it a try.
******
I know all of you are barely able to contain your excitement about the grand question of 2019...how to peel a hard-boiled egg...so here is the next installment.
I heard from commenter "A Lurker," who suggested that steaming the eggs makes for an easier peel. That made no sense at all, so I ran to the kitchen to disprove him.
Shit. He was right. I have tested six eggs and the four that I steamed peeled much more easily than the two boiled ones. It's not conclusive, but it certainly is interesting.

******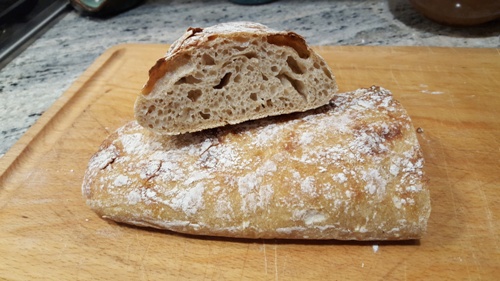 Yup...that is commenter "NOT THAT GUY" with another installment of "Let's show up Dildo and create existential bread envy!"

******
I have been buying short ribs cut across the bone (called "Flanken" in Yiddish), and roasting them at very low temperature with copious amounts of Kosher salt and fresh cracked black pepper (coarse grind). They are often on sale, so I grab a few whenever I can. They turn out really well, with the pepper being a nice foil to the richness of the meat (they are very fatty). It's an oven riff on classic Texas brisket, which is often (but not always....I know...)just salt and pepper. Anyway, I am going to experiment with even cheaper cuts of beef, on the off chance I stumble upon something as good but less pricey.
******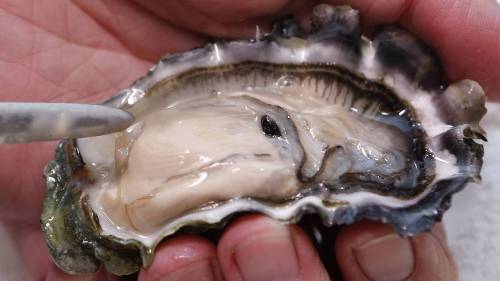 Do you know who stole 17,000 oysters? There's a reward While I certainly don't approve of theft, I do sympathize with this thief. I have never eaten enough oysters at one sitting where thought to myself, "Nah, no more, I'm done." So the prospect of unlimited oysters for a few days is mighty, mighty tempting.

******
Soy Milk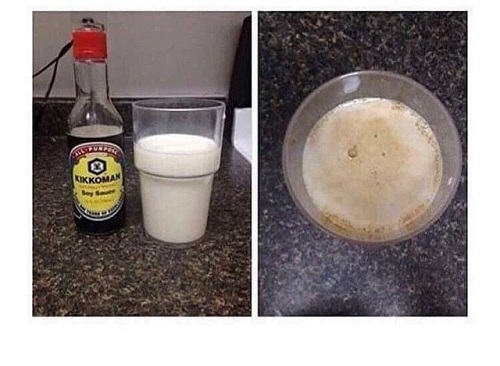 [Hat Tip: ibguy]
******
Food and cooking tips, triple-cream cheeses, young wild pigs, crisp bacon (although I am moving toward less crisp), thick and fluffy pita, and good tomatoes that aren't square, pale pink and covered with Mestizo E.coli:
cbd dot aoshq at gmail dot com
. Any advocacy of French Toast with syrup will result in disciplinary action up to and including being
nuked from orbit.
And yes, shaking a Manhattan is blasphemy...it's in the Bible!
&topic=world_news">

posted by CBD at
04:00 PM
|
Access Comments