« Food Thread: Is A Double Made From Two Halves Better Than A Single Made From A Whole?
|
Main
|
Sunday Overnight Open Thread (1/6/19) »
January 06, 2019
Gun Thread: I Can't See You!!! [Weasel]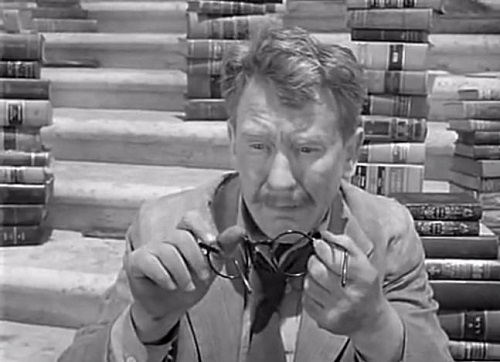 Aw, Shit!
Happy New Year!
Last week we talked about hearing protection, so I suppose it makes sense to follow up with eye protection this week. If you haven't already noticed, your eyeballs are wonderful but delicate things which do not respond favorably to being struck by foreign objects. In fact, I would say that putting my eye out ranks pretty close to the bottom on my list of New Year's resolutions. Anyhoo, I'm not entirely sure how eyeballs work, I think it has something to do with light and rods and cones, but suffice it to say you really don't want to go through life without one or both of them.
This isn't a particularly complex issue. Protect your eyesight while you're shooting. In fact, protect your eyesight when you're using a chainsaw or brushcutter, or playing Lawn Darts, or having a BB gun war, or doing anything which might cause particulate matter to fly around in the air. I frequent an indoor pistol range and on more than one occassion have been hit by riccocheting shrapnel, any of which having the potential to do some serious damage had it hit an unprotected eye.
So, besides protecting your eyes, what other benefits might some sort of safety glasses offer? Well, if you're anything like me, they can actually help you see the target. As we turn 29, our eyes begin to dry out or shrivel up or something, and this affects how they work. Ideally, when shooting a handgun for example, the front and rear sights and target should be all be lined up and in sharp focus. But what if your eyesight doesn't permit this? Well, I have been taught that if you can't see all three, then focus on one - the front sight - with the target sort of a fuzzy blob lined up behind it. Most ranges require shooters to wear some sort of glasses anyhow, so why not help yourself see a little better? If you're alreading wearing prescription glasses, then you're probably good to go. Most RSOs will count them as meeting the requirement, otherwise you're likely to be stuck with a pair of goofy, scratched, loaner "shop class" goggles which the range babes do not find even remotely attractive.
Fortunately, several enterprising companies make, of all things, prescription shooting glasses! Some examples are here and here and here. Some of them are pricey and some are surprisingly affordable. Another economical option is to do what I have done for years, and that is to simply use readers. My opthamologist knows I'm a shooter and reccommended something in the +2.0 to +2.5 magnification range which focus at about 4 feet, or approximately the distance from your eye to the front sight of a handgun. These glasses are inexpensive and can often be found in four packs for as little as $10. And they really work!
How about rifle shooting?
Well, the same thing applies outside, sort of. If you're shooting a PRS style match, then absolutely. In fact, I'd recommend them when shooting any semi or fully automatic weapon, either for funsies or in competition where they may be required in addition to just being a good idea. I say "sort of" however, because I do not personally wear glasses when I'm using optics in competition. I know, I know - I'm not taking my own good advice, but I do have a reason and a couple of excuses.
First, I'm using optics, so I do not need the correction afforded by my old man glasses. I can adjust my riflescope so the image is sharp and clear. Second, I do not want any distortion in the image caused by looking through an additional lens. Whenever possible I primarily rely on mirage, the faint wavy lines caused by the refraction of light by heated air, to judge wind speed and direction, and this indicator can be verrrrry faint and easily distorted. Lastly, I shoot bolt action rifles, and barring a catastrophic failure, I'm not too worried about stuff flying around. Is it a perfect soulution? Probably not, but it's a level of risk I'm willing to accept. But not you guys. You guys need to wear eye protection!
Do you wear eye protection when shooting? If so, what type do you use? Have you invested in prescription shooting glasses or are your eyes good enough to shoot without correction? For those of you shooting without eye protection, what are your reasons?
Oh, and I have a question. What is up with the yellow lensed shooting glasses? I have done quite a bit of shooting and cannot ever recall seeing anyone using them. Is it just a Hollywood thing? Do they really help by filtering a certain type of light? Inquiring minds would like to know.

Link-O-Rama
Website: Eye Safety
ANSI Standard for Eye Protection
ANSI Eye Protection Selection Tool
American Optometric Association: How Your Eyes Work
Cleveland Clinic: Optometrist or Ophthalmologist?
***Mail Bag***
I was quite pleasantly surprised by the response from last week's Gun Thread on hearing protection, receiving a number of helpful and informative emails.
The first, from Army veteran Nexus 6, answers the question regarding which hearing protection is used by the military by providing the picture below of orange and green ear plugs which Nexus 6 still uses and says last forever. Not pictured are blue plugs.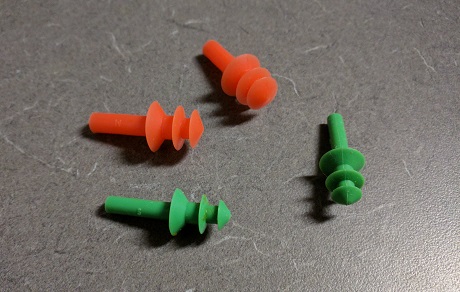 Military Style Earplugs courtesy Nexus 6
Does anyone else have experience with these military plugs? Do the colors signify different levels of protection, or simply different sizes?
Thanks Nexus 6, and thank you for your service!
***
This next helpful submission was sent in by commenter 2nd Amendment Mother who is doing some very worthwhile work with a nonprofit youth and shooting organization in Texas. More on this in an upcoming thread. The picture below are the custom fitted plugs she uses. Note the small holes in the set on the right allowing a small amount of sound to pass through.
Thanks 2nd Amendment Mother, and great job on your work with the non profit. We need more 2nd Amendment Mothers out there!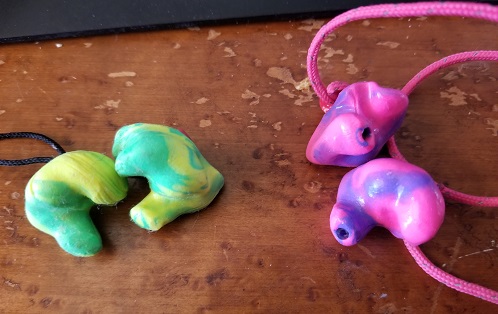 Custom Earplugs courtesy 2nd Amendment Mother
*************
IMPORTANT!
Finally Don't forget to mark your calendars for the NoVaMoMe on February 9, 2019. If you are interested, please email the organizers! There is also a link in the main page left sidebar. The deadline for registration is February 1st, when the number of guests has to be guaranteed to our sooper sekret venue. If you have never attended a Moron Meetup, then you are missing a really good thing! We'll have prizes and giveaways and bluebell will be giving her world famous shiv demonstration! Don't be a dork and miss this exciting opportunity!
*************
Please note the new and improved email account morongunthread at gmail dot com for sending in stories and pictures. If you have a question you would like to ask Gun Thread Staff offline, just send us a note and we'll do our best to answer. If you care to share the story of your favorite firearm, send a picture with your nic and tell us what you sadly lost in the tragic canoe accident. If you would like to remain completely anonymous, just say so. Lurkers are welcome!
That's it for this week - have you been to the range?

posted by Open Blogger at
07:07 PM
|
Access Comments