« Food Thread: Tomatoes And Mutz, A Match Made In Heaven
|
Main
|
Sunday Overnight Open Thread (8/22/21) »
August 22, 2021
Gun Thread: Two Days After Friday Edition!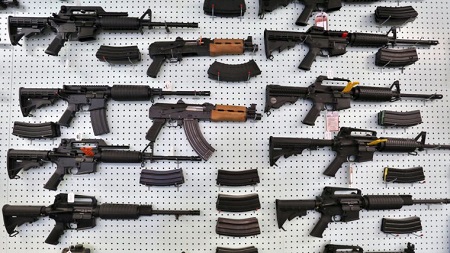 Howdy, Y'all! Welcome to the wondrously fabulous Gun Thread! As always, I want to thank all of our regulars for being here week in and week out, and also offer a bigly Gun Thread welcome to any newcomers who may be joining us tonight. Howdy and thank you for stopping by! I hope you find our wacky conversation on the subject of guns 'n shooting both enjoyable and informative. You are always welcome to lurk in the shadows of shame, but I'd like to invite you to jump into the conversation, say howdy, and tell us what kind of shooting you like to do!
Welp, as I suspected, no farm this week. The storm that tracked up through the Appalachians dumped a considerable amount of rain here on the east coast. There is a chance of clearing mid-week, so I may be able to at least make a quick trip down to check on things. I need to change the oil and filters in the tractor, the gator, a chipper and two generators, among other chores. Plenty of work to do, and I'm sure the grass needs to be cut again with all of the rain we've had. In fact, with all of that work, it's going to be difficult to get any organic tree farming done!
With that, let's get to the gun stuff below, shall we?
******
So last week I posted a number of videos on what makes a custom, or at least an accurized rifle different from a stock rifle. There was quite a bit of content on the machining required to true the important surfaces necessary for extremely consistent results. Did anybody watch them all? Did anyone watch any of them? I thought the guys in the videos did a reasonably good job of explaining what they were doing and why it's important. Did any one element strike you as more crucial than the others, or do you feel as I do that all the elements covered are necessary and result in a product where the whole of the improvements is greater than the sum of the parts?
Here are links again in case you missed them:
Video 1: Bolt Truing
Video 2: Receiver Truing
Video 3: Barrel Chambering
Video 4: Stock Bedding
Again, I don't think an investment of that sort makes much sense in most cases, and certainly not until a shooter's skills have advanced to a point where stock rifles and quality commercial ammunition are holding them back, and then only if they are planning on shooting at longer distances where extreme accuracy is demanded. For the casual shooter out to a few hundred yards? A decent quality rifle and good commercial ammo should give you plenty of accuracy in the 1 MOA range.
Agree? Disagree? Am I full of poo? Is anyone planning on a custom rifle? We had a number of very good questions last week on reloading precision ammo, is there anyone else at that point? If you're serious about shooting you owe it to yourself to begin working up custom loads for your rifle. It's not particularly hard to do, and the results are dramatic. As always, I am happy to answer questions and am only an email away!
******
We talk a lot here on the ol' Gun Thread about shooting and groups and what can cause either a random flier, or a whole group of shots to go somewhere other than intended. Grip mechanics and trigger squeeze plays a huge part in this, and along with anticipating recoil, are the major contributors to accuracy or lack thereof. Here's a look at some of factors in establising good technique which you might find helpful:
I'm pretty certain I've run this before but it bears repeating, and these are all things you can practice at home as part of your dry fire routine. I harp on practice and repetition a lot, but taking the time either at home or at the range to really focus on your grip mechanics will make a big difference. If necessary, break it down into little pieces; right hand, left hand and trigger squeeze if that helps. Try it!
******
Some of you may recall our pal Scuba_Dude was having problems with his Savage bolt gun. The problem seemed to be in the chamber throat and a gunsmith recommended he return it to Savage for some TLC. Let's look in and see how it's going:


Took the Savage to the range yesterday to zero. Savage did not replace the barrel, they just did what they had to do to the chamber to remedy the "tight" chamber. The gun store read off what they did but of course I did not write it down or ask for a copy. But after yesterday I think the issue is resolved.

I set up the rifle and bore sighted it to a steel target that is at 100 yards. I used up the 8 rounds I had left of the ammo that was giving me problems in the first place. I was hitting steel by the 5th shot.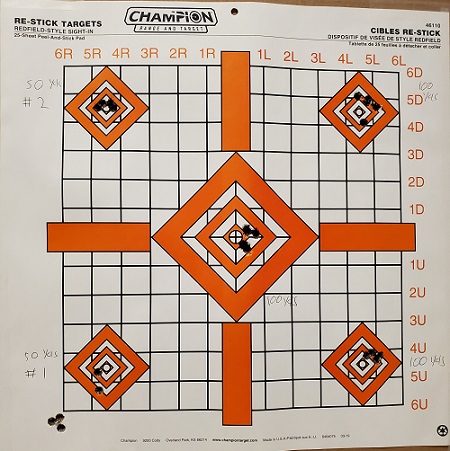 Next, I set my target at 50 yards. Starting at the bottom left I took 5 shots. the first 3 you can see on paper but outside the target. Adjusted for elevation and windage and the 4th shot was below center. One more adjustment and the 5th was next to center of target.

Proceeded to do 5 more shots at 50 yards at the top left. Then moved the target out to 100 yards and 5 more shots.

5 shots at top right target. My 4th shot was the flyer. I think that one happened because I did not use a rear bag and used my hand under the stock for minor adjustments.

5 more shots at the bottom right target and ended with 5 shorts at the center of the target and called it a day. All in all I am happy with the results and next time I go I will be going to the 200/300 range.
Looks like Scoob has some nice groups starting to show up there, and is at the point of being able to assess the factors affecting accuracy. Once you start seeing groups you can begin to tighten them up. Nice job, Scuba_Dude!
******
A few weeks back our pal Ed L shared results from a recent range trip and promised a report of his Colt Pythons in action. Here 'tis:
As promised, pix of range trip with a 2021 Colt Python, and a 1961 Python for comparison.

2021 Colt Python three up, three down summary follows:
Pluses:
- Improved double action trigger compared to 1961 model
- One of the best production gun finishes available
- User interchangeable front sights, able to swap grips w/ older style grips

Minuses:
- Cost ($1,499 MSRP)
- Modern stainless finish is a distant second to the older Royal Blue
- Heavier single action pull compared to 1961 model

Ammo was Norma .357 Magnum, 158 grain FMJ. Range for all shots: 10 yards, offhand.

Single action: 10 rounds each. As expected, the 1961 Python shot nice tight groups. The 2021 Python was shot right out of box, no zeroing. Much wider spread as a result.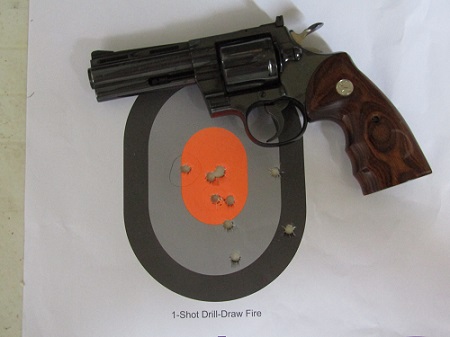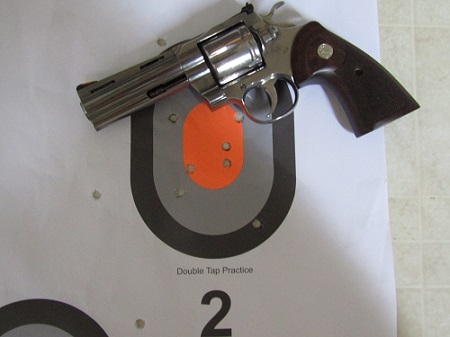 Twelve shots in double action came next. The stacking effect on the 1961 Python really shows in this picture. Note the wide spread of shot. The 2021 Python was a big surprise here. See how tight the shot groups are? I fired the last six rounds in double action in (relatively) rapid fire. Again, pretty impressive. The 2021 Python isn't the same as its 1961 ancestor, but it's still a premium revolver. As a shooter, I think it holds up pretty well to the 1961 version.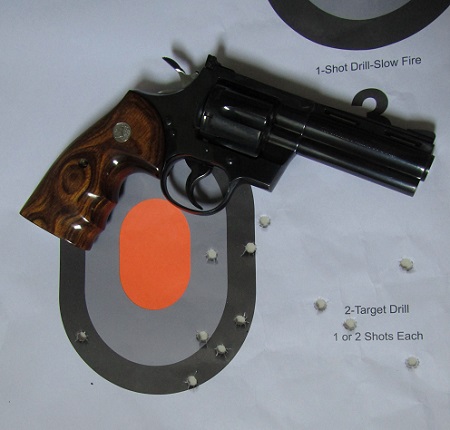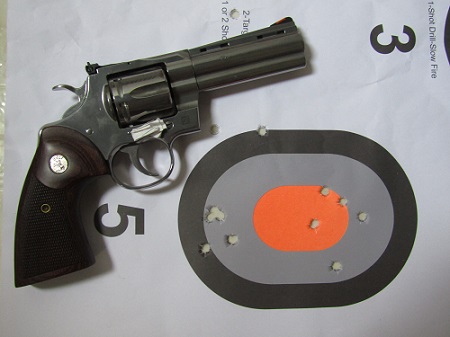 Great report, Ed L! Very nice shooting with a couple of beautiful revolvers. Thank you for sharing!
******
A couple of years ago I did a multi-part series on handloading straight walled cartridges. In retrospect, the detail I thought necessary caused it to be somewhat longer than I wanted and probably ended up overcomplicating the process unnecessarily. However, since the question comes up from time to time, I went back and dug up links to those threads which are shown below. The comments are closed on these archived threads in case any of you thought commenting in them might be a good idea. Do we comment in old threads? No. No, we do not comment in old threads.
Reloading Part 1
Reloading Part 2
Reloading Part 3
Reloading Part 4
Reloading Part 5
Anyhoo, you can fight your way through my long-winded multi-part B.S., or you can just watch a little movie.
The guy's style is laid back and relaxed and I think he does a good job of presenting the material. I realize reloading supplies and components are difficult if not impossible to find right now, but there is no time like the present to start looking.
Which brings me to my next point. I think we are continuing to see an improvement in the ammunition supply situation, and reloading components will hopefully not be far behind. I don't think we're going back to the good ol' days anytime soon, if ever, but things seem to be headed in the right direction for now. Please, please, please do yourself a favor and take this opportunity to begin setting aside an ammo supply for a rainy day. If you have ever considered reloading, now is the time to get serious about it. An all out assault on the 2nd Amendment is just what the clown show in Washington needs right now to distract attention from their complete failures domestically and internationally, and that is going to put us right back where we were last summer.
Think about it, and act accordingly. OK? Pretty please?
******
Shooting 101
We seem to have a fair number of new shooters lurking in the shadows each week. As I said up above, new shooters are always bigly welcome and some of our great regulars started here after buying their first gun, a fact that delights me to no end. So, for the new guys and gals out there, I have been thinking of starting a new weekly feature covering the basics and geared to the beginners. It's easy to forget how completely overwhelming the whole shooting dealio can be when you are brand new to it.
To get the ball rolling, here's a video on gun cleaning courtesy of our pal redc1c4.
So I will toss this out there for comment. What do you all think? Good idea? Bad idea? Somewhere in between? If you like the idea, please speak up in the comments!
******
Link-O-Rama
I'm really very seriously not kidding around anymore. Buy Ammo
AmmoSeek - online ammo search tool
GunBot - online ammo search tool
SG Ammo
Palmetto State Armory
Georgia Arms
AmmoMan
Target Sports USA
Bud's Gun Shop
***Mail Bag***
This week's gun funny is courtesy of our pal Fungus Boy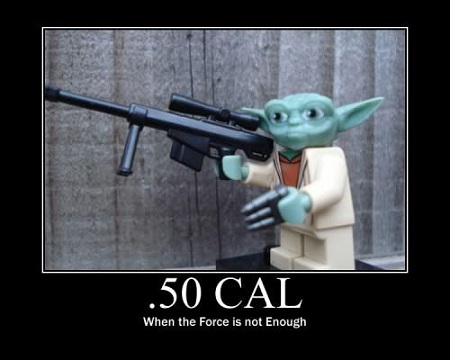 ******
Please note the new and improved protonmail account gunthread at protonmail dot com. An informal Gun Thread archive can be found HERE. Future expansion plans are in the works for the site Weasel Gun Thread. If you have a question you would like to ask Gun Thread Staff offline, just send us a note and we'll do our best to answer. If you care to share the story of your favorite firearm, send a picture with your nic and tell us what you sadly lost in the tragic canoe accident. If you would like to remain completely anonymous, just say so. Lurkers are always welcome!
That's it for this week - have you been to the range?


posted by Weasel at
07:00 PM
|
Access Comments