« If China Moves Into Afghanistan, There Will Be Significant Differences Between Its Conduct And That Of The Other Empires That Tried And Failed To Subjugate The Afghans
|
Main
|
Gun Thread: Two Days After Friday Edition! »
August 22, 2021
Food Thread: Tomatoes And Mutz, A Match Made In Heaven
I live in a state with a ridiculously inflated opinion of its tomatoes. Yes, New Jersey tomatoes can be excellent, but far too often they aren't...they usually taste like a high-end factory farm tomato. But this year has been different, and we have been eating excellent tomatoes for most of the summer. Notice I didn't say "great?" Because they aren't. Great tomatoes are still difficult to find, and one of the reasons why I want to grow my own.
Regardless, the fine tomato crop coupled with my kudzu-like basil plants has conspired to make mighty fine eating. Sliced tomatoes, sliced mozzarella (try to find fresh stuff, and let it warm up a bit), olive oil, balsamic vinegar, minced basil and a bit of salt. Good eating, and something that is redolent of high summer!
******
The strident and smug calls for a vegan future fly in the face of human history, anatomy, physiology, and most of all human pleasure. Yes...with careful planning men can be vegans, but it is far more difficult than the maniacs at PETA (
P
eople
E
ating
T
asty
A
nimals?) suggest. Animal products are far more calorically dense, not to mention vitamins and minerals. They also taste damned good!
Yes, they require more of certain inputs, but the calorie density makes up for a lot of that. And by far the most important point is that we have free will and dominion over the animals. Should we try to treat them as best we can? Of course. But Man is more important than animals, and no amount of virtue signalling is going to change that.
Well...maybe the Cleveland Guardians (hah!) will cave. They sure gave in quickly to the SJWs who demanded a name change...
PETA Pitches Veggie Dog Mascot to Soon-to-Be Cleveland Guardians

"Pigs, cows, and turkeys used for hot dogs value their lives and don't deserve to become a stadium snack, so let's go to bat for them," says PETA President Ingrid Newkirk. "PETA hopes the team will introduce a delightful vegan wiener in a win for animals, the environment, and the health of its fans."
[Hat Tip: redc1c4]

******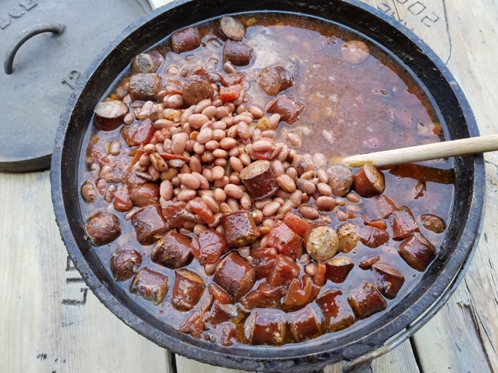 From Muldoon's domestic side..."Beanhole Beans." Yeah...never heard of them, but they sure do look good!

THE BEANHOLE BEAN EXPERIENCE

A few weeks ago my wife and I were watching an episode of Gunsmoke ("Old Fool" S6 Ep. 15) with Buddy Ebsen as a philandering husband, making time with a scheming "widder woman". At the end of the show he reconciled with his wife and she announced that she was making his favorite meal, beanhole beans. She invited the Marshal and Chester to stay for supper. Chester remarked to Marshal Dillon, "Golly, I ain't had beanhole beans in who knows how long!"

We looked at each other and said, "What the heck are beanhole beans?" After a little poking around on the internet we found that it is indeed a primitive slow-cooking technique used in colonial and frontier times. Think slow cooker in the days before Crock Pots. Being retired we decided we had enough time on our hands to give it a try, and here's how it went.

You can use any bean recipe that you like, baked beans, pinto beans, cowboy beans, Cajun-style red beans, Jamaican black beans,Mexican jumping beans, etc. We opted for a type of cowboy bean known as Bolita beans (also called pink beans) and a pretty generic baked bean type recipe. Bolita beans are reputed to pre-soak quicker, cook to a 'creamier' consistency and be easier on the digestion than some others such as pintos.

Preparation time: 1 to 7 days, depending on how fast your brother-in-law can dig.
Cook time: 12-24 hours in the beanhole (see below)

INGREDIENTS:
4-5 cups dry Bolita beans
1 lb thick cut bacon(uncooked)
2-3 large yellow onions, sliced into disks
1 lb of sausage or ham, cut into fork-sized pieces(we used precooked Johnsonville brats)
2 cans diced tomatoes
Seasonings of choice(salt, pepper, herb blend, garlic powder, cayenne pepper, etc)
1-1/2 cups dark molasses.
OPTIONAL: 3-4 TBSP bacon grease

SERVES: one crew, gang or mob

Food preparation/assembly

1. In a large cook pot rinse beans then cover by at least two inches with water. Bring water to just at boiling temperature, then turn off heat and soak 12-16 hours, changing out for fresh water a couple of times during the soak to reduce gassiness.
2. While the beans are soaking, dig the beanhole (see below) in your backyard (or if the neighbors are away on vacation in their backyard)
3. In a large, seasoned Dutch oven layer the strips of bacon along the bottom of the pan, in a criss-cross pattern.
4. Layer the sliced onions on top of the bacon.
5. Drain the beans and add all the other ingredients into the pot used for soaking the beans, mix well with wooden spoon. Pour the bean mixture on top of the bacon and onion layers, stirring gently so as not to disrupt the bacon and onions.
6. Add water until the beans are covered by at least one inch of water. (We added a few dollops of bacon grease on top of the whole mess.)
7. Lay a double layer of extra-strength foil over the top of the bean mixture, extending past the edges of the Dutch oven.
8. Firmly seat the Dutch oven lid tightly on top of the foil.

The Beanhole cooking process:

1. Dig a circular hole in the ground 24-27 inches deep with a circumference large enough to ensure about 6 to 8 inches of clearance on all sides of your Dutch oven. (Ours was almost 30" across) Reserve the dirt in a neatly formed pile nearby.
2. OPTIONAL: Line the bottom of the hole with stones or bricks
3. About 3 hours before you plan to start cooking, start a wood fire in the bottom of the beanhole and continue adding fireplace sized lengths of wood to stoke the fire and build up a bed of coals in the range of 10-12" deep. This will take quite some time depending on type of wood and how hot you stoke the fire. (We used well dried aspen split logs).
4. When the coals are deep enough, remove any still-flaming bits of wood. Reserve a small metal pail full of coals, and then use a shovel to create a depression in the center of the coals, pulling coals up around the perimeter of the beanhole.
5. Set your sealed Dutch oven in the central depression. Pull the perimeter coals back up around the sides of the oven and then pour the pail of coals onto the top of the Dutch oven. The top of your oven should be 8-10 inches below the top of the beanhole.
6. Shovel dirt to fill the beanhole, completely covering the coals and the Dutch oven. You should have at least 8-10 inches of dirt over the top (you can mound it up if you need to. Tamp the dirt lightly to compact the dirt layer.
7. Let beans cook in the beanhole for 12 to 24 hours. (We ended up going about 17 hours)
8. When you are ready, dig up the dirt enough to locate the handle of the Dutch oven and pull it up out of the hole. (After 17 hours our Dutch oven still had enough retained heat that you couldn't leave your hand on it for more than a second or two.) Sweep or gently blow ashes, soot, and dirt off the top before removing the lid. And Bob's yer uncle, beanhole beans!
9. Serve as a main dish with sides of your choosing (cooked rice, cornbread, biscuits, etc.)

You will have to plan ahead and decide what timing works for you. We started the beans soaking first thing in the morning, dug the hole by noon, started the fire about 4:00 PM, One of us kept watch on the fire and stoked it, while the other prepped the Dutch oven and added all the ingredients. We were ready to put the oven in the hole by 7:00 PM and let it sit undisturbed until noon the next day.

How did they turn out? Pretty darned good! All in all, a fun, educational and delicious experience.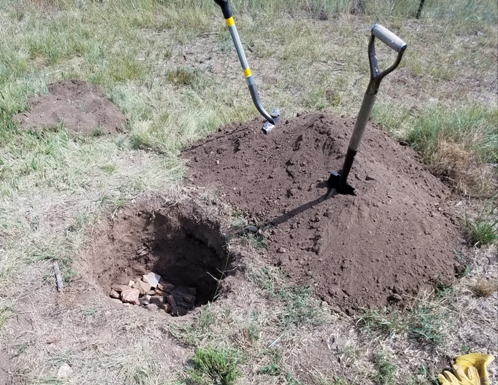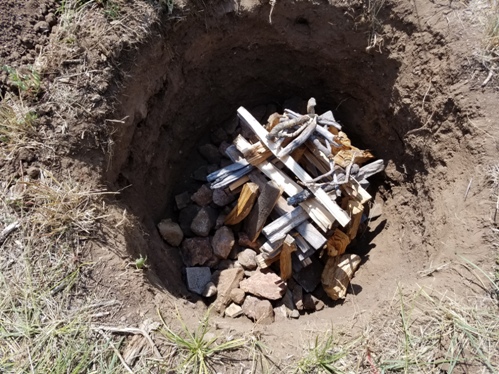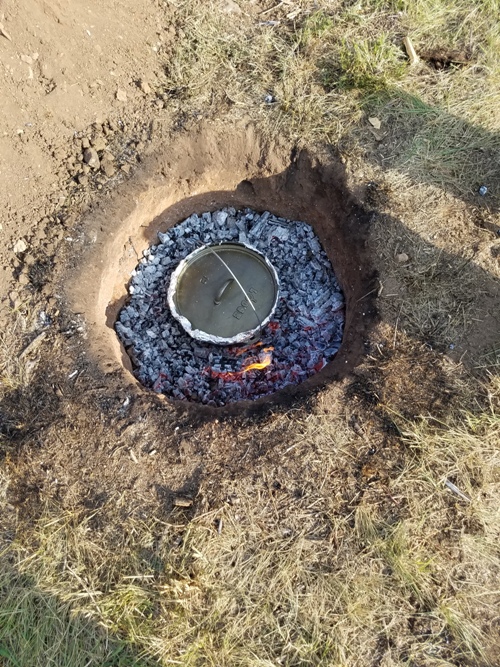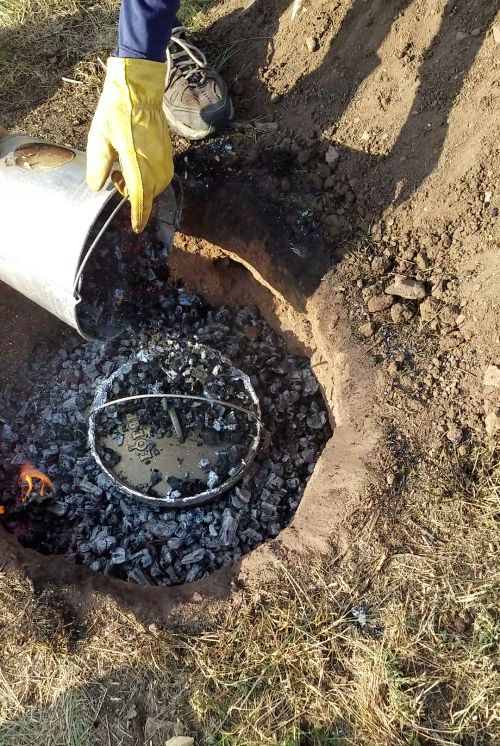 And it looks like fun too.

******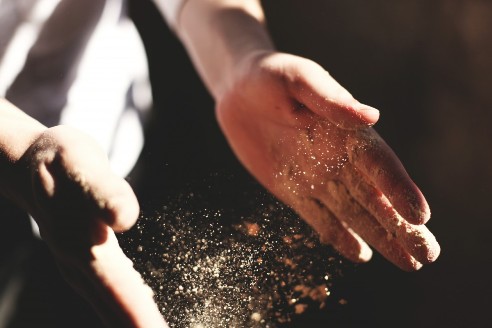 Use your hands! They are the best tools in the kitchen and will allow you to learn more about the food you prepare than any book or idiot food blogger.
And that means everything. Cutting up a whole chicken is a great way to learn how to carve it after it is cooked, and is also a money saver...whole is cheaper than cut-up!
Sure, I have a great KitchenAid stand mixer, but I also handle my bread dough, because there is no way to know when it is ready without actually picking it up and feeling it and stretching it and gauging how wet or dry it is.
Those expensive steaks you buy for special occasions? Pick them up and feel where the tendons are, so you know how to slice them and you will know more about how to shop for good beef.
Learn to test the doneness of foods with the touch of your fingers. Not just meat...it works with everything. And even serving is often quicker and neater with your hands.
I think you should draw the line at frying, Although this guy seems comfortable!
The one down side of using your hands is that you will be washing them constantly, but good cooks wash their hands all of the time anyway, so what's the big deal? I have a (unscented) handsoap dispenser built into the sink, but those plastic dispensers are great!

******
This from our reader of Ukraine tomatoes fame. This time he is a bachelor, eating large chunks of flesh (overdone, but we won't hold that against him) and a really nice chunky salsa, all of whose ingredients came from his garden!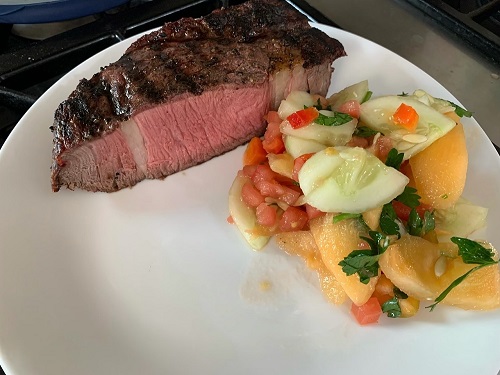 ******
Speaking of local, this is Martini Farmer's dinner from early this week. It's pathetic really..he didn't make the cheese, although the beans and tomatoes are from his garden. I guess he gets partial credit because the cheese is from "down the road."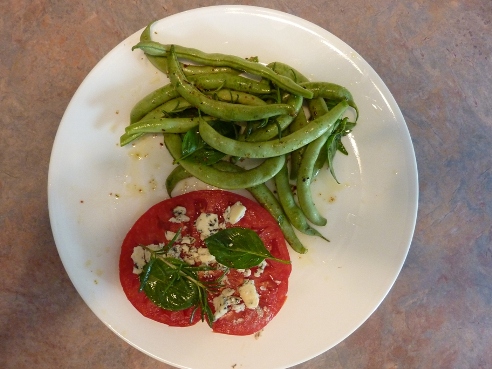 ******
I find many on-line recipes from the cooking magazines to be recycled recipes with minor tweaks, or silly and unappetizing recipes based on the hipster ingredient de jour. But this one looks pretty good! I love white beans, and cook with cannellini beans all of the time. They also suggest butter beans, so I'll be trying them in this recipe.
Margherita Pizza Beans
is sort of a weird name for it, but it still looks delicious!
******
Avocados sans thumbprints, beef short ribs that have meat on them (not the stupid little sliver of bone they sneak into the packages), carrots that don't taste like stalky chalk, spare bottles of Van Winkle Special Reserve 12 Year Old Bourbon, an herb garden that actually produces herbs (but no basil!), well-marbled NY strip steaks and elk backstrap to:
cbd dot aoshq at gmail dot com.
And don't think that you are off the hook with maple syrup and French Toast: I'm watching you...all of you! And I am watching you perverts who shake Manhattans and keeping a list for the Burning Times.

posted by CBD at
04:00 PM
|
Access Comments