« Food Thread: Variety Is The Spice Of Life
|
Main
|
Sunday Overnight Open Thread (4/21/19) »
April 21, 2019
Gun Thread: Reloading 101 Pt. 3: Easter Edition - Working with Powder [Weasel]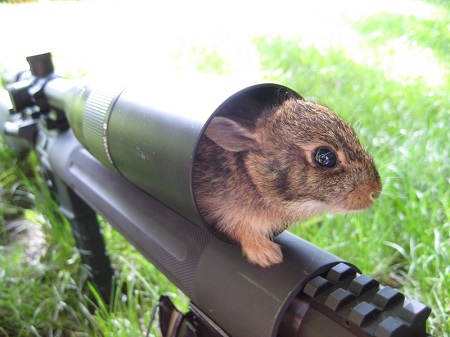 There's a Hare in my Scope!
Happy Easter, everyone! I hope you've bitten the heads off of your chocolate bunnies and found all of the eggs hidden in your back yard. Remember, if you're good, the Easter Bunny will leave a quarter under your pillow tonight. Or is that the Tooth Fairy? Either way, let's pick up where we left off with reloading and other fun gun stuff last week, shall we?
For those who need to catch up, we've been discussing reloading and spreading the material over a few weeks. Here are links to Part 1 and Part 2 where we review essential gear and begin setting it up.
As a reminder, please do not list specific load powder charge weights when discussing reloading, and please remember this material is intended for the novice reloader, so let's keep the information basic for now. Thanks.
Moving right along in our reloading series, it's time to unbox the powder dispenser and scale, and this isn't a particularly difficult procedure. So open the boxes, and take out the powder dispenser and scale, and put them on your bench. The End. Seriously, a few words on the gear; you recall from the shopping list I recommended investing in a better than average powder dispenser and scale, and the reason is simple. While you can reload with satisfactory results using much less expensive equipment, using it can be tedious and frustrating. You want to make the reloading process as smooth and uncomplicated as possible, and a goofy powder dispenser is a pain in the ass to use. And it doesn't get better the longer you sit at the bench fighting with it. Same with scales. Nothing will make you less confident in your work than a powder scale that seems to be wandering all over the place, so if at all possible, this isn't the place to economize.
Powder Dispenser
These all work about the same way with the difference mostly being in the quality of the components. A micrometer of some sort is moved in and out creating a volumetrically variable chamber which fills with powder from a larger hopper above each time the lever is cycled. The setup really only involves putting the parts together and practicing a bit to develop a technique for operating the dispenser the very same way each time and using as close as possible to the same speed and pressure on the lever as you dispense a charge. At the beginning of a reloading session I always run through several test charges, measuring each until I am getting acceptably consistent results. It's also helpful to keep the main powder chamber at least approximately half full. I've found the charges begin to vary as the powder level gets close to running out. Finally, it's not a good idea to store powder in the dispenser between reloading sessions. I dump any unused powder back into the original container when I'm done for the day.
One note: For some powder dispensers, the micrometer size varies depending on whether it's designed for loading handgun loads where smaller charge weights are used, or rifle loads where larger charge weights are needed. Be sure to look at the range of performance for your particular dispenser to make sure it's appropriate for your intended use.
VIDEO: Powder measure setup
VIDEO: Using a powder measure

Scales
Powder scales come in all shapes, sizes and prices. You can spend a lot of money on a scale. I have small inexpensive digital jeweler's scales which honestly aren't too bad for a quick check, and very elaborate and expensive laboratory balances which can be fussy and subject to electromagnetic interference from household wiring and flourescent lighting fixtures. What I use is an old fashioned beam scale and I have collected a few from various manufacturers. There are all sorts of integrated dispensers and scale combinations which many people like, but what I use to produce my match ammunition is a plain old reloading beam scale. A couple of tips; calibrate your scales before each reloading session using a check weight, and I find it very helpful to add about a pound of stick-on lead wheel weights to the underside of the scale body when first setting it up. This helps dampen tiny vibrations and keep the scale from skittering all over the place on the bench as you work.
VIDEO: Redding beam scale review
VIDEO: How to zero and read a beam scale

Next week we'll talk about choosing components!
***
Last week lin-duh sent in an excellent instructional video, and I thought I'd include it here again for those that may have missed it.
Did anyone have a chance to watch this and what do you think?
***
Prolific Gun Thread contributor
ibguy
sends us this link for a
neat-o hanging target frame
. All you have to add is some 1' diameter electrical conduit and you're ready to shoot. In fact it's so neat-o that I ordered one my own self to use at the farm and it was delivered USPS in just a few days. I'll try to remember to include a review later this spring once I've used it. Thanks ibguy!
I have a bunch of different target frame setups of similar design. What do you use? Something you purchased or did you engineer one yourself?
***
Range Time With a Purpose
The folks at
Shooting Illustrated have some suggestions
for making practical use of your range time.
When you go to the range, do you have a particular training objective in mind, or do you just plug away at paper trying to make a small group of holes?
*******
Link-O-Rama
iMarksman Sport Range Simulator h/t: ibguy
Ammunition Store - SALE!
Fulton Armory - SALE!
Powder Valley - SALE!
Outdoor Life: Six Survival Rifles Under $600
Gubs Magazine Review: Springfield Armory XDM 10mm
Shooting Times Review: Remington 700PCR
Shooting Illustrated: Ballistic Gel Testing
Barrel Twist Rate and You
***Mail Bag***
Our pal and Food Thread guru Mr. Charles B. Dildo sends us this week's Mail Bag entry. Perhaps an advanced cleaning procedure I'm not familiar with? Or a seasoning for the green matter?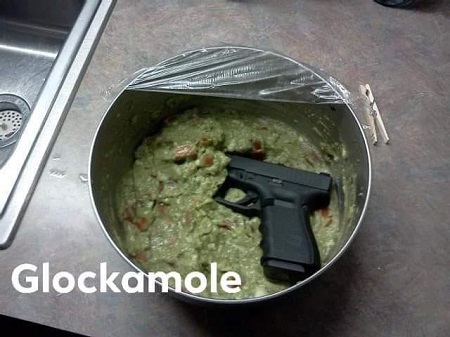 *************
Please note the new and improved gmail account morongunthread at gmail dot com. An informal Gun Thread archive can be found HERE. If you have a question you would like to ask Gun Thread Staff offline, just send us a note and we'll do our best to answer. If you care to share the story of your favorite firearm, send a picture with your nic and tell us what you sadly lost in the tragic canoe accident. If you would like to remain completely anonymous, just say so. Lurkers are always welcome!
That's it for this week - have you been to the range?

posted by Open Blogger at
07:01 PM
|
Access Comments