« Ronald Reagan Was Correct: "No government ever voluntarily reduces itself in size. Government programs, once launched, never disappear"
|
Main
|
Gun Thread: Reloading 101 Pt. 3: Easter Edition - Working with Powder [Weasel] »
April 21, 2019
Food Thread: Variety Is The Spice Of Life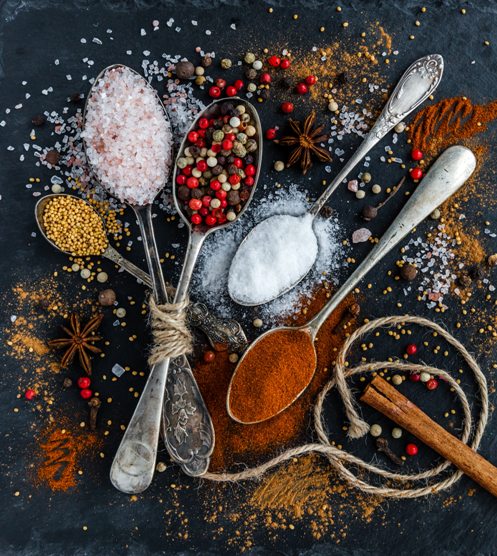 Some of my favorite cooking is simple stuff; grilled steak, fried eggs, roasted chicken, Sautéed fish. There is a minimalist theme that runs through that list...the list of the seasonings required start and finish with salt (okay...pepper too...sometimes). It's technique and raw ingredients that drive the quality, but that is by no means the only or best cooking at Chez Dildo.
Sometimes I have a hankering for some maniacal 20-ingredient monstrosity that is, hopefully, a symphony of flavors that come not from the main ingredient -- finned or feathered or hoofed -- but some of the incredible range of flavors we have available to us in most supermarket spice aisles.
It is no wonder that the Spice Trade was a very big deal for a very long time in most of the world. Sure, we all know somebody who just doesn't give much of a shit about eating, and considers meal-time sort of like pulling up to the gas station to fill up. But most of us also love to have our tongues and noses tickled by pungent or spicy or sweet or sour or bitter flavors that compliment the foods we enjoy.
I have a 36 test-tube rack with herbs and spices in it, and that is just a start. Sometimes I will read a recipe and find some odd word in the ingredients, and discover that it is a spice or herb from Africa or Asia or South America that is used and enjoyed by tens or hundreds of millions of people...and I have never heard of it or tasted it! That's neat.
And even spices that are not for everyone (like cilantro) can, in some dishes work out really well.* I have mentioned before a dish at a local Chinese restaurant that is, seemingly, half cumin, half hot peppers and half sautéed lamb. It's ridiculously out of balance, except that it tastes wonderful!
Anyway, don't be intimidated by weird spices and odd combinations. Sure, some of them won't work for you, but you might discover something really pleasing and interesting.

*Except for bay leaf, which is grown in the crack of Satan's ass and is not meant for human consumption.
******
From commenter "Miley, the Duchess" comes a very good question. Maintaining consistent grill or smoker temperatures for longer cooking times is a challenge, as everyone who has ever smoked brisket or pork butt or beef clod or lamb leg (do it! It's fantastic) knows all to well.
And every set-up is different, so that makes it entertaining. For instance, when I use my Weber Smokey Mountain (R2D2) I have to plan about 15°-20° hotter at the lid thermometer than the top rack surface, which is 15°-20° hotter than the bottom rack.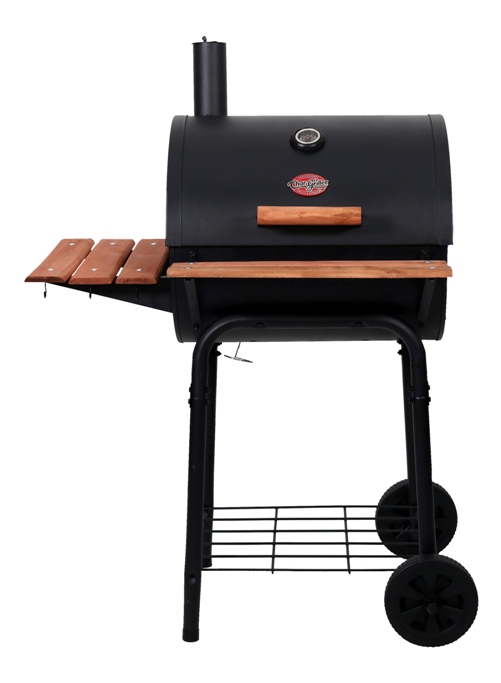 I recently purchased a barrel-type charcoal grill (Char-Griller Wrangler model...). I'd really appreciate tips on how to utilize it for larger cuts of meat. ...I'm OK with surface grilling like steaks and salmon and veggies, but I would really appreciate tips on controlling the "oven" temperatures. Right now I'm in the process of curing this grill. It says to maintain 250F for two hours, then a second session of 200F for two hours.

It wants to be 400F, or more. I understand that more airflow means higher temps, so I closed the bottom (side) vent most of the way, and opened up the chimney. It's now dropped to just below 400F after half an hour. Maybe I used too much charcoal (about 3 lbs, started in one of those chimneys).

Looks like the variables are 1) amount of charcoal, 2) the level of the grill bed and 3) the airflow. I'm sure there are more fine-tuning tips.

Since we're kicking off the beginning of grill season, this might be of interest for other Horde grillers, too.
So...have at it! Tips and tricks and secrets for maintaining temps in a grill such as the one pictured.
******
Gorgeous, and wow! That is quite a dark bake. I don't have the intestinal fortitude to try to get my sourdough boules that dark...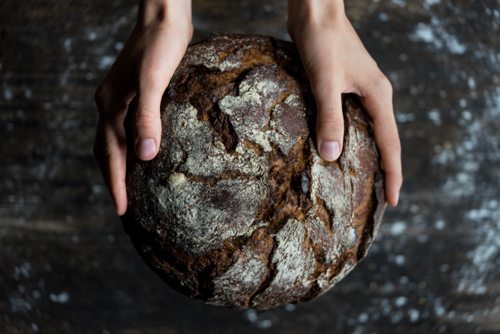 Photo by Flo Maderebner
***
Yes, yes...that's avocado toast, which is a hipster thing nowadays. But a nicely poached egg is a thing of beauty, and surprisingly difficult to get in restaurants. And that's understandable, because it is quite time sensitive.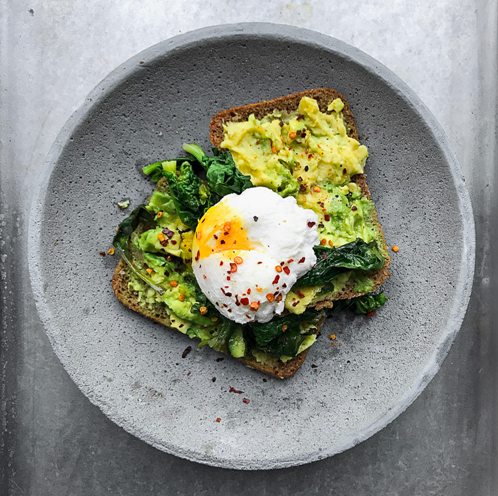 Photo by Daria Shevtsova
***
I am a big fan of this kind of burger, because the beef is so obviously front-and-center. But...and this is a biggie, the meat has to be perfectly cooked and perfectly, messily, embarrassingly juicy. If you don't leave the table liberally covered in spray from the burger, the cook has not done his job.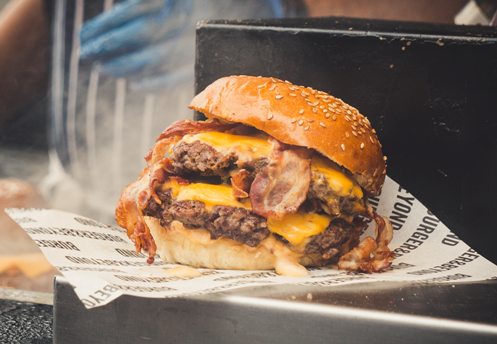 Photo by Adrian Dorobantu
******
Commenter "Tyler" sent this to me, and clearly he is a bit...off. Or is it just Nebraska?
As the Frogs say, "Chacun à son goût!" But this is just weird. Worcestershire? You Morons have strange tastes!

Got another recommendation for the cooking morons out there. Springtime in Nebraska calls for an awesome salsa when cooking out on the grill. This one caught my attention with the Worcestershire sauce and celery. Not the most logical combination but this has been a family favorite ever since we stumbled upon it in the Weber's Greatest Hits cookbook. Can't recommend that cookbook enough...everything is awesome there, especially the Grilled Shrimp and Orzo Salad recipe which I'll have to send soon! I usually add more Worcestershire than the recipe calls for but depends on your tolerance for the flavor. In my opinion, the recipe calls for too little to truly impact the flavor. Enjoy!
Santa Maria Salsa
Ingredients
2 pounds tomatoes, cored and chopped fine
2 tsp salt
2 jalapenos, stemmed, seeded and chopped fine
1 small red onion, chopped fine
1 celery stalk, chopped fine
1/4 cup fresh lime juice (2 limes)
1/4 cup fresh cilantro
1 garlic clove, minced
1/8 tsp dried oregano
1/8 tsp Worcestershire sauce
Preparation Steps
1. Toss tomatoes with salt in strainer and let drain for 30 min.
2. Toss drained tomatoes with jalapenos, onion, celery, lime juice, garlic, oregano and Worcestershire sauce in bowl.
3. Cover and let stand at room temp for about an hour.
[Recipe Source: Master of the Grill]

******
Food and cooking tips, triple-cream cheeses, young wild pigs, Venison Steak and Eggs (Swiped from Garrett),
thick and fluffy pita
good matzo brei (it's Passover!) and good tomatoes that aren't square, pale pink and covered with Mestizo E.coli:
cbd dot aoshq at gmail dot com
. Any advocacy of French Toast with syrup will result in disciplinary action up to and including being
nuked from orbit.
&topic=world_news">

posted by CBD at
04:00 PM
|
Access Comments