« Food Thread: The Basics: What Are they?
|
Main
|
Sunday Overnight Open Thread (4/7/19) »
April 07, 2019
Gun Thread: Reloading 101 Pt. 1 [Weasel]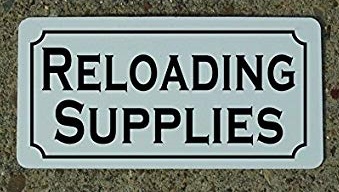 So we've been talking a lot about making your own ammunition lately and I thought I'd put together an introduction to reloading. For that, we'll need some specialized equipment and tools, and due to the amount of information and complexity of the process, I am going to spread the material over a few weeks. For those not interested in reloading I will add a some other gun content so I do not monopolize the thread for weeks with the subject of reloading. Sound good? Let's go shopping, shall we?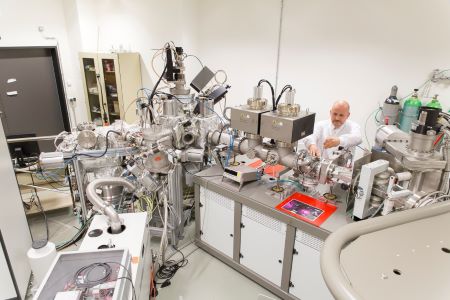 Basic Modern Reloading Setup
Not so fast there, buckaroos! First, a couple of housekeeping items.
As we begin discussing reloading, I am going to ask you not to list powder charge weights in the comments. This is for both liability and safety reasons. Instead, you may list a powder type you're using and if necessary a targeted velocity, and then refer the reloader to a published reloading manual to determine the necessary powder charge weight on their own. I do not want your typo to become someone else's problem. m'kay?
The idea for this is mostly to benefit the new reloader. Please keep this in mind as you comment and make suggestions. We have a lot of experienced reloaders who comment regularly, so I know we can look forward to a lot of good tips and ideas, but let's please just keep things simple and basic and geared to the beginner for now.
Everyone who reloads has their favorite equipment brands and suppliers, and I am no exception. When I recommend a specific item, you can be assured of two things; I have no financial interest in any product or supplier, and I have personally used the item, or something very similar in cases where models or styles have changed, and am satisfied with it. Please remember what it's like starting out for the new reloader. There is a bewildering array of products offered and the whole process can be a little intimidating, so again, let's not get too far ahead of ourselves. Before fights start over who makes the best gear, let's just acknowledge that it pretty much all works and no one is insulting your granddaddy by recommending brand X when he was a brand Y guy.

***
Reloading for Retards - Buying the Stuff
As I've mentioned in recent weeks, reloading can be a fun and rewarding hobby unto itself, as well as providing a shooter with high quality ammunition, especially when commercially made ammo is unavailable. This week, we'll cover the basic equipment and tools necessary, and their general function in the reloading process. In later weeks we'll discuss how to set it all up and use it to produce ammunition.
The list below (download PDF here) represents what I think are the basic items needed to produce excellent quality handloads. The selection of some of the items may reflect my personal preference, but in my opinion make the overall process easier and/or safer so I have included them. Beginning on the left we have the item description and a general price range to expect at retail. Moving to the right, you will see an example of what I either now have on my reloading bench, or what I would buy today if I had to start over. In making the recommendations I used Sinclair International as a supplier and included their part numbers. You will also note many of the items are listed as out of stock, attesting to their popularity. Since there are many suppliers, I have also included the manufacturer's part number if you want to shop around which is always a good idea. Remember when shopping to include shipping and hazmat fees when purchasing powder and primers. Shipping fees in particular can vary significantly among suppliers, so shop around.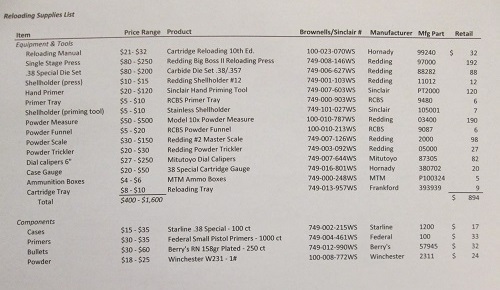 suggested shopping list

You will note right away that I do not generally recommend the least expensive items available. As with other hobbies, I have found over years of reloading that the least expensive isn't always the best deal, and sometimes the most expensive doesn't work much better than the least expensive. I am usually about somewhere in the middle with an emphasis on good quality and an expectation for years of trouble-free use. Most of this gear will last forever with minimal care and all of it should fit into a medium size storage tub if space is a consideration for you.
***
Review of Equipment and Tools
Reloading Manual
This is the
very first
thing you buy, and you will almost assuredly develop a reloading library over time. I recommend the Hornady manual initially because the loads are conservative and it's hard to get into trouble using them. There is an
excellent
section at the beginning covering each step of the process in detail. Many, many others exist and you will very likely end up with several, and you honestly can't really go wrong with any of them.
Single Stage Press
There are three basic styles of reloading presses. Single stage, progressive and turret styles. Single stage presses are the most basic and what I use for everything. Progressive presses are much more complicated and produce ammo much more quickly, but I don't think they're the best choice for novice reloaders. Turret presses are a sort-of hybrid of the two. I choose single stage presses because they are simple and afford what I believe is the greatest degree of control over each step of the process. They can also handle rifle cartridges should you want to reload those too.
Die Set
In order to make ammunition you need to (among other things) prepare the case dimensionally and seat a bullet. The set contains three dies that perform these functions. A sizing die to punch out the used primer and return the case to spec after it's been fired, a neck sizing die to flare the case mouth to accept the bullet, and a seating die to seat and crimp the bullet in place. Do yourself an enormous favor and buy the more expensive carbide dies so you do not have to fool around with lubing cases. Note - I prefer to use a separate decapping die to remove the used primer, but that's just a matter of preference.
Press Shellholder
A small caliber specific part that holds the case in the press
Hand Primer
I'm old and prefer to seat primers using a hand tool. The process gives you a feel for the force required to seat the primer ensuring a uniform depth, and the process also provides an opportunity to inspect the cases for problems as you go along.
Primer Tray
Holds the primers while you work
Hand Primer Shellholder
A small caliber specific part that holds a case in the hand primer. Some handprimers are universal and do not need this part, but the Sinclair model I listed does.
Powder Measure
This is what dispenses the powder, and is not the place to try and economize. A quality measure will produce consistent results with only requiring periodic sampling necessary, while a lesser-quality measures will throw variable and inconsistent charges and are a complete pain in the ass to use. Trust me.
Powder Funnel
Small funnel to get the powder into the cases.
Powder Scale
Consistency is key, remember? You need to have an absolutely accurate scale, so you shouldn't try to save money here, either. I have small digital jeweler's scales and large, very expensive digital lab scales, but what I actually use is a basic beam scale. Digital scales work based on magnetic fields which can be affected by things like household wiring and fluorescent lighting, and sometimes "drift" considerably. The small digital jeweler's scales actually aren't too bad for making a quick QA check as you go along, but anytime precision is key, use a beam scale.
Powder Trickler
Accessory to trickle tiny amounts of powder into a pan on a scale to achieve a desired weight. This is optional for handgun loads where it's usually easier to simply dump incorrect sample loads during your periodic QA checks.
Dial Calipers
I have digital calipers and I have dial calipers. I prefer dial calipers mainly because they don't run on batteries, but some other's don't like them because it takes a small effort to learn to read the dial. I assume you learned how to tell time on a clock with hands, and reading dial calipers is not much different than that. You can spend a ton of money on these, and a cheap pair will be frustrating to use and give inaccurate results. A nice Starrett, Mitutoyo or Brown & Sharpe set can be found on ebay for under $100. Look for 6" length and graduation of .001".
Case Gauge
Helpful in setting up dies and checking finished rounds dimensionally making sure they are within SAAMI specification for the caliber.
Ammo Boxes
Small caliber specific plastic boxes to store and transport your finished ammo.
Cartridge Trays
Holds your cartridges during the various stages of assembly.
***
A Word on Reloading Kits
There is an alternative to the a la carte method of buying the gear necessary to reload, and that is to buy a kit. Most manufacturers offer them, and the individual items are discounted from full retail when purchased separately, and are available in the $300 - $400 range. They really aren't a bad option for beginners, and they're certainly more economical, but you will probably soon begin to add items for convenience or upgrade some of the components if you decide to stick with it. If economics are a concern, or you're not quite ready to take the full plunge, then a kit might be a great option for you. One important point about kits - they do not come with dies and shellholders which must be added to your order and increase the cost by about $100.
So that's about it for a general gear overview. Did I leave anything out? Do you agree with my single stage press recommendation? Has anyone ever started reloading with a progressive press, and what was your experience? How about the other gear I listed?
Remember, next week we'll start setting stuff up!
*******
Link-O-Rama
Amazon: Lyman Reloading manual
Amazon: Nosler Reloading Manual
Amazon: Hornady Reloading Manual
Amazon: Speer Reloading manual
Amazon: Precision Reloading
Get the hint? Buy a reloading manual first!
***Mail Bag***
Last week we looked at a "wildcat" pistol cartridge and discussed how for some wildcats, reloading is a shooter's only option. That's absolutely true for the .17 Incinerator and the new .17 Incinerator Improved, a 50BMG case necked down to .17 caliber!

.17 Incinerator


.17 Incinerator Improved
*************
Please note the new and improved gmail account morongunthread at gmail dot com. If you have a question you would like to ask Gun Thread Staff offline, just send us a note and we'll do our best to answer. If you care to share the story of your favorite firearm, send a picture with your nic and tell us what you sadly lost in the tragic canoe accident. If you would like to remain completely anonymous, just say so. Lurkers are always welcome!
That's it for this week - have you been to the range?

posted by Open Blogger at
07:00 PM
|
Access Comments