« White House To Congressional Democrats: "Pound Sand"
|
Main
|
Gun Thread: Reloading 101 Pt. 1 [Weasel] »
April 07, 2019
Food Thread: The Basics: What Are they?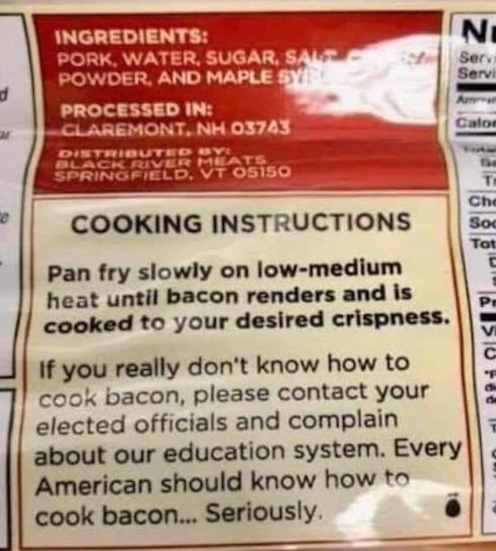 [Hat Tip: Golfman]
Making bacon is certainly high on the list of things to know around the kitchen, not just because bacon is an unalloyed good thing, but also because embedded in its cooking are some general lessons for how to be successful in the kitchen.
But where to start? Rice? Scrambled eggs? Tea? Coffee? There are dozens of simple foods that form the backbone of cooking, but also teach technique. For instance, rice is deceptively simple. Sure...boiling x amount of water and adding y amount of rice and z amount of salt is pretty easy, but it also teaches how long it takes for water to boil (don't laugh...that's important!), and how much salt is appropriate for a given volume of food (and that volume is radically different at start and finish).
And eggs? the joy of a well-lubricated pan, the correct heat, and the importance of texture as an indicator of doneness! Simple...deceptively simple!
Anyway, what foods would you accomplished cooks start with if you were training someone from scratch?
******
I was recently in a McDonald's in Massachusetts or Connecticut (I don't remember which, but they are the same...right?) and discovered to my delight that there were two touch-screen ordering kiosks right smack in the middle of the joint! It was the first time I had seen one in a big restaurant. Oh, they have them at airports, but my suspicion is that is driven by the desire to entertain travelers who are desperate for any diversion from the tedium of waiting around for flights.
Unfortunately the sausage biscuit did not meet my expectations. It was a bit rubbery, although it was certainly hot!

******
Some profoundly disturbed reader sent me this recipe for
Coconut-Chia Oat Crisps.
The subject of the email was "Healthy Oat Crisp," so my first thought was that it had been sent to me by mistake by some deluded Democrat. But no, I seem to have been the intended recipient.
Saw this in a magazine. It is flippin' awesome. Great plain or with some peanut butter on it.

-- S.Lynn
Am I being trolled?

******
Here's a recommendation for a cooking/shopping app from "Tyler." I use an app to create shopping lists, but it's sort of wonky and doesn't share across platforms very well, so I think I'll give this one a try.
Wanted to pass along a tip in the form of an app I use on my phone for maintaining recipes and grocery lists (Note: I'm in no way associated with it so my recommendation is coming strictly as a user). It's called AnyList and has a fantastic recipe import function, meal calendar as well as integration with with devices like an Amazon Echo so you can verbally add items to a shopping list on the fly. We use the app daily and it makes recipe hoarding insanely easy. It's also nice to have all the hit recipes in your pocket...I find myself using it when we travel to see family as well. All around, fantastic app and can't recommend it enough.
******
Last week I implored you all to go forth and bake your own bread. Well, that prompted several of you bastards to email me photos of your handiwork. In other words, I got some photos that could have been titled: "Fvck you Dildo, you suck...I'm better!"
This is from commenter "Not That Guy," who claims that this is his fourth attempt at a sourdough boule. Obviously he is a professional baker and is trolling me...with some success.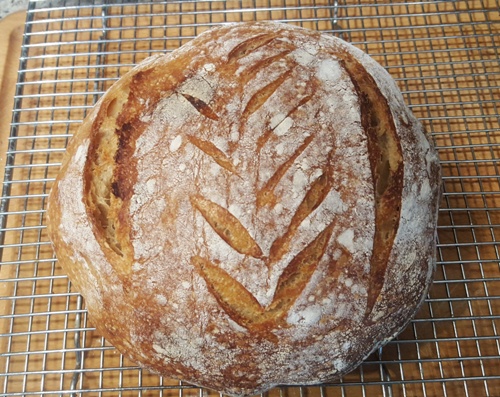 The lovely pattern on the top is impressive, as are the deeper cuts along the sides. He obviously has a sure hand with his "lame," the blade that bakers use to cut the dough to relieve internal pressure and allow the bread to rise. That's one of my many failings...I am too delicate with it and the cuts are too shallow.
Just wait until next week...one of you bastards built a fvcking pizza oven!

******
Do not go into the light?
I don't think so!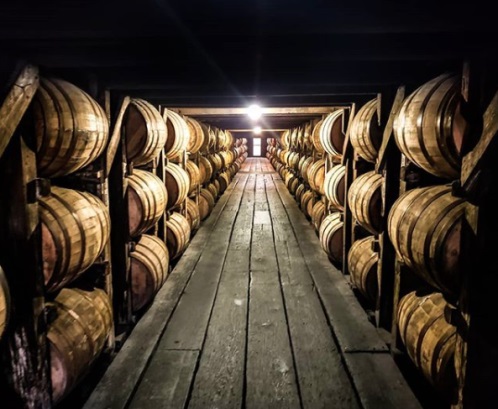 ******
Food and cooking tips, triple-cream cheeses, young wild pigs, Venison Steak and Eggs (Swiped from Garrett), thick and fluffy pita and good tomatoes that aren't square, pale pink and covered with Mestizo E.coli:
cbd dot aoshq at gmail dot com
. Any advocacy of French Toast with syrup will result in disciplinary action up to and including being
nuked from orbit.
&topic=world_news">

posted by CBD at
04:00 PM
|
Access Comments