« Food Thread: Necks And Backs And Feet...Oh My!
(Make Your Own Stock!)
|
Main
|
Sunday Overnight Open Thread (4/28/19) »
April 28, 2019
Gun Thread: Reloading 101 Pt. 4: Components [Weasel]

DuPont Blackpowder - this is not smokeless powder!!
Has it been another week already? Today is part 4 in our reloading series, and let's get right to it, shall we?

As a reminder, please do not list specific load powder charge weights when discussing reloading, and please remember this material is intended for the novice reloader, and for now let's keep the information basic for now. Thanks.
***Components***
So now let's have a look at the components you will need to produce your own reloads. There are many online retailers to choose from, and reloading suppliers are generally well represented at gun shows. I usually shop online because the selection is better and because I hate crowds, so I'll link a few of my favorite suppliers here.
Midsouth Shooters Supply
Powder Valley
Sinclair International
Graf & Sons
Berry's Mfg.
There are many, many more and I'm probably leaving off some of the good ones. Do you have a favorite not listed here? Please list the name only rather than a long link!
Also keep in mind when sourcing components that a hazmat fee of $27 will apply to shipments of powder and primers, in addition to the normal shipping charges, but the two items can be combined in a single order to save some money. Another idea to consider is going in together with a couple reloading buddies when possible to spread the charges out a little.
Review Material: The basic unit of measure in reloading is the grain (gr), and one grain is equal to 1/7,000th of a pound. Most decent reloading scales will measure accurately to the 1/10th of a grain.
There are four parts to a cartridge; the case, the bullet, the powder and the primer. Let's review each of these.
Cartridge Cases
Metallic cartridge cases can be made from several different types of material. Most commonly brass, but sometimes you will see them made from steel, aluminum and other materials such as nickel. Brass is an alloy of copper and zinc, and is ideal for use in cases because it is soft and easily shaped under pressure, both during the loading process and during firing. As noted before, the cartridge brass is shaped by the sizing die, and when fired, expands to seal the breech of the chamber. Without getting too far into the metallurgical weeds, brass gets harder when worked repeatedly and will eventually split or crack unless stress is relieved at the molecular level through the process of annealing. We won't worry about annealing handgun cases since the brass is inexpensive enough to replace as it wears out. Just remember it is important to inspect your brass for cracks and splits as you go along.
Reloaders are notorious scavengers, and will frequently be seen scrounging brass at the range whenever possible. New brass can be purchased from any reloading supplier, and every reloader has their favorite whether based on price or other qualitative factors. For precision match loads, it is important to use the best and most consistent brass possible. When I'm reloading handgun cartridges for plinking, I'll use whatever I have handy. If I want a little more accurate handloads I will make sure the brass is all from the same manufacturer and has the same headstamp. The headstamp is simply a name or other manufacturer's mark stamped into the case head along with the caliber identification. I like Starline brass for handguns because it's of reasonably decent quality, it's inexpensive, and is usually readily available. For my rifle match loads I use Lapua brass exclusively.

Federal .38 Special Case and Plated Semi-wadcutter

Bullets
There are a zillion different types and styles of bullets. Maybe more than a zillion. Important considerations for the new reloader, after choosing the right caliber, are the materials used and the design application.
Typical materials are plain lead, lead which is fully or partially jacketed by copper, and plated bullets. Lead bullets are very economical and can even be made at home as part of the reloading process, or simply sourced from a retailer. Lead bullets usually require the application of a special anti-fouling bullet lube during the seating process and can still sometimes cause a lead buildup inside the barrel. Jacketed bullets offer the convienience of not requiring lubrication, but are more expensive due to a more complex manufacturing process. Plated bullets offer the advantages of jacketed bullets at a significantly reduced cost, but cannot be used at higher muzzle velocities. Common shapes for general purpose shooting are the wadcutter, semi-wadcutter and round nose. Wadcutter bullets are flat and seated flush with the case mouth and are designed for making clean holes in paper targets. Round nose bullets should be familiar to everyone, and semi-wadcutters are a cross between the two. Berry's Manufacturing is a producer of jacketed bullets that I use a lot. A good choice for the beginning reloader would be a jacketed or plated semi-wadcutter.
Powder
There are hundreds of formulations of gunpowder, a fact which kind of surprised me when I started reloading. Until then it wasn't something I'd thought a great deal about, but come on - hundreds? There are countless combinations of size, shape and chemical composition, each designed to produce a specific result. The type we are interested in for metallic cartridge reloading is smokeless powder.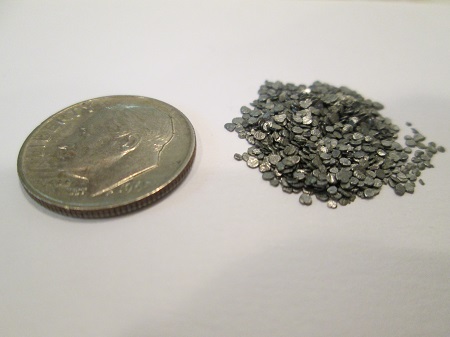 Standard .38 Special Powder Charge

The common types (shapes) of smokeless powder are flake, ball and extruded. You will note the example shown above is a flake powder. The different shapes result in variable surface area affecting the burn rate and brisance, or the speed at which the burning powder achieves peak pressure. Smokeless powder is not an explosive, but instead is technically classified as a flammible solid which burns very quickly. It is the resulting gas expansion which sends a bullet down the barrel. Magnum powders burn slowly while other calibers burn more quickly, relatively speaking. The amount of powder shown above is my standard .38 Special load. It doesn't take much!
One major caution about powder. The names can be deceptively similar and inadvertently confusing them at the reloading bench can have catastrophic results. Consult your reloading manual for the appropriate powders for your caliber and bullet weight combination, and be very careful to match the name exactly. Some powders will work well in a a variety of calibers; Bullseye and W231 come to mind as examples, but always confirm using data from one or more published sources.

Primers
Primers contain a tiny amount of explosive between the cup and a small metal anvil inside. The hammer strike sets off the primer sending flame through the flash hole and igniting the powder. Primers will not explode from normal handling, but there are glorious stories of reloaders having a stack of primers explode in a chain reaction on a progressive press . You do not want this to happen to you. Store them safely in the original packaging, don't be a retard when working with them, and you'll be fine.
The size choices are easy - they come in large and small with variations in composition for rifle, regular handgun and magnum applications. Your reloading manual will tell you which size you need for the cartridge you're working with. The more expensive "match" primers are exactly the same as standard primers, they're simply made by the most experienced production line workers.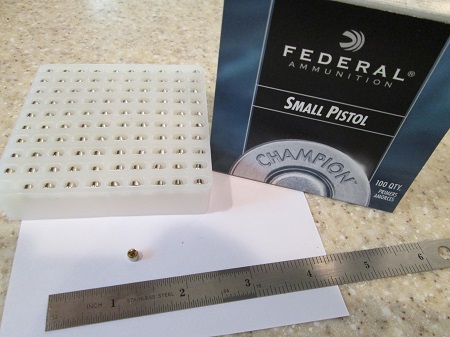 Small Pistol Primers

Next Week: We start putting it all together!
***
Here are articles and tips from the NRA's online magazine Shooting Illustrated:
There are a lot of nutty ideas in any endeavor, and carrying a concealed weapon is no exception. Here are a few concealed carry myths debunked. Number 3 will amaze you!
If you're going to carry a concealed weapon, you're going to need a holster. Here are a few things to think about in choosing one. Number 2 will amaze you!
We've talked about it before, but any day you don't have to shoot someone is a good day, and avoiding a confrontation altogether is generally considered a better outcome than a gunfight whenever possible. Here are some things to think about. Does carrying a weapon make you more likely to avoid situations which might potentially escalate? Do you have any personal examples to share?
And speaking of the NRA, it sounds like they had some excitement among the senior management this week.
Breitbart: Power Struggle at the NRA
What do you think of the NRA? Are you a member? How about alternatives such as the Gun Owners of America? Although the size of the NRA is great in some respects, I begin to worry when any group gets too big and a lot of dinero is involved.
*******
Link-O-Rama
Online Component Finder
Bullet Types Explained
Introduction to Bullet Sizes and Calibers and Types
Buyer's Guide: Rifle Bullets
Bullet Type Review
***Mail Bag***
A very innovative approach to the concept of a shooter and spotter working as a team, don't you think?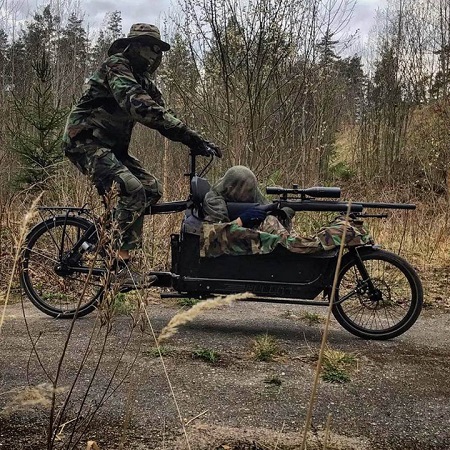 h/t hcurmudgeon
*************
Please note the new and improved gmail account morongunthread at gmail dot com. An informal Gun Thread archive can be found HERE. If you have a question you would like to ask Gun Thread Staff offline, just send us a note and we'll do our best to answer. If you care to share the story of your favorite firearm, send a picture with your nic and tell us what you sadly lost in the tragic canoe accident. If you would like to remain completely anonymous, just say so. Lurkers are always welcome!
That's it for this week - have you been to the range?

posted by Open Blogger at
07:00 PM
|
Access Comments