« The Dark Night Of Anti-Semitism Is Always Descending On The Right And Yet Lands On The Left
|
Main
|
Gun Thread: Reloading 101 Pt. 4: Components [Weasel] »
April 28, 2019
Food Thread: Necks And Backs And Feet...Oh My!
(Make Your Own Stock!)
[Just put the container down and back away]
I've ranted about this before, and I will undoubtedly rant about it again; just make your own chicken stock. It is the best of both cooking worlds. It is far better than commercial stock, and it is far less expensive.
And what is the origin of today's rant? well, last week was Passover, and one of the traditional dishes for the Seder meal is matzoh ball soup, which is simply chicken stock with some matzoh meal dumplings. Easy to make, satisfying, and unacceptable with commercial stock. But the vast larder of Chez Dildo was curiously light on chicken stock. Why? Stupidity. No other reason, but that didn't stop me!
So on the appointed matzoh ball making day, instead of simply defrosting some stock and juicing it up a bit with a container of reduced stock (not quite demi-glace, but close), homemade of course, some salt, pepper and maybe a bit of dill, I had to make a fresh batch.
But let not your hearty be troubled! It is trivially easy with a bit of planning and frugality. Every time I make chicken I cut the back out of the carcass and toss it in a freezer bag, along with wing tips and necks. When the bag is full it's time to make stock. But this time I hustled over to my local poultry farm and bought some extra, along with a pound or so of chicken feet. Yup. It's a glorious addition to stock, because all of that connective tissue and collagen adds a silkiness to the stock that is unrivaled.
Roast all of the bones and stuff in a hot oven until they are nice and browned, toss it into your biggest pot with carrots and onions and celery and some parsley. Then cover with cold water, bring to a boil, and simmer for four or five hours (I cover the pot). Pour it through a fine mesh strainer, chill overnight so the fat rises to the top and solidifies, skim the fat, and you have wonderful, flavorful, inexpensive chicken stock that is a great addition to many dishes, or perfect as the base for pretty much every soup known to man.
******
Marinate: (verb) to steep (meat, fish, etc.) in a marinade
Marinade: (noun) a spiced liquid mixture of oil, wine, vinegar, herbs, etc, in which meat or fish is soaked before cooking
It's one of my favorite cooking techniques, and for the time investment an astonishingly efficient way of getting lots of interesting flavors into your food.
Commenter "BeckoningChasm" asked about it recently, and it's a great topic to revisit, because it is almost foolproof as well as a great technique. Oh, I guess you can still over-salt or make the food mushy from too much acid, but there are so many great recipes for marinades that it really doesn't require much thought if one is so inclined.
But inventing your own isn't tough, and if you pay attention to the meat (or whatever) you are making the marinade for you will not make an unbalanced one. I just think about the size of the cut, and add salt as if i were salting it directly. Imagine it sitting in front of you as you sprinkle the salt into the marinade, and it will be an easy measure of how much you need. Do that with the other ingredients, and all of a sudden you have a perfect marinade, tailored to your tastes. Here's one for chicken that I jotted down several years ago, but never referred to because it's just sort of a "Well....duh!" recipe.
•Parsley
•Onion
•Garlic
•Olive oil
•Salt
•Pepper
•Thyme
•Lemon juice
See what I mean?
I guess there are a few rules for making good marinades, but all I can think of is to avoid over-salting, avoid too much acid, and don't dilute it with too much liquid. Oh...and use Zip-Loc bags whenever possible, because they make it really easy to squish the marinating food around so it marinates evenly. And it's sort of fun too.
The last thing I marinated was a monster pork shoulder, and I had no idea what I wanted it to be, so I just started tossing stuff into the pot willy-nilly, and it worked out perfectly! A partial list includes orange juice, parsley, jalapeno, paprika, ancho chile powder olive oil, beer, and a bunch more stuff I don't remember. But each one was in proportion, so I knew that while it might not be perfect, it wouldn't be out of balance.
So give it a shot one day. Grab a chicken, cut it into pieces, and go to town with your spice rack and refrigerator. You won't be sorry.

******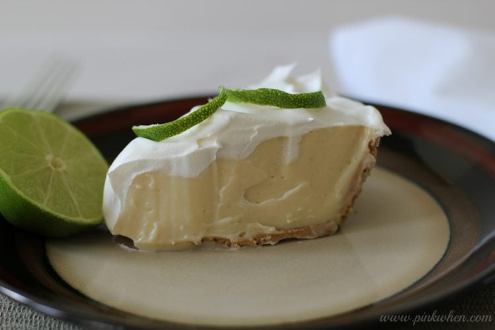 From regular commenter and fine cook (better than me!) artisanal'ette comes a note about pie, some shortcuts, and some good points about older recipes.

I made a key lime pie this week. I made the recipe from The New Best Recipe of America's Test Kitchen which has flawless recipes. I can always count on them.

I had squeezed a few bags of key limes when they were in season and froze them. So I just pulled out the half cup I needed, and used regular limes for the zest needed. Fabulous. My sister was staying with us and it is her favorite pie and thought it was the best she ever had. But, it's such a simple recipe and not hard to make. It is especially easy to make a pie with graham cracker crust, and not bothering with meringue and using whipped cream instead. I wanted simplicity, not some time-intensive dessert. I have enough frozen juice for at least 2 more pies!

The deception with recipes now are with old recipes just referencing "one tin" or "one can" or "one 14 oz can" because they are not equivalent portions anymore. Everything has been reduced in size. Luckily my cookbook had the exact amount in ounces so that I could measure out the right amount. I ended up using one and half cans of the sweetened condensed milk (or something like that - I poured it into my measuring cups).
I think this is the recipe she used.
And freezing lime (or lemon) juice works great! I do the same thing, although I use the juice for Margaritas rather than pie.
And for some extra zest, take a look at the babes in the photo! A Slice of Key Lime Pie History

******
And speaking of chickens,
here's an interesting history of the lowly domesticated chicken; the most common bird on the planet!
[Hat Tip: Curmudgeon]
******
Bacon Pound Cake
There aren't enough bacon desserts in the world! So I took this Fat Challenge as an opportunity to create one. As someone who always has a small jar of excess bacon fat in their fridge, I'm always adding bacon flavor to things like fried potatoes, salad dressings, and popcorn. But I wager it will shine even more in cake. And what better way to test this hypothesis than with a classic pound cake.
It is a concept that is foreign to me, but I can see myself getting very comfortable with this idea.
I love the combination of fat and sweet and salty...and I'll bet most of you do too! Hell, one of my favorite chocolates is a dark-chocolate caramel sprinkled with a bit of sea salt.
Which brings me to a wild-assed off-topic question: I want to make bacon swizzle sticks for bourbon-based drinks. Any thoughts? I was thinking about winding a piece of bacon around a chopstick, baking it just until it begins to brown, then coating it in large-crystal sugar (I'm not sure what that is called). I think it will be a race between the sugar dissolving in the drink and my devouring the bacon, but clearly some testing is in order.
[Another one from Curmudgeon]

******
Food and cooking tips, triple-cream cheeses, young wild pigs, Venison Steak and Eggs (Swiped from Garrett), thick and fluffy pita, and good tomatoes that aren't square, pale pink and covered with Mestizo E.coli:
cbd dot aoshq at gmail dot com
. Any advocacy of French Toast with syrup will result in disciplinary action up to and including being
nuked from orbit.
&topic=world_news">

posted by CBD at
04:00 PM
|
Access Comments