« The "Opioid Overdose Epidemic" Might Not Be As Bad As The Media Say...
|
Main
|
Food Thread: Necks And Backs And Feet...Oh My!
(Make Your Own Stock!) »
April 28, 2019
The Dark Night Of Anti-Semitism Is Always Descending On The Right And Yet Lands On The Left
Is the NY Times trying to become the paper of record for the UK Labor party? Because Jeremy Corbyn and Ken Livingstone would love a print of this. Here's the cartoon, which would also fit well in many Muslim newspapers to illustrate articles about Jews harvesting the blood of Muslim babies for matzoh or Israel using American technology to control the weather over Iran.
And here is the bullshit non-apology apology.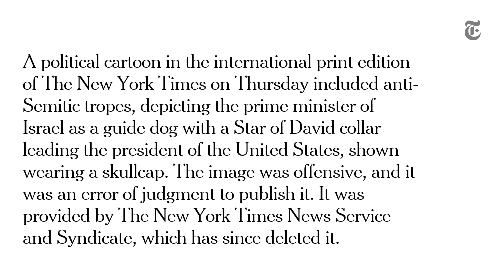 Notice the weaselly blaming of some wayward division of the NY Times? Let's face it...some editor or editors thought it was just fine, and that speaks volumes about the current (and past) tone at the Times. They hate religion (except Islam), they hate Judaism, they hate Israel, and they withdrew the cartoon not because they realized that it was an out-and-proud example of their Jew-hate, but because they got called out on it.
&topic=world_news">

posted by CBD at
02:15 PM
|
Access Comments