« Food Thread: Shut Up And Enjoy Your Food...
|
Main
|
Sunday Overnight Open Thread (5/5/19) »
May 05, 2019
Gun Thread: Reloading 101 Pt. 5: Assembly!! [Weasel]

.38 Special of Dubious Manufacture

At last, the long Gun Thread reloading series nightmare is nearly over! Rejoice! Well, not so fast there buckaroos, we still have to put the pieces together, so let's get on that, shall we?

There really isn't much to say about the assembly process, and it's probably simpler than you would expect once you correctly setup the dies. Size and prime the case, add the powder and seat the bullet. That's really about it. What I'd like to do in this section is to offer a few tips and things I've learned over the years.



Buy a reloading manual and read the damn thing. The first section of any manual will contain the step-by-step reloading process (with pictures!) followed by suggested load information by caliber.


Confirm any new load you're contemplating from one or more published sources and be skeptical of everything you read on the internet.


Setup your reloading bench away from noise and distraction. Do not try and watch TV or engage in conversation while you are reloading. Work with ONLY one powder on your bench at a time.


When things are set up correctly, each step is completed smoothly and without exerting a large amount of force on any of the tools. If you notice a change in the physical effort required to complete a step, stop and investigate.


Work in batches. I will size 50 or 100 cases, then prime them, then add powder and finally seat the bullets.


Practice making several dummy rounds until each die is properly adjusted, and critical dimensions are verified, before you begin making loaded ammunition.


Keep a book of reloading notes. Powder charge, primer, bullet, expected velocity and later performance notes.


Always note the caliber, date, powder type, charge weight and bullet weight on a note in your ammo storage box to identify the load


Link to reloading gear setup and adjustment PDF: Download file



Sizing and Depriming
The sizing step sets the case to the proper dimension and pops out the spent primer. It's also an opportunity to inspect the brass prior to loading. Look for cracks and splits in the brass or any other abnormality, including a flattening of the old primer which indicates excessive pressure.
Gun Thread Reloading Test: Who can spot the problem with this fired case?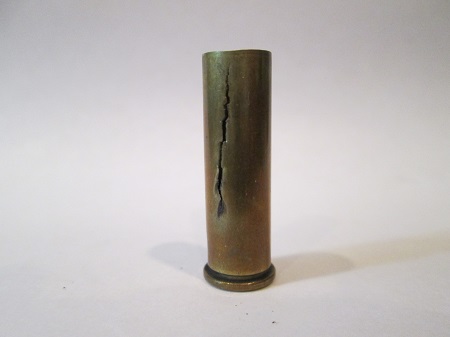 Near disaster from the Weasel private collection

Simply place a cartridge into the shellholder and cycle the press. The amount of sizing will vary based on the chamber, but a change of .003" - .008" is about normal. You will feel a slight resistance as the case enters the die and the ram reaches its uppermost position as the handle begins to cam over. Repeat until the desired number of cases are sized and de-primed.
Fired unsized case: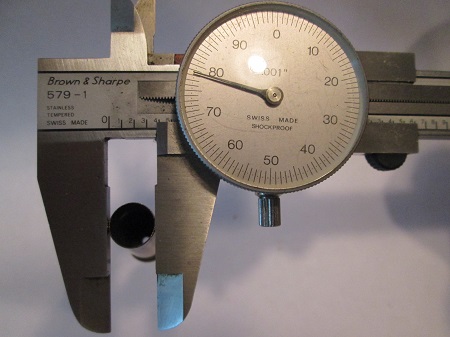 After firing and before sizing -.3785"
After running through the sizing die we get:


After sizing - .3735"
Expander Die
The expansion step very slightly flares the case mouth to accept the bullet. Avoid oversizing as this leads to premature case wear and failure. When cycling the press on the expansion die you will feel about the same resistance as in the earlier sizing step as the ram reaches its uppermost position. Adjust the expander plug up or down until a bullet will just begin to seat in the case mouth without force. Repeat until the desired number of cases are processed.
After a trip through the expander die we get: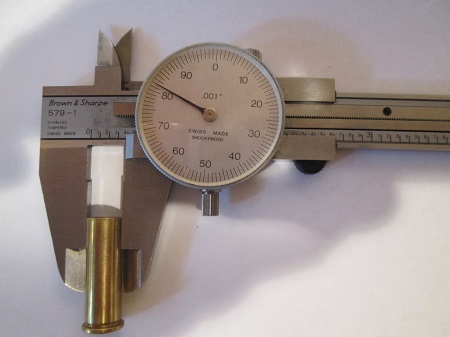 Expanded case - .3820"
Note the expansion of the case mouth is only .0085". Don't be an overexpander!
Priming
Confirm the size and type of primer to be used, and inspect the primer pocket for excessive carbon buildup or other abnormalities. Loosening of the primer pocket is a sign of overpressure. The cycling of the priming tool should be accomplished smoothly with a slight resistance as the primer is firmly seated. When properly seated the primer will sit even with, or very slightly below, the case head. Repeat until the desired number of cases have been primed.
Powder
Double check that you are using the correct powder. Never work with more than one powder on the bench.
Run several charges through the powder dispenser, checking each on your scale until the amounts dispensed are consistent. The cycling of the dispenser arm should be smoothly performed at the same speed each time. I dispense powder into a pan about every 10th cartridge and check the weight for consistency. If a variance is noted, investigate back to your last weight QA check. I prefer to dispense powder into 50 cartridges, and then seat the bullets all at once.
Bullet Seating
Visually inspect the powder levels of all cartridges in the reloading block. This is your last chance to avoid a squib load or worse, a double charge. It is a good idea to make a number of dummy rounds (no powder or primer) as you setup the die until you are satisfied with the seating depth and crimp. Again, the press should cycle with a very slight resistance as the bullet is seated and crimped into place. You can use commercial ammunition as examples. The now completed round should drop freely into the cartridge case gage and not stick out either end.
When we seat and crimp the bullet we get: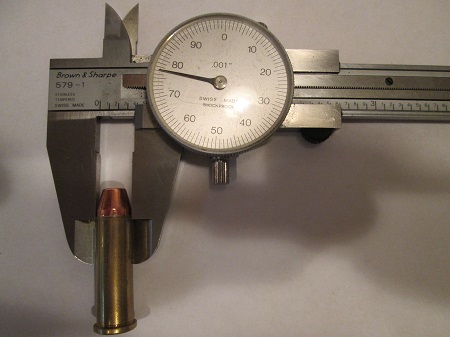 final diameter .377
The final diameter equals the bullet diameter (.357") plus the thickness of the case walls of .020" (.010" x 2).
After Shooting
One thing we haven't discussed until now is case cleaning. The brass cartridges become dirty with powder residue and must be cleaned. There are different ways to accomplish this, and I use a vibrating tumbler filled with crushed walnut media. I have never seen the reason to spend a ton of money on the process and am satisfied with just getting the grime off of the brass, not making it look brand new. I deprime my brass first, then tumble for an hour or so. Care must used to inspect each case after tumbling for walnut grains stuck in the flash hole. The tumblers retail around $50 or so. One tip - the crushed walnut must be changed periodically. You can extend it's life by removing crud from the bowl if you toss in a dryer sheet with the brass which collects a lot of the gunpowder residue. Also, source the crushed walnut media from a pet supply place, not from a gun supply place. You'll get an enormous bag at a fraction of the cost.
Do you like shiny things? If you're really, really serious about clean brass, here's an informative article on using stainless steel pins as a cleaning media.
Congratulations! You've just freed yourself from the tyranny of Big Ammo by undertaking an enjoyable and productive hobby. Please use common sense. If something doesn't feel right, it probably isn't, and should be investigated until you understand what is going on. Do not replicate any loads until you have independently verified the powder type and charge weight in a published source. Trust me, there is always a bigger idiot out there somewhere, and you do not want to find them discussing their "secret" formula on the internet. If you run into problems or have any questions, feel free to drop me a line.
I'd like to take this opportunity to thank all non-reloaders for indulging me as I've rambled on about reloading these last few weeks. I appreciate your patience!
*****
Well let's see what else there is to talk about:
A couple of Breitbart followup articles on the NRA fracas are here and here.
Does anyone have an informed opinion of Carolyn Meadows? Any more on the fallout in general? Since I'm already an NRA life member, I'm giving the Gun Owners of America my annual support.
***
I recently had to renew my Virginia Concealed Weapons Permit. The renewal procedure required me to complete the same single page application and give $52 to the snotty-ass clerk of the court. A few weeks later, the new card arrived in the mail and is good for the next 5 years. I suppose the only real complaint I have is regarding the card itself which is very thin paper produced on an desktop laser printer. My liberry card is significantly more durable than this piece of shit and didn't cost $52. I have a non-resident Florida permit as well and it's a sturdy wallet card with a photo made just like a drivers license.
How difficult is it for you to obtain your permit or renewal? Do you think it's a reasonable procedure? How about the wait time and cost for the processing?
***
Here's an introductory article from the Midsouth Shooter Supply newsletter on
choosing pistol ammo which raises an interesting question.
How many of you have a specific brand and type of ammo for your various shooting applications, and how many just buy what's on sale?
*******
Link-O-Rama
SALE! Hornady 10th Ed Reloading Manual at Midway USA - $25
h/t JTB
Guns Magazine: Snubbies!
American Rifleman: Uzi Guide
Gun Digest: 6.5 Creedmoor
Grand View Ourdoors: Rimfire Comeback
Stripped Lower - $40
Georgia Arms Free Shipping Weekend!
***Mail Bag***
This week's entry comes from regular lurker
Catch Thirty-Thr33
who shares a couple of nice handguns and thoughts on the semantics of making guns even scarier!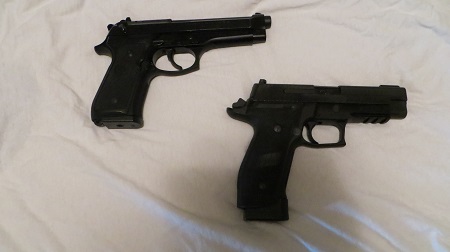 Beretta 92(L) and Sig Sauer P226(R)
I lurk on the gun thread - I have to, as when the gun thread is posted, I'm usually working deep into the night.

Anyways, for the past year or so I have been hearing this nonsense about "weapons of war". So I thought I'd show the weapons of war I had before the horrible canoe accident. Off to the left is Weapon of War #1: I deployed with a gun like this and keep this for practice, as I want to be proficient in weapons of war for I might be sent downrange with one yet again. It is in fact a 9mm Beretta, my first gun, that I bought so that I could attain mastery of the M9. (Meaning that soon I will have to get a M17 - otherwise known as the Sig P320.) To the right is Weapon of War #2, that I got in a gun sale offered by the unit I was deployed with at the time. Yes, it IS a Sig P226 TacOps. I ordered it during deployment, and paid for it right afterwards - and it arrived on Christmas Eve some years back. Yes, on Christmas Eve. I hung around at a small coffee house nearby, drinking coffee and hanging out online until I got the call saying "your gun has arrived and you have until 3 pm to pick it up today." I was there in 5 minutes. Shooting commenced on Boxing Day and it was great right out of the box.

I just thought I'd share to underscore the idiocy of the term "weapons of war" - you know it's dumb, I know it's dumb, but the wider world doesn't know.
Great point, Catch Thirty-Thr33 - thanks for sending this in!
*************
Please note the new and improved gmail account morongunthread at gmail dot com. An informal Gun Thread archive can be found HERE. If you have a question you would like to ask Gun Thread Staff offline, just send us a note and we'll do our best to answer. If you care to share the story of your favorite firearm, send a picture with your nic and tell us what you sadly lost in the tragic canoe accident. If you would like to remain completely anonymous, just say so. Lurkers are always welcome!
That's it for this week - have you been to the range?

posted by Open Blogger at
07:01 PM
|
Access Comments