« This Joke Never Gets Old, Unlike The Last Five Movies...
|
Main
|
Gun Thread: Reloading 101 Pt. 5: Assembly!! [Weasel] »
May 05, 2019
Food Thread: Shut Up And Enjoy Your Food...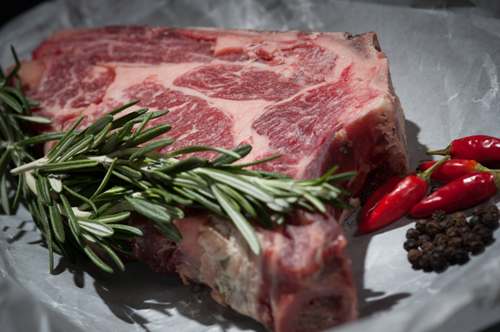 [Photo:
mali maeder
]
Some chick on Twitter (@jillfilipovic, if you care, and you shouldn't) was jabbering authoritatively about "what to eat if you care about the planet," and I was struck by a few things. First of course was her startling lack of real knowledge about nutrition, and the second was her easy assumptions about what people want. Oh...and her pomposity: "Yes going vegan is best..." Really? For whom? Actual humans? Or leftist bints who pretend to know everything so their political philosophy can rise to the top and dominate and subjugate?
She's a "writer and a lawyer," so clearly she knows everything there is to know about nutrition and the economic and environmental effects of agriculture. Really! She took a class as an undergrad!
3,000 years of Western development did not lead us to the current time so we can reject the advances we have made. Food production may be number 1 on that list, because we no longer have to struggle to eat enough, or struggle to eat safe foods. It is a marvel of the West that the world can feed itself on a fraction of the labor and energy required just a few generations ago. The challenge today has nothing to do with the amount of food the world produces...it is a function of politics, pure and simple.
But back to the idiot; why would I change what I eat, when it gives me so much pleasure for such a small fraction of my labor? To save the earth from....what? Warming? Which, according to some would increase the amount of arable land and improve agriculture in most parts of the world? Or is it to return to a pre-industrial society in which the elites are the only ones to enjoy the fruits of our labor? Because working-class stiffs shouldn't be able to eat steak!
Anyway, that rib steak up top looks quite nice, especially since the usual big chunk of fat in the middle is smaller than usual, but the rest of it is quite lovely and marbled. And Rosemary, black pepper and some chilis sounds like a lovely way to spice it, especially since the rib steak tends to be so rich from that fat.
I almost never use anything except salt on good steaks, but the Italians -- no slouches in the steak category -- would use that Rosemary along with some garlic and olive oil. Anyone else do something other than salt (and pepper if you must) with fine beef?
******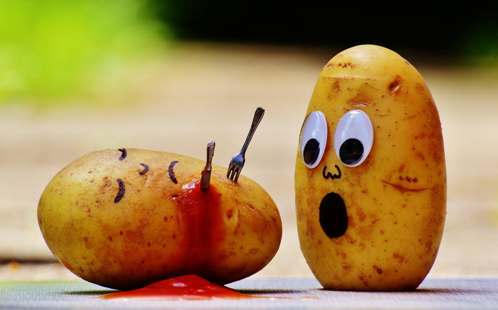 All too often I will buy a bag of potatoes and discover that one or two or sometimes three of them are rotted. That gets me plenty exercised, as the cursing and yelling during dinner prep will demonstrate. And I have had similar experiences with bagged onions. I wonder whether there are two sorting streams in some of these processing centers...one for loose produce that is more closely examined by the consumer, and one for bulk packing.

******
From artisanal ette's kitchen...
I was making a banana walnut chocolate chip bread this morning and thought about this. Not everyone knows this about baking, especially with thicker batter. The tip to push the batter/dough to the edges, leaving a bit less in the center for even baking.
I did not know this trick!
******
I like bourbon. I like bacon. I like smoked things. And for certain definitions of "pie," I like those things too.
But this may be a bit too much of a good thing.
Bourbon & Bacon Smoked Apple Pie
[Hat Tip: Curmudgeon]

******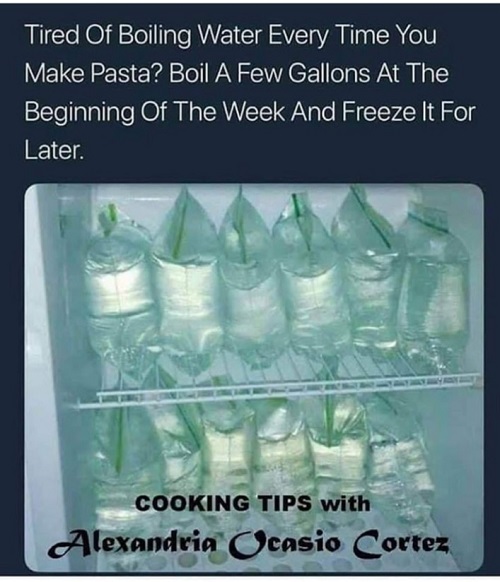 [Hat Tip: Misanthropic Humanitarian]
******
Food and cooking tips, triple-cream cheeses, young wild pigs, Venison Steak and Eggs (Swiped from Garrett), thick and fluffy pita, and good tomatoes that aren't square, pale pink and covered with Mestizo E.coli:
cbd dot aoshq at gmail dot com
. Any advocacy of French Toast with syrup will result in disciplinary action up to and including being
nuked from orbit.
&topic=world_news">

posted by CBD at
04:00 PM
|
Access Comments