« "All Things Considered" considers "lived experiences". But probably not yours
|
Main
|
Ace of Spades Pet Thread »
June 05, 2021
Saturday Gardening and Puttering Thread, June 5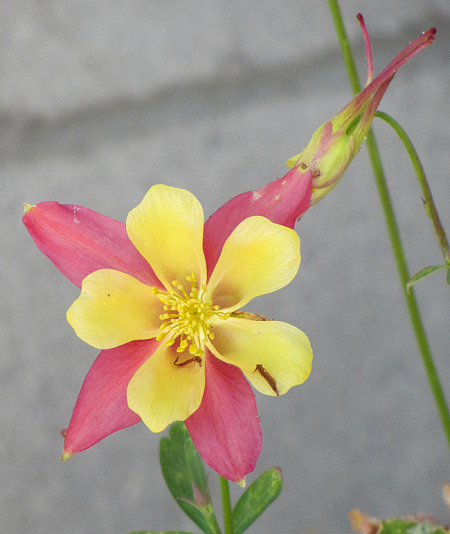 Hi, everybody! The lovely columbine above is from 40 Miles North. He has more flowers, too! We have some great plants from other members of The Horde. There are insects near the bottom of the thread if you are the squeamish type.

Here's a gladiolus. He wished he had planted more.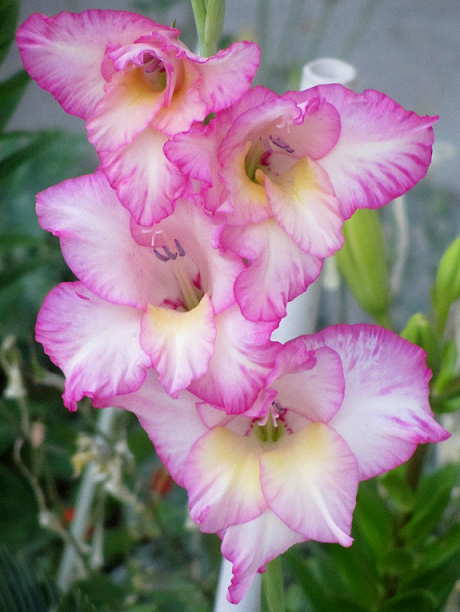 GARDENS PHOTOS FROM THE HORDE
It has been hotter here this week than in Phoenix. High pressure system. So I am kind of partial to flowers that remind me of cool weather or rain.
This is from our outdoor carnivorous plant specialist, Tony Litwin:
Hope all is well with you and just wanted to share this pic of a Rain Lily. Here in Central Florida, they are all over the place but you wouldn't know it because they only come out after the first 1 or 2 thunder storms, hence the name. In the wild, the leaves as well as the flowers last for a couple of days and then disappear. I got this one last year when they showed up and potted it up and I found that if given water regularly, the grass like leaves will stay all year, but the flowers only come after a heavy thunder storm. Must be something to do with the ozone in the air. Enmasse, they are a sight to see, but usually what you get is them popping up all over the lawn in ones and two's. It is a pretty little spring native flower. Tony
Love those details on native plants.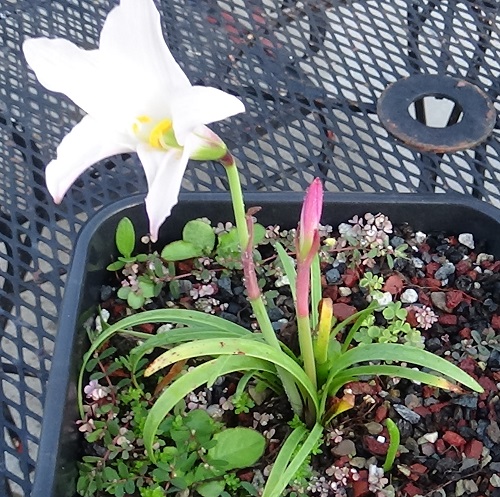 This one doesn't really look like "cool and wet", but it's from Torrey Pines State Park, which is a lot cooler than our part of California. It's from CBD.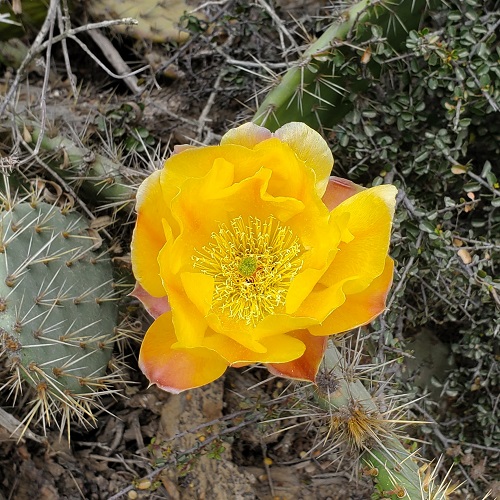 These native spring flowers look cooler. From PointyHairedBoss
Dutchman's Breeches arrive soon after the snow is gone, carpeting patches of the forest floor.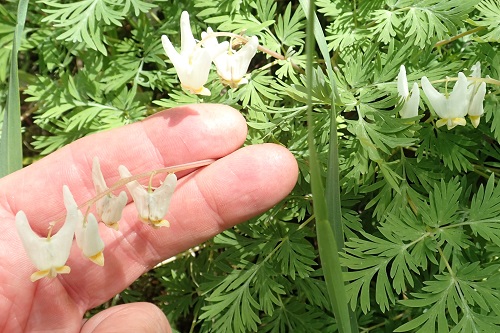 We have 2 kinds of wild dogwood trees, this one, I believe, is an Eastern Flowering Dogwood.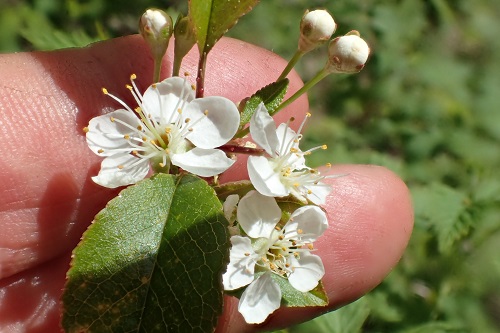 The Trillium is the provincial flower of Ontario. Most are white with a rare red one popping up here & there. Although pretty in the woods their appearance coincides with the arrival of the dreaded black fly. It's a little known fact that when a trillium bud opens, the flower releases a black fly that's been hiding inside. (OK, so that's not really true but it's what we tell the tourists). For those who have not had the pleasure of meeting the black fly, imagine a supersonic miniature wolverine the size of a grain of rice with razor teeth that, for some reason, is really angry with humans. Fortunately, black fly season ends when we get our first few days of hot weather, usually late May or early June.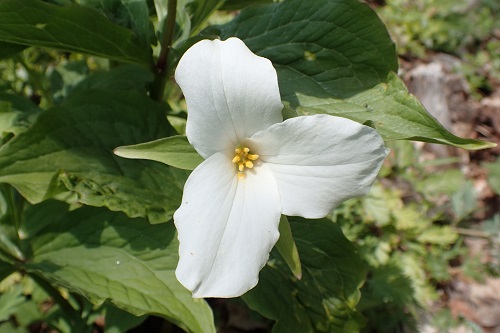 Fascinating.
EDIBLE GARDENING
Long time reader, first-time correspondent. Love the thread! BTW, my "nom de moron" is "Nemo".

Here in Kenosha, in SE Wisconsin, the temperate weather is prolonged by
the lake effect - Lake Michigan being less than half a mile from our
backyard. Things are slow to get started in the spring; but once they
get going, they'll keep going well into October. My tomato plants have
been limping along; but now that the warm weather is here, they'll grow
explosively.

I planted nine strawberry plants last summer, in an old flower bed by
the garage. They've flourished, as you can see from the attached photo.
With luck (and netting) I should have a good harvest of lovely berries
next month. What we don't eat immediately we'll make into jam: no
Christmas present is appreciated more than a jar of home-grown,
home-made strawberry jam!

Again, thanks!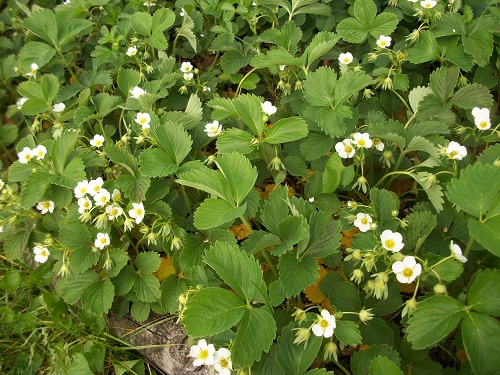 Mmmm. Strawberry jam!
INDOOR PLANTS
From Diogenes:
Indoor blooming. One day it wasn't there, the next day it was. Some kind of Lilly I think.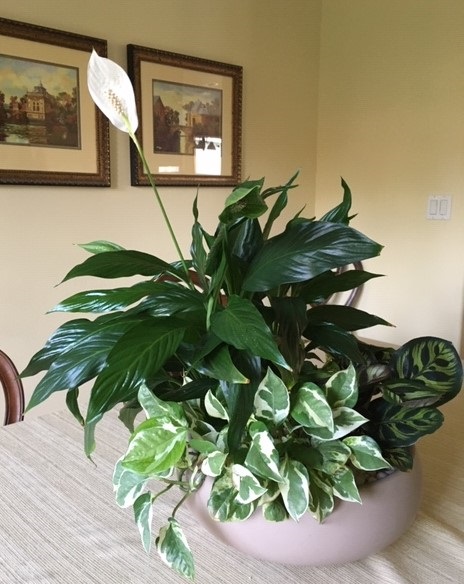 Care to identify that flower? And the other plants, which are also very nice?
From the popular press:
Keeping your houseplants alive while you're on vacation.
How do YOU care for houseplants while on vacation?
This photo is from the first of the month, so I hope these are outdoors by now:
Hello KT! Here's a picture of my sunflower seedlings. I have three varieties. I'll plant them just as soon as the are big enough and there's no danger of a freeze. I'm hoping for some 7-10 foot (or more) beauties later in the summer. Thanks for the gardening thread! Mrs. Leggy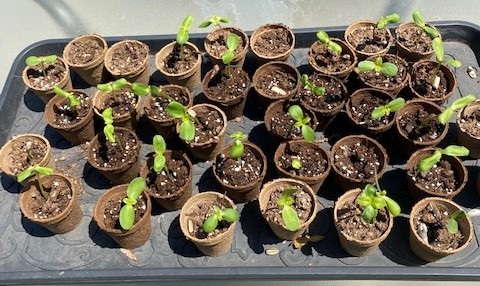 A LITTLE ACCIDENTAL GARDEN HUMOR
Hello KT,

I'm at the garden store and saw this monstrosity. Made me laugh, is this for real?

Thank you for all of the happy Saturday threads and the great garden inspiration.

Sassy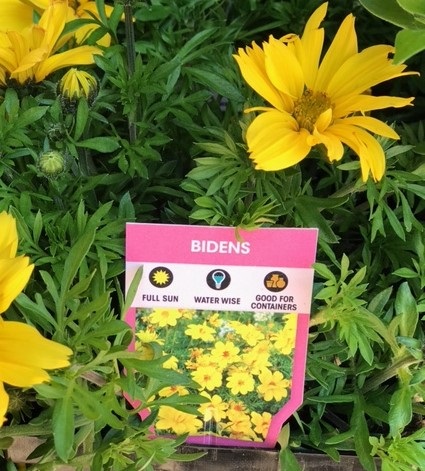 Yes, it's real. Useful in some limited settings. such as hanging baskets.
Bidens is the common name given to a group of about 200 flowering plants of various sizes and colors of both perennials and annuals.

These plants look something like coreopsis (kor-ee-OP-sis) and are, indeed, related to them.

These members of the Asteraceae (ass-ter-AY-see-eye) family grow naturally throughout the southern United States and as far south as Guatemala.

The most common of these plants is Bidens aurea (BY-denz AW-re-uh), also known as Arizona Beggars Tick.

Other common names for the various types of Bidens include Tick Seed and Beggars Tick.

This family of plants earned these names thanks to their clinging seeds, which look something like ticks and stick to clothing and fur to spread easily.

. . . with its sticky seeds and rambling roots, it could surely take over your garden space quickly and then roam into the neighbor's yard unless you keep it under control.
Not edible.
Here is a coreopsis from 40 Miles North for comparison: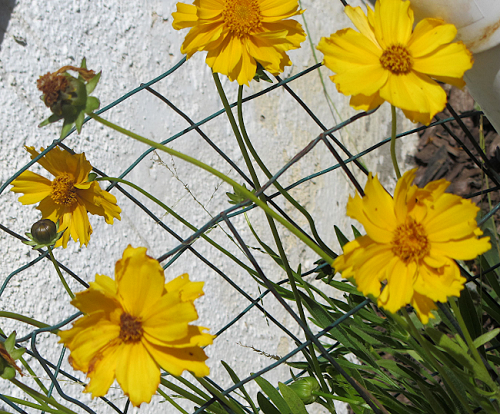 SHRIMP THAT FLY
Cicadas have been in the news here at AoSHQ. Last month, Misanthropic Humanitarian did not seem too enthusiastic about this article suggesting cooking cicadas as the way to deal with this year's invasion. And yesterday OregonMuse was STILL not on board with eating cicadas. Or mealworms. Even with tempting recipes available.
They have received a little back-up from the FDA in the form of a warning to The Woke:
This doesn't mean that you can't help inform your Woke friends and relatives about how much work it is to eat cicadas:
The Smithsonian has Cooking tips:
You may not need to remove legs and wings if you grab them as soon as they emerge from the ground. Easier prep! And they don't look quite as inedible as the adult above when they first emerge.
1) First off, don't pick up or eat dead cicadas. Gathering live ones shouldn't be very hard, especially if you pick them up "early in the morning when the dew is still on the ground and the cicadas are still drowsy," says one expert. The easiest way to kill them is by placing them in the freezer.
2) Gather twice as many as you and your family think you can eat. Van Smith, who wrote about his experiments eating cicadas for Baltimore City Paper, explains why: "Females are preferable for their protein-filled abdomens, while males offer little substance. When hunting them, though, I found it nearly impossible to tell the difference-until cooking, when the males' bodies shrivel up. Marinating live bugs in Worcestershire sauce also helps weed out guys (the vinegar in the sauce slow-cooks them, so they start to collapse) while tenderizing the ladies."
We're off to a great, sexist start! Journalists are reporting their experiences. Anybody out there among The Horde tried these yet for any reason? Helped a progressive friend or relative with a real-life foraging and cooking experience?
Cicadas don't sound like a real reliable food source for preppers, what with that 17 year cycle and all. And we don't have any Cicadas out here in California but we do have June Bugs, which I guess are also related to seafood. Here's a recipe for Sauteed June Bugs. I am not including a photo, on purpose.
Big, noisy, and attracted to light at night, these guys congregate on our porch screens by the dozens. It's a snack that comes straight to you! A quick saute in olive oil with a sprinkling of salt and chili powder, and they are ready to eat. Once you get over the fact that you're eating a bug, you will notice that they have a nice, smooth, nutty flavor and a great crunch.
If you try this recipe, let me know what you drink with this snack.
There are some gardening concerns with the periodic cicadas, however.
Here's a video on Protecting young trees from cicadas.
OTHER INSECTS YOU MAYBE SHOULDN'T EAT
There is a huge diversity of bees and wasps out there--all fall under the scientific order of Hymenoptera, which also includes ants and the less familiar sawflies. Bees are technically one subgroup of the diversity of wasps (in a square/rectangle sort of way). . .

Among the bees and wasps that can sting, venom is a unifier. "They all have venom, but the compositions are wildly different," says Emily Sadler, an entomologist at Utah State University who studies stingers. When a bee or wasp stings, it's not just the physical poke causing the pain. In fact, in a 2018 study, Sadler found no relationship between an insect's stinger size and the pain associated with the sting. She also found an inverse relationship between stinger length and venom toxicity--the shorter the stinger, the more toxic the venom. . .

Honey bees, yellow jackets, and paper wasps are the most common bee and wasp sting offenders in the US by far, says Schmidt. "The reason that they're so effective at stinging is because they have a nest, and a nest can't run," he adds.
Parasitic wasps like Cicada Killers look like "yellow jackets on steroids," but are unlikely to sting humans. Illiniwek's honeybee is another matter:
Stinging Hymenoptera make and store their venom in glands in their abdomens. If you've ever been stung by a honey bee, you may have seen this venom sac left behind with the stinger, like a little flag on a pole. When a honey bee loses its stinger, the venom sac stays attached for up to 10 minutes, continuing to pump more venom into a sting site until it dries up. . .

In addition, an abandoned honey bee stinger gives off a scent that can help direct other bees to the same vulnerable spot. Schmidt describes the smell as "a cross between fingernail polish and a ripe banana."
Some stingless bees and wasps can bite - hard. Think giant "ants".
I wonder if there are more Cicada Killers out this year than normal?
Some dogs and cats may catch cicada killers but usually only once. . . .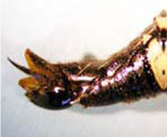 Female cicada killers dig extensive tunnels where their young will be raised, displacing several pounds of soil in the process. Occasionally, it can result in some damage, such destabilizing a brick patio laid on sand. This is an instance when control may be needed. Cicada killers may dig in the loose soil in vegetable gardens or flower beds. A burrow at the base of a plant may disrupt its root system. If only a few plants are affected, drenching the area around their bases with water is probably the best approach. The wasps do not like wet soil so they may abandon the site. Watering the plants thoroughly will settle soil back around the roots giving them a chance to survive. Do not drench soil around plants with an insecticide mix because it may damage the roots and/or result in a residue in the plant.

Cicada killers may begin to dig in sandy areas on playgrounds or in golf course sand traps. If practical, keep these areas wet or regularly churn the sand to discourage wasps from establishing their tunnels.
Have you ever seen one of these? Or evidence of their presence in your garden?
PUTTERING
They say that cicadas make good fish bait . . . .
Thought about tools or gadgets for Father's Day? Would a putterer you know like an outdoor misting fan, for example?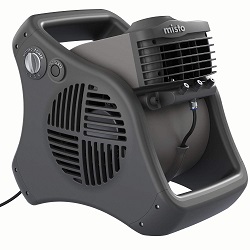 If you would like to send information and/or photos for the Saturday Gardening Thread, the address is:
ktinthegarden
at that g mail dot com place
Include the nic by which you wish to be known when you comment at AoSHQ,
unless you want to remain a lurker.


posted by K.T. at
01:14 PM
|
Access Comments