« Saturday Morning Coffee Break
|
Main
|
Saturday Gardening and Puttering Thread, June 5 »
June 05, 2021
"All Things Considered" considers "lived experiences". But probably not yours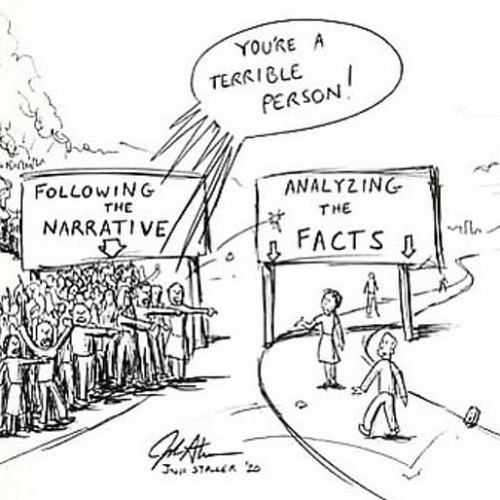 Once again, I have sacrificed multiple minutes listening to NPR so you don't have to. This time, it was while driving home through the country, where electrical lines sometimes interfere with radio reception of other stations. I also caught bits of Mark Levin talking about the Fauci emails and Larry Elder on Second Amendment issues.
NPR's "All Things Considered" from Thursday sounded like its typical self, but there have been some subtle changes. It certainly was a contrast to Mark Levin and Larry Elder. NPR sounds so, I don't know, calmly and condescendingly magisterial or something. In a way friendly to their supporters, they hope. I have a hard time describing their sound precisely. But you know it. Below, some details on three pieces from the NPR program:
***
We Hold These Truths: How Newsroom Leaders Wrestled With Covering A Tumultuous Year
This was sort of a panel discussion (light on the 'discussion'), with commentary on things like how social media pressured newsrooms, for example, to say that "police murdered George Floyd" rather than "George Floyd died".
But I kind of homed in on an academic phrase that bothers me. Sara Just from PBS:
Yeah, I think that you're absolutely right. There's been a deeper understanding and deeper conversation about how much our lived experiences play into the reporting that we do. And there's no question that it does for each and every one of us in different ways. And I think that lived experience we especially highlight now is valuable, whether it's race or gender or the challenges. I don't think people with those lived experiences have to carry the burden, though, of being the only ones to report on it by any means. And so that's something that we are always balancing. (emphases mine)
So, are they balancing whether or not people without "lived experiences" can report on issues involving "lived experiences"? Like Lori Lightfoot deciding she would only do one-on-one interviews with journalists of color? Will white people be allowed to report on stories involving black people? Will men be allowed to report on stories involving women?
This is partly about local sources, but it is largely about people thought of as being in "oppressed groups". This panel is informing us that news reporting will now be filtered through the language and perspective of Critical Social Justice, whether we realize it or not.
The indispensable Translations from the Wokish at New Discourses provides the following information on Lived Experience:
In the Theory of Critical Social Justice, for what turn out to be surprisingly deep and philosophically (almost) sophisticated reasons, lived experience is the overwhelmingly primary way in which knowledge can be obtained. This should not be mistaken to mean one's firsthand experience, which most of us already recognize to provide a rather weak claim upon knowledge, though it is both implied and claimed that this is what "lived experience" refers to in Critical Social Justice. Lived experience, as Critical Social Justice uses the term, refers more specifically to one's life experiences in allegedly systemic power dynamics of dominance and oppression that shape society structurally as understood with a critical consciousness and interpreted through Theory. That is, one's "lived experience" refers to the interpretation that Critical Social Justice Theory gives for the anecdotal accounts of experiences one has had.

Because "lived experience" refers to an interpretation through Theory, it is only the "lived experience of oppression," as Theory will have it, that counts. . .
It appears that you can't really understand the reporting on PBS, and probably NPR, now unless you have studied Critical Social Justice.
Certainly, the claimed "lived experience" of members of dominant groups cannot be in any way used to challenge or dispute the assertions of Theory or those claiming to speak from it . . .

This restriction extends to members of "minoritized" groups who disagree with Theory as well--Theory cannot be authentically disagreed with. One might think that the lived experience of a member of oppressed groups would be admissible as a valid challenge to the claims of Theory, but this not so. They may be talking about their own experiences in life, but they aren't appealing to lived experience, which must comport with Theory. . .
This is all very confusing and appears to be exactly what it is--a form of manipulating knowledge and epistemology as a means of asserting power and rigging the system such that those assertions of power cannot be challenged. Nevertheless, it isn't merely an application of power and has a rather interesting and deep philosophical explanation that must be understood to understand why "lived experience" holds the status that it does and why it must comport with Theory to be granted veridical status and epistemic weight. This has everything to do with the fact that the roots of Critical Social Justice are in critical theories and, especially, postmodern philosophy.
There is much more, but it is way too deep to include here.
The NPR panel goes on to discuss new understandings of "balance" and "objectivity". They do not intend to be objective. "Balance" will mean something different than what it has meant in the past in the news business.
***
Ben Rhodes' New Book
I bet you can hardly wait to read Ben Rhodes' new book, After the Fall: Being American in the World We've Made.
He described his book as demonstrating to people the importance of letting go of the idea that it is inevitable that things are going to get better. Something he thought when he and his interviewer "were kids" and he was working for Obama.
Maybe you remember this video:
Poor kid. His vision of perpetual improvement in America and The World through the governance of Team Hillary was suddenly destroyed.
Well, he went on a world tour after that, for his book. Be prepared, because he has a heavy book promo schedule. This is from the overview:
In 2017, as Ben Rhodes was helping Barack Obama begin his next chapter, the legacy they had worked to build for eight years was being taken apart. To understand what was happening in America, Rhodes decided to look outward. Over the next three years, he traveled to dozens of countries, meeting with politicians, activists, and dissidents confronting the same nationalism and authoritarianism that was tearing America apart. Along the way, a Russian opposition leader he spoke with was poisoned, the Hong Kong protesters he came to know saw their movement snuffed out, and America itself reached the precipice of losing democracy before giving itself a second chance.
Oh, my. I want Ben Rhodes to identify exactly what steps the Biden/Harris Administration is taking to decentralize governance and reduce the power of the Federal Government in the lives of people. So we don't "lose democracy" during our "second chance".
Part memoir and part reportage, After the Fall is a hugely ambitious and essential work of discovery. In his travels, Rhodes comes to realize how much America's fingerprints are on a world we helped to shape, through our post-Cold War embrace of unbridled capitalism and our post-9/11 nationalism and militarism; our mania for technology and social media; and the racism that fueled the backlash to America's first Black president. At the same time, Rhodes learns from the stories of a diverse set of characters--from Barack Obama himself to Cuban rebels to a rising generation of international leaders -- that looking squarely at where America has gone wrong makes clear how essential it is to fight for what America is supposed to be, for our own country and the entire world.
He is a leader among a rising generation of international leaders! Bringing America Together to fulfill her destiny!
In the NPR interview, Rhodes declares that democracy is on the wane in many other countries, such as Hong Kong and Hungary. He didn't go into details about Hong Kong, but implied that Trump is sort of like Hungary's Orban. So, I want to read or hear what he intends to do about China's oppression of Hong Kong.
RHODES: Well, you know, it's interesting. The starting point for this book is I talked to one of these Hungarian oppositionists, an anti-corruption activist, and I said, how did your country become, you know, a dictatorship in basically a decade after being a democracy? And he said, well, it's simple. Viktor Orban got elected on right-wing populism as a backlash to the financial crisis. He packed the courts with right-wing judges. He changed the voting laws to make it easier for his supporters to vote and harder for others. He kind of enriched some cronies who then bought up the media, financed Orban's politics and created kind of a right-wing propaganda machine. And he wrapped it up in a nationalist message, a blood-and-soil nationalist message. We are the true Hungarians. It's us versus them. The them can be immigrants. They can be Muslims. They're George Soros.

He's talking, and I'm thinking, well, he could be describing my lived experience of American politics and the Republican Party over the last decade.
His lived experience. So, Ben Rhodes, an apparently cis-gender white man, counts as a member of an oppressed group because the all-powerful, dictatorial Republican Party has been oppressing him? The Republican Party is the dominant political and cultural power in America? Rhodes has bona fide "lived experience" of oppression just like, say, a member of the Transgender Community? Is this in line with Theory?
I kind of missed where the Republican Party enriched its cronies so they would buy up the media. Is he referring to staunch Republican Jeff Bezos buying the Washington Post? Who owns the New York Times now? Is it now part of the right-wing propaganda machine? What about CBS, where his brother was the president while Rhodes was working for Obama? Did the Republicans buy his brother, too?
Where, exactly, is the overwhelming Republican control of Social Media? On Twitter? Facebook?
Quite a list of dictatorial moves Rhodes has there. BTW, hasn't George Soros been involved in funding some propaganda outlets in the USA?
And the more I explored this and pulled the thread of what happened in Hungary, I came to that realization, Ari, that most of human history is a story of nationalism and nationalism that leads to conflict. It's really only the recent decades, the post-World War II era, where people started to take for granted that somehow we'd put that behind us.
And left the real slaughter to folks like Mao?
Dennis Prager on good vs. bad nationalism and related subjects, or Clarity about Nationalism:
The creation of nations was a major moral achievement. It got people to identify with something beyond their families and tribes, which always involved violent feuds and warfare. . .

And the lack of a unifying national identity is one of the two main reasons (the other being corruption) that much of Africa lags behind other regions. If Hutus and Tutsis would have identified first as Rwandans, one of the worst genocides in the contemporary world -- the Hutu slaughter of nearly 1 million Tutsis in a little over three months in 1994 -- would likely never have happened. It was murder at a greater pace than the Nazi genocide of the Jews in the Holocaust -- and without any modern machines of death. It was done one-on-one almost entirely using machetes.
Today, nationalism in Europe is increasing primarily because of the belief among many Europeans that the European Union is overbearing and because many Europeans do not believe that a "European" identity can offer anywhere near the comfort, emotional sustenance and communal ties a national identity offers. . .

The great teaching of the Bible is "Love your neighbor as yourself." It does not say "Love all of humanity as yourself." Love must begin with our neighbor. It should never end with our neighbor, but it must begin with him.
Rhodes must realize that "his side" is promoting conflict between neighbors in America with different race, gender or other identities. He uses phrases like "lived experience". Speaking of "us versus them", I bet Rhodes knows what "intersectionality" is.
Aren't all these "communities" promoted by the left intended to engender an "us versus them" approach? What, exactly, is "The Asian Community"? A High school program sponsored by several NY colleges does not allow white students to apply. Their discrimination against Jews and some segments of the "Asian Community" will likely be more subtle.
***
On the subject of talking with foreigners, Kamala Harris is going to visit Central America.
Is she the busiest woman in Washington?
I thought this interview was a little bit creepy. They talked about issues like immigration policy involving discussions with foreign leaders as if the most important thing about these national issues was how women and minorities felt about what Harris was doing, and how her actions might affect her political future and the political futures of other Black women. Errin Haines, editor-at-large at The 19th:
Well, you know what it says, based on the folks that I talked to, is that it really is an acknowledgement of the leadership of Vice President Harris, who said when she took this job that she really wanted to bring her lived experience to this role. And so I think that you are seeing her showing up in areas that - where she is able to bring her experience as a woman, as a Black person in this country, person of color in this country, an immigrant in this country, somebody who holds a lot of different identities into the roles that she's being tasked with and also roles that she has raised her hand and said that she wants to take on.
There we go with "lived experience" again. Because all women, Black people, people of color, and immigrants to this country (or Canada) have similar "lived experiences" and will relate to Harris on that basis.
Of the 17 stories listed for this episode of "All Things Considered" (I didn't hear all of them), as least nine seem to include one or more angles based in identity politics - race, gender, etc. More than half the stories.
***
Music
***
This is the Thread before the Gardening Thread.
Serving your mid-day open thread needs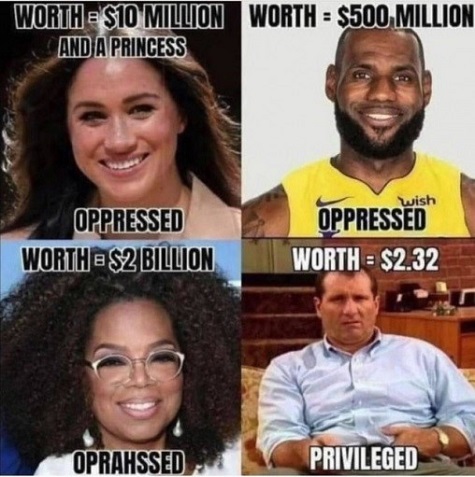 posted by K.T. at
11:16 AM
|
Access Comments