« Chess Thread 02-23-2019
|
Main
|
Saturday Overnight Open Thread (2/23/19) »
February 23, 2019
An Occasional Fishing Thread [Bandersnatch]
Hello happy Piscators and Piscatrettes, this is the Next Occasional Fishing thread. All things fishy are on topic. I, your humble narrator, am merely suggesting some jumping off points.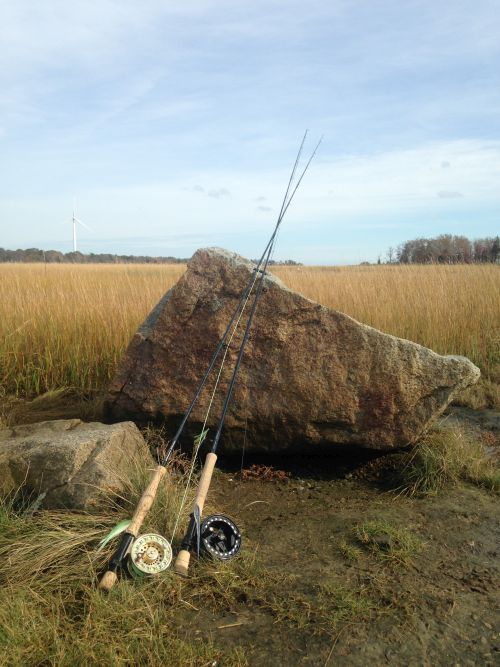 Is there anything as full of promise as the start of a fishing trip? Maybe the weather's not what you planned on or you got up too late for the tide you wanted, but you're going fishing. Anything can happen. At the end of the day there will be brag stories, or excuses, or lies. Fishermen are proficient at all three.
I use "fishermen" in the all-encompassing fisherfolk sense. When searching for a good fly fishing video, below, I found that Orvis has a commitment to gender parity in fly fishing, which includes a harangue against men. Goodness gracious, I did not think it would visit itself upon fishing, but here we are. (Naturally, that's not the video I chose. I'd sooner give you Yoko on an Ottoman).
The other thing about the start of a fishing trip is that you're going fishing. You're going to be someplace wild, or wildish, and you're not going to be getting nagged by work or a significant smother or telemarketers or liberals.
Now, for most of us fishing is mostly seasonal and I expect the actual fishing content to increase when we start fishing for real. Like, come to the thread and tell us about your fishing trip. Even in the Northeast there is year-round fishing. Streams still hold trout and while most striped bass are migratory some mostly young fish "winter over" in estuaries. I've caught them in every month but by March they're pretty sorry looking and we tend to take pity on them and wait for fresh fish, fish with sea lice, which is a sign of recent migration.
Some places have an Opening Day: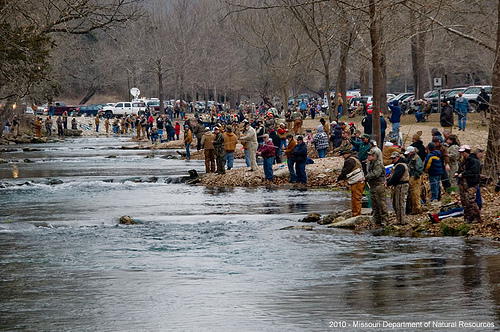 Now, that doesn't look like my idea of fun, but one of the things I'm trying to not do here is to be a Fish Snob. I am actually a Fish Snob, but I'm trying to be inclusive. I may snob in the comments. Anyway, there are obviously people who love opening day, because look how many of them are there.
Other places either don't have a closed season or keep certain rivers open year-round for catch and release fishing or whatever local management has decided.
We will wrap things up with a brief introduction to fly fishing. You may wonder how fly fishing is different from other forms of fishing. I wondered quite a bit as a youth. I had books and magazines that demonstrated how to wave a rod back and forth, I had sent away to a catalog for a Royal Coachman fly (because they looked so cool), but no matter how much I waved the rod I couldn't get a fly to go six feet. Because flies for freshwater are tiny and weightless and look like this: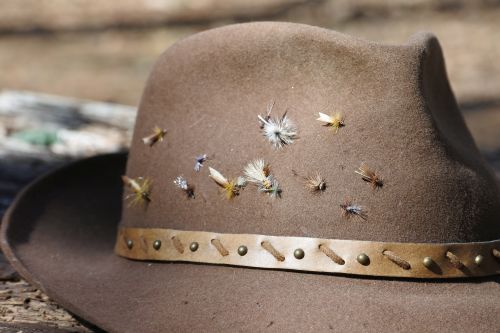 Well, with spin casting or bait casting or surf casting gear you are taking a weighted lure and using the rod to fling it as far as you can. It's a straightforward concept and from there you just try to get the line to come off the reel as efficiently as possible so that you're throwing the lure.
The fly is functionally weightless. Randy Johnson couldn't throw one ten feet. So in fly fishing it's the line that does the work. It's heavy, sort of like a garden hose, and you snake the hose back and forth to get it moving toward your target. At the end of the heavy line is a stretch of light leader (like regular mono fishing line) and at the end of that is a fly. This is how you get a weightless thing out to the seam in a current where a trout is going to think that some fur and feather is a tasty bug.
Fly casting is also rhythmic, meditative, and an all around great way to pass time, whether or not you're catching fish.
Angling may be said to be so like the mathematics that it can never be fully learned.

--Izaak Walton

posted by CBD at
07:55 PM
|
Access Comments