« Ace of Spades Pet Thread
|
Main
|
An Occasional Fishing Thread [Bandersnatch] »
February 23, 2019
Chess Thread 02-23-2019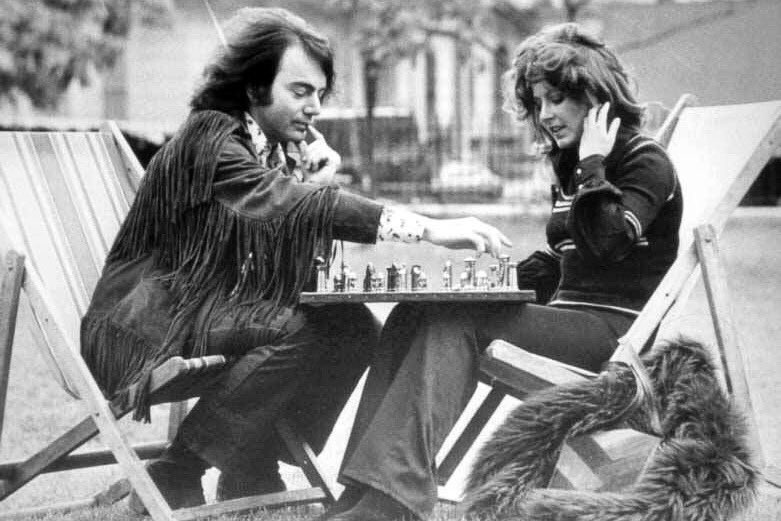 Neil Plays Chess In the Park, 1972

Pic Note
25th May 1972, Neil Diamond, born 1941, American singer and songwriter playing chess in Kensington Gardens, before a European tour. Lady is Joy Anderson, 25, of Kensington,a member of his fan club. The chess set was presented to Diamond by his British fan club.
From what I can see, the pieces appear to be a metallic version of the Peter Ganine Gothic design. I don't think the Ganine sets and boards are still being manufactured, but they're quite common on ebay. Also, it's the only set I would ever consider owning other than the standard Staunton pieces. I don't know, something about them, they just look sort of badass.
As always, the chess/dress pr0n thread is an open thread, so there is no such thing as an off-topic comment.

Easier Problem - White To Play (911)
Yes, this is obviously a won position for White. So the question is, in how few moves can the mate be forced, and what moves are they?
Goal: White can force mate in 2 movies
Hint: White's first move is not a check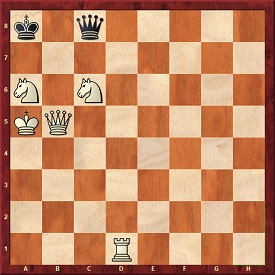 k1q5/8/N1N5/KQ6/8/8/8/3R4 w - - 0 1


Bleg
Lurker 'Spade' has a request:
In the 1970s when my dad got his PhD my grandparents gave him a chess table as a gift. The squares are inlaid different colors of wood, with his initials on the side. As he's getting up in age and my parents are in that mood, he gifted it to me (I play chess, and we have the same initials) and it now resides in my library. Only issue with the table is that after decades of use and moving a couple have popped up and one cracked. May have to get it repaired. Oh, and there's nowhere to actually put captured pieces. But that's not the main issue overall.

My major issue is that the squares are 3.5 x 3.5 inches. My grandmother made large ceramic chess pieces for my dad but those have long since broken. As a kid we mostly used regular small chess pieces, which look silly. So now I need pieces of an appropriate size that also look good. What I really want is a set of the Lewis Chessmen, but I'm afraid all available ones might be too small. I found some sets that seemed to be the appropriate size (like, 6" tall kings here), but I kinda don't want to spent like $500 on pieces.

So if maybe you could post up a question about this in the post somebody might have an idea of what I should get that will look good, is playable, and isn't going to eat too much into my gun budget.
I couldn't find any 'Isle of Lewis' type chess pieces of that size, they're all for smaller boards, so I thought I'd throw this request out the Horde and see if anything can be turned up.

More Challenging Problem - Black To Play (916)
Goal: Not a quick mate, but Black can get an overwhelming positional advantage
Hint: A rook sac at the appropriate time is key

2b2r1k/7p/8/4b3/p1PBB1qP/P2Q2P1/2R3K1/8 b - - 0 1





Dress Pr0n For The 'Ettes: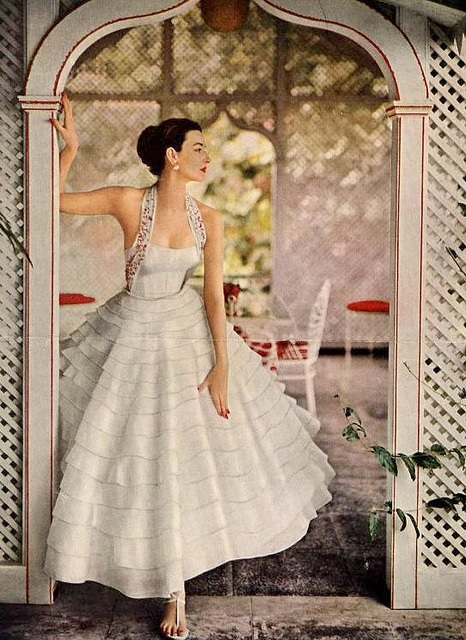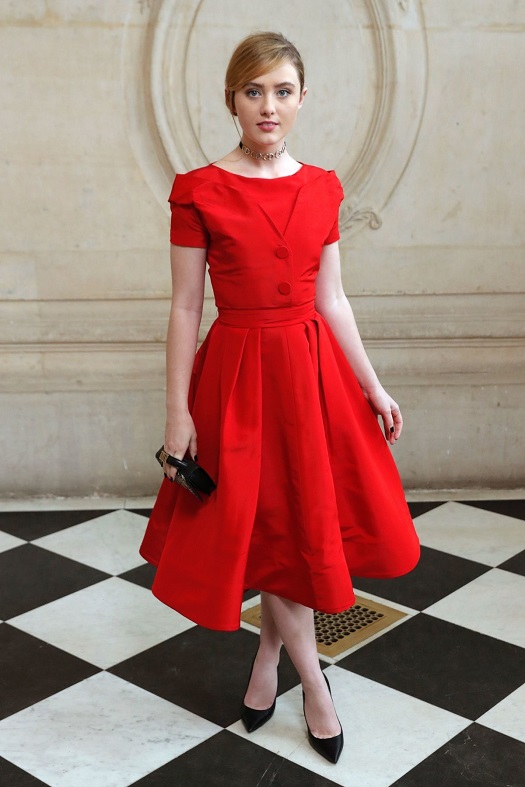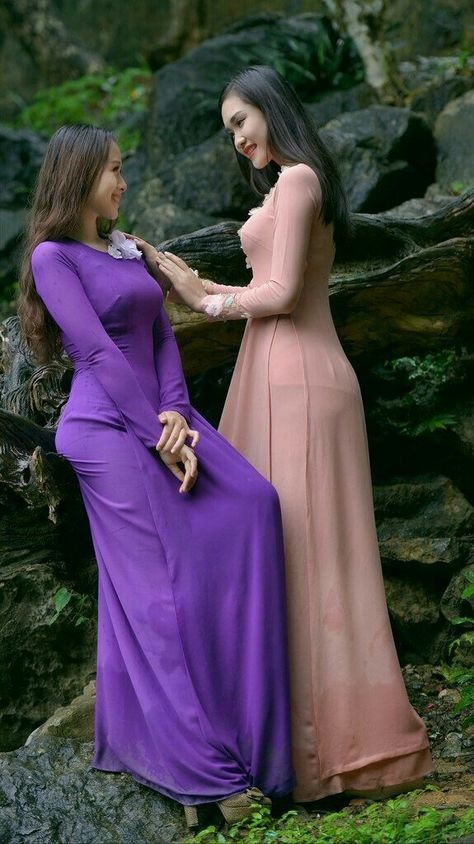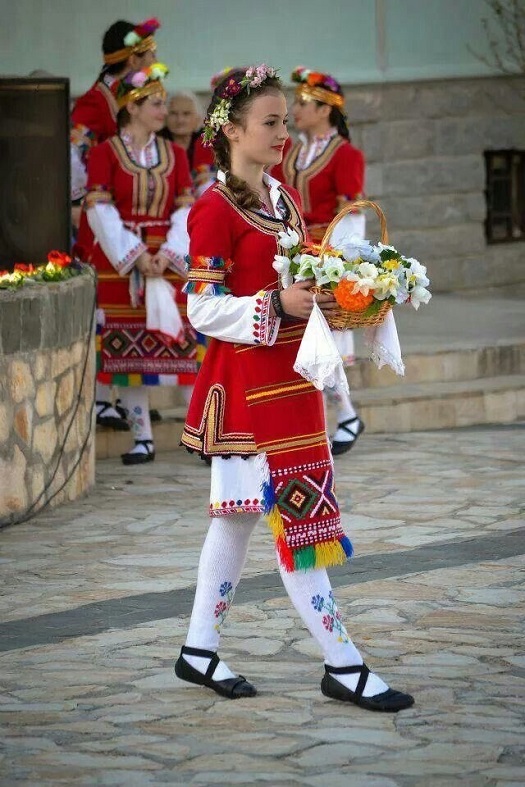 Greetings From Bulgaria
___________
Solutions Update
Easier Problem - White To Play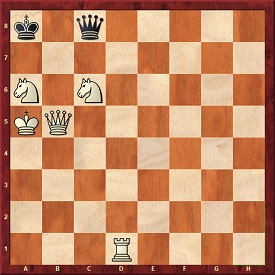 k1q5/8/N1N5/KQ6/8/8/8/3R4 w - - 0 1


White can force a mate in 2 with:
1.Rd7!
So now the Black king can't move and the Black queen needs to keep an eye on b8 to keep White from playing Qb8#. That leaves Black with limited options, each one resulting in a quick mate by White.
A: 1...Qc7+ 2.Nxc7#
B: 1...Qxa6+ 2.Qxa6#
C: 1...Qxc6 2.Qb8#
D: 1...Qxd7 2.Qb8#
E: 1...Qd8# 2.Rxd8#

More Challenging Problem - Black To Play

2b2r1k/7p/8/4b3/p1PBB1qP/P2Q2P1/2R3K1/8 b - - 0 1


1...Qh3+
I'm sure you all saw this move.
2.Kg1 Rf1+!
And not 2... Bxd4+ which allows White time to counterpunch: 3.Qxd4+ Kg8 4.Qd5+ Kh8 5.Qe5+ Kg8 6.Qg5+ Kh8 etc. and White could probably go for the perpetual check here.
3.Qxf1 Bxd4+
4.Rf2 Qxg3+
5.Bg2
5.Qg2 also works: 5...Bxf2+ 6.Kf1 (6. Kh1 Qxh4+ 7. Qh2 Qxe4+ 8. Qg2 Qh4+ 9. Qh2 Bb7#) 6...Bh3 7.Qxh3 Qxh3+ 8.Kxf2 Qxa3 etc.
5...Bb7
6.h5 Bxg2
7.Qxg2 Bxf2+
8.Kf1 Qxg2+
9.Kxg2 Bc5
10.Kf3 Bxa3
11.Ke4 Bb4 and wins
Hope to see you all next week!

___________
Note: that cryptic line of letters and numbers you see underneath each board diagram is a representation of the position in what is known as "Forsyth-Edwards Notation", or F.E.N. It's actually readable by humans. Most computer applications nowadays can read FEN, so those of you who may want to study the position, you can copy the line of FEN and paste into your chess app and it should automatically recreate the position on its display board. Or, Windows users can just "triple click" on it and the entire line will be highlighted so you can copy and paste it into your chess app.
___________
So that about wraps it up for this week. Chess thread tips, suggestions, bribes, rumors, threats, and insults may be sent to my yahoo address: OregonMuse little-a-in-a-circle yahoo dott com.


posted by OregonMuse at
05:21 PM
|
Access Comments