« Early Morning Thread 3/07/15: Nyquil Edition. [krakatoa]
|
Main
|
Fundamental Concepts - Weakness Invites Aggression [Weirddave] »
March 07, 2015
Saturday Morning Politics Thread: Medicaid Expansion [Y-not]
Good morning, horde! Today we'll examine the field of prospective 2016 GOP candidates for their positions on Medicaid expansion, in particular as it relates to Obamacare.
First, a little background:
Title XIX of the Social Security Act is a federal and state entitlement program that pays for medical assistance for certain individuals and families with low incomes and resources. This program, known as Medicaid, became law in 1965 as a cooperative venture jointly funded by the federal and state governments (including the District of Columbia and the territories) to assist states in furnishing medical assistance to eligible needy persons. Medicaid is the largest source of funding for medical and health-related services for America's poorest people.

Within broad national guidelines established by federal statutes, regulations, and policies, each state establishes its own eligibility standards; determines the type, amount, duration, and scope of services; sets the rate of payment for services; and administers its own program. Medicaid policies for eligibility, services, and payment are complex and vary considerably, even among states of similar size or geographic proximity. Thus, a person who is eligible for Medicaid in one state may not be eligible in another state, and the services provided by one state may differ considerably in amount, duration, or scope from services provided in a similar or neighboring state. In addition, state legislatures may change Medicaid eligibility, services, and/or reimbursement at any time.
Follow the link to read about the alphabet soup of subsequent programs, including CHIP, CHIPRA, PPACA, and HCERA under which Medicaid has expanded over the years. Then go down a fifth of ValuRite and wander back.
Under Obamacare, states have been induced to expand Medicaid coverage. From the ACA website:

The Affordable Care Act provides states with additional federal funding to expand their Medicaid programs to cover adults under 65 with income up to 133% of the federal poverty level. (Because of the way this is calculated, it's effectively 138% of the federal poverty level.) Children (18 and under) are eligible up to that income level or higher in all states.

This means that in states that have expanded Medicaid, free or low-cost health coverage is available to people with incomes below a certain level regardless of disability, family status, financial resources, and other factors that are usually taken into account in Medicaid eligibility decisions.
These policies are expensive. From the CBO:
Federal spending would increase to 26 percent of GDP by 2039 under the assumptions of the extended baseline, CBO projects, compared with 21 percent in 2013 and an average of 20.5 percent over the past 40 years. That increase reflects the following projected paths for various types of federal spending if current laws remained generally unchanged (see the figure below):

Federal spending for Social Security and the government's major health care programs -- Medicare, Medicaid, the Children's Health Insurance Program, and subsidies for health insurance purchased through the exchanges created under the Affordable Care Act -- would rise sharply, to a total of 14 percent of GDP by 2039, twice the 7 percent average seen over the past 40 years. That boost in spending is expected to occur because of the aging of the population, growth in per capita spending on health care, and an expansion of federal health care programs.
Follow the link to read more. Then, down another fifth of ValuRite, blow chow behind the dumpster, and stagger back.
The National Council of State Legislatures provides a good summary of how Medicaid expansion impacts states:
Provisions of the Patient Protection and Affordable Care Act (PPACA) expanded Medicaid to all Americans under age 65 whose family income is at or below 133 percent of federal poverty guidelines ($14,484 for an individual and $29,726 for a family of four in 2011) by Jan. 1, 2014. As passed by Congress, states failing to participate in this expansion would risk losing their entire federal Medicaid allotment.

The Medicaid expansion provision of the law led to challenges that rose to the Supreme Court where, on June 28, 2012, the court ruled that Congress may not make a state's entire existing Medicaid funds contingent upon the state's compliance with the PPACA Medicaid expansion. In practice, this ruling makes the Medicaid expansion a voluntary action by states.

The Court's decision sparked many questions from state policymakers. In a series of letters, the Department of Health and Human Services (HHS) has begun to clarify its interpretation of the ruling. In the initial letter on July 10, HHS Secretary Kathleen Sebelius addressed the decision and the next steps. Furthermore, responding to a letter from the Republican Governors Association (RGA) requesting additional guidance from the Obama administration, Marilyn Tavenner, the acting administrator of the Centers for Medicare and Medicaid Services, clarified in a letter that no deadlines had been set for states to make a decision concerning the expansion of their Medicaid programs.

Given this new choice, states are weighing the costs and savings associated with expanding Medicaid to cover most people under the age of 65 with incomes at or below 133 percent of the federal poverty guidelines. Even with the federal government paying for a significant portion of the cost of coverage for the newly eligible -- 100 percent in 2014 through 2016, decreasing to 90 percent in 2020 and thereafter -- fiscal uncertainties remain.
You can follow this link for a current (as of February 12th) map showing where the states stand in terms of Medicaid expansion. I like their map, but it doesn't reproduce very well, so here's another based on the same data: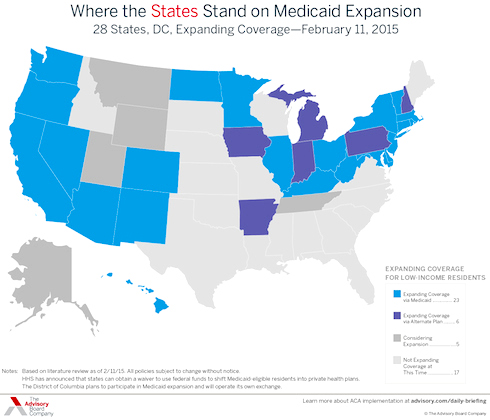 State of the States: Blue=expanding coverage with Medicaid; Purple: expanding coverage with an alternate plan; Dark grey=considering expansion; Light grey=not expanding coverage at this time. Wisconsin, Texas, Louisiana, and South Carolina are not expanding Medicaid. New Mexico is. And Indiana is planning to expand using its own plan (more about that later).
Because I'm a giver, I donned my HazMat suit (and grabbed my trusty spray bottle of vinegar) and went over to some Liberal sites to see what their arguments were in favor of Medicaid expansion.
Here's ThinkProgress "The One Argument For Medicaid Expansion That Even Republicans Have To Agree With" from last Fall:
As a growing number of conservative states expand their Medicaid programs under the requirements of the Affordable Care Act, a new analysis finds that the states still holding out on expansion will pay out $152 billion to provide insurance for low income Americans in other states with incomes up to 138 percent of the federal poverty line.

Taxpayers in five of the biggest non-expansion states -- Texas, Florida, North Carolina, Georgia and Virginia -- will have to fork over close to $88 billion through federal taxes to benefit others. Under the law, the federal government picks up the entire cost of expansion through 2016 and up to 90 percent thereafter. As a result, federal dollars will pay for more than 95 percent of the total cost of the Medicaid expansion over the next ten years (from 2015 to 2024).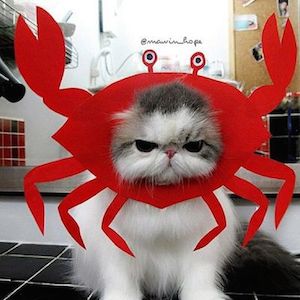 Your hostess after reading "Progressive" web sites. (Crabby.)
Here are some bullet points from A Toolkit for State Advocates developed by the Center on Budget and Policy Priorities:
* Rural America Will Benefit from Medicaid Expansion
* Expanding Medicaid Will Benefit Both Low-Income Women and Their Babies
* If Low-Income Adults Are To Gain Health Coverage, States Must Expand Medicaid
* Half of Uninsured Veterans Would Gain Health Coverage Through Medicaid
* Medicaid Will Improve Outcomes, Lower Costs for People with HIV
* Medicaid Expansion Could Cut Native Americans' Uninsurance Rate by Half
Each bullet point links with a "fact sheet" purporting to back their claims. There are many more, this was just a sampling.
Of course, there are many arguments being made against Medicaid expansion. Here's a brief round up:
One of the biggest myths pushed in statehouses across the country is that Obamacare's Medicaid expansion will be an engine of economic growth. The Obama administration promises that more than 350,000 jobs would be created nationwide in 2015 if all states opted into Obamacare expansion.

But the truth is that expanding Medicaid to able-bodied adults will discourage work, create massive new welfare cliffs and ultimately shrink the economy, not grow it. A new report by the Foundation for Government Accountability outlines how Obamacare expansion could affect the labor force.

Obamacare's perverse design discourages work by creating a massive new welfare cliff for able-bodied adults. In states that expand Medicaid under Obamacare, single adults moving above 138 percent FPL would face premiums, deductibles, copays, coinsurance and other out-of-pocket costs nearly $2,000 higher (on average) than those they were subject to under Medicaid.

The massive new welfare cliff created by Obamacare's Medicaid expansion is sure to discourage employment. Research shows that expanding Medicaid to this new population will discourage work, depress earnings, reduce labor-force participation and hurt the economy.
**UPDATE: I accidentally neglected to provide the link for this article in Forbes.**
(By the way, if you are on Twitter I recommend that you follow Josh Archambault @josharchambault for dogged coverage of Medicaid expansion.)
Here's a short excerpt from Heritage:
Medicaid is a problem for patients -- and it's also a major problem for states that are struggling financially. As Heritage's Nina Owcharenko explains:

Today, Medicaid consumes over 23 percent of state budgets, surpassing education as the largest state budget item. As Medicaid spending continues to rise, other important state priorities such as education, emergency services, transportation, and criminal justice are squeezed.

In fact, 40 out of the 50 states are projected to see higher costs -- not savings -- from expanding Medicaid.
Finally, in this piece that appeared in The Federalist last Fall, the author outlines the political ramifications to Republicans who back some form of Medicaid expansion. I'm afraid that Governors John Kasich (whom some seem to think is a 2016 prospect) and Mike Pence took it on the chin. Here's what he had to say about the Indiana governor's strategy:
His proposed Medicaid expansion would build on the current Healthy Indiana Plan, which funds health savings accounts for certain Medicaid enrollees, and create "HIP 2.0" -- essentially the same program but extended to the expansion population, with more benefits and larger taxpayer-funded HSA contributions for those who deposit a nominal amount of their own funds each month. Pence has touted his "consumer-driven" proposal as a conservative way to expand Medicaid in the belief that such a thing is possible. A close examination of his plan shows that it is not. In fact, a close examination of all the Republican expansion plans to date reveals that truly conservative Medicaid reforms are incompatible with Medicaid rules as promulgated by the Center for Medicare and Medicaid Services.
(Coincidentally, yesterday's AoSHQ Podcast included discussion of Medicaid expansion, so feel free to check that out if you want even more info about the subject.)
So, with that background, here's where our seven Republican primary prospects stand:
GOV. SCOTT WALKER, WISCONSIN
Although his state is experiencing budget challenges prompting the governor to defer $100 million in debt payments and Walker is under pressure from his state's Democrats to take $345 million in Federal funds for Medicaid expansion, Wisconsin is not expanding Medicaid at this time.
FMR. GOV. RICK PERRY, TEXAS
Governor Perry announced back in 2012 that his state would not expand Medicaid. Texas' new Governor is under pressure to expand Medicaid under a scheme called "The Texas Way."
GOV. BOBBY JINDAL, LOUISIANA
Bobby Jindal opposes Medicaid expansion. (More recently, Jindal has engaged in a lively debate with Ramesh Ponnuru over a "conservative alternative to Obamacare." It's a bit outside the scope of this post, but you might find it interesting.)
GOV. NIKKI HALEY, SOUTH CAROLINA
South Carolina is not expanding Medicaid. Here's a recent article from a former advisor to Haley who stands by that decision for South Carolina, but who says that Medicaid expansion might be the right answer in some states.
GOV. SUSANA MARTINEZ, NEW MEXICO
Governor Martinez, who has had a Democrat legislature for most of her term in office, announced in 2013 that New Mexico would expand Medicaid. Interestingly, CATO still gave her the second highest "fiscal responsibility" score out of the governors we're reviewing in depth.
GOV. MIKE PENCE, INDIANA
Governor Pence has been working for some time in coming up with a compromise with the Obama administration that would allow Indiana to implement its own Medicaid-style expansion. This Slate article from January provides an overview:
The Obama administration has been so eager to close this coverage gap among the neediest Americans that it has cut deals with several states -- notably Arkansas, Iowa, Michigan, and Pennsylvania -- to allow them to expand Medicaid in ways that differ from the traditional program. But the concessions it made to Pence and Indiana go far beyond what it has agreed to previously. The expansion will cover 350,000 people in Indiana, which previously had very stringent eligibility levels -- adults qualified only if they had young children and were virtually indigent, making less than a quarter of the poverty level. But under the plan, Hoosiers above the poverty level will have to pay a monthly premium of 2 percent of their income -- as much as $25 a month for a single childless adult -- for coverage. Those under the poverty level won't have to pay the premium to get basic coverage, but they won't qualify for dental and vision benefits unless they do pay the premium. The rule will effectively create a waiting period before people get coverage, as the state determines whether they're paying their premiums and what level of coverage they qualify for. And, in a first for Medicaid, Indiana will lock out people earning above the poverty level from their coverage for six months if they fail to pay their monthly premiums.

Hoosiers on Medicaid will also need to make copayments -- including, in an another first for Medicaid, paying $25 for an emergency room visit if they've previously made what are deemed to be needless visits to the emergency room.
You can read more about Indiana's deal here.
Needless to say, Pence has drawn criticism from conservatives for this deal.
SEN. TED CRUZ, TEXAS
Ted Cruz is well-known in both Lefty and GOPe circles as an evil hobbit who wants people to die without health care coverage. As evidence of how evil he is, he introduced the Health Care Choice Act. How radical is this hobbit's plan? Well...
Cruz and a number of Senate cosponsors have filed a bill called the Health Care Choice Act of 2015. The bill intends to set into statute a much-discussed idea by conservative health care reformers to allow people to buy health insurance across state lines. It also repeals the portion of Obamacare law that mandates that individuals must buy health insurance on pain of ever increasing fines.

Cruz's bill represents a different approach to health care reform than that of the Obama administration. Whereas Obamacare relies on sanctions and penalties,
"Cruzcare" relies on the free market to expand choice and bring down costs. The idea of a national market for health insurance that creates risk pools is not a new one. But Cruz is the first to make a concrete proposal to make it happen.
I'm sure you all join me in denouncing this awful junior Senator who has the gall to actually make a concrete proposal.
/s
See you next week!

Candidate Backgrounders:
Walker, Perry, Jindal here
Paul, Rubio, Cruz here
Kasich, Haley, Martinez here
Pence here
Gowdy, Sessions, Carson, Lee here
Huntsman, Bush, Christie here
Romney, Ryan, Huckabee, Palin here
Quick Reference Guide: The composition (by majority party) of the state legislatures that each of the six governors we've been tracking have enjoyed during their terms. In Ted Cruz's case, I'm showing the party split for Congress. Note: I've collapsed Perry's first seven years as governor into two columns to make the chart more legible. When he assumed office, Texas had a "purple" legislature.


Previous "issues" threads:
Labor Policies, Part I and Part II
Taxes
Economy Jobs and Wages
Energy here and here
Common Core
"Fiscal Scorecards" for each candidate (Mike Pence's is here)

posted by Open Blogger at
09:00 AM
|
Access Comments