« Early Morning Thread, 2/07/15 - New Phone Tip #1. [krakatoa]
|
Main
|
Fundamental Concepts - Laffer, the best medicine. [Weirddave] »
February 07, 2015
Saturday Politics Thread: Death and Taxes (But Mostly Taxes) [Y-not]
A couple of weeks ago we looked at how our 2016 prospective candidates' states fared in terms of jobs and wages. This week, we'll examine their tax climates, both personal and corporate.
First, here's the Tax Foundation's 2015 Tax Climate Map:
[T]he Index uses over 100 variables in the areas of individual income tax, corporate income tax, sales tax, unemployment insurance tax, and property tax to show how well states structure their tax systems, and provides a road-map to improving these structures. The 2015 Index reflects law as of July 1, 2014.

The top states in the 2015 Index are Wyoming, South Dakota, Nevada, Alaska, Florida, Montana, New Hampshire, Indiana, Utah, and Texas. The absence of a major tax is a common factor among many of the top ten states. Property taxes and unemployment insurance taxes are levied in every state, but there are several states that do without one or more of the major taxes: the corporate tax, the individual income tax, or the sales tax. Wyoming, Nevada, and South Dakota have no corporate or individual income tax; Alaska has no individual income or state-level sales tax; Florida has no individual income tax; and New Hampshire and Montana have no sales tax. But this does not mean that a state cannot rank in the top ten while still levying all the major taxes. Indiana and Utah, for example, have all the major tax types, but levy them with low rates on broad bases.

The bottom states are New Jersey, New York, California, Minnesota, Vermont, Rhode Island, Ohio, Wisconsin, Connecticut, and Iowa. The states in the bottom ten suffer from the same afflictions: complex, non-neutral taxes with comparatively high rates.
(emphasis mine)
Here's a summary of their results: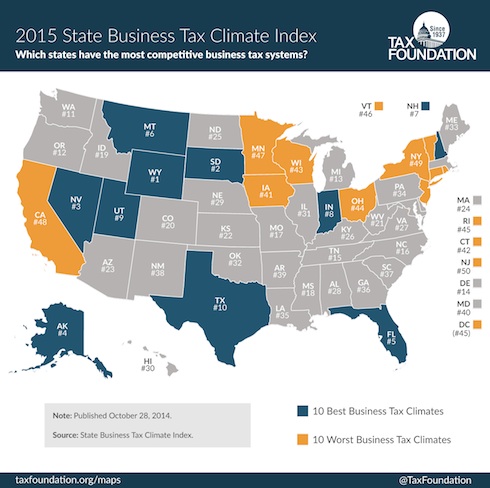 The states we're tracking for 2016 ranked as follows: Wisconsin 43rd, Texas 10th, Louisiana 35th, South Carolina 37th, New Mexico 38th, and Indiana 8th. For you Kasich lovers (both of you!), Ohio ranked 44th.
Though Wisconsin's overall rank did not change for this edition of the Index, the state repealed its inventory tax on rental property, improving its property tax component score from 36th to 31st, and conformed mineral depletion to federal schedules, improving its corporate tax component score from 34th to 33rd.
Another ranking published last April by the Small Business & Entrepreneurship Council focuses on the climate for small businesses and start-ups:
The Small Business & Entrepreneurship Council's "Small Business Tax Index 2014" ranks the states from best to worst in terms of the costs of their tax systems on entrepreneurship and small business. This year's edition of the Index pulls together 21 different tax measures, and combines those into one tax score that allows the 50 states to be compared and ranked.

The 21 measures are: 1) state's top personal income tax rate, 2) state's top individual capital gains tax rate, 3) state's top tax rate on dividends and interest, 4) state's top corporate income tax rate, 5) state's top corporate capital gains tax rate, 6) any added income tax on S-Corporations, 7) whether or not the state imposes an alternative minimum tax on individuals, 8) whether or not the state imposes an alternative minimum tax on corporations, 9) whether or not the state's personal income tax brackets are indexed for inflation, 10) the progressivity of the state's personal income tax brackets, 11), the progressivity of the state's corporate income tax brackets, 12) property taxes, 13) consumption-based taxes (i.e., sales, gross receipts and excise taxes), 14) whether or not the state imposes a death tax, 15) unemployment taxes, 16) whether or not the state has a tax limitation mechanism, 17) whether or not the state imposes an Internet access tax, 18) remote seller taxes, 19) gas tax, 20) diesel tax, and 21) wireless taxes.
The states we're tracking for 2016 ranked as follows: Wisconsin 37th, Texas 3rd, Louisiana 21st, South Carolina 19th, New Mexico 28th, and Indiana 11th. Interestingly, Ohio performed well in this analysis, ranking 8th overall.
Both New Mexico and Indiana were given props for moving in the right direction:
Indiana. The state's corporate income and capital gains tax rate fell from 8.0 percent in the first half of 2013 to 7.5 percent in the second half of last year, and is scheduled to fall to 7.0 percent in mid-2014, and to 6.5 percent in mid-2015.

New Mexico. The state's corporate income and capital gains tax rate declined from 7.6 percent in 2013 to 7.3 percent in 2014, and is scheduled to be phased down to 5.9 percent in 2018.
Don't panic Walker supporters! Wisconsin cut taxes this year, so presumably the next Tax Foundation Index will reflect that change. (The Tax Foundation's 2015 scoring was based on tax policies still in effect midway through 2014.)
The states that cut taxes in 2014 are shown below: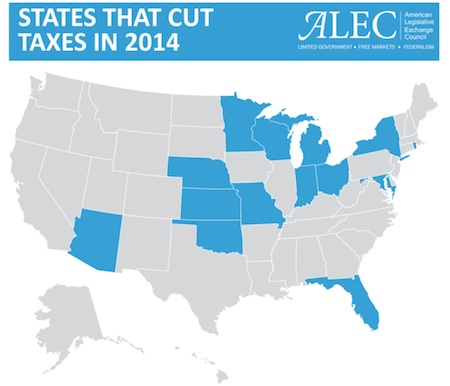 For any of you interested in Governor Pence as a 2016 prospect, Indiana also cut taxes last year.
In addition, Governor Nikki Haley is aiming to make her state more competitive through a tax reform package that includes a combination of tax cuts (lowering the state income tax from 10 to 7%) and a gas tax increase to fund road work. The latter would be combined with restructuring of the Department of Transportation for added effectiveness in how funds are used. Heritage Foundation likes the proposal. It remains to be seen if her legislature will support the plan.
**UPDATE
Vic spotted a mistake in what I wrote above. Here's Haley's plan, per Heritage:
The first would be lowering the income tax over the next decade, which amounts to a 30 percent reduction. The lower 5 percent rate would take South Carolina's nationwide income tax ranking from 38th to 13th.

While the income tax rate would go down, the gas tax would increase by 10 cents over the next three years. Haley said that the revenue generated from this tax will go "entirely toward improving our roads."

The governor said that "when coupled with the 30 percent income tax cut, it still represents one of the largest tax cuts in South Carolina history."

Haley also proposed doing away with the "legislatively elected transportation commission" to stop "short-sighted" wasteful spending.
Meanwhile, Governor Jindal has signaled that he plans to hold firm on taxes but might be willing to consider fees. The latter, he said, must be true fees rather than taxes by another name.
Obviously a governor is not the sole determiner of his (or her) state's tax policy. For example, in Governor Martinez's state of New Mexico, the legislature is split between the two parties, Democrats control the Senate and Republicans control the House. In Governor Walker's state of Wisconsin both houses of the legislature were held by Democrats from 2009-2011. The GOP controlled both houses in 2011, the year Walker assumed office. (They briefly lost the Senate in 2012, but have regained both houses since then.)
Firm Republican legislatures are found in Texas, South Carolina, Indiana, and Louisiana.
In addition, what a governor might support at the state level does not necessarily tell us how he or she would behave as President. In the case of Rick Perry, the only one of the 2016 prospects we're examining who has run for President previously, we have some indication based on his 2012 platform:
Governor Perry's individual "flat tax" proposal would create an optional alternative tax system with a single 20 percent tax rate, which effectively operates as an "alternative maximum tax." The tax would apply to an income base similar to that in current law, with four major modifications: 1) long-term capital gains, qualified dividends, and social security benefits would not be taxable; 2) taxpayers could claim a standard exemption of $12,500 for each individual and dependent; 3) taxpayers could continue to claim deductions for mortgage interest, charitable contributions, and state/local taxes paid but these deductions would phase out beginning at $500,000 of income; and 4) all other above-the-line deductions, itemized deductions, and credits would be eliminated. Initially, taxpayers could choose either the current tax system or the alternative "flat tax" system, but once they opt into the new system, they could not switch back. In addition, the Perry campaign has indicated that the option to file under current tax law would lapse after eight years. In subsequent years, taxpayers would have to file under the flat tax system.

At the corporate level, the Perry plan would make four major changes: 1) reduce the corporate income tax rate from 35 to 20 percent; 2) allow for immediate expensing of all investment purchases; 3) fully exempt foreign-source income of U.S. based corporations; and 4) eliminate all other tax expenditures not related to depreciation, R&D, or foreign-source income.

The Perry plan would also permanently repeal the federal estate tax and the surtaxes contained in the 2010 Patient Protection and Affordable Care Act (PPACA).
Governor Pence was previously in Congress, so we can examine his voting record on taxes during that time. Here's what Ballotpedia has to say:
From 2001 to 2013, Pence served as a Republican member of the U.S. House of Representatives. As a congressman, he maintained a record of staunch opposition to tax hikes and federal health care reform as outlined under the Affordable Care Act. His final year in the U.S. House, Pence was rated a "far-right Republican leader" based on an analysis of bill sponsorship by GovTrack.
Finally, Senator Ted Cruz is the only non-governor under consideration. However, he has been pretty vocal about taxes and the IRS:
Republican Sen. Ted Cruz said Monday that Republicans should take advantage of their control of Congress to abolish the Internal Revenue Service.

"We need to pass fundamental tax reform making our tax code simpler, flatter, fairer," he said Monday at Heritage Action's 2015 conservative policy summit. "And I'll tell you, the single most important tax reform, we should abolish the IRS."
Cruz has been talking about this for a couple of years now. Interestingly, I saw this on Twitter a couple of days ago:
So I guess that dangerous hobbit has managed to get his furry paws onto the RNC somehow! He's a wily one!

For discussion: How heavily do you weight a candidate's record on taxes when ranking Presidential hopefuls?

Previous "issues" threads:
Economy Jobs and Wages
"Fiscal Scorecards" for each candidate (Mike Pence's is here)

Candidate Backgrounders:
Walker, Perry, Jindal here
Paul, Rubio, Cruz here
Kasich, Haley, Martinez here
Gowdy, Sessions, Carson, Lee here
Pence here
Huntsman, Bush, Christie here
Romney, Ryan, Huckabee, Palin here

(As a reminder, the candidates being studied in depth were determined after reviewing 20 prospective GOP candidates' records and conducting some highly unscientific polling at HQ. The goal is to determine which, if any, of these candidates are "conservative enough" (or qualified enough) for us to support, either as first choices in the primary against a Jeb Bush type or in the general election against the Democrat nominee.
Incidentally, I just discovered that the Conservative Review is doing in depth treatments of fifteen 2016 prospects. Their list differs from ours to some extent (for example, they'll be reviewing Donald Trump, but not Governors Haley or Martinez), so you might want to check out their posts as they become available.)

posted by Open Blogger at
08:45 AM
|
Access Comments