« Early Morning Open Thread - [Niedermeyer's Dead Horse]
|
Main
|
OT Thread - In Defense of Crony Capitalism [WeirdDave] »
September 27, 2014
Saturday Politics Thread: RINO Diablo Edition [Y-not]
OK, I've stalled long enough. I simply must do a thread on Jeb Bush and Chris Christie because, let's face it, one of them (or both of them) is bound to run. We, and by "we" I mean those of us unable to fully embrace the Let It Burn lifestyle, are going to have to decide if we could possibly vote for one of these turds should The Worst Happen and one of them be the nominee.
Let's pray this won't be necessary.
To lighten things up from what promises to be a horrible no-good gawdawful discussion, and in the interest of symmetry, I'll toss in Jon Huntsman to complete the Trio of RINOs this week. At least we'll have someone to mock between the wailing and gnashing of teeth over Christie and Bush.
Ready?
Let the games begin!
As usual, let's have a pre-discussion poll:

OK, with that over, here's a BRIEF backgrounder on this week's trio of prospective candidates, relying largely on Ballotpedia for the information. (Usual caveats apply about edits for length and their spin on the candidates' records.) Because I anticipate this discussion to be largely negative, I am going to put in some sort of "accomplishments" section for each of these men so we have some fodder for discussion about any possible saving graces they might have. I would appreciate hearing from any of you, especially those of you from New Jersey, Florida, or Utah, who want to chime in on each candidate's biggest accomplishments (or failings) while they were in office.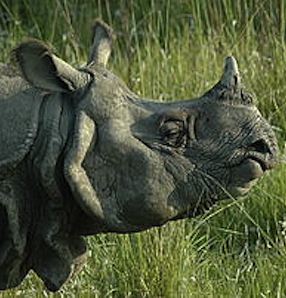 Christopher Christie (b. September 6, 1962, in Newark, New Jersey) is the 55th Governor of New Jersey.
A Republican, Christie was first elected to his current office in 2009 when he defeated Democratic incumbent Jon Corzine. Christie won re-election to a second term as governor in the 2013 election.

[Education: BA, Political Science, University of Delaware, 1984; J.D., Seton Hall University School of Law, 1987]

Christie began his political career as a Morris County freeholder [an elected county board]. After losing his 1995 bid for State Assembly, Christie did not run for office again until the 2009 gubernatorial race. He worked as a lobbyist for energy companies until he was nominated by George W. Bush to serve as United States Attorney for the District of New Jersey, a position he held from 2002-2008...

An analysis of Republican governors by Nate Silver of the New York Times in April 2013 ranked Christie as the least conservative GOP governor in the country.
Unsurprisingly, The Federalist painted a grim view of New Jersey's economic situation and lays much of the blame at Christie's feet for not improving things. In fairness to Christie, he has a Democrat legislature opposing him. But has he accomplished anything positive while governor?
Although he certainly has his supporters, my sense is that they are primarily attracted to his political style (and success) more than to his record. Here is the Star-Ledger's endorsement of Christie for re-election last year:
The property tax burden has grown sharply on his watch. He is hostile to low-income families, raising their tax burden and sabotaging efforts to build affordable housing. He's been a catastrophe on the environment, draining $1 billion from clean energy funds and calling a cease-fire in the state's fight against climate change.

The governor's claim to have fixed the state's budget is fraudulent. New Jersey's credit rating has dropped during his term, reflecting Wall Street's judgment that he has dug the hole even deeper. He has no plan to finance transit projects and open space purchases now that he has nearly drained the dedicated funds he inherited from Gov. Jon Corzine.
Shortcomings aside, Christie pummeled his Democrat opponent in 2013, winning a second term with over 60% of the vote.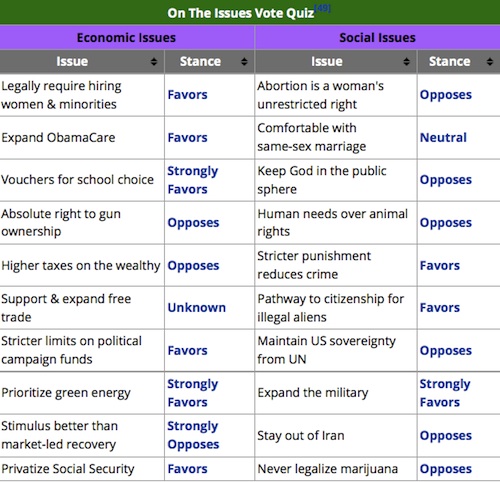 Here's Christie's entry in On the Issues. If you scroll to the bottom, you'll see the VoteMatch responses used to generate the graphic above. In addition, they provide a graphical "score" of the candidate's ideology: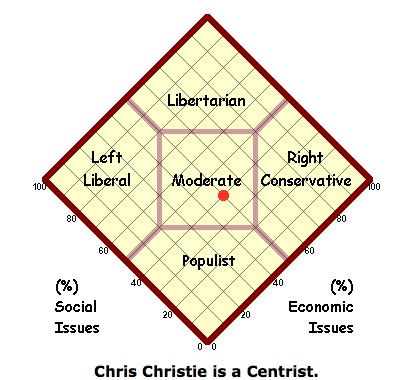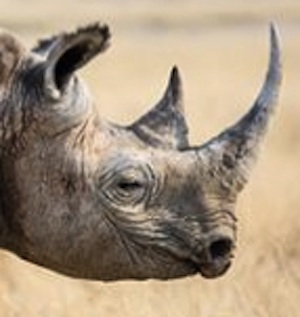 John Ellis "Jeb" Bush (b. on February 11, 1953 in Midland, Texas) was formerly the governor of Florida.
Prior to serving as governor, Bush founded a non-profit, served as Florida's commerce secretary and worked in real estate development...

Below is an abbreviated outline of Bush's academic, professional and political career:
1987-1988: Florida Commerce Secretary
1988: Resigned post to help on George H.W. Bush presidential campaign
1994: Lost in the general election to be governor of Florida
1995-Present: Founder and chair of Foundation for Florida's Future
1999-2007: Governor of Florida
2007: Founded Jeb Bush & Associates consulting group
2013: Co-authored book Immigration Wars released
According to the Washington Policy Center, Jeb Bush cut taxes, trimmed the size of government (by over 6% in terms of number of employees), and vetoed over $2 billion in new spending. He also was reportedly a champion of school choice and reformed Medicaid in his state, putting more choice in the hands of patients.
For some reason, there is not a table of Jeb Bush's positions, so here's a link to the "On the Issues" summary of his record: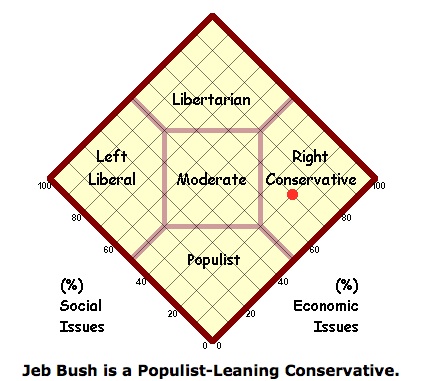 I have no idea how Jeb Bush, who is pretty openly for amnesty and common core, comes out rated as a conservative by On The Issues. Make of it what you will.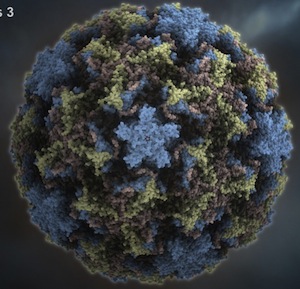 Jon Meade Huntsman, Jr. (born March 26, 1960 in Palo Alto, California) was the Governor of Utah from 2005- August 11, 2009. He left office in order to assume a position as U.S. Ambassador to China [in the Obama administration]...
Huntsman is the son of billionaire businessman and philanthropist Jon Huntsman, Sr. of Huntsman Corporation. He attended the University of Utah, where he was a Sigma Chi. He received a Bachelor's degree in business from the University of Pennsylvania after transferring to that school...

After college, Huntsman served as a White House staff assistant in the Reagan Administration, U.S. ambassador to Singapore in the administration of President George H.W. Bush, and a deputy United States trade representative in the George W. Bush Administration.

In addition to his public service, Huntsman served as an executive for the Huntsman Corporation, the Huntsman Cancer Foundation and Huntsman Family Holdings Company. Other organizations he has served include the Utah Opera, Envision Utah, the Coalition for Utah's Future, and KSL-TV's Family Now campaign.
This Outside the Beltway article from 2011 provides a decent review of Huntsman's accomplishments. They credit him with joining the state legislature in flattening Utah's state taxes (CATO gave Huntsman high praise for that back in 2008 ) and signed several aggressively pro-life measures while in office.
Ballotpedia provides this chart summarizing his positions: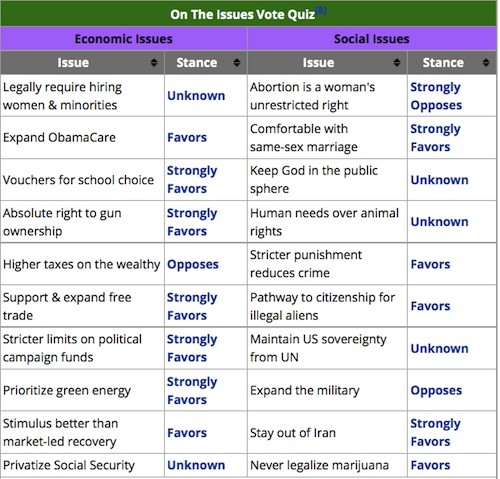 And here's a link to the "On the Issues" graphical display of his record: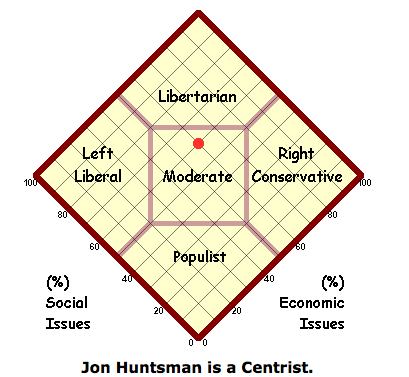 Phew!
OK, now here's where the rubber meets the road. It seems to me that the primary argument for any of these dudes is their supposed appeal to Independents. Aka, the old "electability" canard.
Now, I want to win. I really do. But we went with Mr. Electable last time, he even won Independents, yet he still lost. And, when I dug into the Pew post-mortem it was really clear that the Democrats' voters were more enthusiastic than the Republicans'. It wasn't that Evangelicals didn't vote for Mitt. The data do not support that (they refute it, actually). But people who did vote for Romney were just not as enthusiastic about it. They were more likely than their counterparts to be voting against the opponent.
Obama is not going to run again.
It may be Hillary. She's a schmuck, but her husband's administration is remembered as a time of prosperity. So I'm not sure the intensity of voting against Hillary is going to be a big factor. If we couldn't mobilize sane people to vote against Obama after his disastrous first term, how will we mobilize them to vote against Hillary or - even worse - some unknown with a slick marketing team and a nice logo?
I gotta think we're going to be in serious trouble if we nominate someone who turns off the base voters. We (base voters) may only have one vote, but our grass-roots enthusiasm is what persuades low information voters and sometime voters to actually pull the lever FOR the Republican candidate.
I think it would be a grave mistake for the GOP to nominate someone who turns off the base to the extent that these guys do. We need to get conservatives and conservative leaners to the polls. Which leads me to this depressing graphic: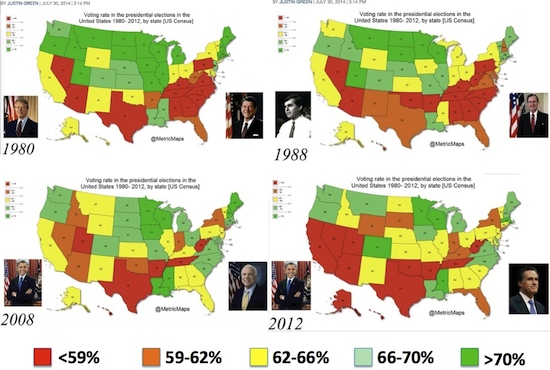 Turnout percentages by state for the 1980 (Reagan), 1988 (G.H.W.Bush), 2008 (McCain), and 2012 (Romney) elections.
What the heck happened with turnout last time? Even UTAH didn't turn out for Romney. That has got to change if we're going to win back this country.
On that cheery note, let's poll all twelve potential candidates that we've talked about thus far. Pick your top FIVE out of these twelve to go up against whatever horrible person the Democrats nominate in the 2016 General Election:

Finally, I'd like to hear from you who else we should discuss in upcoming weeks. Consider this a Draft My Gal or Guy poll:

**UPDATE: I meant to add these links to the prior threads
Walker, Perry, Jindal thread
Kasich, Haley, Martinez thread
Rubio, Rand Paul, Cruz thread

posted by Open Blogger at
09:35 AM
|
Access Comments