« The Canary In The Coal Mine Is Looking Rather Ill [CBD]
|
Main
|
Feel Good Story: Muslim African American Hid the Thirty Jews in the Freezer at the Hyper Casher, Saved Their Lives »
January 10, 2015
Saturday Politics Thread: Energy Part Two (Nukes and Ethanol) [Y-not]
Two weeks may be a lot of time to spend on Energy Policies, but I figured we could probably use a break from all the terrorism, rape, and RINO stories -- and I wanted to follow up on last week's Energy post to address this comment from Nancy:
I would like to know the stance of the candidates on Nuclear Power, and Global Warming (as AGW is the driving force behind the anti-coal lobby in the administration). I would also like to know who stands where on electricity policy. For example, Exelon is currently talking about prematurely shutting down several of their nuclear power plants unless they get some kind of credit to allow them to compete with the subsidized wind and solar market. How does Governor Walker feel about the premature decommissioning of Kewaunee, a small nuclear power plant in his state, closed due to the falling prices of natural gas?
So let's delve a bit deeper into the candidates' records and address nuclear power and so-called "renewable fuels" like ethanol.
Nuclear Power
To get us oriented, here's a map of power reactor sites in the U.S., courtesy of the NRC: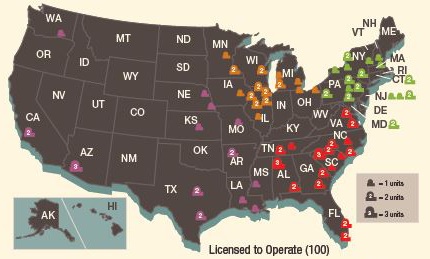 Let's start with Governor Scott Walker's stance on nuclear power in Wisconsin. There seems to be some controversy over the Kewaunee nuclear power plant being shut down in Wisconsin, including questions about the appraisal of the property. I don't know Wisconsin politics well enough to be able to gauge if this was an attempt to smear Walker with allegations of inappropriate state action to help a campaign donor or if there is merit to the charges. Badgers can chime in here.
I did find this update on Walker's 2010 campaign pledge to lift the moratorium on new nuclear power plants in Wisconsin. The source is Politifact. The tone of this piece (entitled "Walk-O-Meter") strikes me as rather partisan. In any event, they claim "the Republican Party approved a resolution at its state convention in May 2014 supporting plans by GOP lawmakers to lift the moratorium. But no legislation has moved forward and the Legislature is out of session until January 2015, when Walker's term ends." Politifact claims Walker has not fulfilled his 2010 campaign pledge. I'm not sure how much that matters given that he won re-election and has more time to accomplish what he set out to do in Wisconsin.

I confess that I struck out in my search for Ted Cruz's positions on nuclear power. It just doesn't seem to be a major topic that he's addressed either now or even when he was campaigning for Senator. If someone has information to share, I'd appreciate it.

Outgoing Texas Governor Rick Perry takes credit for helping his state diversify their energy sources, including nuclear. More recently, he was encouraging the State of Texas to develop plans for disposing of high level nuclear waste. You can read more about his energy policies at this speech given at an energy policy summit last fall.

Bobby Jindal seems to be pro-nuke, although at present it is not a large source of energy in Louisiana:
We can start with energy. On his best days, the president has bragged about the American energy renaissance and the technology that is making it happen. Republicans in Congress should give him the chance to break away from the creeping liberal orthodoxy that strangled Democratic candidates in the Energy Belt in the last election. We can become the world's energy superpower; in addition to building the Keystone XL pipeline, here are three easy places for Congress to start: First, enabling game-changing new natural gas and oil production on under-utilized federal lands. Second, fast-tracking construction of new capacity for zero-emissions nuclear power. Third, freezing the administration's unjustified new restrictions on legacy power generation.

Nikki Haley seems to be quite comfortable with nuclear power, which represents a significant source of energy consumption in her state. I found a lot of articles about the usage for SC's Savannah River Site and in each case Gov. Haley promoted SRS's usage for economic reasons (example here).

Earlier this year, Susana Martinez helped broker a deal between the EPA to shut down two coal power plants operated by PNM. This "began taking testimony Monday on a proposal that calls for shutting down part of San Juan to curb haze-causing pollution and replacing the lost power with a mix of coal-fired generation, nuclear power, natural gas and solar."
As far as I can tell, Gov. Martinez does not oppose nuclear power, although I believe that at present New Mexico does not use it. Most articles I've found about her on energy topics are critical of her for siding with traditional energy producers and business interests. If any New Mexicans want to weigh in, that would be helpful.

Mike Pence touts innovative next generation nuclear power generation technology under development in his home state of Indiana at his web page. And, he included a pro-nuclear power stance while running for governor in 2012. However, I do not think Indiana is currently using nuclear power. However, while in Congress Pence pushed for the building of new nuclear power plants across the country.

Renewable Fuel Standard (RFS) (aka, the ethanol mandate)
Here's a backgrounder from Red State.
Early last year, Walker was quoted as opposing it, putting him in a pretty unique position for a major ethanol-producing state.
Ted Cruz has co-sponsored several pieces of legislation aimed at addressing the Administration's destructive energy policies, including Renewable Fuel Standard Repeal Act (S.1195) in 2013.
Rick Perry has long been against it.
Bobby Jindal wants to eliminate it, recommending a gradual phase out for practical reasons.
I did not find anything recent about Haley's position on the ethanol mandate, but in 2012 she, together with Rick Perry, was one of four governors to come out against the RFS. On a related note, this past summer, Haley strenuously objected to new carbon emissions targets set by the EPA. In response to the EPA's new emissions caps, the state's legislature unanimously set renewable energy targets for South Carolina's energy companies, which Haley signed into law.
Susana Martinez joined several other governors in petitioning for RFS waiver in 2012.
Mike Pence's position on renewable energy, including ethanol, appears to be somewhat mixed. While campaigning for governor of Indiana, he seems to have supported the ethanol mandate, which was enacted under the EPAct of 2005 Pence co-sponsored. But, as governor he has argued against the administration's war on coal.

Finally, on Thursday DrewM took some heat for his post in which some Republicans discuss the option of raising the federal gas tax. There was a lot back and forth in the comments about gas taxes, the "necessity" of raising them, and the Highway Trust Fund. Here's a recent post from a place called Tax Justice Blog, that summarizes the rate changes set to take effect this year. (The author appears to think an increase in gas taxes is needed, fwiw.)

The states where gas tax rates will fall are Kentucky (4.3 cents), West Virginia (0.9 cents), Vermont (0.83 cents), Nebraska (0.8 cents), and New York (0.6 cents). Each of these states ties at least part of its gas tax rate to the price of gas, much like a traditional sales tax. With gas prices having fallen, their gas tax rates are now falling as well.

While some drivers may be excited by the prospect of a lower gas tax, these cuts will result in less funding for bridge repairs, repaving projects, and other infrastructure enhancements that in many cases are long overdue. Because of this, Georgia Governor Nathan Deal recently signed an executive order preventing a gas tax cut from taking effect in his state on January 1. And Kentucky is considering following Maryland and West Virginia's lead by enacting a law that stabilizes the gas tax during times of dramatic declines in the price of gas.
The author goes on to list (with apparent alarm) "states where gas tax rates will be reaching notable milestones of inaction." I have to say, I am not persuaded by arguments for raising taxes by some unspecified dollar amount based on the idea that when the tax was last raised is somehow relevant. YMMV.
Here's another article about the topic that appeared in the Washington Post last year: Three Myths About the Highway Trust Fund. Here's a short excerpt:
As for the adequacy of road spending, a Department of Transportation (DOT) report this year estimated that governments at all levels were spending at least $14 billion more a year than needed to maintain existing road conditions. This implies gradual improvement. By contrast, a 2012 DOT report concluded that governments were underspending to maintain prevailing conditions.
How much to spend on transportation is a judgment call, as is the means of payment. Sen. Bob Corker (R-Tenn.) and Chris Murphy (D-Conn.) propose raising the gasoline and diesel taxes by 12 cents a gallon over two years. The extra revenues, they say, would cover projected trust fund spending for a decade. The taxes would also be indexed to inflation, increasing with prices.

Links to earlier "issues" posts (from which you can find links to the reviews of the individual candidates' records).
November 1, 2014: Fiscal Policy Scorecards
December 6, 2014: Common Core
January 3, 2015: Energy Issues

posted by Open Blogger at
10:45 AM
|
Access Comments