« Early Morning Open Thread - [Niedermeyer's Dead Horse]
|
Main
|
Saturday Gardening Thread: Duck and Cover [Y-not and WeirdDave] »
October 11, 2014
Saturday Politics Thread: Familiar Faces (Romney, Ryan, Huckabee, Palin) [Y-not]
Because I'm a "giver" who puts the needs of the horde above her own happiness, this week's thread is on Familiar Faces: Mitt Romney, Paul Ryan, Mike Huckabee, and Sarah Palin.
You owe me.
Big.

Before we begin, let's have a sense of where these four politicians rank in popularity as potential 2016 Presidential candidates:

In the interest of space, I'm going to try to keep these summaries short, but provide you with some links touting their potential candidacies and any red flags, as I know them. Usual caveats about taking these "issues" tables and political philosophy diagrams with huge grains of salt apply. As always, it would be great to hear from you in the comments section if you have additional insights about them, positive or negative.

MITT ROMNEY
Willard Mitt Romney (born March 12, 1947) was a 2012 Republican candidate for President of the United States. He served as Governor of Massachusetts from January 2, 2003 to January 4, 2007.

Romney was born in Detroit, Michigan on March 12, 1947. His father, George Romney, was the 43rd Governor of Michigan from 1963 to 1969 and US Secretary of Housing and Urban Development from 1969 to 1973. [Mitt Romney received his Bachelor's degree in English from Brigham Young University (1971) and both an MBA and JD from Harvard (1975).]

Mitt Romney began his career working for management consulting firm Bain & Company, going on to found investment firm Bain Capital in 1984. [Romney ran for U.S. Senate in 1994. He was defeated by Edward Kennedy (D).] In 1999 he served as President of the Salt Lake Organizing Committee, overseeing the 2002 Winter Olympics.
Courtesy of U.S. News, here's a list of "10 Things You Didn't Know About Mitt Romney" with more biographical information.
Mitt Romney made an unsuccessful bid for the GOP Presidential nomination in 2008. He won the nomination on his second try, but lost the 2012 Presidential election to Barack Obama. To help you catch up on what Mitt Romney has been up to since 2012, here's a summary of his activities as covered by the NY Times.
Since the 2012 election, Romney has written quite a few opinion pieces, most often on foreign policy (for example here and here), but also on things like the cost of the Olympics.
Interestingly, although his tough stance on immigration was largely credited with him emerging victorious from the GOP primary, I could not find any evidence of Romney speaking out during Obama's manufactured border crisis this summer. I did find this report in the Washington Post last May:
Mitt Romney said Friday that he hopes an immigration reform measure will be signed into law before the 2016 presidential election, a striking posture considering his hard-line stance in the immigration debate during his 2012 campaign for president.

"I do believe it's important for us, before the presidential contest in 2016, to finally have immigration reform in place," Romney said in Iowa, according to the Des Moines Register. "I just don't think it's healthy for the country to continue to have this issue open and unresolved, particularly with so many families that are waiting for the answers.
Late last year he was reported to have said:
"I do believe those who come here illegally ought to have an opportunity to get in line with everybody else."

Romney continued: "I don't think those who come here illegally should jump to the front of the line or be given a special deal, be rewarded for coming here illegally, but I think they should have a chance just like anybody else to get in line and to become a citizen if they'd like to do so," he said.

Romney also said that the Republican Party must address immigration and work on legislation to reform the system.
My interpretation of this, coupled with the continued support Romney has from corporate circles that clamor for cheap labor, is that he has backed off his "self-deportation" concept from the 2012 campaign in favor of granting legal status to illegal aliens. I admit I find it annoying that he did not criticize the Administration over the border stunt, but instead seems to be making statements that imply the Republican-controlled House is the source of the problem.
Ballotpedia has this to say about Mitt Romney's 2016 prospects:
On September 8, 2014, the former Governor of Massachusetts Romney stated, when asked about the potential of running in 2016, "Let me tell you, it was a great experience running for president. I loved that. But my time has come and gone. I had that opportunity. I ran, I didn't win." Romney's name garnered attention in regard to the race after his name was placed on a straw poll in Iowa on September 1, 2014. A September 22, 2014 opinion piece in The Hill called the potential duo of Romney and Nevada Governor Brian Sandoval a "perfect Republican dream team."
Recently, Romney was reported by Byron York as believing that only he or Jeb Bush could defeat Hillary Clinton in the 2016 election.
Per On the Issues, here's a summary of his positions: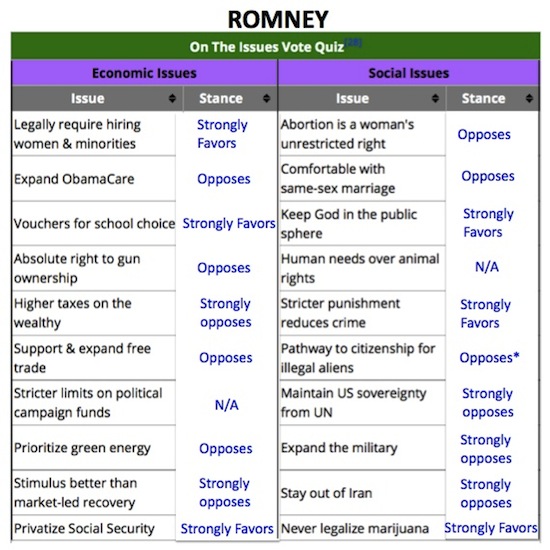 *Romney appears to have softened his position on a pathway to citizenship since this Vote Match Quiz was compiled.

PAUL RYAN
Paul Ryan (b. January 29, 1970, in Janesville, WI) is a Republican member of the U.S. House of Representatives from the state of Wisconsin. Ryan represents Wisconsin's 1st Congressional District and was first elected to the House in 1998. He is running for re-election in 2014...

Ryan appeared on the 2012 presidential ticket as Mitt Romney's vice presidential running mate. Despite losing the presidential race, Ryan won re-election to the House in 2012.

Based on analysis of multiple outside rankings, Ryan is an average Republican member of Congress, meaning he will vote with the Republican Party on the majority of bills.

...after graduating from Miami University of Ohio [with a double major in Political Science and Economics], Ryan moved to Washington D.C., where he put his political science degree to use as an aide to Wisconsin Senator Robert Kasten and a speechwriter for deceased former congressman Jack Kemp. Prior to entering Congress in 1999 at age 28, Ryan also worked on the policy staff for the conservative think tank, Empower America.

Here's 10 Things You Don't Know About Paul Ryan compiled by the Fiscal Times in 2012.
To help you catch up on what Paul Ryan has been up to recently, here's a summary of his activities as covered by the NY Times.
Ryan has taken an interesting path since the 2012 election. He seemed to be a popular choice for many owing to his reputation as a budget hawk. But after a disappointing performance on the campaign trail, and a devastating loss to Obama and Biden, Ryan's popularity with "the base" has really fallen. I've been trying to track down what happened and I think a lot of it is attributable to the budget deal cut with Democrats late last year. Here's a refresher:
Sen. Patty Murray (D-Wash.) and Rep. Paul Ryan (R-Wis.) have spent the past several weeks huddled with their staffs in budget negotiations, and Tuesday evening they emerged with the impossible: a deal to keep the government open and avoid another shutdown when current funding expires next month. Their proposal will replace part of sequestration -- the automatic cuts to domestic and military spending in the Budget Control Act that averted the 2011 debt ceiling standoff -- for the next two years. Domestic and military spending will be set at $1.012 trillion for fiscal year 2014, higher than the $967 billion called for by sequestration but far less than the $1.058 trillion Murray's original budget called for...

The proposal covers the rise in spending by increasing a few fees -- TSA surcharges for example -- and cuts in pensions for federal employees and military veterans, among other small changes.* The deal creates a little more than $20 billion in net deficit reduction, though those extra cuts won't come until 2022 and 2023.
I was curious where Ryan stood on immigration and found this:
Ryan also defended his efforts to pass an immigration overhaul, saying that the legislation should secure the border, and having verified that it was secure, change legal immigration programs to meet labor shortages in the United States.

"For the undocumenteds, I'd give a probationary period," he told a group of Hillsdale College students. "I'd have people earn their way toward just a work permit by putting them on probation. They'd waive their right an appeal. They'd sign an affidavit that they broke the law. They'd pay a fine, do a background check, they'd have to learn civics, learn English -- basically assimilate; can't be on welfare, and have to work, and can't have a criminal record, of course. They'd have to do that for five years. And until, if and until, the government gets its border secure and all these security measures, they can't get out of probation until the government has done it's job securing the border. Then, after five years, if they did everything right on their terms of probation, give them a work permit just to be able to work, just like a guest worker program."
Although I hate that introductory sentence (what labor shortage?), I think the specifics he describes seem semi-reasonable. So is this all bullshit? Would he toss aside all of these conditions (which seem pretty expensive, frankly) to address the so-called labor shortage? I don't know. It's so hard to trust these guys.
Per Ballotpedia, here's a link to his votes on key bills in the 113th Congress.
And here is a summary of his positions on various issues, per On the Issues: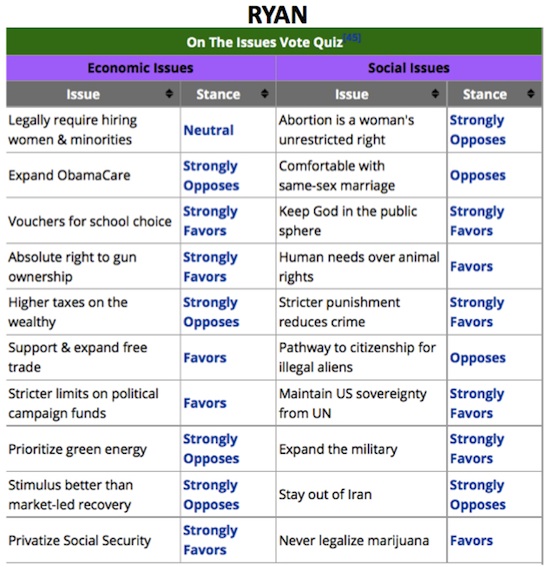 MIKE HUCKABEE
Michael Dale "Mike" Huckabee (born August 24, 1955, in Hope, AR) is the host of the Fox News Channel talk show Huckabee. He was the 44th Governor of Arkansas from 1996-2007 and a 2008 candidate for President.

[Mike Huckabee obtained his B.A. in Religion from Ouachita Baptist University and attended the Southwestern Baptist Theological Seminary from 1976-1977.] Huckabee is an ordained Southern Baptist minister, a public speaker, a musician and the author of several best selling books.

He served as Chairman of the National Governors Association from 2005 to 2006 and as Lieutenant Governor of Arkansas from 1993 to 1996.
You can read more about Governor Huckabee here and here.
To help you catch up on what Mike Huckabee has been up to recently, here's a listing of news reports from the NY Times.
Here's a summary of his positions on various issues, per On the Issues: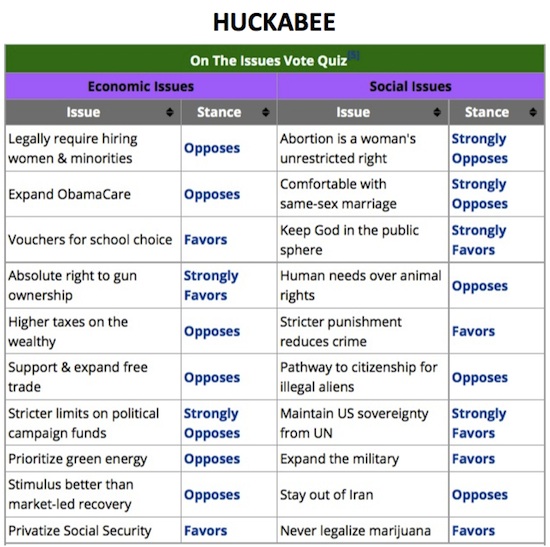 Although I don't track Huckabee's activities very closely (I don't watch his show and he doesn't pop up on the news sites I read very often), after doing a little digging this week my impression is that he is a pretty reliable critic of this Administration. I ran across him vocally supporting faith-based objections to Obamacare, for example, and he even wrote a tough indictment of Obama's open borders policy. Good for him.
Is that enough to render him a Presidential contender? Apparently, he is considering another run:
...Byron York of The Washington Examiner interpreted Huckabee's emphasis on foreign affairs as making it "clear Huckabee has been studying up -- for a former governor steeped in domestic policy, often a sign of an impending run."

Huckabee will have another chance in October to showcase his knowledge of foreign policy and his commitment to Israel, an issue of great importance to Christian conservatives, at a rally in Washington organized by Concerned Women of America and Huckabee's America Takes ACTION (ATA) organization.

"I have been to Israel nearly 30 times over the past 41 years and have never seen the nation under such threat. Israel is our closest ally and friend in the Middle East, and they are suffering due to the weak policies of the Obama administration.

"The president has done little to recognize the growing threat of Hamas. God has protected this tiny but increasingly powerful nation, and it's time for the United States to do the same," Huckabee said in a press release.
I confess that I hope he doesn't run. I find him to be a very divisive figure within the GOP. I am not sure I could support him, even in the general election.

SARAH PALIN
Sarah Louise Palin (born February 11, 1964, in Sandpoint, ID) is the former Governor of Alaska. She was elected in 2006 but resigned in July 2009 before the completion of her first term. Palin was also the Republican vice presidential nominee for the 2008 United States presidential election.

[Palin is a graduate of the University of Idaho (1987) where she holds a bachelor's degree in journalism. After college she worked as a sports reporter for KTUU-TV in Anchorage, Alaska as well as the Wasilla based Mat-Su Valley Frontiersman.]

Palin served two terms on the Wasilla, Alaska, city council from 1992 to 1996, then won two terms as mayor of Wasilla from 1996 to 2002. After an unsuccessful campaign for lieutenant governor of Alaska in 2002, she chaired the Alaska Oil and Gas Conservation Commission from 2003 to 2004 while also serving as Ethics Supervisor of the commission.

In November 2006, Palin was elected the governor of Alaska, becoming the first woman and youngest person to hold the office.
Here's U.S. News' "Ten Things You Didn't Know About Sarah Palin," from her 2008 VP run.
To help you catch up on what Sarah Palin has been up to recently, here's a summary of her activities as reported by the NY Times.
Last summer, Palin launched an online TV channel which is available by subscription.
As with Mike Huckabee, I don't really follow Sarah Palin's activities very closely except for knowing that she is a commentator on Fox News and that she is still regarded as an important endorsement in many conservative circles. I would also note that in my opinion Palin is a "good soldier" when it comes to endorsing or working for GOP candidates, including GOPe figures like Orrin Hatch and Pat Roberts. Overall, I think that is a good thing in terms of mending fences within the Republican Party, which (despite its many flaws) remains the only in game in town for advancing any sort of conservative agenda nationally.
Of the four candidates discussed today, Palin came out with the strongest condemnation of Obama over the border crisis:
Enough is enough of the years of abuse from this president. His unsecured border crisis is the last straw that makes the battered wife say, "no mas."

Without borders, there is no nation. Obama knows this. Opening our borders to a flood of illegal immigrants is deliberate. This is his fundamental transformation of America. It's the only promise he has kept. Discrediting the price paid for America's exceptionalism over our history, he's given false hope and taxpayer's change to millions of foreign nationals who want to sneak into our country illegally. Because of Obama's purposeful dereliction of duty an untold number of illegal immigrants will kick off their shoes and come on in, competing against Americans for our jobs and limited public services. There is no end in sight as our president prioritizes parties over doing the job he was hired by voters to do. Securing our borders is obviously fundamental here; it goes without saying that it is his job.
Per On the Issues, here's a summary of her positions on various issues: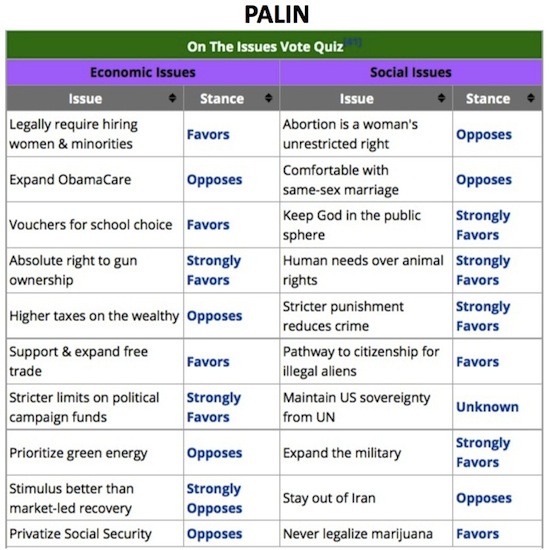 I thought Palin was the better half of our 2008 ticket. I think she and I share a lot of the same values. But I am not sure she is well-positioned to either win the nomination or to defeat the Democrat in 2016. And, I'm not sure that she is really seriously considering a run.

In summary, here are the "ideology maps" for the four politicians discussed this week:

You can read about how these diagrams are made here.

This week's "round up" poll includes the four candidates discussed today and the top vote-getters from last week (Walker, Cruz, Perry, Jindal, Gowdy, Lee, Haley, Paul). Choose your top SIX Republican prospects for 2016:

I think next week we should start burrowing in on the top vote-getters' positions on the issues that the horde cares most about with respect to the 2016 Presidential election. These were the top issues identified last week:
Reducing the size of the Federal bureaucracy and regulation 16.1% (1,295 votes)
Reining in Federal spending 14.13% (1,137 votes)
Repealing Obamacare 12.01% (966 votes)
Solving the illegal immigration problem 11.41% (918 votes)
Strengthening national security and global alliances 8.09% (651 votes)
Reforming or eliminating entitlement programs 5.79% (466 votes)
Addressing problems with the Federal tax code 5.64% (454 votes)
Promoting energy independence 5.62% (452 votes)
Protecting the U.S. from terrorism 5.57% (448 votes)
See you next week!
Links to the prior threads:
Walker, Perry, Jindal thread
Kasich, Haley, Martinez thread
Rubio, Rand Paul, Cruz thread
Gowdy, Carson, Sessions, Lee thread


posted by Open Blogger at
09:00 AM
|
Access Comments